One of the first and most well-known web hosting companies is A2 Hosting. It claims to provide the fastest performance possible. In our A2 Hosting review, we want to know if it delivers on its promises of speed and whether other essential factors like prices, features, usability, security, and customer service are worthy of your time. So without wasting much time let's get into this.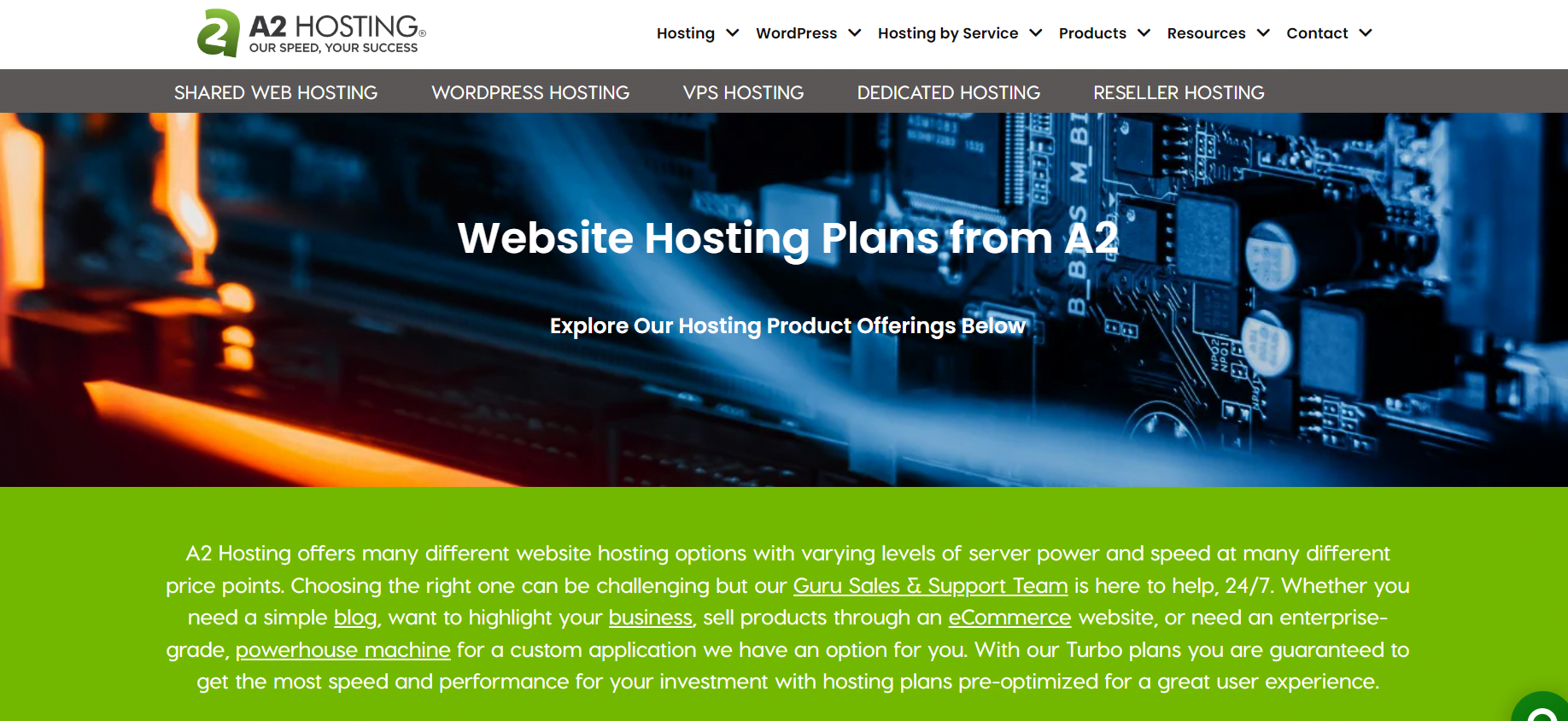 A2 Hosting provides various hosting options, including shared, WordPress, VPS, dedicated, and reseller. Choosing which kind is appropriate for your site might be overwhelming, so we've detailed the essentials of each type below:
Read Also: Contabo Review – Details, Pricing & Features
Shared Hosting
Users of A2 Hosting can choose from this entry-level hosting option. The entry-level plans, like those offered by most hosting providers, focus on the basics and offer the features most websites need to function. Although shared hosting is the least expensive and best for beginners, you'll eventually exceed it if you intend to scale your site.
With these shared hosting plans, you may host one site and use 100 GB of disc space. In this hosting plan, they also provide unlimited email accounts, free website builder integration, and even built-in staging sites. A2 Hosting
commitment is 99.95% uptime on their shared hosting plan. Prices start at $2.99/month.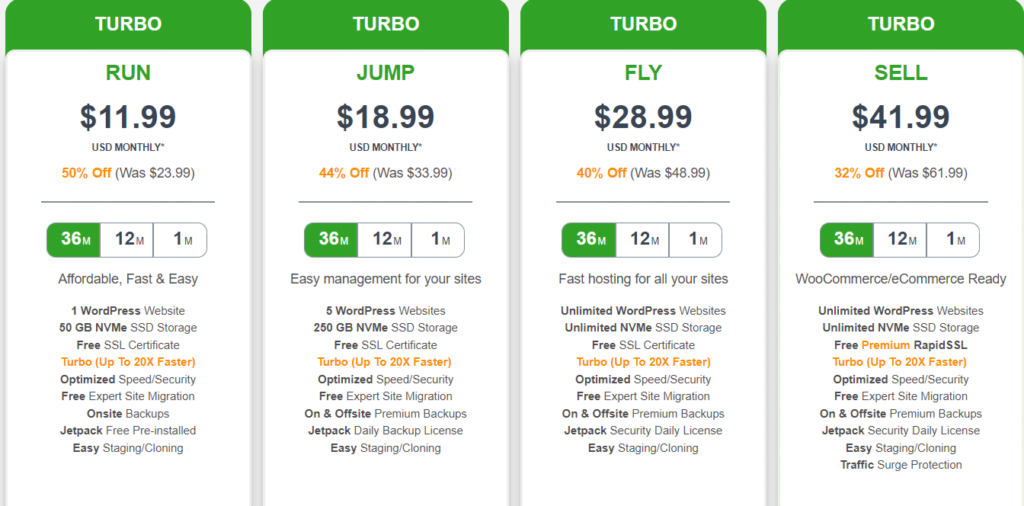 One of the most well-liked content management systems available is WordPress. So it should come as no surprise that A2 Hosting provides WordPress-focused plans.
Therefore, look at A2's managed WordPress plans if you're searching for some essential WordPress-focused features. The least expensive package is $11.99 a month.
As the name implies, A2 Hosting employees oversee every aspect of managed WordPress plans. Installations, updates, patching, backups, and many more tasks are handled automatically for you. Additionally, the settings have been specially tailored for WordPress so that your site will run efficiently.
All plans now include a free SSL, unlimited email accounts, the cPanel control panel, pre-set performance, automated backups, cloning, staging, caching, DDoS protection, and spam filtering.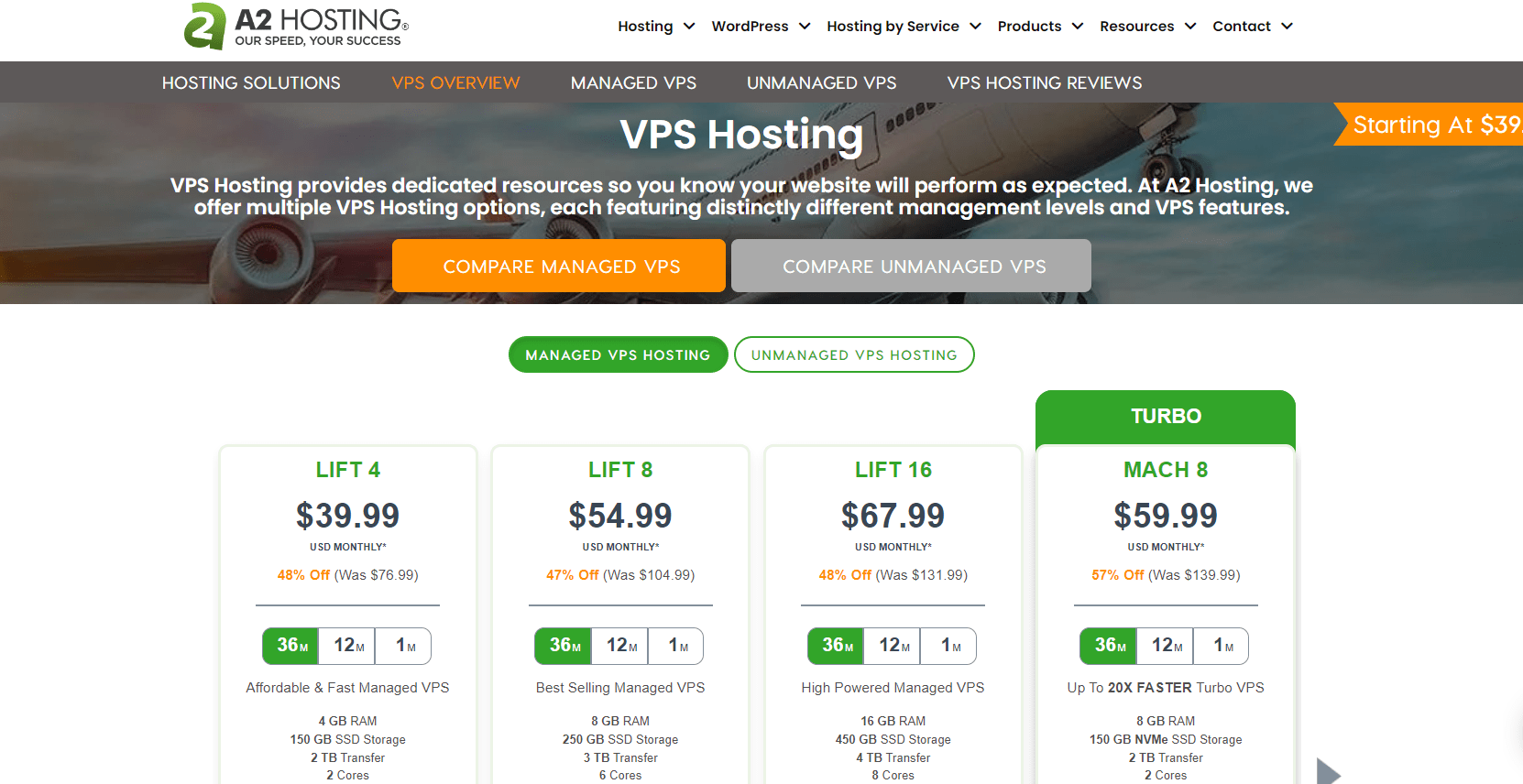 A2 provides both managed and unmanaged VPS hosting services. Unmanaged plans are A2's most significant value offering, although managed plans are significantly simpler to maintain. Unmanaged VPS plans start as low as $4.99 per month. A2 hosting managed VPS plans start at $39.99 per month.
Unmanaged VPS hosting does require a greater level of expertise than shared hosting or managed VPS. Users take complete responsibility for their virtual server when they choose an unmanaged hosting service. The user is responsible for completing all installations, updates, security checks, and other tasks. Furthermore, you gain total root access.
Unmanaged VPS hosting needs technical expertise, but a more seasoned user will like the excellent pricing and resources A2 Hosting provides. A2 Hosting is among the top affordable VPS hosting services due to this very reason.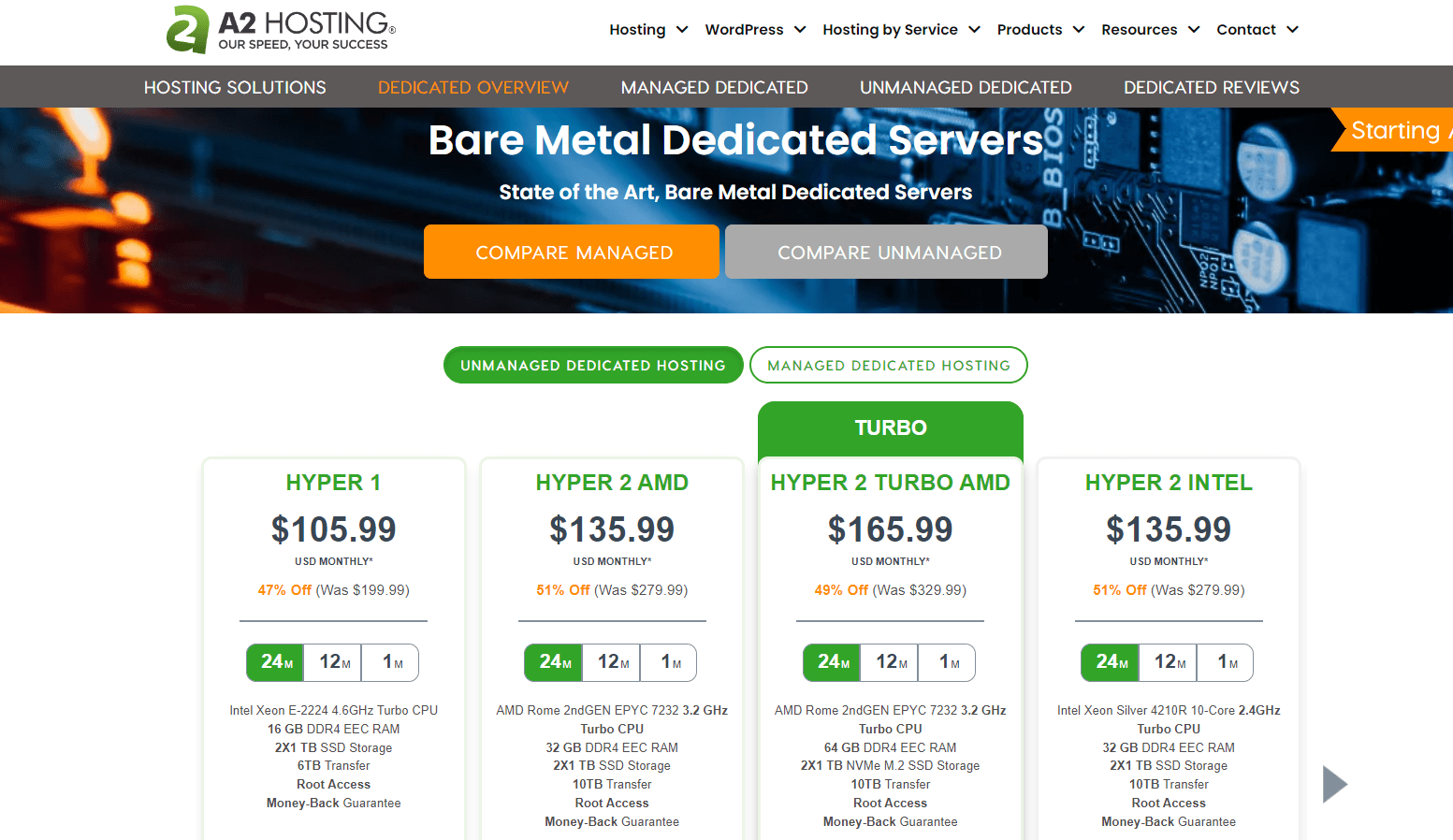 A2 Hosting also provides managed and unmanaged dedicated server hosting choices, similar to VPS hosting. Seven unmanaged dedicated hosting plans are available from the service, with monthly costs ranging from $105.99 to $455.99.
Now, speaking primarily about unmanaged, the host offers seven hosting plans. The resources available in these plans vary from 4 cores/4 threads to 16 cores/32 threads, 2×1 TB to 2×960 NVMe U.2, 6 to 15 TB of bandwidth, and 16 to 128GB DDR4 ECC RAM.
Dedicated server hosting is only needed if you're managing a project or website that requires a lot of resources and receives a lot of traffic. Just by taking a glance at the extensive server resources, that becomes pretty obvious. This hosting service is expensive and asks for the most significant expertise. But if you choose this option, you get a whole physical server.
A2 reseller hosting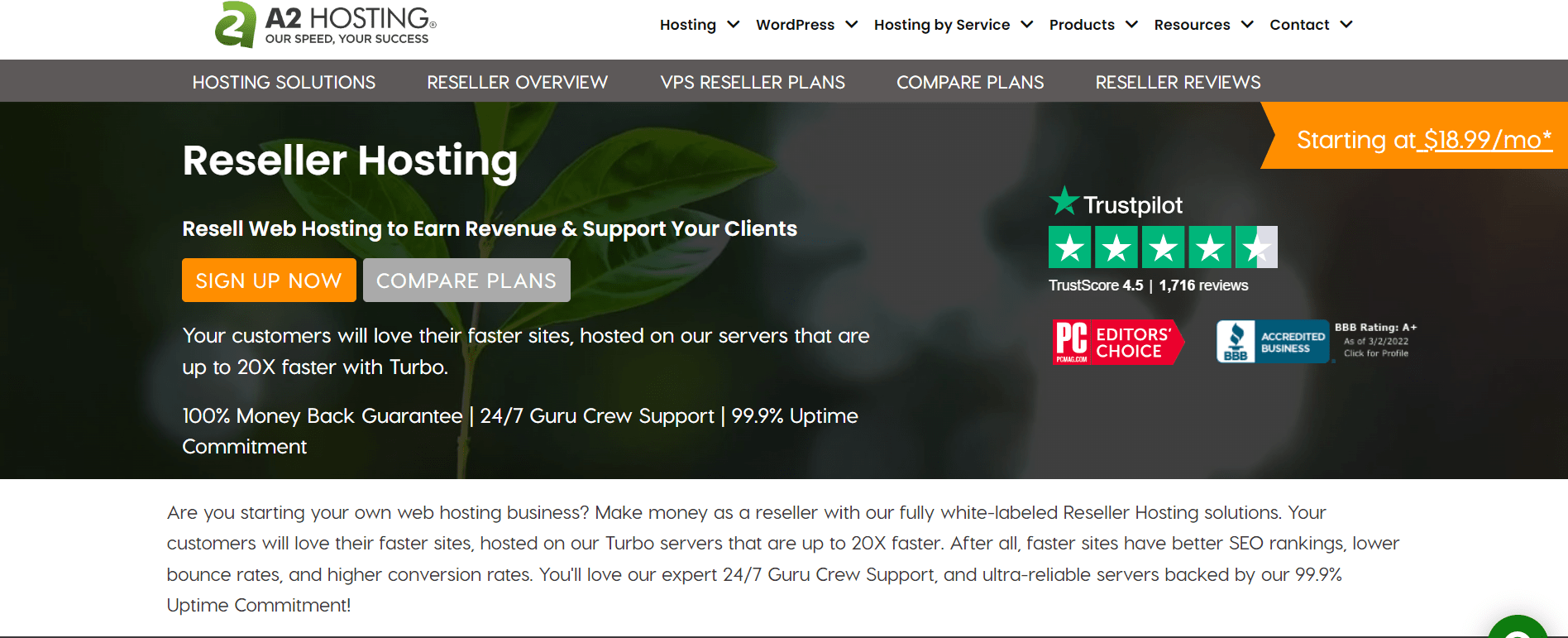 Reseller hosting is yet another excellent A2 Hosting option. The host is one of the top reseller hosting companies, offering eight plans with pricing beginning at $18.99/mo, substantial resources, and a range of helpful features.
Reseller plans are hosted on a normal or a turbo server, just as other hosting plans. However, all eight plans include the essentials, like a customer billing and monitoring system, cPanel, Web Host Manager (WHM), multiple client accounts, free SSL, DDoS protection, automated backups, and many more.
A2 Hosting offers several unique hosting options on its whole. The company has you covered whether you're searching for shared hosting or other scalability choices. Although A2 Hosting offers managed and unmanaged plans, remember that unmanaged plans can provide superior value for your money.
A2 Hosting Features
Free SSL Certificate
SSL certificates are used in secure connections to confirm a website's trustworthiness and provide encrypted data to the user's web browser. If you choose A2 to host your website, you won't need to bother about getting an SSL certificate.
Free Site Migration
The company will assist you in getting an existing website into A2's servers if you bring it there. Although there may be a migration fee in some circumstances, according to the A2 website, migration is "free in most cases."
Unlimited Email Addresses
Depending on your hosting website, you might want to create an email account linked to that domain. Dedicated email addresses could look more professional than generic domains like Gmail or Yahoo. Both email accounts and storage are limitless with any A2 Hosting service.
WordPress Management Tools
The A2 subscriptions still have WordPress pre-installed even if you're not on a managed WordPress hosting plan. You'll get an email with login instructions, and A2 also offers pre-set site security and speed improvements.
cPanel Control Panel
You will have access to a simplified cPanel Control Panel if you choose a managed A2 Hosting package. It makes it simple to access important information about your website and change various website settings. For instance, you can manage your email accounts, monitor site statistics, and generate backups.
99.99% Uptime Guarantee
A 99.9% uptime guarantee is included with every hosting service from A2 Hosting. In most circumstances, you'll be entitled to compensation if your site is ever down for more than 0.1% of a given month. After about 21 hours of downtime within a month, you will receive a free month of hosting.
Quick Installation for Other Software
WordPress is a platform used by a massive variety of websites. However, you could choose a different platform, such as OpenCart, PrestaShop, Drupal, or Joomla. These platforms and more may be installed with just one click, thanks to A2 Hosting Review.
WooCommerce Pre-Installed
The simplest method to sell goods and services on a WordPress website is with WooCommerce. WooCommerce is already installed and optimized as part of the A2 Sell package, making it simple to start selling as soon as possible.
DDoS protection
A2 Hosting has gained another success since it now provides a stronger Distributed Denial of Service (DDoS) defense. Simply put, a DDoS assault is when hacked systems overwhelm your site with Internet traffic to disrupt it.
Imunify360, a solution that offers defense against harmful assaults like brute-force attacks or other suspicious activity, is how A2 Hosting Review does this.
Firewalls
Config Server Firewall (CSF) and ModSecurity, a dual firewall, are installed on all of A2 Hosting's plans. It is a server firewall, as implied by the name CSF. It enhances server security overall and defends against threats.
A Web Application Firewall is called ModSecurity (WAF). WAF essentially filters, blocks, and watches inbound and outgoing traffic.
Automatic backups
All plans provide automatic backups, except Starter. This program creates a duplicate of your website daily and takes a snapshot of it. Therefore, you can restore the website from the backup if you are accidentally infected with malware or damage something on your website. Often, it is simpler than doing a manual solution.
A2 Hosting, however, declines to accept liability for missing or damaged backups. Therefore, it is strongly encouraged to occasionally download backups to your Cloud storage while the option is available for additional security.
A2 Hosting performance
"20x quicker web hosting" is what A2 Hosting Review advertises. We have thus run a few performance-related tests on the provider to verify this. A2 Hosting has consistently shown extremely dependable uptime, an average server response time, and a decent website loading speed during the test period.
A2 Hosting uptime and response time
A2 Hosting offers a 99.9% uptime guarantee to start. But what you receive is far better. Due to the 99.9% uptime guarantee, your website will likely be down every three months for two h 11m 29s. A2 Hosting, however, performs far better than that, with an expected quarter of downtime of 8m 30s.
Response times were relatively consistent throughout the measurement period. It demonstrates that my website did not have to compete too hard for server resources.
What makes A2 Hosting fast?
A2 Hosting employs many modern technologies to speed up websites, which is why we can obtain such fast website loading speeds. It begins with the fundamentals, like short drives, and finishes with more sophisticated capabilities, like a LiteSpeed cache already configured.
Modern hardware
Server locations – A2 Hosting allows you to select your server location when you purchase your package. Michigan (US), Arizona (US), Amsterdam (Netherlands), and Singapore are your choices.
SSD storage – In place of the outdated HDD, A2 employs SSD storage. The statement that A2 Hosting is 20 times quicker now makes sense because testing has proven that SSDs maybe 20 times faster than HDDs.
NVMe AMD EPYC Server – Your website will be kept on an NVMe AMD EPYC Server if you select any of the Turbo options. These servers are among the quickest enterprise-grade ones now on the market.
With everything considered, A2 Hosting provides robust hardware to support your website. The performance testing results demonstrate that all the tools and technologies in place effectively ensure the speed and dependability of websites hosted on A2 servers.
A2 Hosting Customer Support

In terms of the available customer support options, A2 Hosting stands out. While most low-cost hosting providers provide live chat and ticket assistance, A2 Hosting additionally has experts available to speak with you on the phone. They also offer free site migrations and have a dedicated help area. The support staff is accessible 24/7.
Finally, you may learn more about the overall state of the A2 Hosting platform by visiting a knowledge base and a separate page that displays the A2 Hosting system status.
Conclusion
The central insight of our A2 hosting review is that it is a reliable web hosting service that can support any size website or volume of traffic while still being reasonably priced.
Working with A2 Hosting is viable as your company expands and your demands change due to the variety of hosting options available. A2 Hosting offers various services to suit your needs, from inexpensive entry-level shared hosting to VPS.
Read Also: InterServer Review – Details, Pricing & Features
FAQs
Is A2 Hosting cheap?
Even though A2 Hosting offers a few more affordable options, it's unquestionably a more expensive choice. More affordable plans can appear attractive in theory, but the Turbo Boost and Turbo Max servers are where the real value is.
What Kind of Support Does A2 Hosting Offer?
A2 Hosting provides customer service via phone, email, and live chat. Most consumers appear to have positive experiences, and support is available 24/7. A2 also offers a thorough knowledge base with a lot of information on the service.
Is A2 Hosting Secure?
Yes, A2 Hosting is a secure platform. Every hosting plan includes a free SSL certificate, and A2 additionally offers a reliable defense against DDoS attacks.
Does A2 Hosting Have an Email Limit?
Any A2 Hosting plan you choose will allow you to make an unlimited number of cost-free email accounts. Additionally, A2 does not have email storage restrictions; all you need to do is keep your account's overall storage within the allowed amount.
Is A2 Turbo Server worth it?
A2 Turbo is only worthwhile if you often and actively modify your PHP and .htaccess files and if you don't feel confident installing your cache plugin or learning the fundamentals of website performance.
---