There are so many best VPS hosting providers to choose from but finding the perfect plan might be challenging. If your current website is not able to handle all of your traffic visitors that means your website is hosted on the wrong hosting plan. Another situation can happen also like your website requires shared hosting but you hosted it on a dedicated server. Hosting on a virtual private server (VPS) sits in the middle between the two extremes.
When it comes to the best VPS hosting providers, you get the best of both worlds. A virtual private server (VPS) is similar to a shared hosting environment in that it places your website on a server with other websites. What's the big deal? Each server may accommodate fewer websites, which means your website will have its resource allocation (like dedicated hosting).
Today, we will compare and review all the best VPS hosting providers worldwide.
Read Also: VPS vs Dedicated Hosting: Which Option Is Best For Your Site? 
Best VPS Hosting Providers
After conducting extensive research, we've compiled a list of the finest VPS hosting providers in this guide. This will improve your website's uptime, security, and performance.
1. ScalaHosting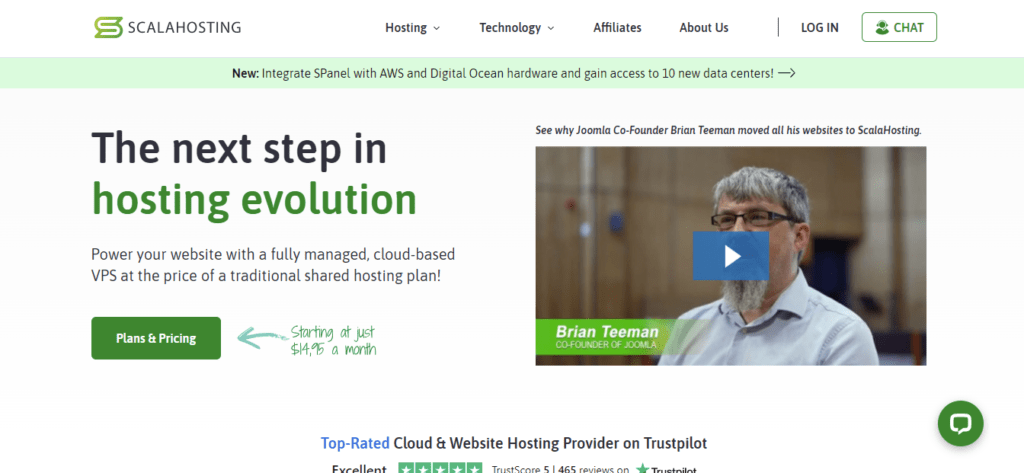 You can have a fully managed cloud-based VPS for your website for the same price as a standard shared hosting plan. They offer VPS hosting to various clients including individual web developers, web design companies, successful e-commerce sites, and smart domain resellers.
SPanel is a cutting-edge control panel designed exclusively with virtual private servers (VPSs). As a custom-built solution by ScalaHosting, SPanel is a simple-to-use control panel that offers top-of-the-line security, lightning-fast loading times, and additional features worth more than $74 per month.
Some of the best features are below:
Migration Under the Guidance of Professionals
ScalaHosting's migration professionals will cover everything, including moving your websites and account over to your new ScalaHosting VPS Hosting as smoothly as possible. Migration is completely free for as many websites as you require.
Effortless and Uncomplicated
Their fast website relocation process ensures that you will experience no downtime or inconvenience.
Unlike other companies, they conduct the full migration procedure by hand rather than automated technologies. Once the transfer is complete, they'll check to ensure that everything functions properly on your new virtual private server.
Pros and Cons of Contabo VPS Hosting
Pros
ScalaHosting has lightning-fast servers.
ScalaHosting maintains seven backups of your site automatically.
Hosts a variety of private-label solutions.
Developers will thrive in this climate.
Cons
All-in SSD performance is only available with VPS options.
Fees increase when a plan is renewed.
Not a single-page builder
ScalaHosting Fully Managed VPS Hosting Plans
You can customize all the plans as per your requirements.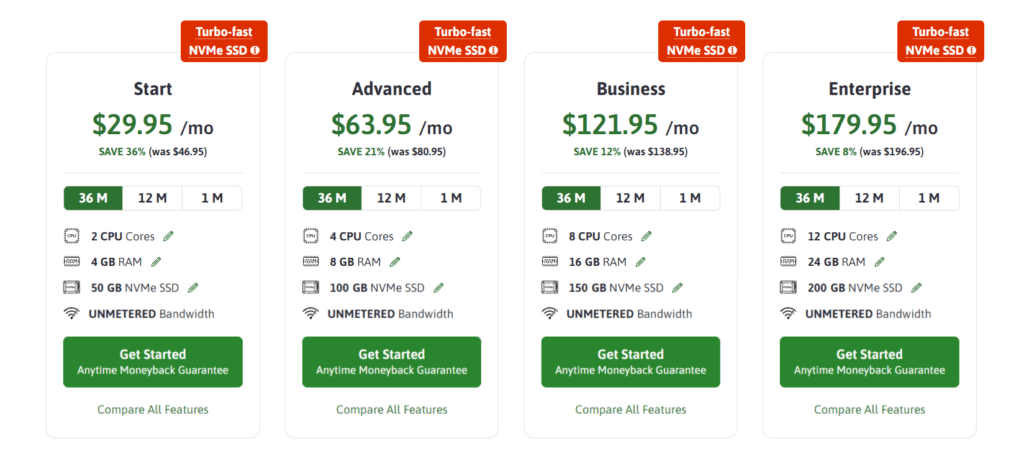 2. Contabo

Contabo Virtual Private Servers are virtual private server that allows you to host your website on a server hosted by a third party (VPS). Full-featured virtual servers with ultra-fast Gen 4 NVMe drives, storage customization, and more traffic than you'll ever need are available.
Some key features you must know:
More computing power for a smaller investment
The best feature of Contabo VPS hosting is efficiency in terms of pricing! Starting at 5.50 € per month, you can buy a virtual private server for any operating system. A Virtual Private Server (VPS) is an excellent approach to obtaining a completely autonomous computing instance at an unbeatable price.
Customization of the storage environment
You have the option of selecting the type of storage that will be associated with each VPS. If space is more essential to you than performance, choose a high-capacity NVMe storage device with more than 1,000,000 IOPS or a big SSD drive if speed is less critical to you.
You will receive far more traffic than you will ever require.
Each VPS includes 32 TB of outgoing bandwidth and limitless incoming traffic, with a standard connection speed of between 200 Mbit/s and 1 Gbit/s. In actuality, this equates to unlimited traffic for 99.98 percent of clients, which is a significant saving. Unlike some of the company's competitors, Contabo will never charge any extra amount for data transfer on your Virtual Private Server.
Having almost two decades of experience in the operation of virtual private servers, the team at Contabo knows what type of hardware can provide long-lasting and consistent performance. Looking at Contabo VPS hosting costs, you might be shocked to realize that they only use high-quality new components from Intel and Samsung to create the company's products.
Pros and Cons of Contabo VPS Hosting
Pros
Offer a powerful and cost-effective
It's a new fast NVMe storage
High levels of server and data center security
Three continents of servers
Cons
A cutting-edge web hosting service.
A convoluted pricing schemes
Contabo VPS Plans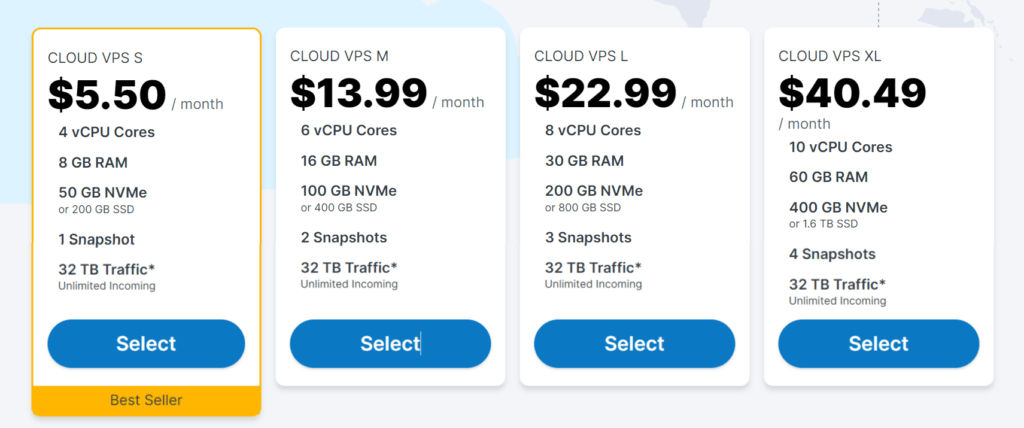 3. Interserver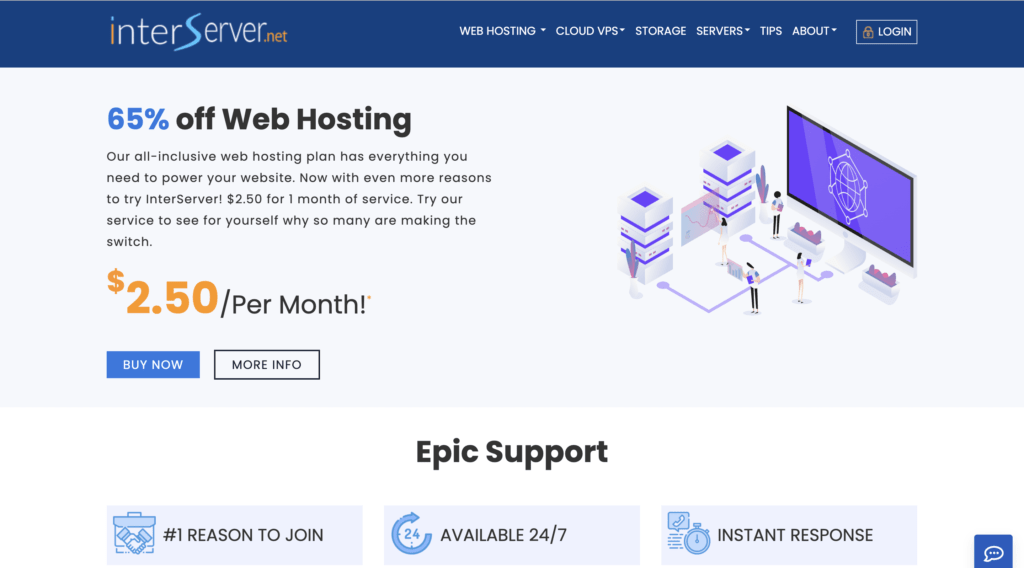 Webuzo VPS hosting is offered by Interserver which offers a free control panel and one-click WordPress installation. Managed assistance is included when you purchase four or more slices.
We can assist you if you have problems with your server, such as a database problem or a service that isn't operating. You can get in touch with us at any time of the day or night via phone, live chat, or our ticketing system.
Windows Interserver VPS hosting with a remote desktop is another popular option for working professionals. You can access your applications from anywhere in the world, and they'll always be up and running.
Please take advantage of our Cloud Remote Backup Service to ensure that your important data is always accessible.
Development
Breadbasket scripts are integrated with Webuzo's control panel to meet all of your development needs. A wide variety of hands are available to developers to assist them in handling blogs, portals, forums, image galleries, e-commerce sites, and more. You may use the breadbasket to deploy PHP, Python, Java, and Perl code.
Database
You may quickly install several database types on our virtual private server platform using Linux package management or Breadbasket. MySQL VPS may be set up in minutes with the ability to securely store and retrieve your organization's data from a remote location via secure remote access.
Transferring SQL processing to an isolated environment has the effect of enhancing overall performance. It's easy to manage your database using Bread Basket's PhpMyAdmin, which comes preinstalled. You can also use alternative SQL servers like SQLITE, MongoDB, MariaDB, PostgreSQL, etc.
Pros and cons of Interserver VPS hosting
Pros
Monthly fees that aren't too high
SSL for free, weekly backups, and anti-malware protection
cPanel's original user interface
Cons
Customer service can be erratic and unpredictable.
The user interface for your account is out of date.
Interserver.net start plan

4. Bluehost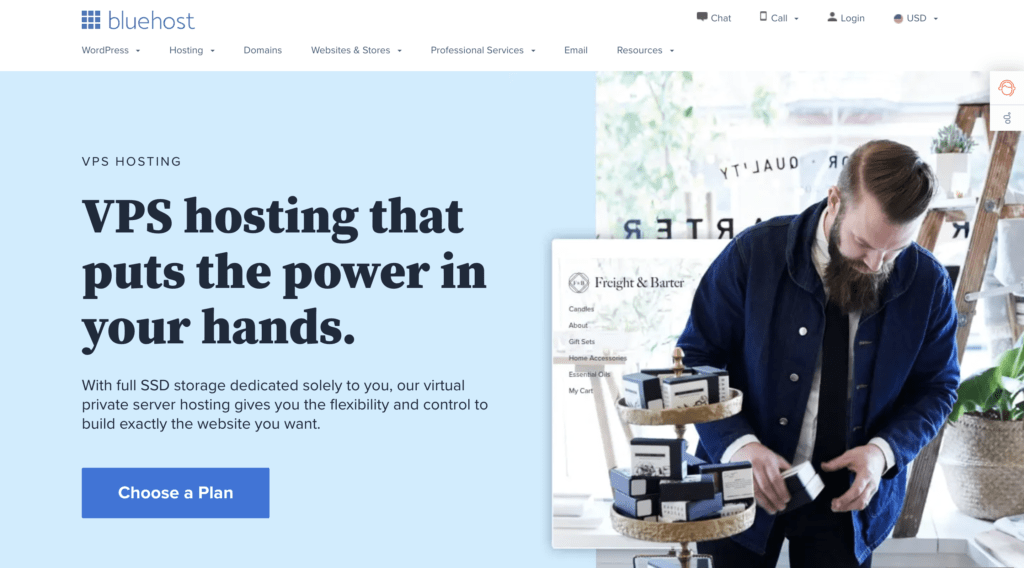 If you want to utilize the Website Builder or the classic WordPress platform, Bluehost Shared Hosting provides you with all the features, tools, and assistance you need to create and publish unique WordPress websites.
Using full design flexibility, you may make a unique website for your business. Whether you're just getting started or require high-end performance, Bluehost has a dependable hosting plan to meet your requirements.
In addition, from your Bluehost dashboard, you can keep track of your website's traffic metrics, user comments, and everything else on your site.
Some Bluehost VPS hosting key features are listed below:
Free SSL Certificates for Everyone
SSL certificate will encrypt all of your website information for better security. No one can see sensitive information on a website without the owner's permission.
Access to the System Files
Control over your server is now at your fingertips thanks to their upgraded cPanel control panel, which provides access to CentOS.
OpenStack and KVM are two open-source technologies that are used to create our powerful yet simple-to-use VPS. Plus, our servers are built with cutting-edge components to achieve genuinely ground-breaking speeds.
In a matter of seconds, you can be up and running. In contrast to most VPS hosting options, which can take many hours or even days to activate, but Bluehost VPS hosting servers are instantaneous.
Resources You Can Count On
Websites that use only high-performance components are constantly running at their best. The company's KVM hypervisor implementation ensures that your resources are always available.
The New and Improved System Control Panel
Our virtual private server (VPS) options include an improved cPanel interface. It includes all of the capabilities of our Shared package, plus VPS management and WHM control features.
Pros and Cons of Bluehost VPS Hosting
Pros
With a chat feature, you can get answers quickly and easily.
Possibility of having one's own website.
WordPress has an easy-to-use interface for website and blog functions and editing.
Cons
The quality of the customer support has been hit or miss, depending on how experienced the representatives appear.
Bluehost Plans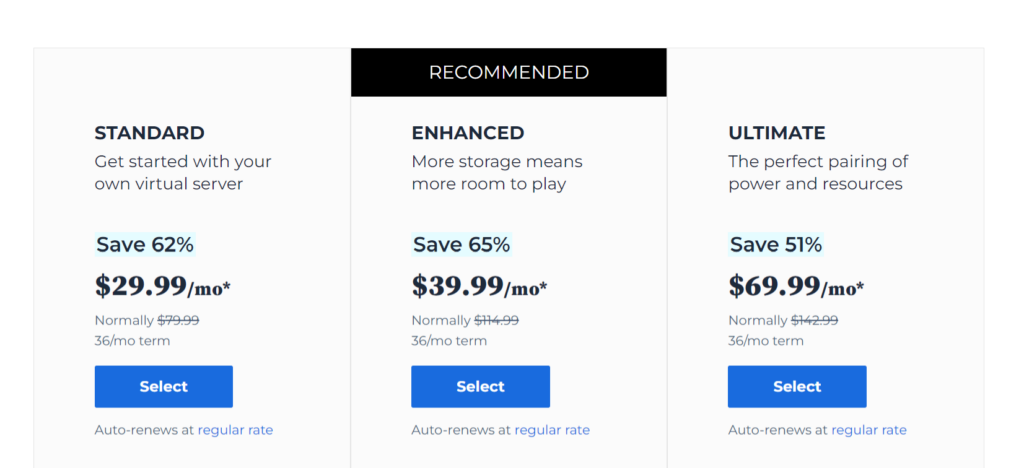 5. Namecheap

Namecheap VPS hosting Plans offer more control, security, and customization at a cheaper cost. Whatever plan you choose, you'll get many of the same benefits as a Dedicated Server without the hefty price tag.
A VPS hosting gives you significantly more freedom and flexibility than a Shared Hosting account. You choose the level of server control (User-Responsible, Basic, or Complete) for your VPS.
Are you currently using Shared Hosting and wish to upgrade to VPS Hosting? It's easy with Namecheap VPS hosting a friendly staff of skilled experts.
The best? Any Namecheap customer can transfer for free if they own a hosting account with them. A bonus? If you buy cPanel, you get a free website domain and email.
Pros and cons of Namecheap VPS hosting
Pros
The user interface of Namecheap is crisp, modern, and simple to use.
Namecheap does not overcharge customers for domain renewals like most other companies.
This company's support team has always been really responsive, friendly, and helpful.
Cons
Only a few overseas domains are unavailable for direct purchase with Namecheap.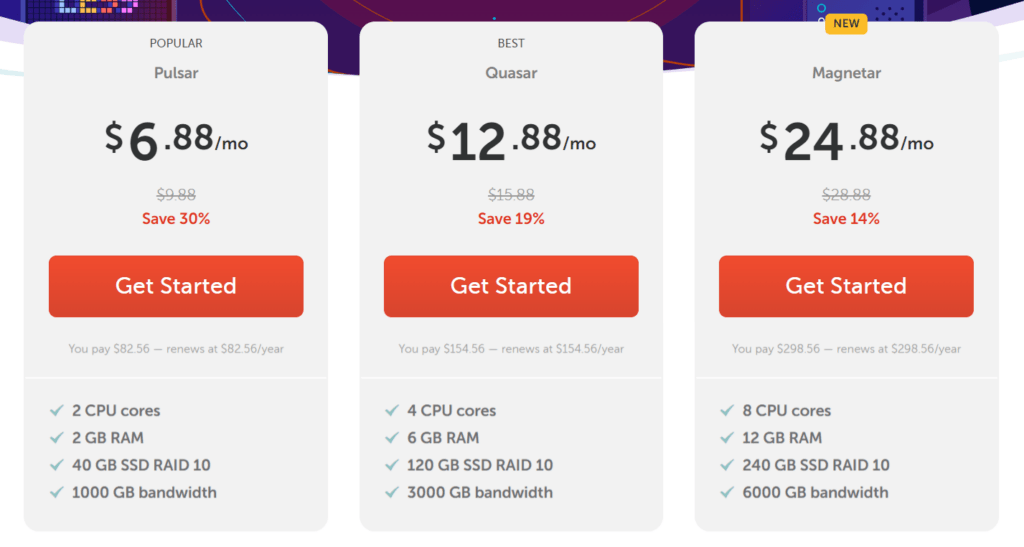 6. OVHcloud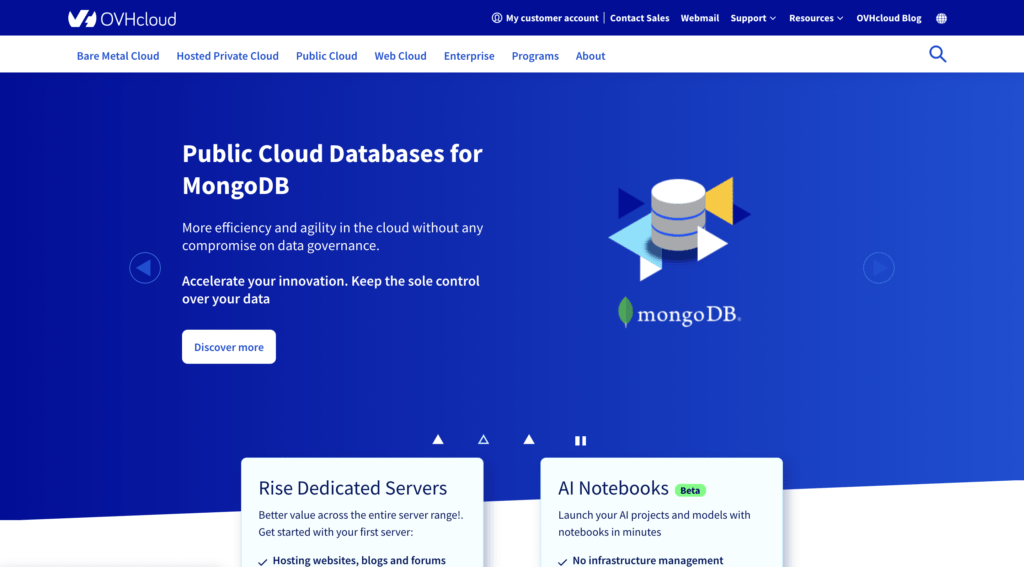 OVHcloud has created and built its servers and data centers, utilizing only the most up-to-date and innovative components. It also maintains its worldwide fiber-optic network. Improved, more cost-effective solutions are produced due to industrializing the end-to-end manufacturing process.
OVHcloud is a leading company that helps businesses to manage their website efficiently while keeping their data safe. They're at the forefront of the data revolution.
Some of the best ​OVH VPS hosting features are below:
Enhanced efficiency
Their Virtual Private Servers (VPS) are all built on Intel's next-generation architecture with an NVMe SSD storage as standard. So, they ensure higher efficiency, faster loading time, and enhanced security.
A specialized area
If you host websites or run commercial apps on your virtual server, you can make full use of your hardware resources. You may manage all of your online projects in a server environment.
Uncomplicatedness and self-reliance
When using our VPS solutions, you don't have to worry about hardware limits (upgrading components, technical failures, etc.), but you still receive full power and control over your virtual server. Preinstalled Linux and Windows operating systems and web-hosting control panels are all available to you.
A never-ending flow of traffic
Your VPS server's traffic is available, with a top speed of 2Gbit/s. This means that you can host high-bandwidth services or applications without incurring additional costs. This allows your consumers to have a better browsing experience.
Optional fallbacks
With OVH VPS hosting, you get a data backup feature to secure your data. Using the auto-backup feature, you can automate your website databack on a weekly or daily basis. Easy snapshot backups of your VPS can be made simply from the OVHcloud Control Panel.
Availability
The company's VPS solutions are ideal for running commercial applications in a production or pre-production environment. Thanks to OVH's infrastructure, your services will experience low latency with SLA-guaranteed hardware uptime.
Pros and cons of OVH VPS hosting providers
Pros
The hardware of the highest quality
Quality connections
A set of tools for running the business
a wide variety of goods
Cons
Support for technical issues
Customer service
Billing assistance

Conclusion
With VPS hosting, you can get rid of shared servers' slow performance and low-quality security. It's much easier to control the hosting server when using the correct VPS hosting provider's service. Contabo, Interserve, Bluehost, Namecheap, and OVHcloud are a few VPS hosting providers that provide this service. We have included these suppliers in the order in which we recommend them. Free trials and money-back guarantees are available if you're still undecided. Try VPS hosting now and reap the benefits immediately and for years to come.
Read Also: What's the Difference b/w Shared and managed WordPress Hosting
Frequently Asked Question
What is VPS hosting used for?
VPS Hosting is a fast & reliable hosting solution to handle lots of visitors. It provides a complete server environment to manage all the required things. Whether you have a blog, a business site, or a small-scale e-commerce site, VPS hosting can be the best solution to run your website efficiently.

Is VPS better than the cloud?
The choice between VPS (Virtual Private Server) and cloud hosting depends on your specific needs. VPS offers dedicated resources that can be more cost-effective for small to medium-sized websites. Cloud hosting is more suitable for larger, high-traffic websites. The better option varies based on your requirements.
Does VPS reduce latency?

VPS hosting offers reduced latency compared to shared hosting because you have more dedicated resources for your website. However, the extent of latency reduction depends on various factors like the VPS provider, server location, and network infrastructure.
How do I choose a VPS provider?
Understand all of your website requirements and find out all the VPS provider companies. Compare their pricing based on the services. Check out their website, online reviews, and customer service before making any decision.