Are you searching for a Cloudflare vs. Sucuri comparison? Then you are at the right place. Website firewall, DDoS defense, and CDN are all services provided by Cloudflare and Sucuri. Today's security dangers make website security very necessary.
However, it is considered that each of them differs from the others in various characteristics. This article discusses Sucuri vs CloudFlare's comparison and the pros and cons section to help you decide which is best.
Detailed Comparison of Sucuri VS Cloudflare as a Service
Cloudflare is superior for establishing a CDN system than a security service provider, which is the main difference between Cloudflare and Sucuri. To safeguard your website from any online threats, Sucuri offers complete security services. Cloudflare provides a free account with a few functions, but no other free service provider can match Sucuri's total security.
Web Application Firewall is made available by the service protection website (WAF). It indicates in WAF that server scans are performed on the traffic to your website. If it discovers any malicious requests before they reach your website, its firewall promptly prevents them.
Sucuri and Cloudflare are similar, yet they significantly differ in features, pricing, and malware removal options.
Read Also: Best VPS Hosting Providers 2022 | Compared & Reviewed
1. Pricing
If you are a beginner or a small business, the pricing of any service is a crucial consideration. You don't want to pick a product that expands your budget if you can avoid it. Free isn't necessarily a good thing, as you know. Consequently, a pricing comparison between Cloudflare and Sucuri is provided below.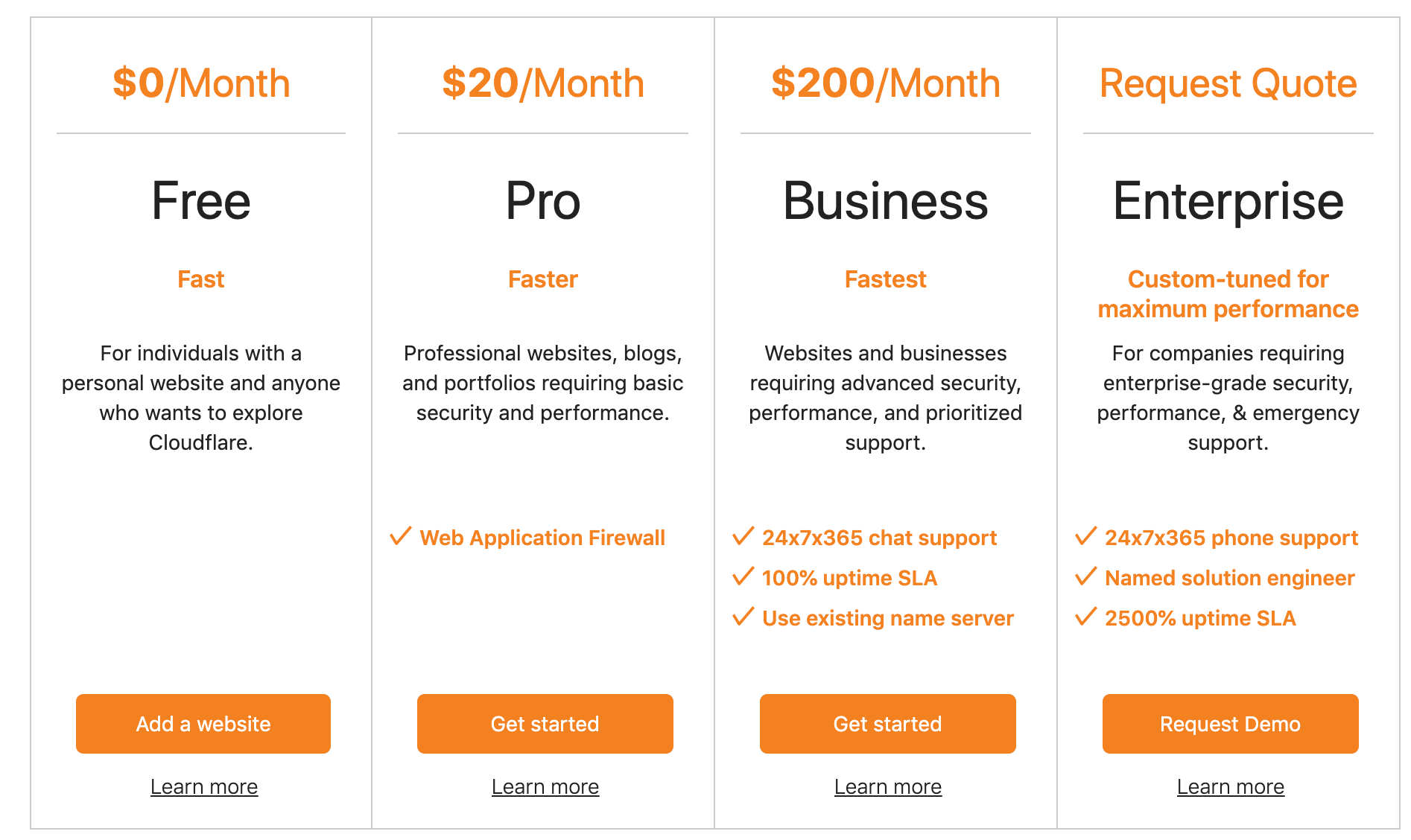 It provides everyone with a free CDN service. Regardless of the amount of traffic, you may utilize their CDN service for free because you no longer need to pay for bandwidth.
The free plan excludes a website application firewall, but your website will still be secured against DDoS attacks, malicious traffic, spam, etc. Therefore, you must set up a Pro plan, which costs about $20 per month, to acquire a WAF. It will guarantee your site's initial protection.
Without a subscription package, you won't have access to your business plan's high DDoS support and customized SSL. Additionally, it provides enterprise-level website protection options, including DDoS mitigation (levels 3, 4, and 7).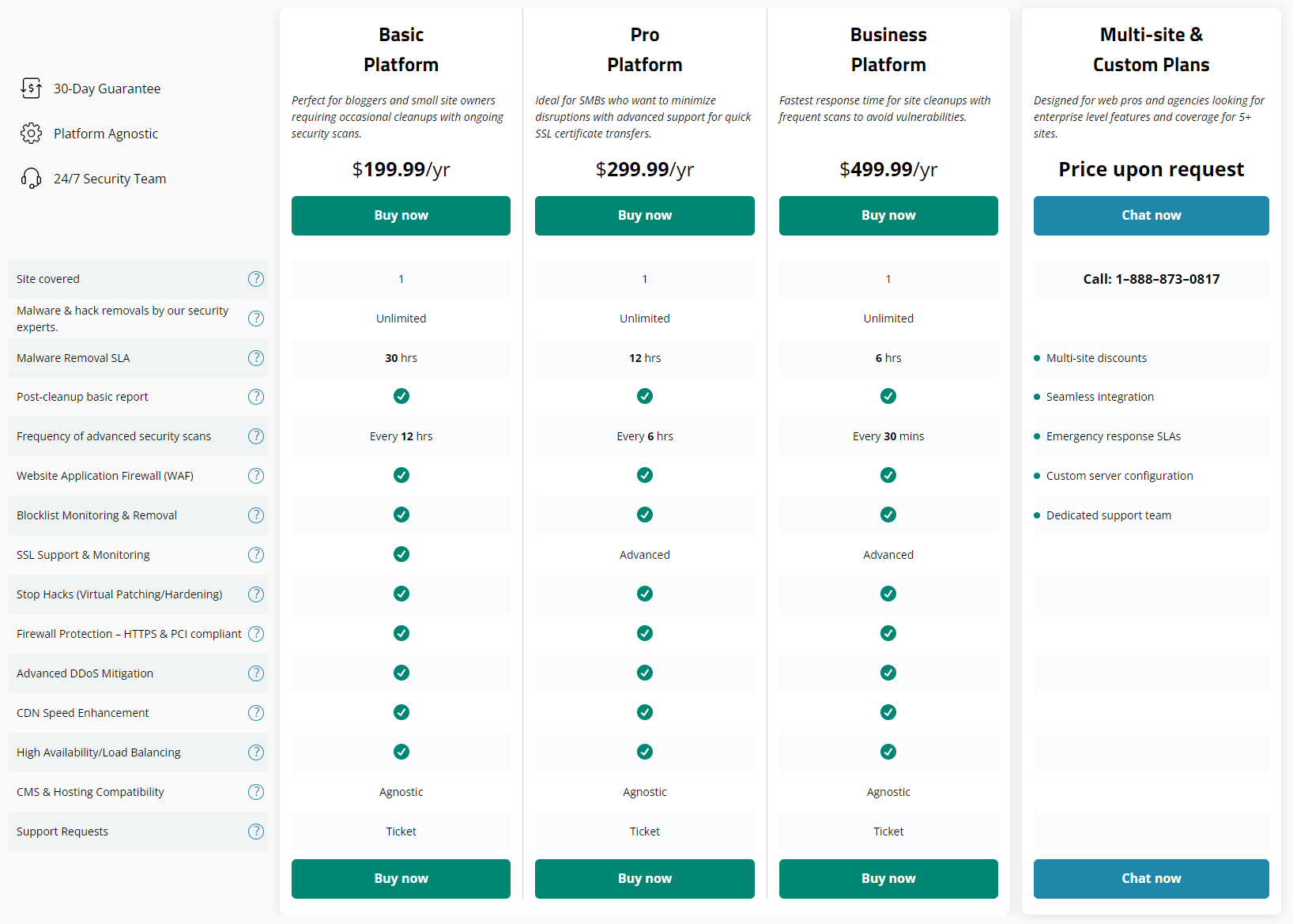 Sucuri doesn't provide any free packages. Their annual online security plan, which is less expensive than the Cloudflare Pro package, starts at $ 199.99. Complete web management, DDoS defense, a free Let's Encrypt SSL certificate, malware detection, and WAF are all included.
They provide live chat assistance and 24/7 help for all of their services.
Sucuri vs CloudFlare: What to Choose?
Smaller businesses might choose Sucuri at a reasonable price. Cloudflare Pro is $ 240 per year, but Sucuri's standard plan is $ 199 per year and has more capabilities.
2. Features
Both Cloudflare and Sucuri provide various plans with various feature options. Before deciding on any of them for your website, consider your requirements.
Cloudflare Features
For their free CDN services, many businesses use Cloudflare services.
They are leaders in utilizing their web application firewall solution to reduce DoS assaults.
A high-quality CDN is very beneficial for visitors when your servers are down due to high traffic or assaults on your website.
Protect your website from malicious visitors by using a firewall.
Defend against spam messages and spam registrations on your website.· Provide their plans with a free SSL certificate. You must select their firm or business strategy to receive a customized certificate.
You must ensure that the website is using a premium WAF package.
There is no guarantee that malware will be removed or a server scanned.
Sucuri Features
Sucuri is the most reputable company offering website monitoring and security services, so you can depend on them.
Offers thorough malware analysis, website monitoring, malware removal services, and DDoS defense.
For websites, Sucuri provides Cloud Proxy, balanced loading, and firewall services. Preventing malicious bots, malware, and other risks from accessing your website prevents unusual traffic from entering it.
For its basic plan, Let's Encrypt SSL is provided without charge. It would help if you upgraded to a professional or business plan to get a customized SSL certificate.
Checks often for malware, code injection, and file modifications on your website.
They support WordPress, Drupal, Joomla, and other well-known CMS applications in addition to helping restore websites that have been hacked.

What to Choose for Features: Cloudflare vs Sucuri?
A better selection of tools and resources, including WAF, load balancing, hack repair, and more, are provided by Sucuri.
3. Malware Removal Service
Malware and malicious attacks are among the most frequent risks to website owners, along with DDoS attacks.
Cloudflare Malware Cleaning Service
Your website is made quickly using the free Cloudflare CDN network. It would help if you kept to your payment schedule for firewall security. Similar to JavaScript and XSS tools, it is a user-customizable tool for building web pages.
Cloudflare does not come with blacklisting, malware protection, or file modification prevention.
Sucuri Malware Cleaning Service
Sucuri's WAF shields you from various threats, including DDoS, JavaScript injections, XSS, SQL injection, contact form spam, and more. There is free service available for anything, though, if the site is in danger. In reality, Sucuri offers its clients remote virus monitoring.
What to Choose For Malware Removal?
When it comes to offering a variety of security services and malware removal in the contest between Cloudflare and Sucuri, Sucuri comes out on top.
4. Caching
One of the key components of content delivery networks is caching. You may adjust how the company manages the cached files using Sucuri and Cloudflare in addition to enabling caching and creating caching rules in CF. You may tell Sucuri specific URLs you don't want to cache.
The user can choose to remove certain pages from the cached files or clear the whole cache via the CDN service provider's user dashboard. They are compatible with Google Brotli compression. Rocket loader and minification of HTML, JS, and CSS files are features of Cloudflare.
5. Site check
Site check, a free online tool from Sucuri, checks files and analyses code on website pages for the presence of malware. You won't be prompted to create an account before using the Sucuri scanner. Sucuri Site check: What does it do? One website or page URL can be entered into the tool. Click the button on the form after inputting the URL.
The code or page will be promptly scanned by the Site check tool. Malicious code on the website is what is known as malware. A warning message will be shown if Sucuri finds harmful code. Free online tools comparable to Sucuri allow you to check a site for malware infestation, but Cloudflare hasn't made one available for its users.
6. Firewall
Websites may be protected from various assaults using firewalls like Sucuri and Cloudflare. The firewalls of the two services need little maintenance, and you may inspect the IP addresses engaged for an attack or attack on your site by viewing the firewall log.
Users may build and manage up to 5 firewall rules with a free Cloudflare account. When one of the following characteristics matches the condition you defined, the rules allow users to block/allow traffic:
Cookie, country, referrer.
Hostname, user agent, URI, IP Source address, etc.
Users of Cloudflare Pro are required to create managed firewall rules. Additionally, they have access to more thorough reports on firewall activities. Sucuri has the same support for unique firewall rules as Cloudflare.
7. Media Handling and Optimization
The company will instantly optimize any pictures saved on its servers if you've purchased a subscription to the Cloudflare images plan. Videos may be played on Cloudflare. You may purchase the Starter Bundle plan, which enables you to store up to 10,000 photos and up to 1,000 hours of video on their servers if your hosting provider doesn't offer affordable storage plans or your server provides little storage space. The Bundle plan has a starting monthly membership fee of $10.
Cloudflare vs Sucuri – Pros and Cons
Sucuri Pros
Sucuri provides the most excellent monitoring and security services.
To defend your websites from DDoS assaults, they provide comprehensive screening for malware and other online security risks.
Regular website scanning should use a dedicated virus scanning solution. Malware, code injections, and file modifications are all screened for. It supports WordPress, Joomla, Drupal, and several other well-known CMS systems and fixes websites that have been hacked.
They provide a website firewall and load balancing solution called Cloud Proxy. It may identify and stop suspicious traffic from accessing your website by preventing code injection, bots, and other online security concerns.
With their entry-level service, they provide Let's Encrypt SSL for free.
Sucuri Cons
You must upgrade to the professional or business plan if you want customized SSL certificates.
As there are few features for CDN services, Sucuri focuses mainly on security aspects. A third-party CDN service must be integrated.
Pricing for a start-up website or business may be excessively costly.
Cloudflare Pros
Because of its free version, Cloudflare has the most users.
They use an excellent Website Application Firewall (WAF) to stop powerful DDoS attacks.
Even if your origin server is inaccessible, their extensive network of servers will ensure that users may access your website without any interruptions during periods of high traffic volume or intense DDoS assaults.
Their sophisticated firewall can identify and stop suspicious traffic from reaching your website.
Additionally, Cloudflare provides a defense against registration and comment spam.
Free SSL certificates, which are mostly shared, are provided by Cloudflare.
Cloudflare Cons
Custom SSL certificates cannot be obtained using the "free" or "pro" plans; instead, you must purchase the "business" or "enterprise" plan.
You must pay for WAF; it is not included in the free version.
Only premium plans are eligible for technical support.
The free plan only offers a few insights and facts.
Sucuri vs Cloudflare: Which is better?
Since Sucuri focuses primarily on security and provides CDN from a third party, Cloudflare is a superior CDN alternative for you. Sucuri will work better for you if you search for such essential security measures. Sucuri might not be your best option if you want to improve your website's performance and want continuous uptime.
However, Cloudflare not only promises a steady uptime but has also demonstrated it in the past. Finally, because of Cloudflare's free basic plan, beginners and CDN searchers should choose it. Additionally, they are free to experiment with the services.
Conclusion
Both Cloudflare and Sucuri are excellent in their ways, based on comparing their features and services. Cloudflare excels in CDN services if Sucuri takes the lead in security plans. Therefore, it relies on what demands your company has.
When compared to Cloudflare, Sucuri offers superior security and monitoring services at lesser costs. Cloudflare also offers a free site protection service to assist any blogger or business.
Read Also: Best cPanel Web Hosting Companies in 2022
FAQs
Is Sucuri CDN good?
Sucuri's CDN provides leading-edge performance and features at a price that makes it affordable for all types of individuals and organizations.
Why use CloudFlare?
Cloudflare also provides security by protecting Internet properties from malicious activities like DDoS attacks, malicious bots, and other nefarious intrusions.
Can I use Sucuri with Cloudflare?
Sucuri products can be used together with other CDNs, such as Cloudflare.
Does Cloudflare protect against malware?
Cloudflare supports malware detection and prevention directly from the Cloudflare edge, giving Gateway users an additional line of defense against security threats.
Between CloudFlare vs. Sucuri, which one is better for security purposes?
Sucuri is superior to CloudFlare in terms of security because its main goal is to protect websites from various online dangers. Among web firewall companies, Sucuri is a well-known and well-liked name.