When it comes to cloud-based managed WordPress hosting, Cloudways is one of the few providers that offers a fantastic mix between price and excellent functionality. It's a managed cloud service that works with several platforms, including WordPress. A user-friendly interface on Cloudways Review makes it simple to deploy a website on a high-performance cloud server.
In this Cloudways review, we'll go through its features and price to help you determine if it's the best option for your managed hosting requirements.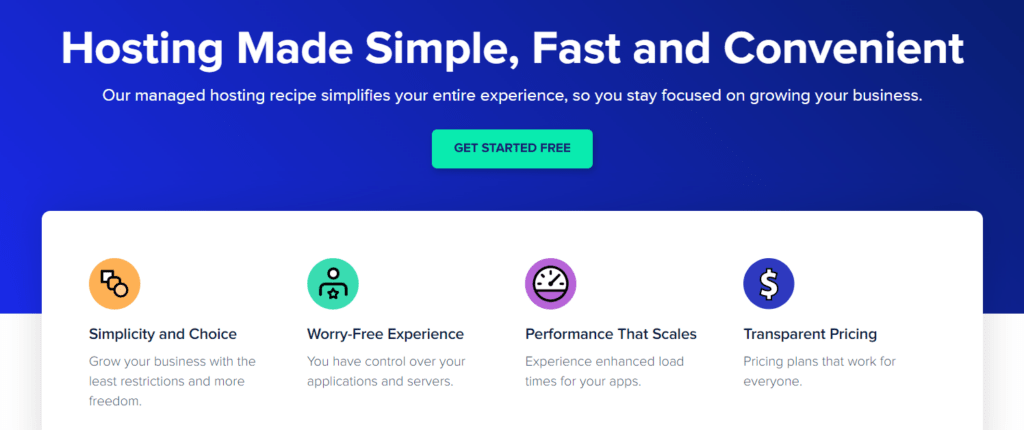 It's essential to clarify that Cloudways isn't a hosting company in the usual sense. Instead, you may use it to build web apps on various cloud hosts, such as DigitalOcean, Linode, Vultr, AWS, and Google Cloud.
Read Also: Comparison between WP-Engine, Cloudways, and NameCheap
Performance & Speed
The uptime of Cloudways, a cloud-based web hosting company, is 99.99%, and its loading times are between 400 and 600 milliseconds. It is due mainly to the company's partnerships with some of the most significant cloud service providers in the market, including Digital Ocean, Google Cloud, Vultr, Linode, and AWS.
You can scale your server using Cloudways' vertical scaling to meet your website's or application's demands. For instance, you can easily add extra RAM to your server to manage the rise in popularity if your application is seeing an increase in traffic.
Together, these features enable Cloudways Review to deliver exceptional performance and site speed.
Cloudways CDN
A content delivery network, or CDN, is a collection of servers and data centers situated geographically between a user's request and the origin server of the requested online content. A CDN's objective is to provide content more quickly by reducing latency.
Your website or application will load quicker and offer a better user experience to your visitors if you utilize a dedicated CDN. The CDN from Cloudways Review costs just $1 for every 25GB.
Enhanced Security
A positive feature of Cloudways is that it takes security seriously. You may restore your site to how it was before using the company's free managed backups. It is a really quick and straightforward process. Website security is not complete without backups: No matter what, you always have a current copy of your whole site (files and database) that can be quickly restored.
Free Let's Encrypt SSL certificates are also available via Cloudways. Your website or application will use the HTTPS protocol rather than the older HTTP to increase security, which is added by an SSL certificate.
Any website that receives visitors must have an SSL certificate. First, because SSL is now widely used, not utilizing SSL/HTTPS will make your site look less trustworthy and essential than your rivals. Second, Google has verified that websites with SSL certificates benefit from higher results.
Cloudways have enabled two Factor Authentication (TFA) as an additional layer of security to increase account security and ensure that only you can access your Cloudways account.
Cloudways Website Traffic Metrics
You may monitor your website traffic and other critical metrics with the Cloudways console, such as:
IP Requests – It displays your website's most frequently accessed IP address.
Bot Traffic – It shows a list of the bots using your website's resources so you can immediately ban them.
URL Requests – It displays your website's most popular URLs.
Status Codes – It makes monitoring online pages that are blocked by 404, 502, and other errors more accessible.
Cloudways Vertical Scaling
You may expand your server, CPU, and storage space with Cloudways hosting as needed to handle any surges in website traffic. This procedure is consistent with DigitalOcean, Linode, and Vultr, and you cannot scale down your resources again.
In contrast, you can quickly scale your services up or down using Google Cloud or AWS, following your needs!
You may choose from a wide range of companies and services. For instance, you may grow your server, CPU, and storage separately on Google Cloud and AWS.
But you can only scale them up all at once using Linode, Vultr, and DigitalOcean. It is problematic, particularly if you don't need to scale the other factors. Additionally, vertical scaling may cause a server outage. Therefore, it is advised to scale your services during off-peak times.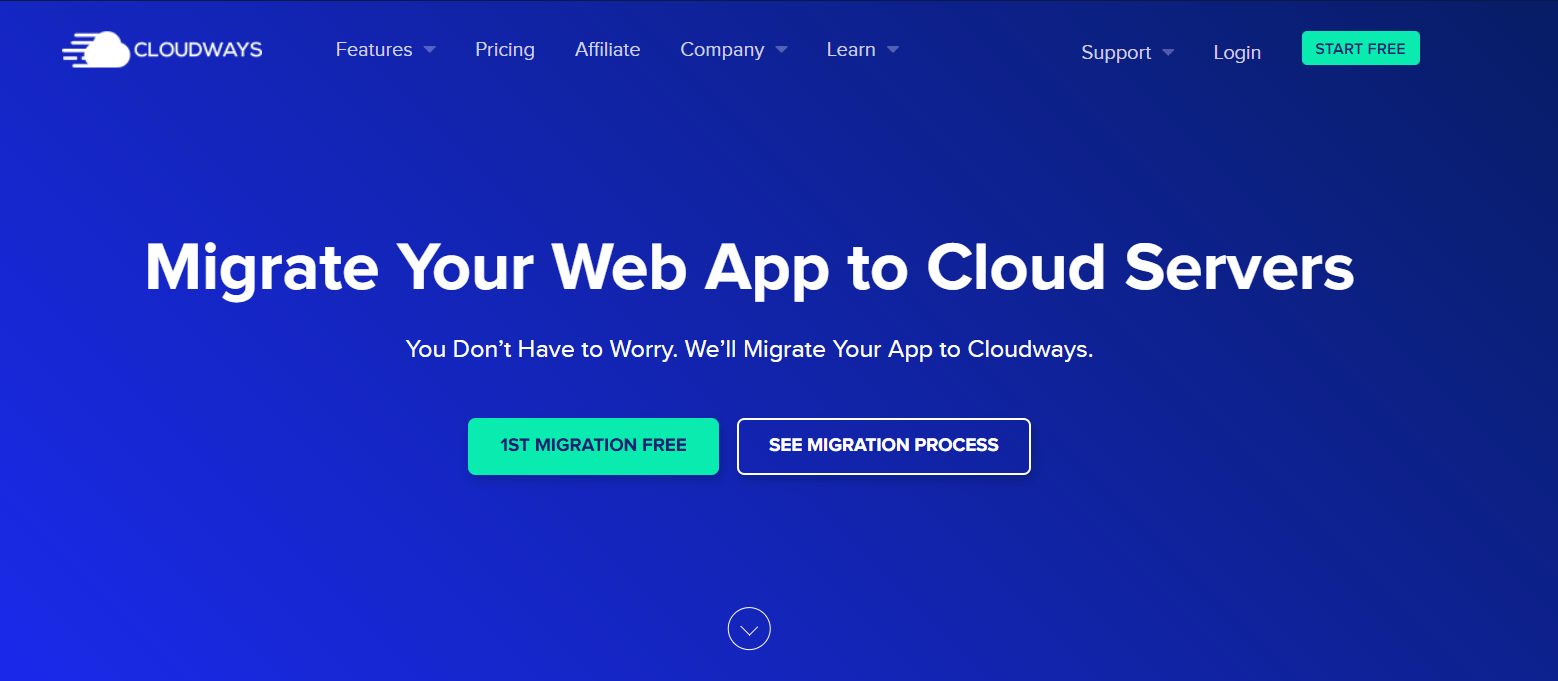 Great news for website owners who already have their website hosted by another provider: Cloudways offers website migration, which means that you won't have to go through the lengthy and sometimes painful procedure of migrating your site to your new host.
Cloudways' website migration is free of charge, whatever your chosen plan. For those using WordPress, the company has developed its WordPress plugin, which ensures a smooth and problem-free migration, which many reviews of Cloudways hosting point out.
Cloudways Backups and Restoration
You may build three different backups on Cloudways.
Scheduled Backups – It refers to the automatic backups that Cloudways Hosting does. You may, however, alter the backup options as you choose. By setting a backup frequency, time, and retention frequency, for instance, all subsequent backups will be made following that plan.
On Demand Backups – Before significantly modifying your website, you may manually back up your database and files.
Local Backups – It creates a replica of the most recent data you backed up on your server using the above techniques.
However, Cloudways' Backups service is not free. The cost for each GB of data backed up is $0.033. If you buy Cloudways hosting, you must choose the backup service. For easier disaster recovery management, backups are kept on a separate server.
Speaking of restoration, you may use their Restore Service to restore your backups instantly. Choose the correct version, then click Restore.
Cloudways Staging
All of Cloudways' plans come with a staging environment. Creating a replica of your complete website and testing changes on it with staging is helpful.
Since they are made locally, the live website is not affected. Once satisfied with the changes, you can quickly and easily apply them to your live website.
Therefore, you must create a copy of your live website if you wish to test changes.
Free Trial
Using it yourself is the best method to determine whether a service meets your needs. Understanding this, Cloudways provides a free 3-day trial to check out everything before you buy.
Your free trial is simple and quick to set up: Go to the homepage of Cloudways and select the Start Free option in the upper right corner. You must provide your name and a working email address. No credit card details are needed.
Three days of the free trial are sufficient to carefully analyze Cloudways' capabilities, performance, and usability. You can upgrade to a premium service and have your current site moved to Cloudways during the trial period.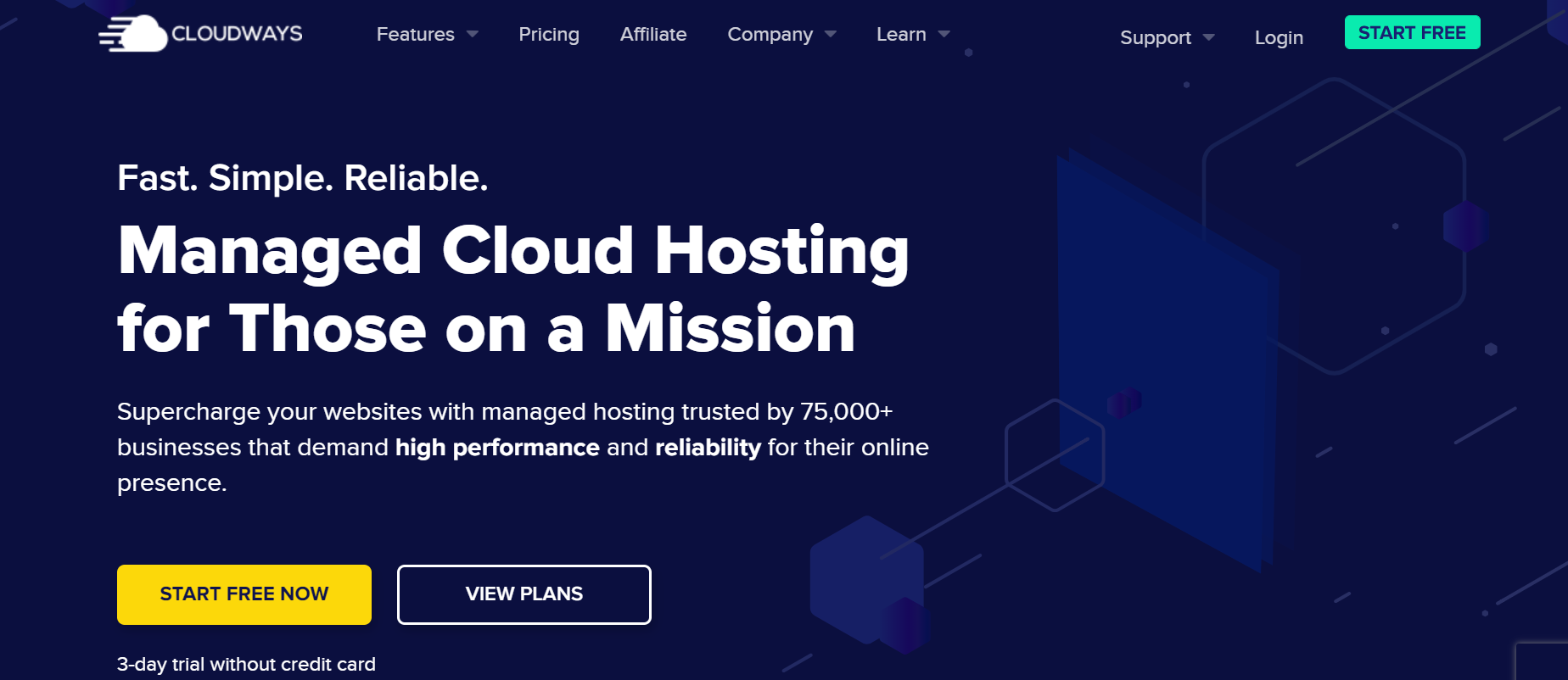 You'll likely find many companies that provide comparable services while searching for managed WordPress hosting. While most web hosts offer managed WordPress hosting on a shared, VPS, or dedicated server environment, one business has provided a unique managed hosting option. That company is Cloudways.
Managed WordPress Hosting
Cloudways can host WordPress sites on a managed cloud server with multiple copies of your content replicated throughout the data center of your choice. A sophisticated algorithm controls the swapping of data, and if your primary server crashes, a backup of your website is served from the next available server.
High performance, service dependability, and quick deployment of computing resources are all made possible by this. For the customer's convenience, Cloudways WordPress hosting is a service in which the web hosting provider manages the technical aspects of WordPress. It covers backups, uptime, application performance and security upgrades, and WordPress updates.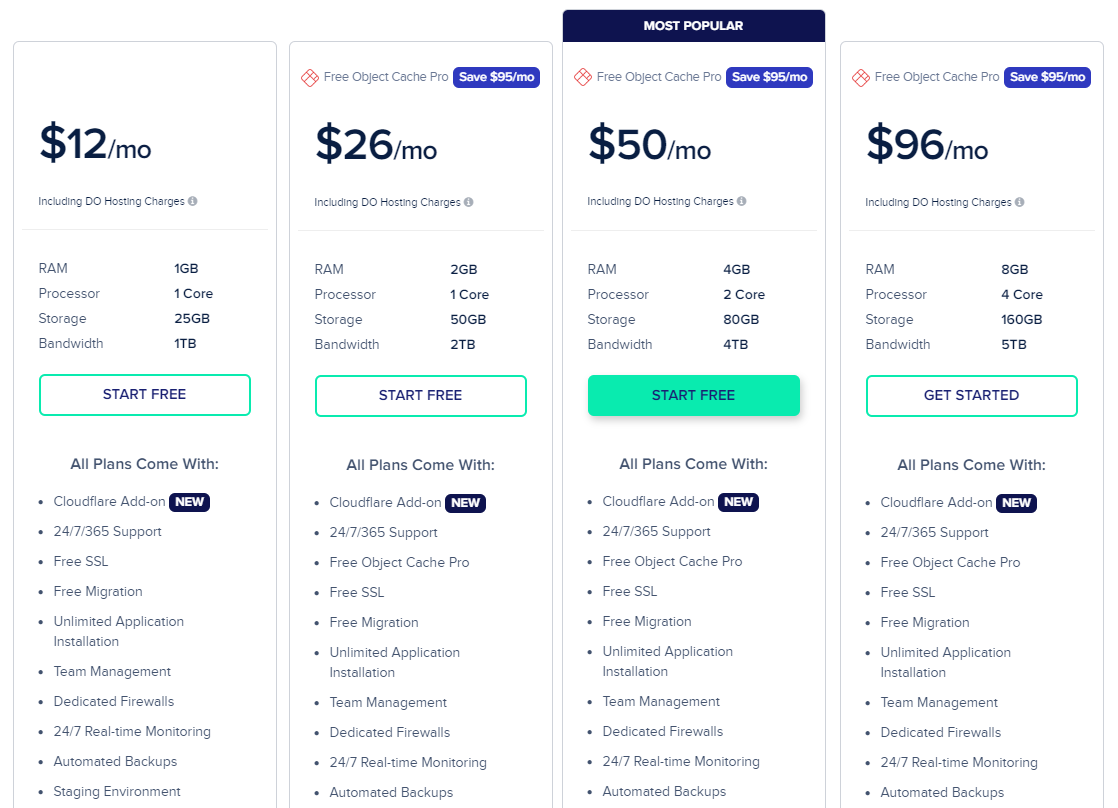 As a platform-as-a-service, Cloudways offers you the option of hosting your WordPress website on a cloud server from DigitalOcean, Linode, Vultr, Amazon Web Services, or Google Cloud Platform. The below section includes a summary of their plans (using DigitalOcean's cloud servers) and the current price list.
You may select from 5 different cloud server providers offered by Cloudways managed hosting.
DigitalOcean – From $12/month
Linode – From $12/month
Vultr – From $13/month
Amazon Web Services (AWS) – From $36.51/month
Google Cloud Platform – Starting at $33.18/month
DigitalOcean, Linode, and Vultr are the three best choices if searching for relatively affordable cloud hosting. You may get simple servers with the following for about $12–$13 per month:
1–2 GB of RAM
Single-core processors
25–50 GB of SSD storage
1–2 TB of bandwidth
These specifications are adequate for an expanding WordPress website, and you can quickly scale up as necessary. At the current time, Cloudways is a little less expensive than the majority of managed WordPress hosting services.
On the other hand, monthly plans for AWS and Google Cloud both start at about $30.

We received several inquiries for Cloudways' support staff after putting up a WordPress website on a DigitalOcean server. They promise to respond quickly and are accessible 24/7. Cloudways offers support via phone, live chat, and a ticket system.
Remember that each person's experience with Cloudways support will be different. Live chat experts could handle several questions simultaneously, which might not be ideal for complex technical inquiries. However, we would have preferred better support for straightforward inquiries like the ones we made, especially from a "premium" platform.
You can pay an additional price for premium help if you want a more specialized service.
Cloudways Review: pros and cons
Let's briefly go through the Pros and Cons of this service as we've covered a significant amount of information in our Cloudways review.
Pros
It's the easiest method to start using cloud hosting.
Server optimization is taken care of for you by Cloudways.
Your server resources are entirely under your control.
You can create a WordPress website in minutes.
You may scale up Resources at any moment. 
Cons
Customer service may use some improvement.
Understanding what resources you require may be difficult if you are unfamiliar with server management.
Some of the options may become very pricey due to the complex pricing structure.
Conclusion
It's not necessary to be afraid of cloud hosting. You can obtain all the benefits of the top cloud hosting providers through a much more user-friendly platform using services like Cloudways. A WordPress website may be set up in the same manner as a standard host.
In our view, one of the most excellent managed web hosting is Cloudways. It offers improved speed, scalability, uptime, and load management performance. Cloudways is a brilliant option for hosting websites with lots of traffic. We hope you like our post about Cloudways review.
Read Also: Shared vs Managed WordPress Hosting
FAQs
What Makes Cloudways Different From Other Web Hosting Companies?
Cloudways hosts websites on their Click&Go cloud. With the help of advanced caching algorithms, this platform can increase load times and performance by backing up your website across many cloud servers. 
Which Cloud Providers Does Cloudways Support?
DigitalOcean, Vultr, Google Compute Engine (GCE), Linode, and Amazon Web Services (AWS) are the five cloud service providers that Cloudways supports. 
Can I Use cPanel or Plesk on a Cloudways Server?
No. The server management tool developed by Cloudway is called the Click&Go Cloud console. Web administrators may modify basic settings, keep an eye on server resources, and do much more with its robust tools.
What Payment Methods Do They Support?
When purchasing hosting services from Cloudways, you may use PayPal as your preferred payment option upon request. As an alternative, all leading credit card companies, including MasterCard, Visa, and American Express, are also accepted by Cloudways
How is Cloudways Better Than other WordPress Hosting Providers?
With Cloudway's high-performance managed WordPress hosting platform, you can execute 1-Click actions for monitoring, scaling, cloning, backups, restorations, and much more. 
---