Contabo offers excellent hosting and VPS services, as well as 24/7 customer assistance. Contabo has various fully equipped data centers, to enhance its services at an affordable pricing. We have just discovered it if you own a business and search for the most excellent VPS hosting platform. Read our Contabo review to see if it's the right web hosting platform for you.
So far, everything has gone well, right? That is arguable. The bottom line, as usual, is determining whether Contabo is the ideal website host for you, which is where this article comes in. Let's have a look at what Contabo has to offer.
What is Contabo?
Contabo is a popular web hosting service. They offer the best-dedicated servers and virtual private servers (VPS) hosting in Germany, and their customers have access to the Linux environment. Contabo's best hope for enhancing quality is to use faster hard drives in its best VPS hosting offerings.
SSD storage is available as part of their Contabo VPS Server options, which improve performance. You can create and install a server to improve speed even more, just like you would for a gameplay setup.
Their top pick is that a server will come with at least 8GB of RAM. You can't get a VPS with 8GB of RAM for less than $10 per month. Without Contabo, purchasing a low-cost VPS for your cloud computing needs would be nearly impossible.

Hosting Types of Contabo
Defining your objective can assist you in selecting the suitable form of hosting for your needs. It's also crucial to understand your plan; this will save you effort and work in the long run.
Contabo provides three different forms of hosting: VPS, dedicated, and shared. Each class has several other plans with various features. We'll learn more about them in the following sections:
Shared hosting is a good choice for those on a budget and businesses with modest requirements. It is inexpensive and provides everything a simple website requires. Its low cost is because it shares the server with other users, spreading the expense of running a server across numerous users. Contabo provides four shared hosting plans, including cPanel, a free domain, WordPress, and access to over 300 apps. The WEBSPACE PACKAGE XXL begins at $3.99 monthly and goes up to $12.99 monthly.
Each user has their own virtual space on a VPS, eliminating sharing resources with other users. This type of hosting is more reliable, faster, and secure for SEO ranking. Contabo VPS server provides two virtual private servers (VPS) hosting (High-Performance VPS and Storage VPS). Best VPS Hosting offers four different plans ranging from $5 per month to $40 per month. Storage VPS provides three options with prices ranging from $9 monthly to $60.09 monthly.
Because of its high price and personalized features to fulfill specific demands, we don't anticipate everyone to choose this option. It's a good choice for high-traffic websites and sensitive data. Dedicated hosting eliminates the danger of a data leak. Furthermore, dedicated servers do not share resources with other customers, improving performance, efficiency, and privacy. Contabo provides three dedicated hosting plans with prices ranging from $89.99 monthly to $329.99 monthly.
Features Included With Contabo
What makes Contabo so unique?
We understand what's going on in your head. So, here are the features you should be aware of. Continue reading.
Data Centers with Low Energy Consumption:
Contabo focuses extensively on energy efficiency, making it an excellent choice if you're looking to reduce pollution, unlike some other hosting companies that put all their efforts towards speed and security. To maintain reliability in the case of a disaster, the company's two data centers are powered by distinct energy providers.
Automated DDoS Protection:
Contabo provides distributed denial of service (DDoS) security, created to keep your website from being taken offline by a cyber assault. Interestingly, these kinds of attacks are relatively widespread. The best part is that DDoS protection is included with all of Contabo's hosting services, and you don't have to do anything to activate it. It will simply run automatically on its own.
Domain Name Registration:
You may quickly register a new domain name for your website at Contabo. You can also move your domain registration from your current registrar if you have one already.
Contabo has recently added over 300 domain extensions to its services to customers. When you buy a domain from Contabo, it includes a customer dashboard, simplifying managing your website.
Web and Data Security:
Contabo provides an add-on backup service to securely store important data quickly and efficiently. It uses an encryption backup system based on the FTP protocol. Aside from that, Contabo provides a fully automated backup option for scheduled backups.
When you utilize an SSL certificate, all data flow on your website is encrypted, making it appear not very meaningful to everyone trying to view, use, or store it. The presence of an SSL certificate also indicates the security of Google searches, enabling consumers to enter and make an online transaction.
Contabo has enhanced the Safety of its users' accounts by enabling two-factor verification. It implies you'll have to verify using your email or phone number, which is safer.
Website builder and eCommerce features:
Contabo's Webspace plans include the ability to create a website using Contabo's website builder, which is simple to use and offers over 200 templates. If you own an eCommerce website, you can quickly add shopping carts and payment options with proper security features.
You might be thinking how much it costs to establish a site with Contabo, though imagine what? When using Contabo's webspace packages, you can develop your site for free.
Read Also: WP Engine Review – Best Managed Word Press Hosting?
Performance of Contabo
In this Contabo review, performance is critical in determining whether or not the service lives up to its promises in terms of dependability and speed.
Considering its low cost, it is safe to conclude that the Contabo VPS server performed exceptionally well. Its performance isn't industry-leading, but it's still good.
Response time:
Contabo outperformed the competition in terms of response times. I did testing in five different locations throughout the world, and the results varied from 36ms to 384ms, which are both extremely fast.
Contabo offers servers in eight regions: US(West), US(East), US(Central), EU Germany, Japan, United Kingdom, and Singapore. New York and Seattle are the newest additions to the company's growing list of data centers.
Geekbench scores:
Geekbench is a set of benchmarks that analyses processor and memory speed, in case you didn't know. It performs tests that simulate real-world operations and apps to determine how long it would take the processor to execute them. Better results are desirable because they indicate that the CPU completes the tests more quickly.
The results of the tests were as follows: single-core 616 and multicore 1942. While the numbers aren't spectacular, they're respectable, given I tested on the lowest server.
Uptime:
When it came to performance and uptime, Contabo scored 99.95 percent on average. Scores fluctuated, but never to the point where a seamless connection was impossible. Contabo has uptime above and great speed, especially considering that they own and operate their own data facilities.
Website Load:
A load test is the most effective approach to assess a website's performance under high-traffic scenarios. We utilized 50 simultaneous queries per second for this experiment. Interaction with the website is equivalent to a request.
As a result, 50 concurrent requests per second equals 50 interactions per second. Apart from the spike, the reaction graph was mainly flat. It indicates that the server was stable throughout the test.
Read Also: ScalaHosting Review 2022: Features, Pricing & Details
Why We Use Contabo?
Contabo VPS Server interface design is not simple on its website and its hosting tools. The remarkable thing is that it still runs on cPanel, a mainstream technology, and it even has a sample account you may use to test out the service before you buy it.
It also includes several instructions to assist you in getting started, but if you've used cPanel before, you're already up and running. Aside from that, there aren't too many things at Contabo that set it apart from the competition.

Key Features What We Like About Contabo:
Storage Customization: Each Contabo VPS Server comes with a storage option that you can select. If storage is more important than performance, go with a rapid NVMe storage with over 1,000,000 IOPS or a big SSD disc. If you can't even decide, the NVMe Storage Expansion Add-On lets you have both.
You'll Have More Traffic Than Ever Need: Each Contabo VPS Server includes 32 TB of web traffic, unlimited incoming traffic, and transmission bandwidth of 200 Mbit/s to 1 Gbit/s. For 99.98 percent of our clients, this equates to limitless traffic. Unlike some of their rivals, they will never charge you more for incoming or outgoing data transmission on your Virtual Private Server.
More Compute Power for Less Money: Starting at $4.99, you may acquire your best VPS hosting with your choice of operating system and complete root access. A Virtual Private Server (VPS) is an excellent approach to obtain a self-contained computing environment at a fantastic price.
Quick Provisioning: Millions of VPS are provisioned each day, with an average provisioning time of 20 minutes. Make sure to pay for your best VPS hosting with a credit card so that they can set it up straight away without having to wait for payment.
is Contabo easy to Use?
Contabo is an unmanaged service that is not for the faint of heart. As a result, it's a popular service among developers and server administrators. It's a go-to alternative for complex defined because of its low prices and lack of complication. At the same time, you may choose to have a Webmin control panel installed at no additional charge.
All responsibility rests on your shoulders while using such a service. You receive the hardware and the necessary connections to set it up and modify it as you see fit. If the great starter isn't an issue and you're aware that you're buying an unmanaged way of providing everything it includes, we're good to go. Then there's a Contabo dedicated server, which is relatively simple.
Meanwhile, at the center, you'll see a list of your best-dedicated servers as well as some fast access buttons like start, resume, pause, and manage. Another advantage of Contabo is that it can add a Webmin control panel for free. You must, however, opt-in during the checkout page.
Altogether, we would put Contabo's dashboard and the accompanying Webmin control panel in the winner's circle. You must quickly handle every part of your Contabo Server with a balance of user-friendliness and management.
Contabo Plans and Prices
Contabo specializes in VPS hosting, which starts at $5.50 monthly. Shared hosting costs $3.99 monthly, cloud VPS server Costs $49.99 monthly, and dedicated servers cost $89.99 monthly. While the cost of shared, VDS, and reliable services isn't attractive, the Contabo VPS server is undoubtedly inexpensive.
Contabo VPS Server offers four virtual private server (VPS) plans with DDoS protection and backup technology. You may also select an operating system and a control panel to be pre-installed on the server. While cPanel and Plesk are premium options, Lamp, Lamp + Webmin, and Webmin are all free.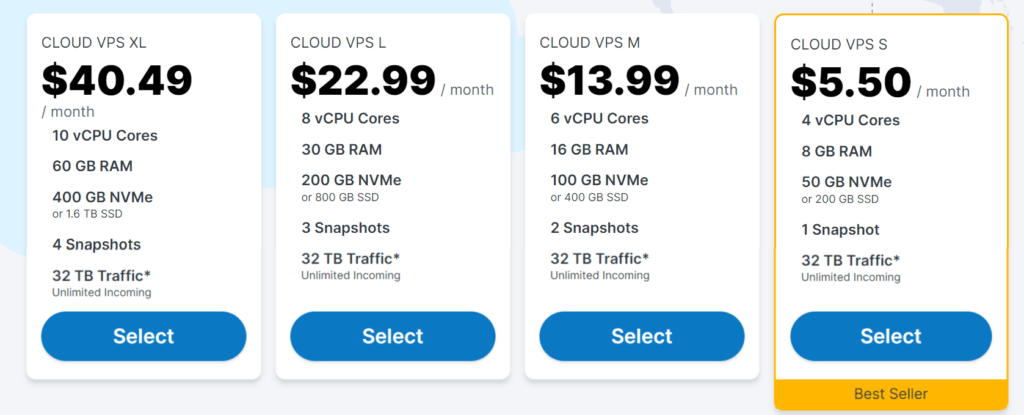 Overall, Contabo offers a variety of sizes and shapes, but the Contabo VPS server remains one of the most preferred hosting services because it is both economical and efficient. When it comes to dedicated servers, the service offers more for less.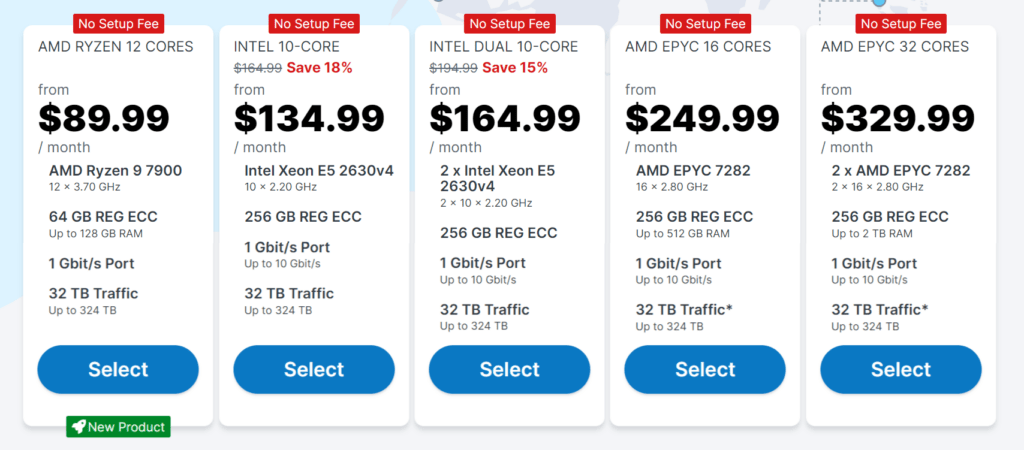 Read Also: Comparison between WP-Engine, Cloudways, and NameCheap
Contabo Help and Support
Contabo's customer service is only available by phone and email from 8 a.m. to 11 p.m. CEST. Contabo, thankfully, also features a very sound knowledge base with articles regarding a wide variety of topics.
If you have any problems or questions, you may contact Contabo's support team via phone or email. The team works in a three-tiered framework, with 1st, 2nd, or 3rd level agents. Followers, as the supplier, refer to them.
Based on what I saw, operators from all three levels appear to be well-trained and efficient. The 2nd and 3rd levels, on the other hand, are seasoned system admins who work well in technicalities.
In terms of email, it's fantastic that your can contact Contabo team for free. However, you may have to wait a while because the company's support crew only checks email during business hours, which is inconvenient if you have an urgent problem.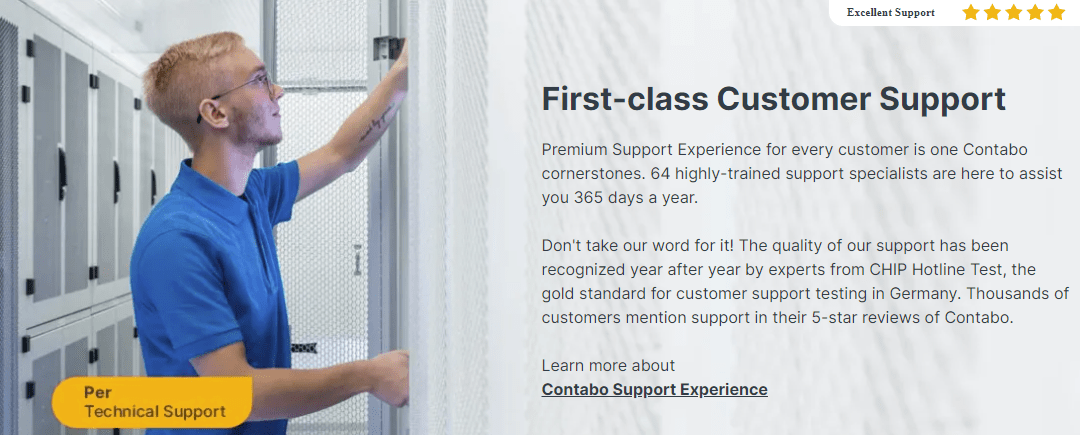 Fortunately, Contabo Server includes a knowledge library if you wish to solve any problem independently. Although the knowledge base isn't the most comprehensive in the industry, it features some previous courses and instructions.
Contabo's assistance is, on the whole, a good deal. Its customer service representatives are skilled and courteous. However, it misses live chat and is only available during office hours.
Pros & Cons of Contabo.Com
Aside from the benefits, there are certain drawbacks to consider. As a result, here is a Contabo review of the pros and cons.
Pros:
Contabo Server is a web hosting platform that provides users with colocation services.
Scalability is a simple process with Contabo.
Contabo offers a wide range of items to its consumers.
Its pricing is too low to be matched by any other hosting provider.
With your order, you will receive a one-year free domain name.
Drag-and-drop site builder: This tool is ideal for beginners who want to create a website but don't have prior knowledge. Without coding a single line of code, you. can rapidly construct a customized website, post text, upload pictures, and make slideshows and collections.
MySQL, PostgreSQL, CGI-BIN, PHP, Python, Perl, Ruby on Rails, and many other databases are available.
100% customer satisfaction: Contabo's 30-day money-back guarantee gives you plenty of opportunities to try out and evaluate their service and assistance. Please be aware that will remove the cost of the domain from the payment status.
Contabo is said to be speedy by the majority of clients. You'll get even more excellent performance if you use Cloudflare.
Cons:
Because there is no choice for live chat, reporting difficulties can be inconvenient.
Users must pay extra for several essential services that other hosting companies provide for free, such as automated backups.
Their customer service may take a while to react, possibly due to crowded lines, but they do a decent job with an average time of one minute.
To run a website, you must have a solid knowledge of the underlying servers.
Conclusion
To conclude what has been said thus far in this Contabo review, Contabo is a competent web hosting platform. The data centers were primarily located in Germany, extending throughout Central Europe.
Contabo allows users to choose from various hosting options, including shared, VPS, and dedicated hosting. Every plan includes an SSL certificate, no transaction fees, DDoS protection, 1-Click upgrading, a free domain, and an uptime monitor.
Contabo's clients have always signed up for long-term services and high-quality assistance for any technical issues they may have while hosting with Contabo
FAQs
Is Contabo a good WordPress hosting option?
Contabo is a good hosting provider for WordPress sites, according to our tests. They provide managed WordPress services, and the shared hosting package is not suitable for high-traffic websites. Contabo will operate very well on small, moderate, and big WordPress sites that receive a lot of traffic volume.
Contabo uses which control panel platform?
The cPanel control panel is used to assist your hosting account. After logging into your Contabo hosting account for the first time, you can choose cPanel to control your websites, emails, and other charges. It's the same cPanel you're used to from other cPanel web hosts, with all of the same capabilities, but with a few modifications from Contabo.
Is Contabo hosting legit?
Contabo is a legitimate hosting provider. The service supplier is a German firm with nearly two decades of experience. It primarily focuses on providing VPS, VDS, and dedicated server hosting at low prices.
Why is Contabo so cheap?
Contabo claims to have a fully integrated hardware architecture in all data centers, which is cheap. It allows to offer more significant discounts and save money on upkeep and time. The corporation also specializes in long-lasting, low-cost gear to get the most value for the money.
Is there a way to get free webmail with Contabo?
Contabo is a very well hosting firm that provides a wide range of services, including domain name registration, hosting services, and email hosting. We frequently receive the same concern, so we needed to discuss it. is Contabo provides webmail access. Put, yes! Contabo provide webmail access through their service.
Does Contabo have managed VPS hosting?
Contabo does not provide simple managed VPS hosting; you must collect all parts of your host on your own by default. It does offer a managed service add-on, but it's pricey. While it covers basic safety, upgrades, and server reliability, it only provides two hours of technical assistance per month for specific concerns.
Is Contabo Hosting easy to use?
When you get past some of the excessively technical terminologies, creating a Contabo account is relatively simple. Choosing your domain name and installing WordPress is also straightforward, thanks to cPanel and Softaculous. Aside from cPanel, Contabo's account dashboard is clumsy, outdated, and not user-friendly. You'll also need to be an experienced VPS and dedicated hosting user because you'll have to install and manage your server.