One of the oldest players in the market is DreamHost Review . Although WordPress is its primary focus, it also provides VPS or private server hosting options for more significant projects.
Whether you're a beginning blogger or an established company, their platform offers everything you need to expand your website. To determine if DreamHost is the best option for you, read our in-depth DreamHost Review 2022.
What Differentiates DreamHost from the Competitors in the market?
Dreamhost is created for WordPress. For the past 20 years, they have hosted more than 1.5 million WordPress blogs and websites. Aspiring website entrepreneurs have a terrific starting point with DreamHost. Their shared hosting includes an intuitive user interface and adaptable features to meet the requirements of beginners. They provide continuous service, frequent updates, and valuable information.
The services offered by DreamHost guarantee that every website is up and running quickly and are specifically created for optimal WordPress operations. They are also preconfigured for simple maintenance and performance optimization. DreamHost's platform-specific options make it easy to manage a WordPress website.
For small companies using WordPress and e-commerce, DreamHost provides various hosting options. Let's discuss Dreamhost web hosting reviews.
DreamHost Shared Hosting Review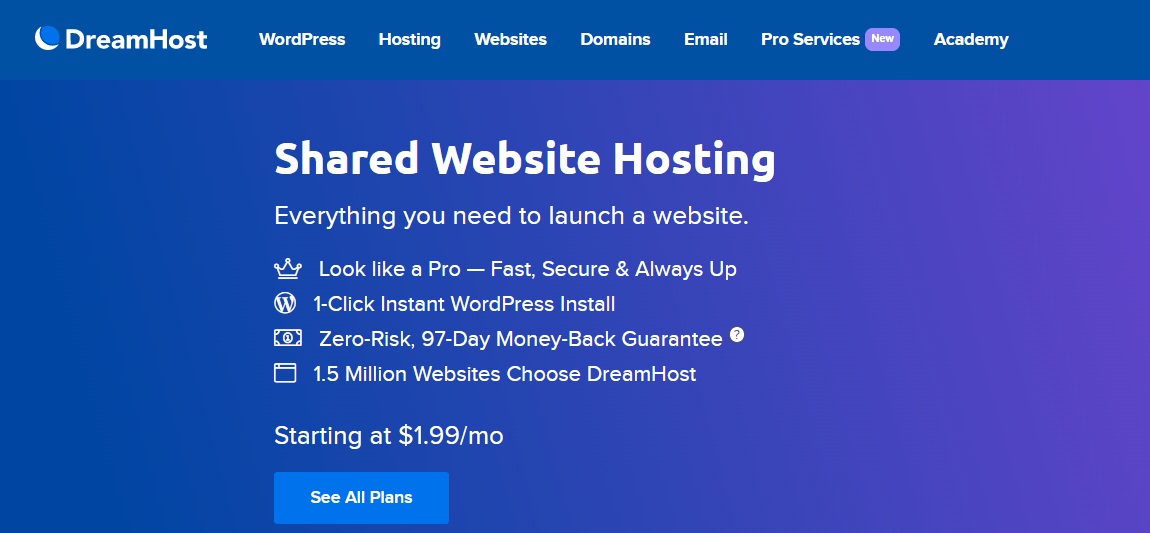 Shared hosting is the most cost-effective for small businesses with low traffic volumes. When you use shared hosting, other websites are hosted on the same server as yours.
DreamHost's shared hosting options would suit you if you're building your first website and unsure where to start. The host offers beginners the necessary resources to build websites, such as WordPress installation, a free domain, and unlimited bandwidth.
DreamHost provides shared hosting plans with monthly, yearly, or three-year commitments, as it does with most of its hosting packages.
Key Features
Unmetered bandwidth
Free domain (annual plans)
Fast Solid State Drives (SSD) storage
WordPress pre-installed
Free SSL certificate
24/7 support
Pricing
DreamHost's shared hosting is available for as little as $2.59 a month. This Shared Starter plan supports one website, free automatic WordPress migrations, and unlimited traffic. Email accounts must be purchased separately. However, they may be had for as little as $1.67 a month.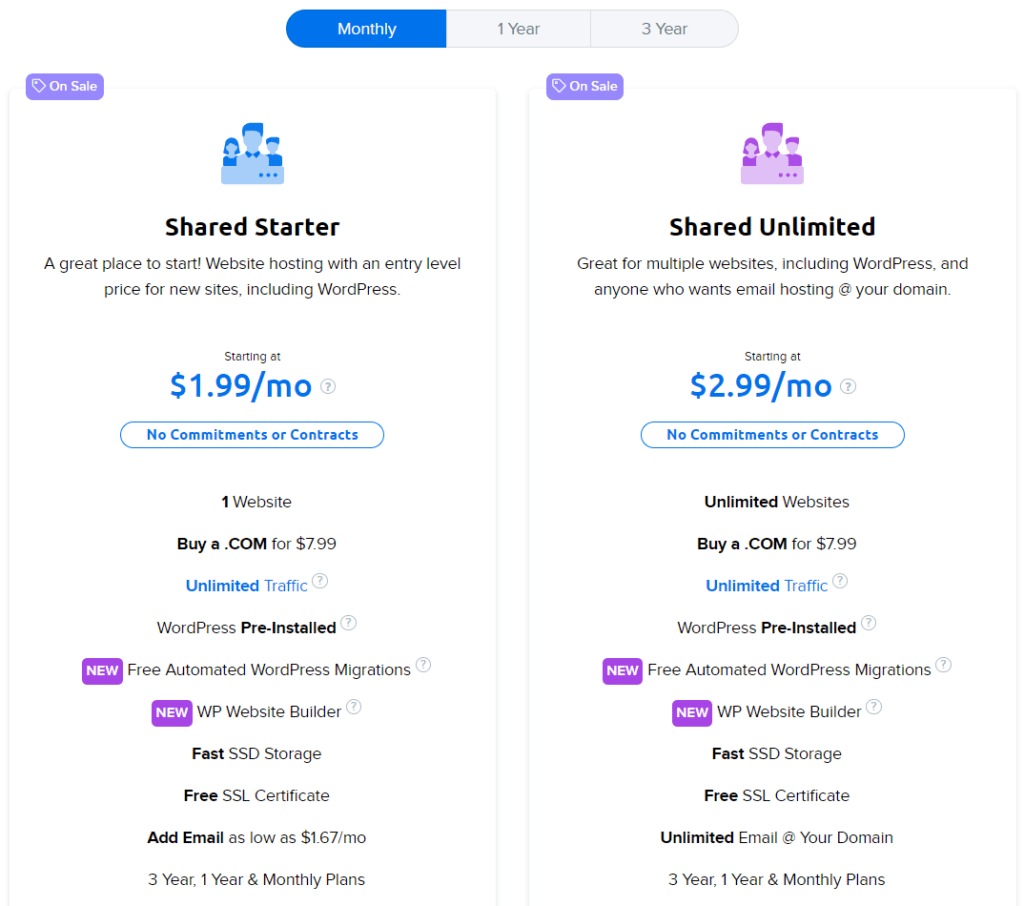 Unlimited websites may be used with the Shared Unlimited plan, which has a monthly starting price of $3.95. Email accounts are also included with this plan. Given the extra features, the Shared Unlimited plan provides a better value for your money.
Both options include an excellent 97-day money-back guarantee, free SSL certificates, and WordPress that has already been installed. It's entirely risk-free for a subscription since DreamHost will give you a full refund if you're dissatisfied with the service.
Look Also: Justhost Web Hosting Review – Details, Pricing & Features
DreamHost VPS Hosting
VPS hosting is an additional form of DreamHost hosting. Similar to shared hosting, but with smaller private spaces created within the server environment. It's a popular option for web admins whose websites have exceeded shared hosting plans but aren't ready to switch to a more reliable option, like dedicated hosting.
DreamHost offers four primary VPS hosting plans: Basic, Business, Professional, and Enterprise. Compared to shared plans, these packages are more suited for managing large business websites or online stores.
Key Features
Up to 8 GB RAM
Unlimited Traffic
A customized control panel
24/7 support
100 percent uptime guarantee
Unlimited MySQL databases
Free SSL Certificate
VPS Pricing of DreamHost
In more detail, let's review DreamHost VPS hosting plans and price information. There are four tiers, as we just said. The following details apply to packages that are invoiced monthly:
Basic: This plan costs $10 per month, including 1GB RAM and 30 GB SSD storage.
Business: Costs $20 per month, It comes with 2 GB RAM and 60 GB SSD storage.
Professional: This plan costs $40 per month, Including 4 GB RAM and 120 GB SSD storage.
Enterprise: Begins at $80 per month. It includes 8 GB RAM and 240 GB SSD storage.
Any of these plans are usable for an unlimited number of websites. Free SSL certificates and a total number of email accounts for your domain name are also included.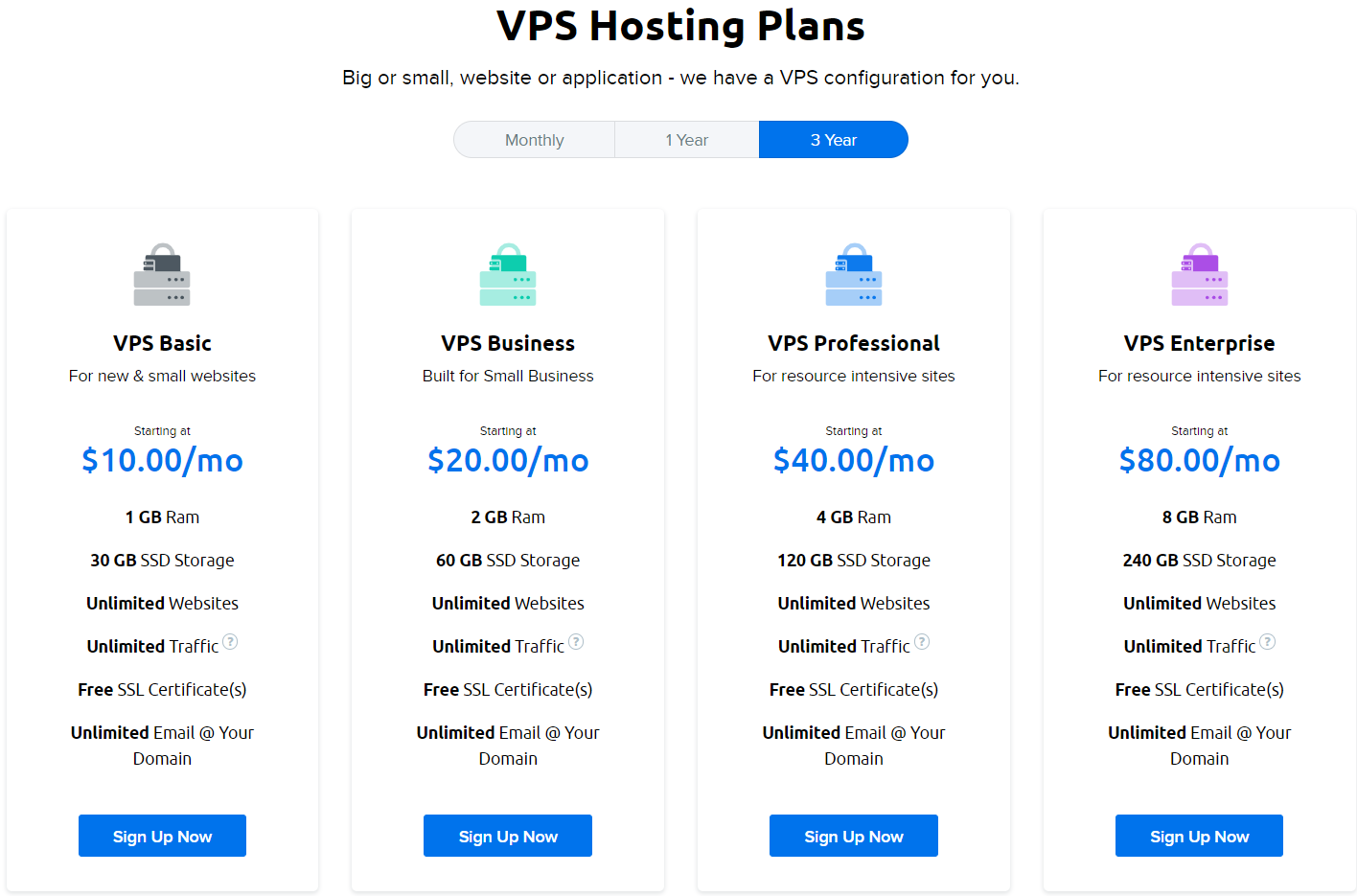 Have a large business or experience high traffic? A dedicated server could be required.
It is perfect for applications and websites with high traffic, resellers, and agencies and may be handled entirely for you. This hosting is the most costly.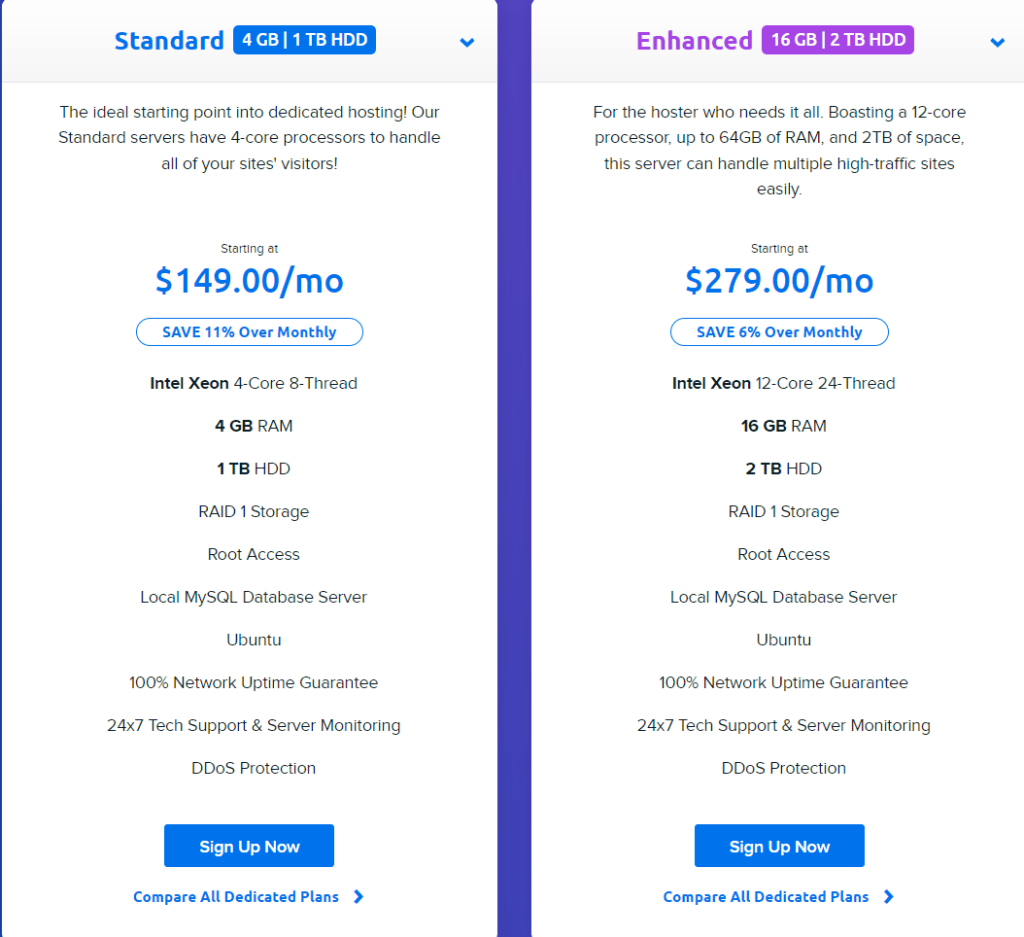 Key Features
Unlimited bandwidth
4 GB- 64 GB RAM
Up to 2 TB HDD storage or up to 240 GB SSD storage
Full shell and root access
New SSDs (solid-state drives)
A web-based control panel
Pricing
Standard: This is the best place to begin starting with dedicated hosting! The 4-core CPUs on DreamHost Standard servers can handle all of the traffic to your websites. This plan costs $149.00 per month.
Enhanced: For the host who requires everything. This server, which has a 12-core processor, up to 64GB of RAM, and 2TB of storage, can manage many high-traffic websites effortlessly. This plan costs $279.00 per month.
Read Also: Liquid Web Hosting Review – Details, Pricing & Features
Managed WordPress Hosting Review of DreamHost
WordPress, one of the world's most widely used content management systems, is a versatile and reliable option for creating your website. Use DreamHost's managed WordPress hosting service, referred to as DreamPress, to make the process even simpler.
Regardless of the kind of website, DreamHost is an excellent host. However, several features make it especially helpful for WordPress users, which is why numerous DreamHost reviews suggest it for this CMS. Even WordPress lists DreamHost as one of its officially recommended hosting providers.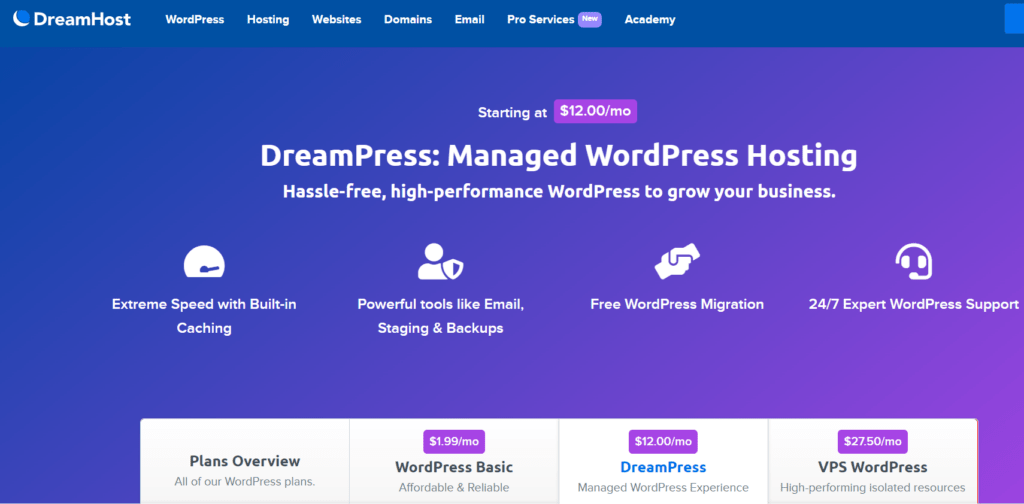 Key Features
Free site migrations
Automatic daily and on-demand backups
WP Website Builder
One-click staging environments
Free, pre-installed SSL certificates
Automatic WordPress installation
Free domains (annual plans)
Privacy protection
Support via ticket, callback request, or live chat
Free email hosting
You can depend on trustworthy assistance from DreamHost's WordPress packages, as with most managed-to-host plans. This help also provides a tonne of online documentation, instructions, and live chat access to professionals.
Pricing
The three managed hosting tiers offered by DreamPress are DreamPress, Plus, and Pro. Let's examine the pricing information (when invoiced monthly) for each plan in more detail:
Basic DreamPress: Starts at $12 per month. This package includes 30 GB of storage, unmetered bandwidth, and support for 100,000 monthly visitors.
DreamPress Plus: Starts at $24 per month. It has 60 GB of storage, support for around 300,000 monthly visitors, and an unlimited Content Delivery Network (CDN).
DreamPress Pro: Costs $79.95 per month. This plan includes 120 GB of storage, support for over 1 million monthly site visitors, and 24/7 priority support.
All plans feature free automated WordPress migrations, the WP Website Builder, pre-installed SSL certificates, and one-click staging.
In general, DreamHost provides packages for managed WordPress hosting at reasonable prices. Its unique features make it a top choice for websites ranging from essential blogs and portfolios to more sophisticated WooCommerce businesses.
Cloud Hosting
DreamCloud is the name of DreamHost's cloud hosting platform. Cloud hosting is an excellent choice if you need to divide your resources over several servers. It's also a good option if you need to deploy and configure your cloud servers because a VPS hosting plan has fewer customization options.
DreamCloud is made up of DreamCompute, a service for shared computing, and DreamObjects. The storage service is scalable because of DreamObjects. Additionally, you can get to it whenever you want.
Key Features
Storage application integration.
The option to run applications, such as Redis and Ruby.
WordPress website backups.
SSH with next-gen processors and accelerated SSD disks.
Full root access and control.
Unlimited monthly data transfers.
DreamHost's cloud hosting is typical compared to other hosting companies. It provides a great degree of flexibility and customization without being extremely expensive.
Additionally, you can depend on fast and dependable performance. Within thirty seconds, the service can start a server. It also makes use of faster SSD storage and next-generation CPUs.
DreamHost also allows you to select the software and Operating Systems (OS) you want to use. Microsoft Windows, BSD, and Linux are available as unmanaged server alternatives.
Another benefit of DreamCloud hosting is security. You may securely protect your data by connecting with different storage programs to create backups. These include DropShare, Retrospect, QNAP, and CloudBerry.
Pricing:
The cheapest DreamCompute package is $4.50 a month. That plan comes with 80 GB of SSD storage and 512 MB of RAM. A DreamCompute server with 4 CPU cores, 8 GB of RAM, and 60 GB of storage can cost up to $48 per month.
The cost of DreamObjects varies according to the amount of storage you require. They cost from $0.95 to $299.95 a month.
DreamHost Features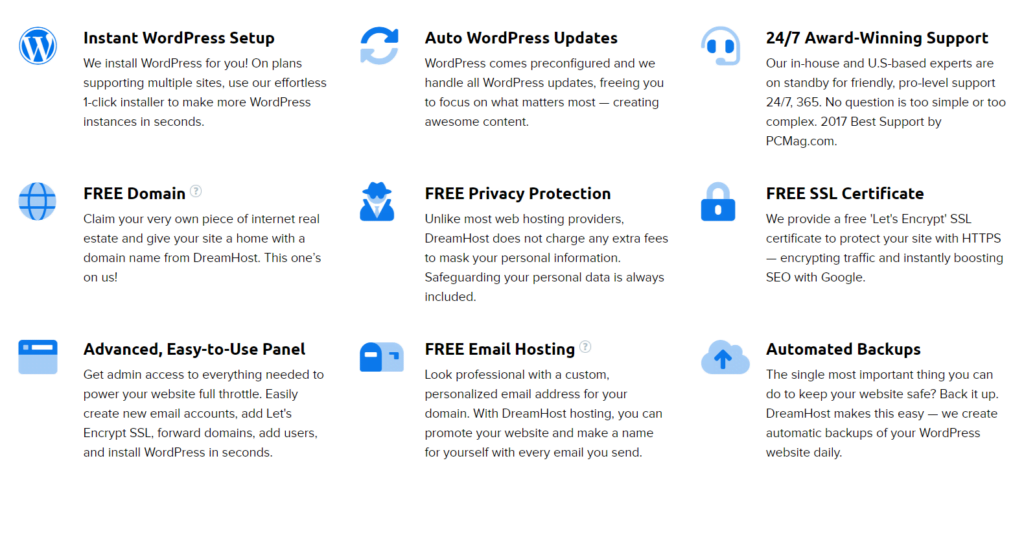 Unlimited disk space and bandwidth
The Shared Starter plan from DreamHost offers unlimited bandwidth, while Shared Unlimited offers limitless disc space.
Theoretically, you should be able to host as many (and large) websites as you'd want. Additionally, thousands of users may easily navigate these websites daily without issues.
Regardless of your plan, DreamHost offers free daily backups to all its clients. This great function gives you true peace of mind if something goes wrong.
The first year is free if you still need to buy a domain name. You must register a domain with one of the following endings to be eligible for this: .com, .org, .club, .net, or .info.
The personal information of your website visitors is protected by a Secure Sockets Layer (SSL) Certificate. A little padlock icon next to your URL serves as a visual representation, informing visitors that your site is secure and safe to view.
Additionally, it helps with SEO (Search Engine Optimization), as Google often penalizes insecure sites in search results ranks. Every website DreamHost hosts gets a free SSL certificate.
Every plan from DreamHost includes unlimited transfer because it doesn't monitor bandwidth or traffic. Therefore, there is theoretically no bandwidth restriction.
Although you could have additional problems if there is a significant increase in traffic, the fact that you are not limited by bandwidth is a huge plus.
Your website's server stores all data in random access memory, or RAM. More RAM is needed to store and load your site the larger it is.
The RAM limitations for cloud hosting plans typically range from 512MB to 16GB. However, it increases to between 4GB and 64GB on a dedicated hosting package.
One-Click Installs and Automated Updates
These capabilities, which are unique to WordPress websites, may save you a lot more time. Thanks to one-click installations, you can create your DreamHost account and WordPress website with only one click.
Additionally, DreamHost automatically monitors any software upgrades that WordPress releases, so you don't have to worry about remaining current. You will need to handle WordPress plugins manually because it doesn't work the same way for them.
The 97-day money-back guarantee from DreamHost is one of the most extensive in the hosting sector. You receive a refund if you cancel within 97 days of signing up.
Nevertheless, there are a few restrictions: it only applies to shared hosting, and you must use Google Checkout or a credit card to pay for your hosting.
Month-to-Month Billing Option
With DreamHost, you can select the monthly paying option for as little as $4.95 per month. You may do this at any moment, and there are no additional expenses! And offers the same outstanding features as the yearly subscriptions.
It is a fantastic option, and not all web hosting providers provide it if you cannot make a sizable payment for the yearly plans or if you are unsure how long you will need your site.
Although the monthly charge is more, it can be helpful if you want the flexibility of monthly paying.
DreamHost Email Review
The email service offered by DreamHost is quite typical. While users of the Starter plan will have to pay $1.67 per month for one mailbox, those who purchase the unlimited plan would be allowed to create an unlimited number of email accounts.
From the initial setup window, you may create your first mailbox, or you can choose Manage Mail under the Mail option on the left.
Mailboxes from DreamHost have a simple UI. Finding all the options, sending emails, adding attachments, and making attractive signatures are simple.
Finally, DreamHost includes a fantastic inbox for collecting comments from your contact form or making small-scale communication with potential customers.
DreamHost Website Builder Review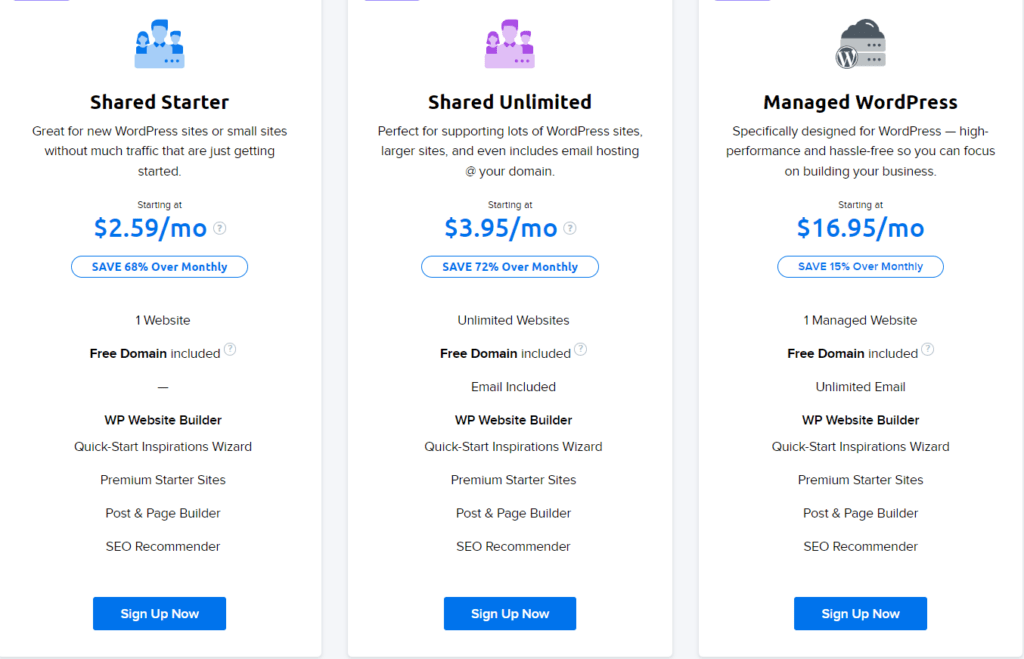 DreamHost provides not one but two website builders you may use if you're a beginner or prefer building a site using one.
Every WordPress installation from DreamHost has the option to use the Boldgrid Website Builder interface. It is a paid plugin that gives your website builder capability.
Its templates are all excellently built and responsive. You have the option. In any case, you may use a block editor to modify their templates. We can confidently tell that this is one of the finest block editors available on WordPress.
Look Also: Best VPN Services of 2022 – Top 10 VPNs Reviewed
How Is DreamHost's Performance and Uptime?
It doesn't matter how attractive and valuable your website is if it loads slowly for users. Your bounce rate and bottom line may suffer due to slow loading times and poor performance. Small companies and entrepreneurs can't afford to be offline for very long.
Thus Dreamhost's unique 100 percent uptime guarantee is worth emphasizing. DreamHost has succeeded in providing services with 100% uptime. They have established a dependable infrastructure and are prepared to refund users in the event of a disruption.
How Does DreamHost Maintain Your Website's Security?
To assist in finding and eliminating malware identified on client websites, Dreamhost created a tool. This security feature includes free domain privacy and free and open SSL/TLS certificates issued by a non-profit certificate authority.
DreamHost Multiple Layers of Privacy Protection
Shielded Personal & Contact Information
With DreamHost's Proxy Protection, their client's contact information is changed for their own.
Protected from Email Spam & Phishing
Emails sent to the proxy address are secretly and automatically redirected to their clients' private real email accounts.
Shielded Personal & Contact Information
Unwanted callers hear an automated message telling them to get in touch with the provided proxy email.
Does DreamHost handle site backups?
With automated and on-demand backups, DreamPress's managed WordPress hosting solution makes safeguarding and recovering your website simple. DreamHost offers you the confidence you need to make changes by automatically creating a daily backup of your website. You can also manually build an extra backup once per day.
DreamHost keeps backups for up to two weeks (automatic or manual). Within your panel, you may restore a backup if necessary. DreamHost provides a dependable backup to safeguard your website investment from unforeseen emergencies. Their DreamPress plans have extra "Backup & Restore" free options.
How Is DreamHost's Help and Support?
DreamHost offers several ways for you to contact a representative for customer service. You may contact customer service via phone, email, or live chat from 5:30 AM to 9:30 PM PT.
Additionally, you may browse DreamHost's community forum and read its extensive knowledge library.
No matter the problem, DreamHost will always advise you to search the knowledge base for a solution before contacting an agent.
The knowledge base is entirely accurate and current. There is a tonne of guides and explanations there.
The community forum is currently as active as a brand-specific forum could be for web hosting. There should be multiple questions every week, but there aren't many answers.
DreamHost review – Expert Opinion
First and foremost, we do recommend DreamHost. It's a terrific option for individuals searching for WordPress web hosting because it's a decent and dependable service. DreamHost has a dozen more benefits than disadvantages in this review. But that's exactly what we believe.
There are just a few live chat hours available, and email support might be slow. We suggest DreamHost to Personal users who want reasonable costs, a high uptime guarantee, and who feel confident using the extensive knowledge base to figure things out independently.
Look Also: Best cPanel Web Hosting Companies in 2022
What Are the Pros and Cons of DreamHost?
Although DreamHost is a well-known web host, it might not be the best option for everyone. Before selecting a plan, consider these Pros and Cons.
Pros
100% uptime guarantee.
Unlimited data storage and bandwidth.
Unlimited sites can be hosted on the same account.
Unlimited MySQL databases.
Free Domain with Who is Privacy.
Unlimited sub-domains.
One-click installation of software.
97-day money-back guarantee.
Excellent 24/7/365 customer support.
Cons
The prices are higher than other several hosting companies.
The control panel has plenty of choices that might make navigating challenging.
Not all the answers are publicly available on the websites like other hosting providers.
Some hosting features in the dashboard have an additional fee.
Conclusion – DreamHost Review
Without making too many quality compromises, anyone who wants an inexpensive web hosting package should choose DreamHost. Its shared hosting service is among the best available for WordPress and general.
Additionally, it has a 97-day money-back guarantee, so you can get your money back in full if you're unhappy with the service during the first three months. We hope you like our in-depth DreamHost review 2022.
FAQs – DreamHost Review
What is DreamHost?
DreamHost's web hosting business offers a wide range of web development solutions. These include dedicated servers, shared hosting, cloud hosting packages, VPS plans, and domain management services.
How do I install WordPress on DreamHost?
The DreamPress-managed DreamHost provides WordPress hosting service. However, with their integrated WordPress "one-click installation" feature, which can be accessed from inside your control panel, WP can be quickly installed on any hosting plan.
Is DreamHost safe?
DreamHost is secure, yes. It is not only a well-known and reliable firm, but it also has robust security measures. That includes free daily backups, domain privacy, web application firewalls, and SSL certificates. Your website and company will be kept secure.
Can I register domains with DreamHost?
You may register domain names with DreamHost. Also offered for an annual fee is whois privacy. All their hosting services include a free domain name registration for a year.
How do I install WordPress on DreamHost?
The DreamPress-managed DreamHost provides WordPress hosting service. However, with their integrated WordPress "one-click installation" feature, which can be accessed from inside your control panel, WP can be quickly installed on any hosting plan.