"What theme should I choose?" is one of the first questions that comes to mind when customizing your Shopify store." Top 7 fastest Shopify Themes in 2022 The theme loading speed is also an essential aspect among the most critical things you consider, such as product and catalog size, built-in SEO features, and developer support.
So, if you're still puzzled about how to pick a quick theme for your online business, we're here to help. We've compiled a list of the top 7 fastest Shopify themes for 2022 to demonstrate why shop speed is essential and how to select the best and quickest themes. So let's see what we can find out!
Significance of Utilizing Fastest Shopify Themes In 2022
Why do I use Shopify's quickest themes? First, you might consider having a quick look at the necessity of choosing the fastest Shopify theme to understand why it is necessary.
It's necessary to have the fastest Shopify theme to:
Effect Google rankings
Improve conversion rates by making the site quicker, lighter, and easier to load.
Customers with a lower bounce rate generate more traffic and earn more money.
Every other eCommerce site aspires to have reasonable conversion rates and a higher search engine ranking. Customers must pick the fast Shopify themes, and the rest will be taken care of.
However, you may have been thinking about how to find the fastest loading Shopify themes or make your Shopify store quicker using themes when looking for the fastest loading Shopify themes.
What Makes Shopify Themes the Fastest and Most Effective?
A quicker theme renders faster and reduces the time it takes for the site to load. Every quickest Shopify theme has a set of qualities that it satisfies and employs as an added value, among other things. The following are some of the benefits of the quickest Shopify themes:
Faster processing on the server by using less code
Smaller in file size and quicker to download
Less Javascript
Cleaner CSS and fewer CSS files
You may speed up your Shopify store by using the optimized theme. These features promote rapid site resource downloads from the server, allowing web pages to be downloaded and rendered quickly. Your Shopify theme can reduce browser loading stress by utilizing less javascript and displaying web pages in less time.
Read Also: Rocket.net Vs WP Engine Comparison
Top 7 Fastest Shopify Themes to Choose from 2022
We may note down the top 7 quickest Shopify themes in 2022 and top conversion Shopify themes after deploying and utilizing numerous themes. These are some of the most popular Shopify themes available.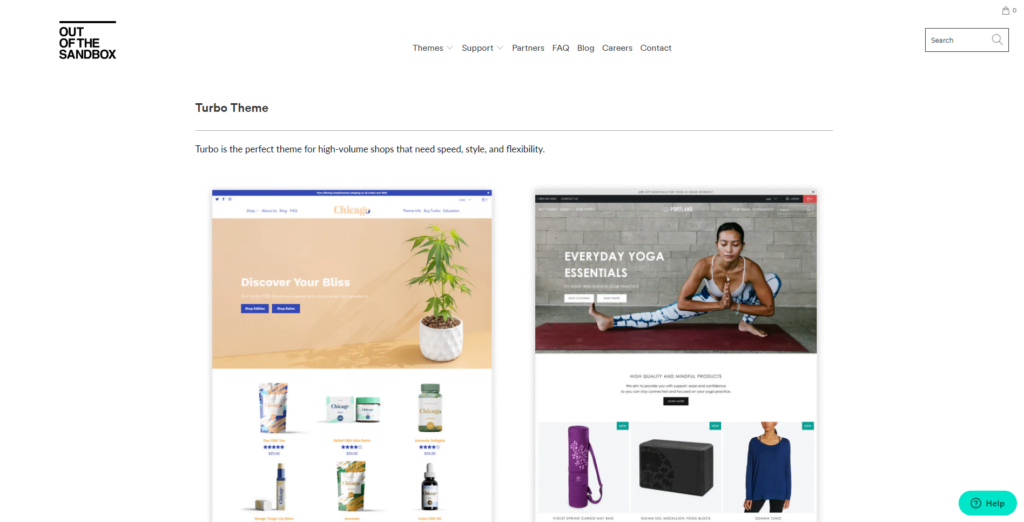 Turbo theme is one of the most popular Shopify themes on the market. as the name implies, provides incredible speed and is ideal for all types of Shopify online companies.
It works with Shopify stores of all sizes. You may rely on Turbo to search for the best Shopify themes for small inventories.
The Turbo Shopify theme has two distinct features: super-fast loading speed and caching capabilities. Consequently, it can help your Shopify site load faster, resulting in a better user experience and more prospective buyers.
Turbo is one of the most popular Shopify themes in the world. Sport and Ludicrous Speed Modes are the main reason for its enormous success.
Read Also: 25 Must-Have WordPress Plugins for Business Websites in 2022
How do you feel about a Shopify theme with two modes?
Sport
Ludicrous Speed Modes
Turbo users have the option of selecting one of two modes. Both are geared for speed, but the quality factors are different.
The ludicrous mode can anticipate user behavior on a preloading page and then load the following predicted page in the background. However, some third-party applications may break when in ludicrous mode, allowing users to access Sport mode.
On the other hand, Sport mode is a powerful Turbo Shopify theme that does away with the preloading page technology in favor of easy connection with third-party apps.
Features of Turbo Theme
Turbo creates custom designs for places such as Portland, Florence, Dubai, Seoul, Tennessee, and Chicago, among others. These designs are jam-packed with high-end features that provide you with limitless creative and selling options.
Product sliders
Fast loading speed
Minified HTML
Optimized images fit all screen sizes
Mega menus
Interactive mini cart
Customizable page fastest Shopify templates and layouts
Quick and versatile navigation configuration
Multiple video platforms compatibility with YouTube, Vimeo, etc.
Predictive (life) search
Custom contact form
Support for Shopify's new Product Media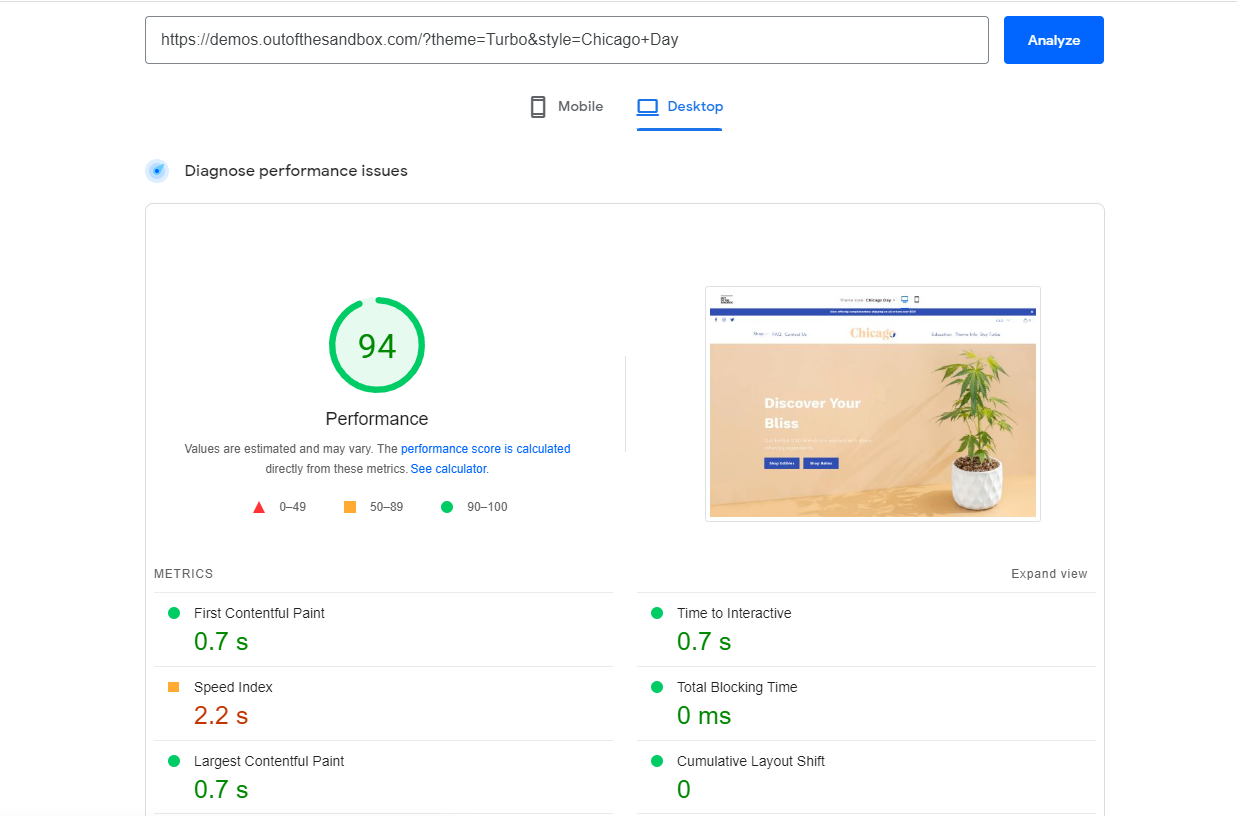 ---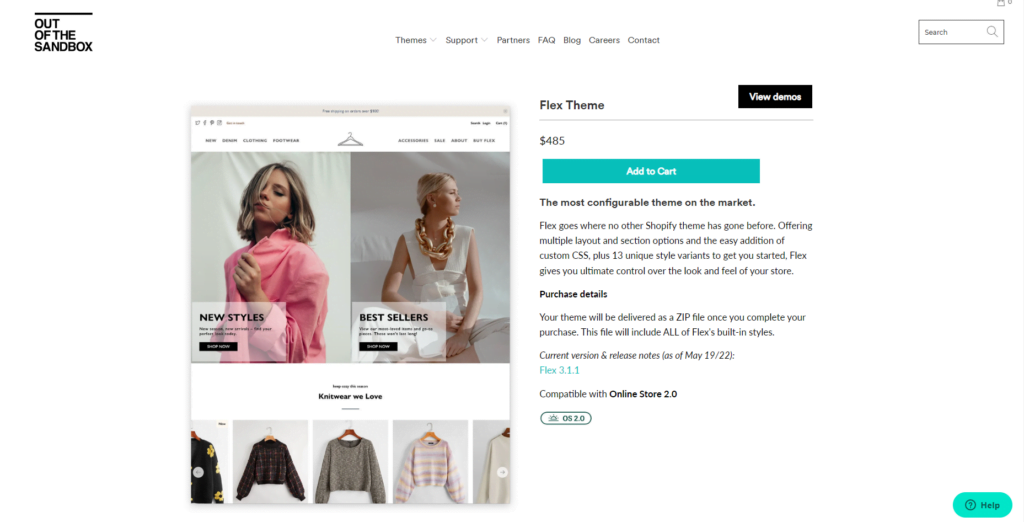 Flex is a game-changing Shopify theme that allows you complete control and includes many new high-end features. It is regarded as the finest Shopify theme for conversions because of its professional setup tools for different layouts, superior management of settings, and easy integration of custom CSS. As a result, Flex has become one of the fastest Shopify themes, allowing the site to load more quickly.
Flex is another Out of the Sandbox Shopify theme that provides customization options. Features such as greater flexibility and control are available because of their increased flexibility and control.
Four header and footer styles
Three product page layouts
Mega Menus and dropdowns
Control over margins
Width settings
Background gradients
Button styles
Text columns
Sticky bottom bar
It's beneficial for individuals without coding skills who want to construct the fastest shop site for their online company. This theme assists large and small businesses with online services in increasing their income.
Read Also: Best Dedicated Web Hosting
Features of Flex
Flex comes with tools to help you manage your Shopify store more efficiently. Using the Demo Shop Import function, you may create a theme much faster than average. Flex comes with a slew of top-notch features, including
Numerous Layout Options: Personalize your theme to fit the content of your website and make the most of your creativity.
Advanced CSS: Add CSS straight to the elements using the theme editor.
Make more compelling elements: Style the elements that make up a section.
Icons & Elements: Have you considered utilizing icons and elements to create visuals? Flex is willing to assist you. Flex allows you to add an announcement bar, featured deals, texts, and columns to your page.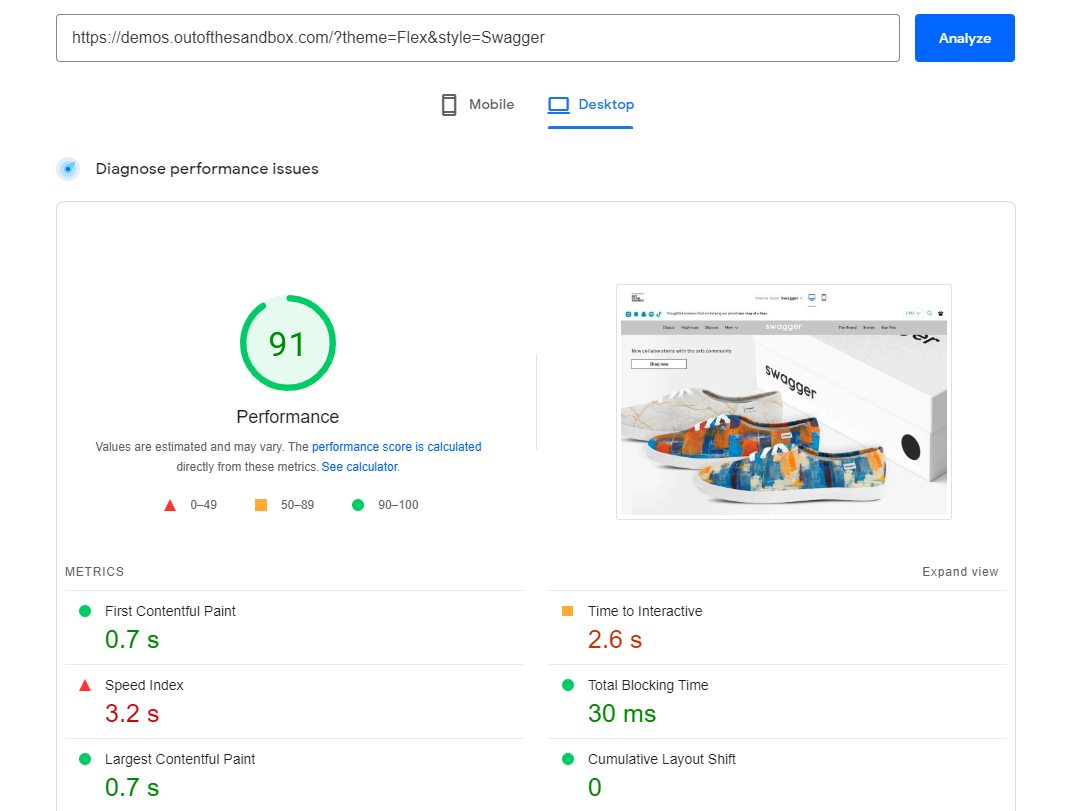 ---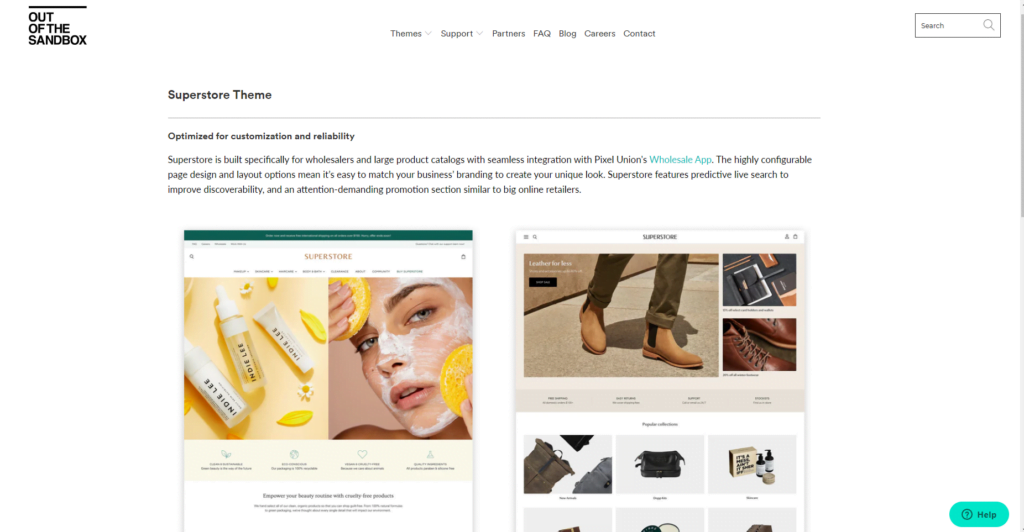 Superstore is a Shopify theme designed primarily for creating premium storefronts for high-end items and luxury brands, as the name indicates. The theme has an exquisite design that will capture anyone's eye.
Superstore is a unique shop design that allows you to display all of your categories in one convenient location without cluttering the layout. There are various sections for marketing special deals and promotions.
This theme is also appropriate for wholesale businesses since it includes built-in Wholesale Club integration and a 6-month free trial.
Features of Superstore
The premium design of high quality
Wholesale and extensive catalogs are supported.
The modular design facilitates customization.
Page loading times have been optimized for speed.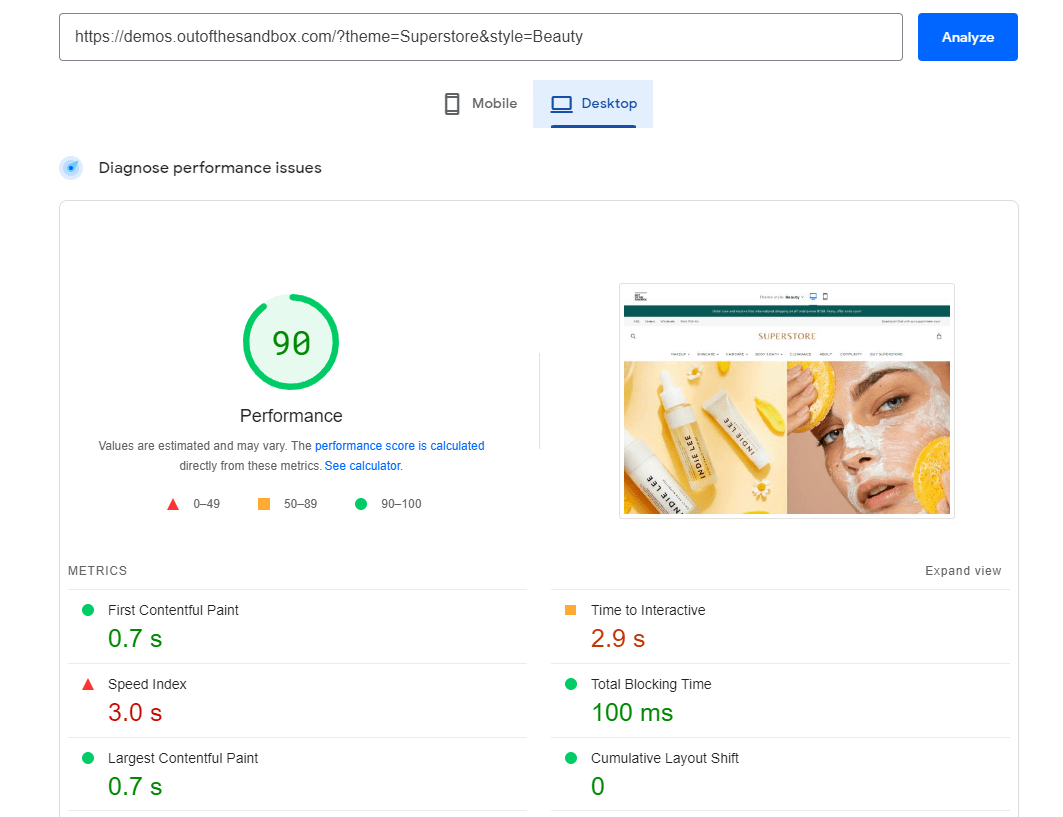 ---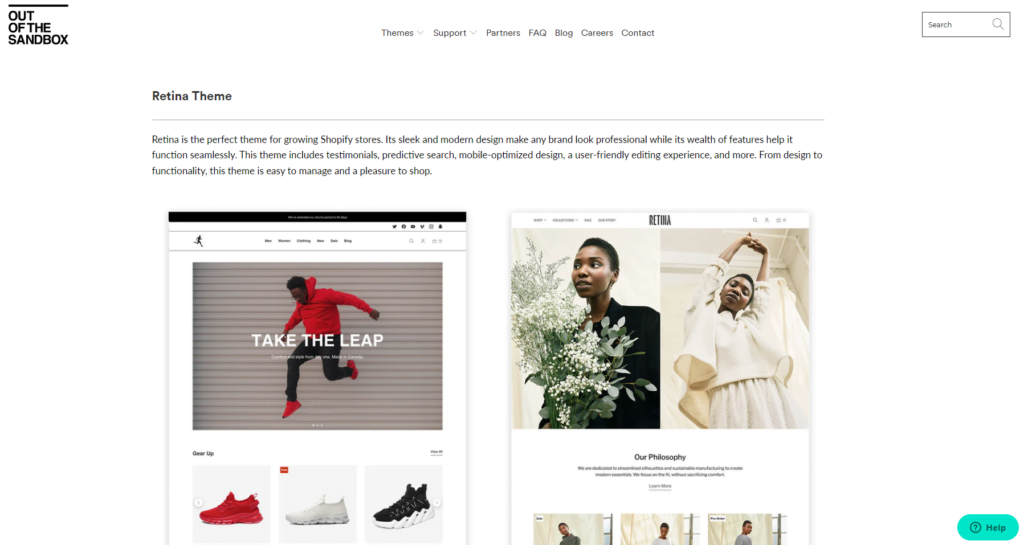 The retina is a versatile theme with a lot of value for your buck. This theme has won the Shopify Design Award, indicating that it has been tried and tested by many people. You can be sure that you are receiving the best straight out of the box.
Amsterdam, Austin, Melbourne, and Montreal are the four layout variations included with the theme. All four are beautifully produced and are among the most aesthetically appealing online shop goods for a genuinely distinctive concept.
Retina integrates seamlessly with Shopify to provide the best e-commerce experience for you and your customers. You've got one premium package when you combine that with the ability to customize almost everything and excellent client support to help you out if you run into any problems.
Retina Features
It's retina-ready and responsive.
Video support is available.
It's search engine optimized.
Menu for the shop on the sidebar.
Excellent for conversions.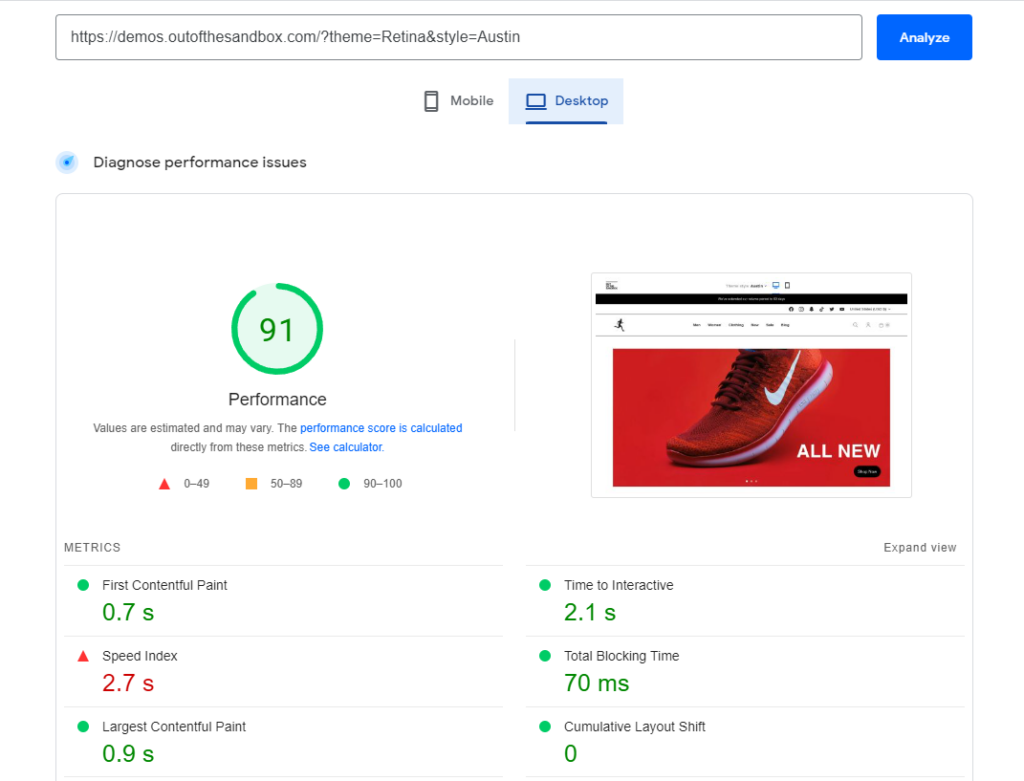 ---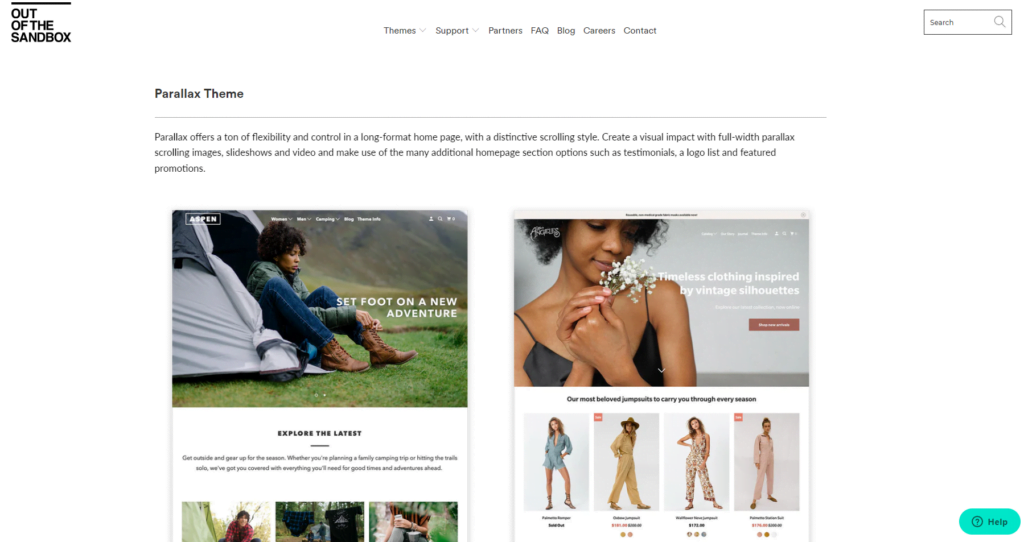 This theme gives you a lot of freedom, as well as a long-format home page and a unique scrolling style to enable you to tell your narrative in vivid detail. Use large, dramatic pictures, slideshows, and videos to make a statement, and use the various homepage section choices like testimonials, Google map, logo list, and newsletter signup.
Parallax Features
The Shopify Parallax theme uses a vast range of storytelling to help you connect with your customers. It's ideal for showcasing items or demonstrating how utilizing your products may enhance potential clients' lives through lifestyle photography.
· Parallax Effects
This theme's name comes from a feature. The term "parallax effect" refers to the perception of an item from several viewpoints. The theme uses this technique to give a sense of movement as you scroll over each page.
· Multi-level menus
Visitors will find it easy to navigate the website thanks to the multi-level drop-down menus. It's critical to have simple website navigation so that visitors can quickly locate the things they're looking for. People will most likely go to another store if you fail to deliver on this.
· Promotional banner
The Parallax theme's banner highlights your promotion, sale, or special deal, such as free delivery. When you have a promotion banner running on your eCommerce site, it informs customers that they can obtain exceptional value for money immediately, encouraging them to stay.
· Video content
You may use the Parallax theme to display movies on your homepage and product pages. Videos are an excellent method to explain how your items are used and the type of lifestyle your brand represents.
· Product forms
Is it true that popular items are flying off the shelves? When a product is out of stock, use the product form functionality to allow visitors to fill out their information and get an email or text when it becomes available again.
· Quick shop
Visitors may quickly receive additional information about a product and add it to their cart without having to leave the page they're on by opening a shortened product page without exiting the page they're on.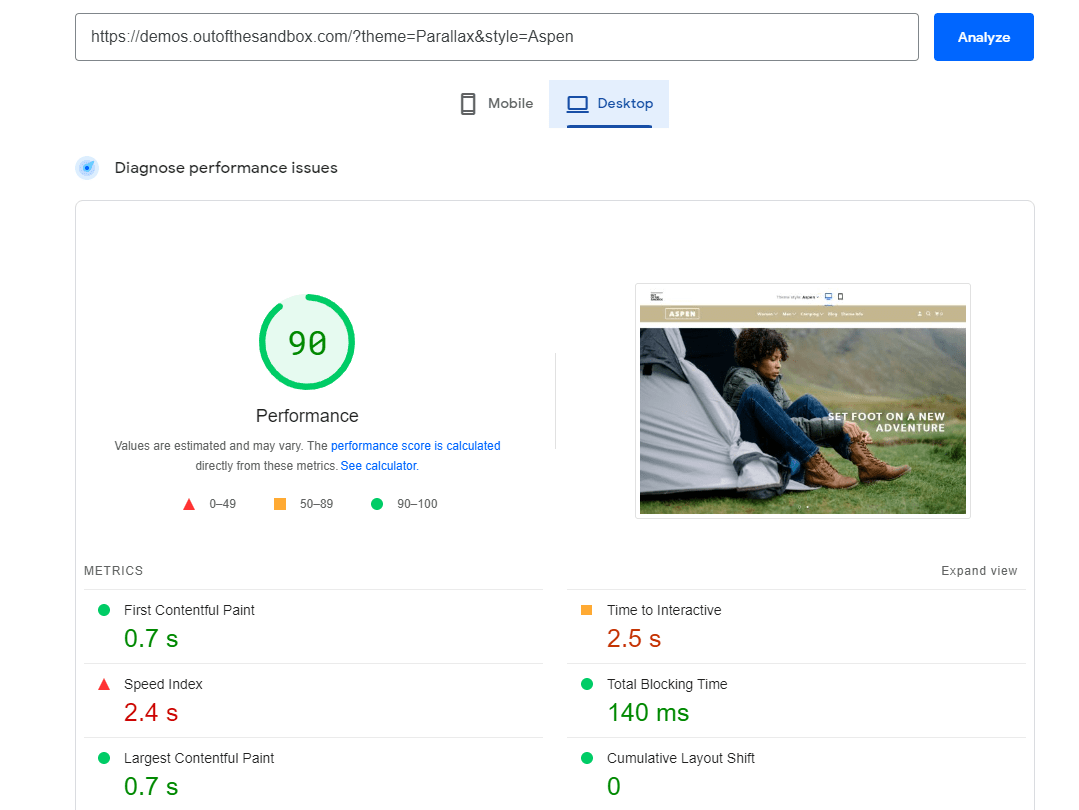 ---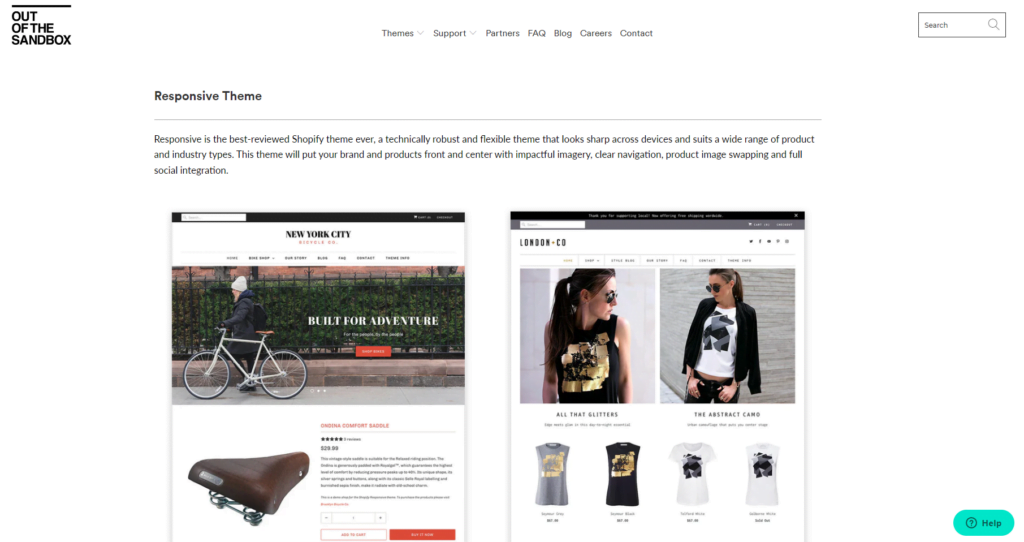 Responsive is the most popular Shopify theme of all time, a technically sound and adaptable theme that looks great on all devices and fits a wide range of products and industry kinds. This theme will put your brand and items front and center with compelling artwork, straightforward navigation, shifting product image, and complete social integration.
Read Also: Best VPN Services of 2022
Responsive Features
· Looks great on every screen – Responsive is a dynamic theme that looks great on any device. Allow your clients to buy conveniently and swiftly, no matter where they are.
· Product-popping – Responsive offers an overall layout perfect for full product photography, as well as features like picture zoom, hero videos, and advertising banners.
· Highly customizable design – Various layouts, fonts, and highlight promotional options will allow you to convey your brand's story precisely as you want it.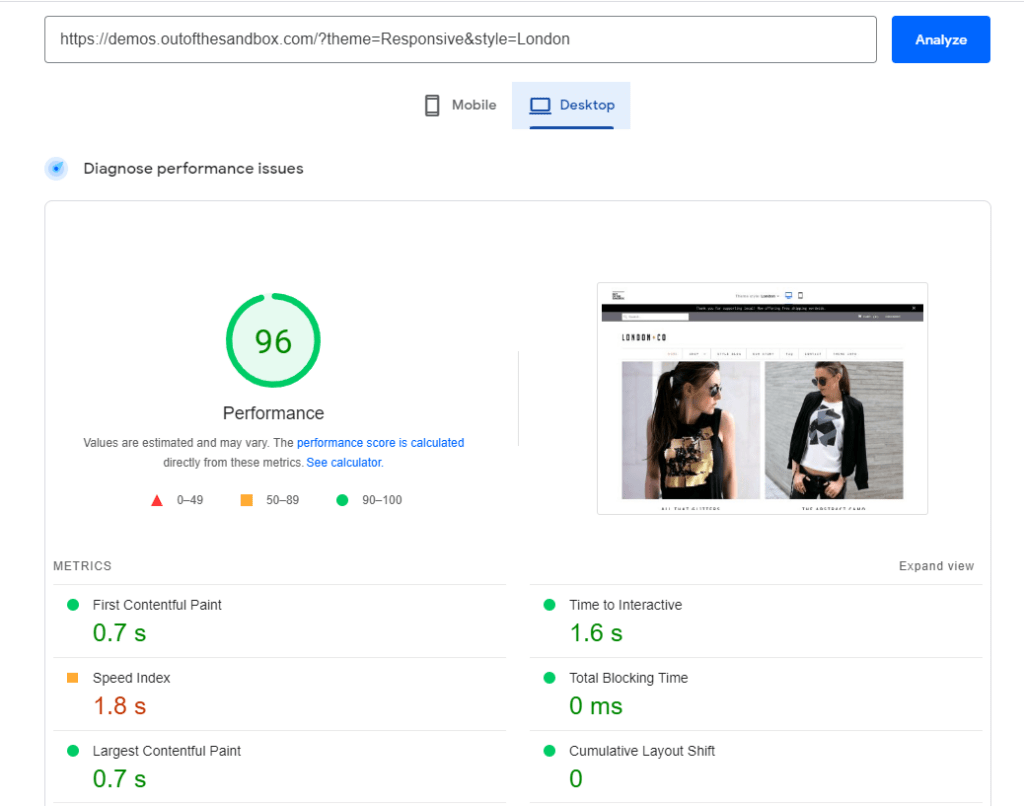 ---
Conclusion
This brings us to the end of our list of the fastest Shopify themes. The Shopify themes listed above are lightning-fast and include useful features, functionalities, and optimization choices for successfully launching and operating an online store.
Some Customer Reviews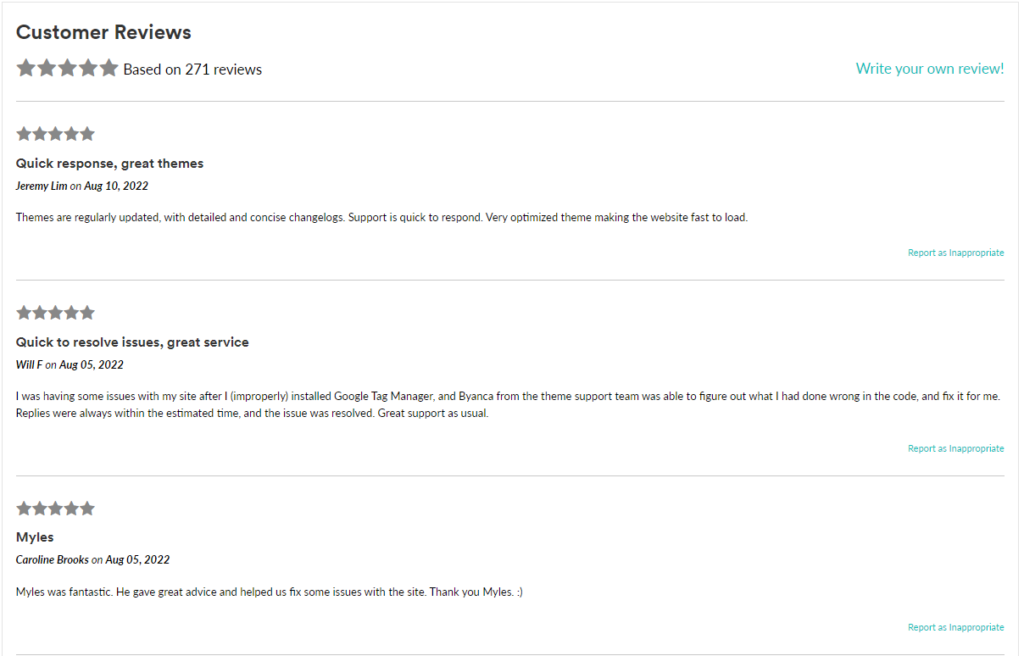 FAQs
1. What else is essential in terms of site speed?
There are several additional significant aspects to consider when it comes to site speed:
– Hosting quality
– Hosting location
– Use of CDN
– page weight
2. Is there a link between theme speed and SEO?.
Yes, theme speed significantly impacts site speed, which in turn reflects on your SEO. You may use the following ways to reduce the weight of your pages:
– Image optimization
– Use of lazy loading
– Use of next-gen WebP file formats
3. Is the fastest Shopify theme always the best option?
It's essential to have a solid foundation to increase retail sales. The quickest Shopify theme is an excellent place to start when creating a fast Shopify website and keeping it that way for visitors.
4. Is the theme's speed beneficial to the Shopify store's SEO?
A speedy theme won't guarantee great SEO ranks, but it will help. Google favors fast websites because they provide a greater overall user experience.
5. Are faster Shopify themes more conversion-friendly?
Fast Shopify themes may help you speed up your store's loading time, which is great for website conversions. Websites that provide a quick browsing experience are more likely to engage visitors.