To determine what Flywheel is truly about, we review its costs, features, performance, security, and customer support. Flywheel's managed WordPress hosting company runs its operations on robust Google Cloud servers. It offers to relieve you of all hosting administration duties so that you can focus on your company.
Their plans provide many features, like free site migration, automatic backups, WordPress updates, built-in caching, CDN integration, SSL support, and more. Let's now begin with the Flywheel Review.
Look Also: Liquid Web Hosting Review – Details, Pricing & Features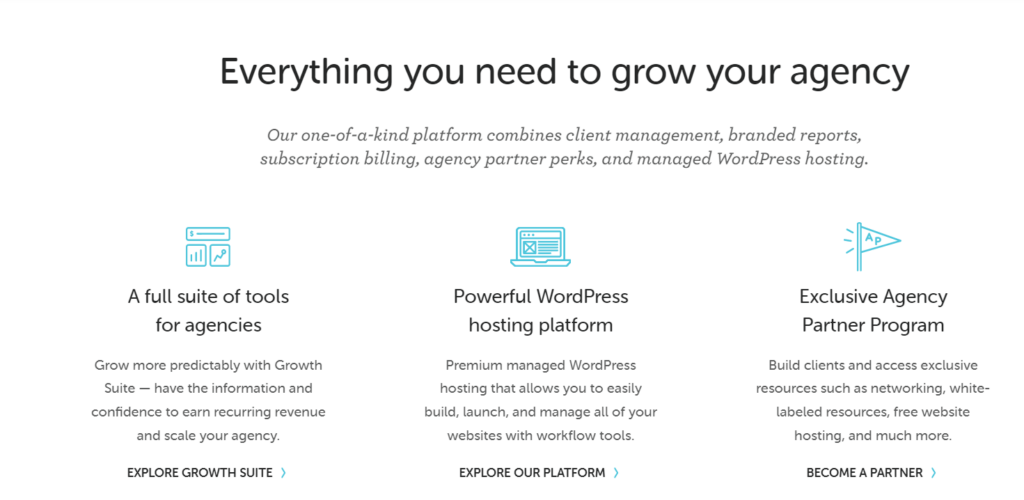 By providing various services that make life easier for web designers and developers, Flywheel stands apart from most other managed WordPress hosting businesses. Additionally, these functionalities are packed in a sleek, user-friendly design.
Flywheel WordPress Hosting Features
Flywheel Cloud Platform
To transform Flywheel into a genuine cloud hosting provider, it recently improved its hosting infrastructure and teamed up with the Google Cloud Platform. The resources currently accessible to Flywheel clients' websites may expand instantly and without restriction, leading to quicker loading times and a more stable hosting environment. It is one of the key advantages.
Benefits of Cloud Hosting
When standard hosting is used, a website is kept on a physical server with preset resources, such as a predetermined amount of memory, storage, and processing power. A single cloud environment is created by connecting several computers in cloud hosting.
Faster Loading Times
When utilizing conventional hosting, your website may exceed the actual server it is housed on, leading to performance problems like poor loading times or outages. Once this issue is identified, moving to a server with higher specifications can resolve it. However, doing so may cause downtime and other problems when your website and its contents are migrated.
However, with cloud hosting, depending on how the platform is set up, the resources accessible to your website are scaled automatically or at the click of a button. As a result, sudden increases in traffic or a gradual increase in the number of visitors may be readily managed without slowing the website down.
Less Downtime
Improved redundancy is an advantage of cloud hosting as well. Because your website is housed on a network of servers, the cloud network will continue to operate even if one server goes down. As opposed to cloud hosting, traditional hosting causes your website to go down if the server it is hosted on goes down.
Not all changes to the Flywheel hosting infrastructure have been made since switching to the Google Cloud Platform. Flywheel has also updated its caching technology to provide the WordPress websites they host with improved speed.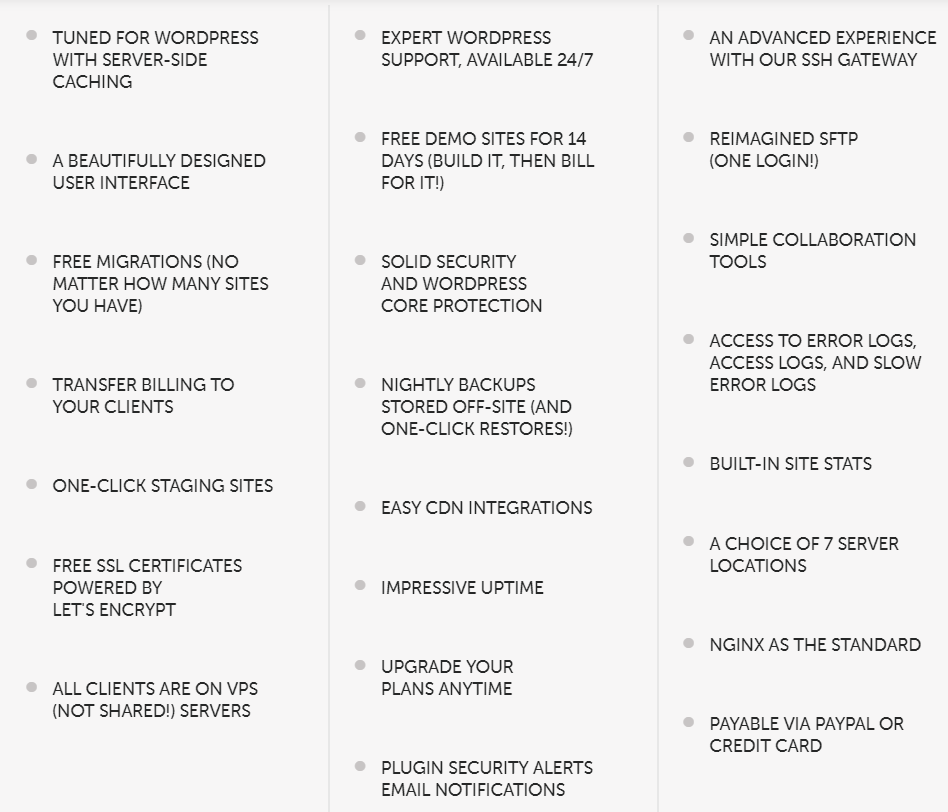 Even though Flywheel is less well-known than many of its rivals, many organizations still utilize and like it as a managed WordPress hosting provider. The extensive feature set offered by Flywheel, which was created to handle every website-related operation, is a major factor in the company's success. Here are some of them, from developing and launching your website to managing and redesigning it.
Free Demo Sites
Flywheel offers free demo sites to anyone wishing to see whether managed WordPress hosting is a suitable match, unlike other hosting companies offering money-back guarantees and free trials. Using the demo service, you may create numerous test sites and experiment with the different capabilities that Flywheel makes available to you.
You won't be forced to subsequently join up for a premium subscription because no billing information is needed. Web designers and developers will also benefit greatly from the demo site capability. They may build websites and great designs before going live. There won't be any fees because the demo sites are not invoiced until they go live.
Custom Configurations
Flywheel provides three complete hosting plans with varying bandwidth and storage capacity allocations, CDN, SSL, Multisite support, and custom settings that let you tailor the features of your plan to your site's requirements.
You may customize cache options, add your content delivery network and SSL certificate, or purchase them from Flywheel using the custom tools. Therefore, using Flywheel's custom plan, you may host and manage your website precisely how you want.
Managed Hosting
Flywheel is the ideal WordPress-managed hosting solution if you are not a highly skilled website owner searching for a top-notch host. Because Flywheel handles the work for you, you won't have to struggle with WordPress upgrades you don't understand or go to hiring expert support.
The business has a staff of WordPress specialists that update each client's site to ensure everything is up to date and working effectively.
Built-In Caching
The ability to accelerate website load times is one of the primary reasons for looking for the finest hosting provider. A built-in caching mechanism specifically for that function is available in Flywheel.
Your website will function flawlessly with lightning-fast load times thanks to the caching system's improved server performance and decreased download times, so you won't need to look for any extra caching services or plugins. Some Flywheel users have recorded even load times of 3 to 6 seconds.
The Dashboard
Using the given dashboard, you may manage all of your WordPress websites hosted by Flywheel. The dashboard is a straightforward, user-friendly application that enables you to:
Manage your admin rights so you may work with others (without having to share master usernames and passwords)
Put files on your website.
Change one or more of the website's controls in a smaller way.
Flywheel's dashboard interface was undoubtedly created with web designers and developers in mind, making it simple for you to work with others, maintain your website, and take care of the technical aspects of its back ends.
Collaboration Function
You'll enjoy Flywheel's collaboration feature, which we briefly highlighted in the Dashboard section unless you run a DIY website. It makes it simple to grant access to your website to anyone who needs it.
You won't need to share your password or set up several logins as most people do! Add a list of coworkers through the collaboration feature, and you're ready to start.
The newly added people will immediately have access to maintain the website, add files, and do other management-related activities as needed. When they're finished, you may remove access and make your website solely available to you again.
Performance and Uptime
Despite not providing an uptime guarantee like other web hosting providers, Flywheel has one of the top performances in the sector.
According to several customers and reviews who have evaluated Flywheel's uptime and performance using reliable tools like Load Impact, the company's lifetime uptime score ranges from 99.99 to 100%. In contrast, its performance holds up even when subjected to heavy loads.
Disk Space
There is a limit to the number of files you may upload due to the various amounts of disk space offered by Flywheel's plans. Of course, the plans with the highest prices include the most storage.
The requirements of your location will determine the best alternative for you. You should choose additional disc space if your website contains many pages or if you frequently upload huge photos, audio files, or video files.
Website staging
Staging is a tool that duplicates your website so you may experiment and try out changes. Even though shared hosting is becoming increasingly widespread, Flywheel makes it much easier.
Select Staging from the Site Options menu to create a one-click staging site. A new URL will be produced to access your staging copy, albeit it can take a few minutes if the site is large. It will appear beside your domain names.
When satisfied with the modifications, click Move staging changes to my live site on the same Staging page to publish them. A pop-up asks you to confirm that you want to make those changes before it makes any significant adjustments.
It is an excellent security feature because one button click may quickly destroy your website.
Remember that your staging copy utilizes the same server resources as your live website but without the bandwidth. So, to avoid delays, switch off staging after you are through with it.
Blueprints
Blueprints duplicate all site configurations, plugin configurations, and theme setups. It might be helpful if you require many websites with the same basic setup. It acts as a kind of pre-built foundation to speed up construction.
You'll be able to use that blueprint as a starting point for building a new website. It is a fantastic tool, in our opinion, for designers. They can speed up operations and make various templates for various kinds of websites.
Free WordPress Website Migrations
Another strong reason to think about Flywheel is their free site migration policy if you or your clients currently have a WordPress website.
Create a free Flywheel account and complete the migration request form. The internal migration team will duplicate your current WordPress website and transfer it to a Flywheel demo server. The procedure normally takes 24 hours. However, you may pay $49 for a service completed in eight working hours.
Site cloning
Site cloning makes an exact duplicate of the website, which may then be hosted on your plan, given a new domain name, or maintained as a demo. If you're a freelancer, it could be one of the greatest ways to transfer a website to a customer. If you decide to build it as a demo, you may give it a new owner. The new owner will decide on a plan, pay for it, and offer the best option to them.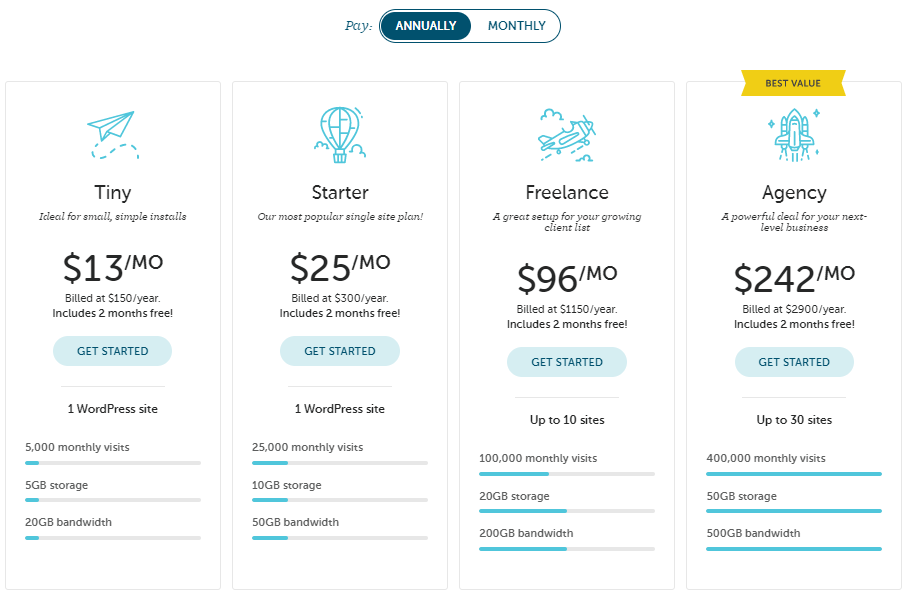 The hosting pricing of Flywheel offers four hosting packages with monthly prices ranging from $13.00 to $242.00 for a yearly subscription. Also, choosing the more expensive Flywheel Growth Suite will get you additional features. Finally, Flywheel provides a custom plan in addition to a 14-day free trial.
Regarding resources, the plans are identical, but Growth Suite includes extra tools for managing business operations.
All 4 of the plans include free SSLs, nightly backups, staging, caching, and a Quick content delivery network.
Tiny: 5GB of storage space for one website and 20GB bandwidth for up to 5 000 monthly visits $13.00/mo.
Starter: 10GB disk space for one website and 50GB bandwidth for up to 25 000 visits monthly $25.00/mo.
Freelance: 10 websites with 20GB storage and 200GB bandwidth for up to 100 000 visits/mo $96.00/mo.
Agency: 50GB storage for 30 websites and 500GB bandwidth for 400 000 visits/mo. $242.00/mo.
Our opinion is that the resources provided might be more extensive, particularly regarding storage space. However, since a typical WordPress site only uses 5GB of storage, Flywheel may be a very sensible choice.
The fact that Flywheel doesn't raise renewal costs is something extremely special. That is unusual in the hosting industry.
You are not restricted by the allocated resources, which is another benefit. Without slowing down the service, you may easily welcome more visitors or upload more files; any overages will only be charged as an additional fee. That's an excellent practice since it prevents you from having to upgrade the plan if you only need a slight increase.
For yearly memberships, the provider gives a usual 60-day money-back guarantee. While this is happening, monthly billing can be stopped within 72 hours. Finally, you may use the services for a free 14-day trial.
In the end, Flywheel hosting has a premium, higher prices but does not offer an excess of server resources. However, it is still relatively reasonable compared to other managed WordPress services.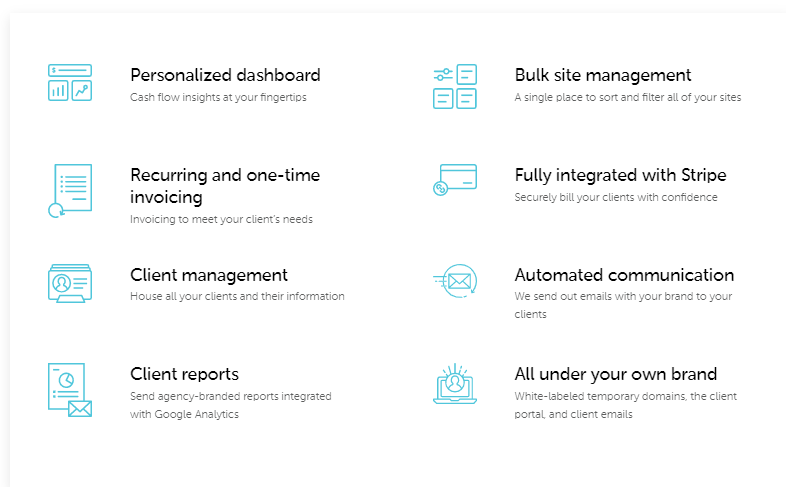 Growth Suite is essentially a service that you can resell. You may create and host websites for clients on your account, or you can resell hosting. The service lets you send invoices, add your logo to the control panel, and create subscription billing plans.
The control panel you use will be provided to your clients, but it will solely be for their websites and bear your branding rather than Flywheel's.
It is an excellent function if you're starting your agency or if your clients want you to host their websites. However, it is rewarded, and the Freelance package's monthly starting price is $113.
If you can use them, Flywheel is one of the greatest solutions for creatives and agencies. Additionally, everything is simple to use, so neither you nor your clients will run into any issues.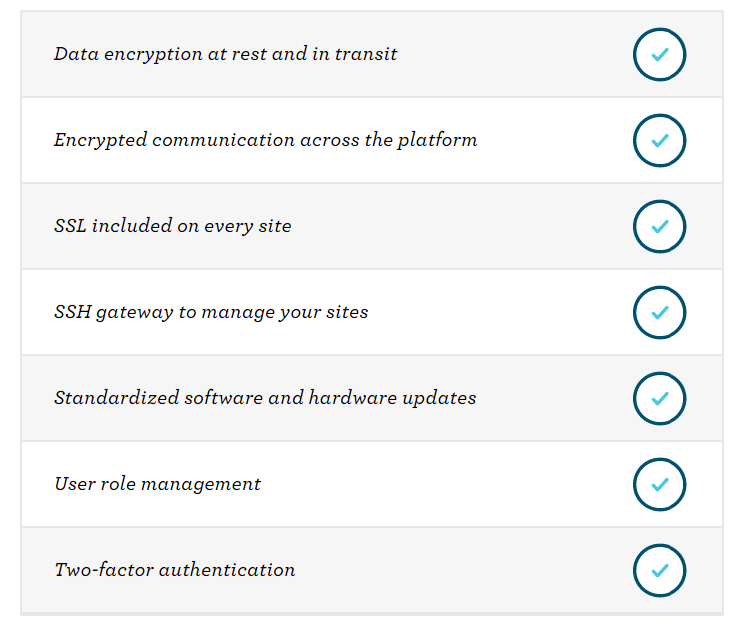 Look Also: Justhost Web Hosting Review – Details, Pricing & Features
Flywheel security precautions are top-notch, as one would expect from a managed service. It contains more sophisticated security measures and fundamental features like free SSLs. Flywheel is so certain of its security that it suggests eliminating third-party security plugins.
Every domain that you connect comes with a free SSL. Turn it on on the primary dashboard.
If your website is compromised, malware cleanup is free. Support agents will handle the cleaning.
There is always someone watching and blocking traffic. It can stop threats from reaching your website by scanning and filtering all incoming traffic.
You may limit login attempts from your dashboard; no additional plugins are required. It will guard against brute-force attacks on the website.
Every night, automatic backups are made and kept for 30 days on a different server. If an issue arises with the live version of your website, you will always have access to the most recent version.
That is a comprehensive collection of security tools that will safeguard your website from the majority of the most typical attacks. However, a lot of work is done behind the scenes with little to no involvement from you.
Flywheel Speed and Performance – Flywheel Review
In addition to uptime, other crucial factors that affect your decision to choose a premium WordPress hosting company include the server's speed and the time it takes for web pages to load.
Varnish, a cache engine used by Flywheel, helps to optimize every aspect of your WordPress website. It significantly accelerates the loading times of your website.
Your Flywheel hosting account may be integrated with a Content Delivery Network (CDN). Even one element significantly impacts how quickly your server responds and how fast pages to load.
To further improve the performance of your website, Flywheel also includes capabilities for server-side caching and performance optimization.
Additionally, Flywheel's usage of a powerful cloud-based technology guarantees that your website will continually provide a very high degree of performance.
Every Flywheel server is carefully optimized to guarantee peak performance at all times, which is made possible by the fact that this web host provides individualized server setups.
To determine whether the outstanding online customer reviews praising Flywheel's quick performance were accurate, we attempted to examine the performance of a client's website hosted with Flywheel.
It's quite remarkable that the average page loading time at various points and after caching was under 2 seconds. Also, even during extremely high traffic, it provided a very good server response time of less than 400 ms.
Hosting your website as close to your users as feasible is an important choice that promotes great performance and speed for your websites. It is due to Flywheel's approximately ten data centers, dispersed around Asia, Europe, and North America.

One of the top customer service departments is found at Flywheel. You may call them or use their live chat service anytime (starting with the Freelance plan). There is also a huge knowledge base that is constantly updated.
In conclusion, when it comes to customer service, we recommend Flywheel. Additionally, to having one of the most intelligent chatbots, the agents are responsive, helpful, and kind. Additionally, the knowledge base covers every subject you would need to start and maintain a WordPress website.
Look Also: Best Dedicated Web Hosting Services for 2022
Pros and Cons of Using Flywheel – Flywheel Review
Pros
Handles every part of your website's migration for free.
Each website managed by Flywheel receives a dedicated IP address.
Unlike the majority of hosting for WordPress, Flywheel includes email accounts.
Flywheel automatically backs up all your data every night and saves them in a safe off-site location.
It makes it simple to white label, allowing you to create and host websites with your own identity.
No overage charges.
Cons
It is not an excellent choice if you aren't using WordPress because it was designed for it.
Not one of the cheapest hosts.
Because it prevents a few plugins from running on its servers for security concerns, Flywheel is not the most versatile company.
Conclusion – Flywheel Review
Flywheel offers the quick loading times, reliable performance, and support required to keep a website operational. In addition, Flywheel's free demo sites and one-click staging tools make it simple to create a website from the ground up.
Even better, it has a client billing transfer feature that enables you to build a website for a customer on your account and then move the website and associated billing to the client once you're done.
Therefore, Flywheel is a service you can rely on whether you're a web designer, developer, or just someone planning to build your website. We hope you like our Flywheel review.
Read Also: Liquid Web Hosting Review
FAQs – Flywheel Review
What kind of web hosting services does Flywheel provide?
Flywheel only offers managed WordPress hosting at the moment. Their servers are configured specifically for WordPress to secure a quick site load time and good performance. They just launched a strong cloud hosting service developed in collaboration with Google Cloud Platform.
Can I host more than one WordPress site on the same Flywheel plan?
Yes, but only if the hosting plans you choose include multi site capabilities. The Freelance, Agency, and Custom plans have this functionality. Multiple domains can use the same WordPress installation thanks to multisite.
Does Flywheel offer a website migration service?
Yes, Flywheel offers free site migration. Transferring an existing WordPress website from another host to Flywheel servers is simple. Filling out the secure migration request form is all it takes for Flywheel specialists to relocate your site and set it up as a demo under your account.
What control panel does Flywheel provide?
Flywheel employs its own unique control panel, as opposed to most web hosting businesses offering Plesk for Windows servers or cPanel for Linux plans. The easy custom control panel was made with WordPress site developers and designers in mind.
Who should use Flywheel hosting?
Web designers and developers are the target audience for Flywheel Hosting; they, together with their agencies, will be able to make the most of the platform.