In the GreenGeeks web hosting review post, we will tell you what GreenGeeks offers in terms of cost, convenience, performance, security, customer service, and more. It isn't easy to differentiate in the crowded web hosting sector. However, GreenGeeks appears to be succeeding well.
It is primarily due to the provider's status as one of the green hosting providers that makes the best use of its resources and avoids wastage. In addition, it purchases three times as much power as it uses in the form of Renewable Energy Credits (RECs) to reduce carbon emissions.
GreenGeeks Web Hosting Review
GreenGeeks hosting is a good choice if you want a web host that can expand with your website. They provide scalable Linux-based hosting options at various pricing points, enabling you to expand server capacity if your website requires more power than the basic package.
The numerous hosting options GreenGeeks offers include the features listed below.
GreenGeeks has three WordPress hosting plans, ranging from $2.95/mo to $10.95/mo. The Lite shared hosting plan from GreenGeeks, which comes with 50 GB of storage, 50 email accounts, unlimited bandwidth, free SSL, free CDN, and a year of free domain registration, is the company's most cost-effective hosting choice.
By upgrading to the Pro or Premium subscription, you might have unlimited storage, unlimited email accounts, and better speed.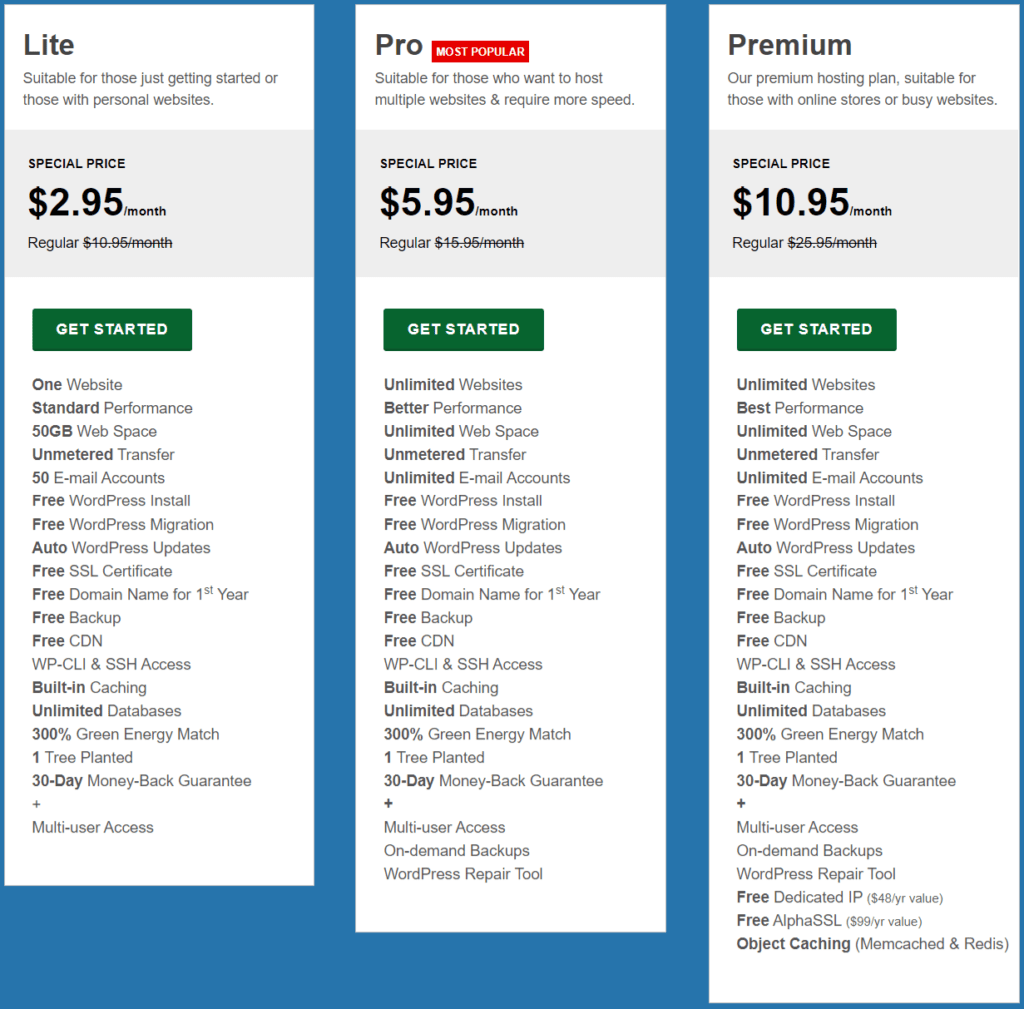 Read Also: Best VPS Hosting Providers 2022
GreenGeeks has three VPS hosting plans, ranging from $39.95/mo to $109.95/mo. Three fully managed VPS options are available from GreenGeeks. Compared to the most costly plan, which has 8 GB RAM, six vCPU, and 150 GB of SSD storage, the most affordable one has 2 GB RAM, four vCPU, and 50 GB SSD storage.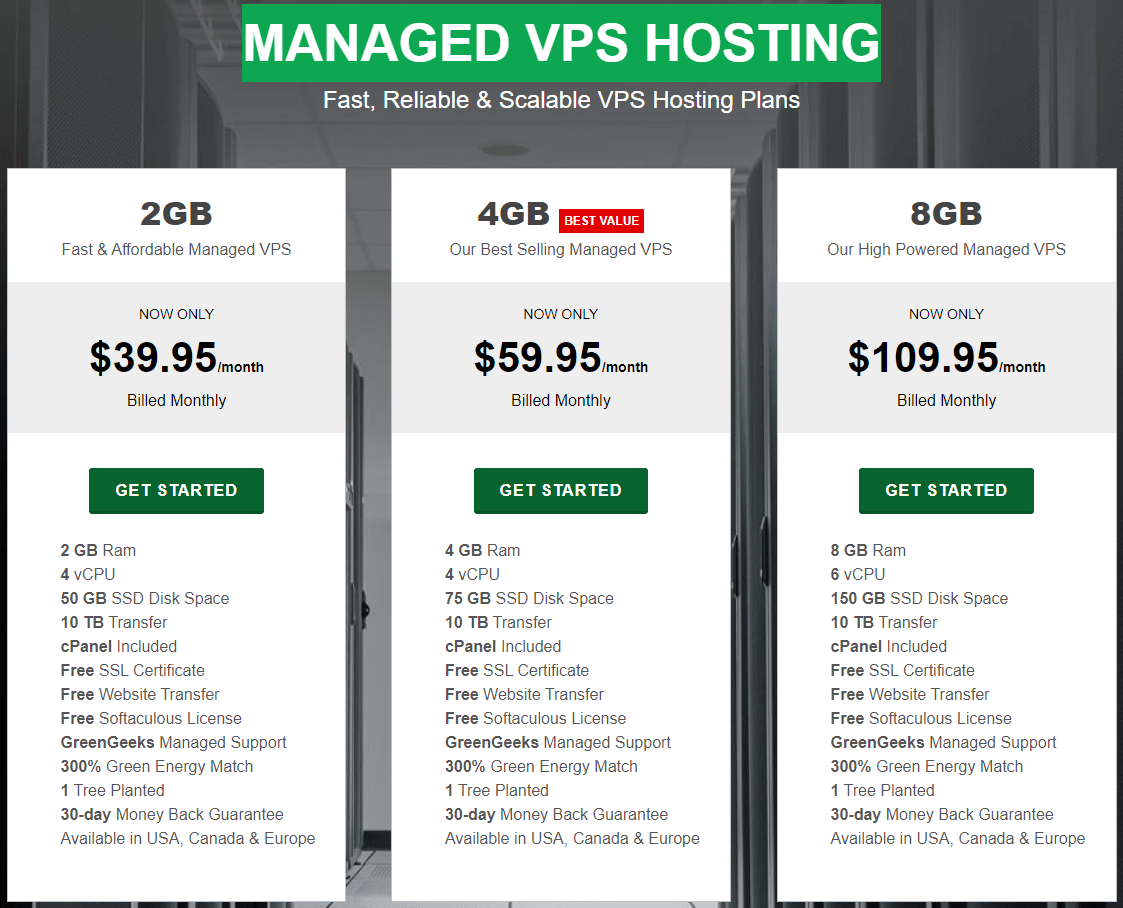 WooCommerce Hosting
You can host your WooCommerce store on one of the safest hosting platforms available with GreenGeeks. You may benefit from unlimited bandwidth, our environmentally friendly hosting environment, affordable starting prices for your online business, and incentives that make it simple to get going quickly.
WooCommerce hosting Price starts from $2.95/month to $10.95/month.
The comprehensive service offering of GreenGeeks includes reseller hosting as well. You may benefit from the latest speed technologies, like CDNs, PHP7, Solid State Drive RAID-10 Storage Arrays, and more.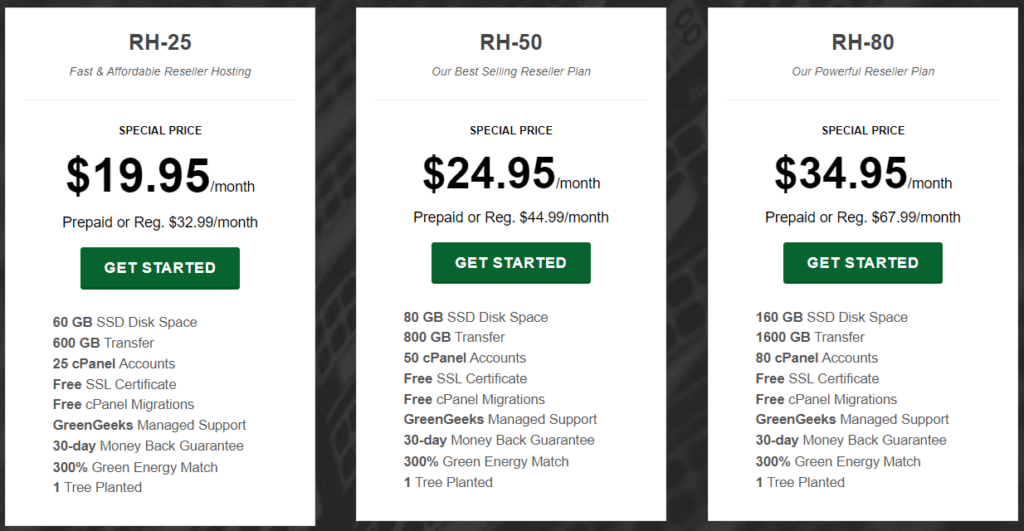 You may operate your own small web hosting business and rent server resources to other website owners with a reseller account from this web host. Under your reseller hosting package, you will have access to WHM to set up separate cPanel accounts. Reseller hosting starts from $19.95/month to $34.95/month.
GreenGeeks Hosting Features
The overview GreenGeeks hosting features follows gives all the details you want to choose on GreenGeeks effectively.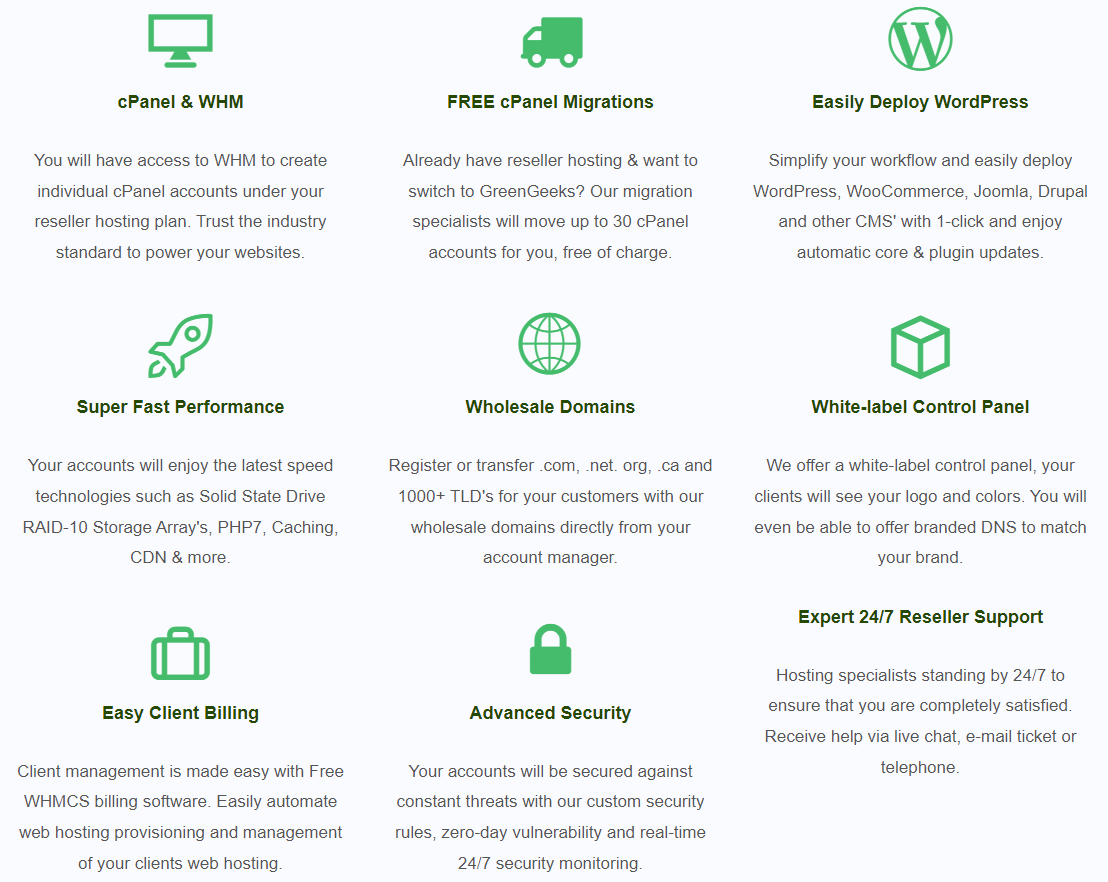 Read Also: InterServer Review – Details, Pricing & Features
GreenGeeks offers cPanel as their primary web hosting control panel, similar to most Linux-based web hosting companies.
The Fantastico and Softaculous script installers are a part of cPanel. You may set up well-liked third-party blogging platforms and CMSs (content management systems), like WordPress, Joomla, and Drupal, with the help of these tools.
Remember that GreenGeeks provides a free migration service if you already have a website. This free site transfer is a great option for people without the technical know-how to switch web servers.
The greatest thing is that GreenGeeks professionals properly handle the transfer, so you don't have to worry about significant downtime.
Free Domain Name For One Year
If you want to register a new domain name or transfer an existing one from another registrar, GreenGeeks doesn't charge you anything during the first year of your subscription. After the first year, though, you will have to pay for your domain.
In July 2019, GreenGeeks released their own Let's Encrypt SSL Integration for users hosted on shared and reseller platforms. Users of GreenGeeks may now install Let's Encrypt Wildcard SSL with a single click and have their SSL automatically renewed without having to change any CSR, Private Key, or CRT files.
GreenGeeks Website Builder
Beginners will be happy to learn that GreenGeeks provides a free, robust website builder. There are countless categories and hundreds of completely editable templates to pick from. Additionally, SEO tools make it possible for your website to be quickly indexed on Google Search and responsive themes created for mobile devices.
Everyone who uses the internet regularly—browsing news websites, social media profiles, or online stores—interacts with a content delivery network (CDN).
GreenGeeks gives customers that utilize Cloudflare access to a CDN. That's fantastic news for the SEO of your website, especially if you have a worldwide audience.
Users may use Cloudflare to cache content and provide it from servers close to website visitors. Consequently, visitors to your website may browse the web considerably more quickly.
Every night, GreenGeeks performs disaster recovery backups. All shared, VPS, and reseller hosting plans include this complimentary service. Users are only entitled to one free restoration per month; any subsequent restorations will be charged extra.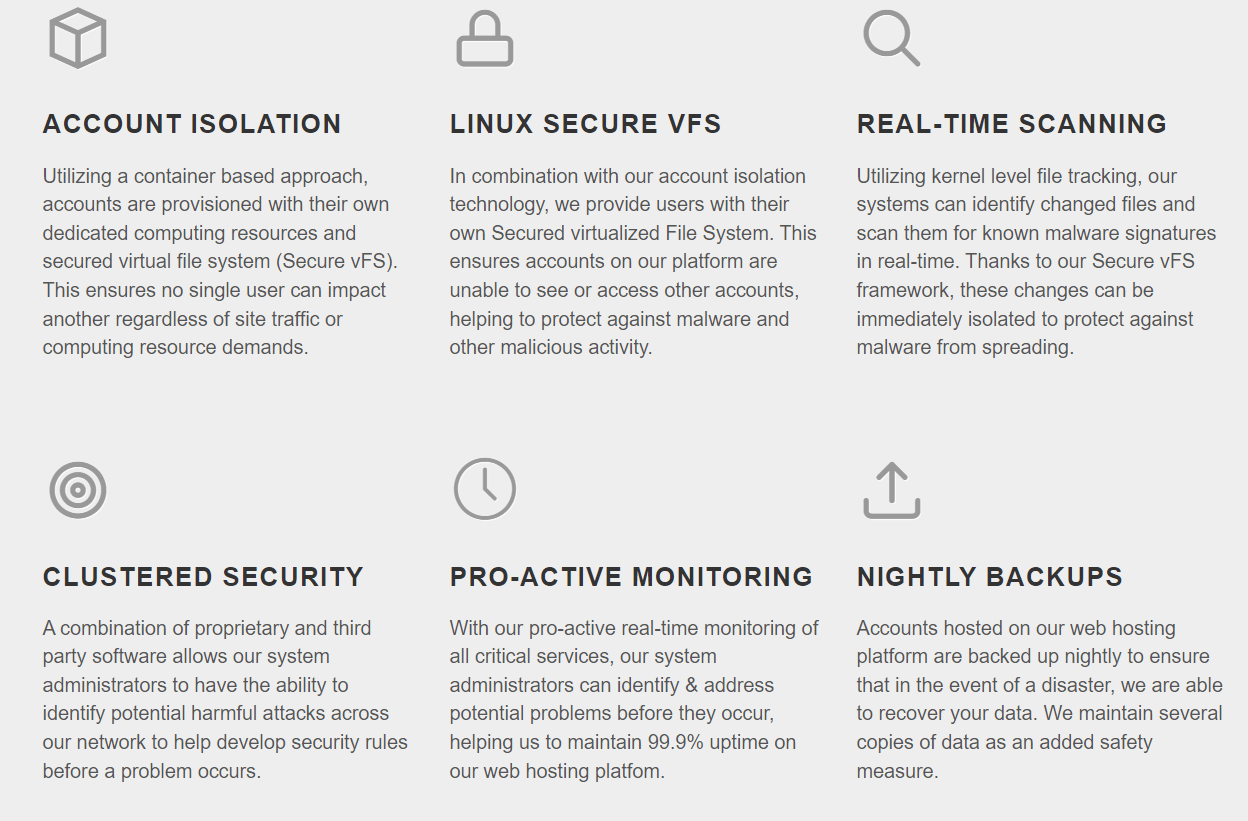 With GreenGeeks, you may host a secure website because of the security precautions they've made to safeguard any data stored at their sites.
Every GreenGeeks server is monitored 24/7 by a service that uses firewall systems, brute-force defense, and DDoS defense against known weaknesses to hinder hacking attempts.
You may add suspicious IP addresses to a blocklist using VPS hosting options. Additionally, GreenGeeks provides a free SpamAssassin application to safeguard email accounts.
Password-protected folders, SSL site encryption (at an additional expense), and maintaining the most recent versions of all server-side software are all ways to keep your data safe.
GreenGeeks uptime and response time
We looked at the provider's dependability in maintaining your site's functionality for the first test. It has led to a 99.98 percent uptime, which is quite trustworthy. The server offers a 99.9% uptime guarantee, so the results are quite excellent.
GreenGeeks Web Hosting Review And Support
One of the advantages of any reputable web hosting company is providing excellent customer service. GreenGeeks is all too aware of this, which is why they provide a variety of ways to help their clients or anyone interested in using their services.
The support staff can be contacted via phone, live chat, email, or other means if you need immediate assistance.
While customer service representatives may be contacted by phone from 9 AM to 12 AM EST on weekdays and from 9 AM to 8 PM EST on weekends, live chat is accessible 24/7.
When you email GreenGeeks, they also guarantee response times of between 15 and 20 minutes.
Read Also: Best cPanel Web Hosting Companies in 2022
What Are the Pros and Cons of GreenGeeks?
Pros
Scalable hosting options include shared, WordPress, VPS, and dedicated server plans.
30-day money-back guarantee.
Reliable uptime of up to 99.9%.
Free nightly backups
Free Domain
Free migration
Free site builder
Cons
Does not offer to host Windows servers.
Your domain name will cost more than most other hosting companies if you use the 30 money-back guarantees.
VPS hosting options are slightly pricier than other hosts.
What Differentiates GreenGeeks From the Competition?
What makes GreenGeeks unique is that they provide green web hosting. And in keeping with its commitment to environmental protection, this business takes several steps to reduce its carbon impact.
While using conventional energy sources, GreenGeeks acquires up to 300 percent of the wind credits needed to offset the carbon emissions produced by its servers. Their data centers also use the most recent servers and energy-efficient hardware.
Conclusion
GreenGeeks offers a reliable, affordable hosting solution for most companies and organizations. GreenGeeks is a good choice if lowering your carbon footprint is essential, and you don't want to sacrifice performance.
No matter how big or little your site is, their high-tech infrastructure, quick speeds, and 24/7 assistance are a bonus.
However, you could be better off with a more WordPress-specific server if you rely heavily on it for assistance with WordPress. WordPress assistance is available from GreenGeeks, although it is not their primary emphasis. Otherwise, GreenGeeks is a great option to explore. We hope you like our GreenGeeks web hosting review post.
Read Also: Nexcess Review 2022: Details, Pricing, & Features
FAQs
Is GreenGeeks Hosting Good
GreenGeeks hosting is one of the top solutions available if you're looking for the best eco-friendly web hosting service for a small business. They provide a user-friendly control panel for beginners and a 99.9% uptime guarantee.
How does GreenGeeks keep your site secure?
By offering comprehensive basic and advanced security measures, GreenGeeks helps to keep your website safe. It includes free DDoS defense, WAF, malware detection and removal, an SSL certificate, and many more.
What Kind of Support Do I Get With GreenGeeks?
GreenGeeks provides live chat and email help 24/7. On weekdays from 9 am to midnight and on weekends from 9 am to 8 pm EST, phone help is also offered.
Where are GreenGeeks servers located?
GreenGeeks have numerous data center locations. They have servers in Chicago (United States), Phoenix (United States), Toronto (Canada), and Amsterdam (Netherlands).
Can I Install WordPress?
GreenGeeks' one-click installation tool includes WordPress installation. With just one click, you can access more than 150 ready-to-install software, including WordPress.
.
---