Are you unsure which web host to choose between Hostinger vs HostGator? Are you searching for a low-cost web host with a lot of features? Then, you've come to the correct place. Hostinger and HostGator offer incredibly low-cost hosting options, making them particularly appealing to those on a limited budget. Not only that, but both providers have a track record of delivering consistent and timely findings.
In Hostinger vs HostGator comparison, let's find out which is the best web hosting provider in 2023. First, we'll go through both hosting services' details, pricing, and features.
Hostinger vs HostGator – Features
Comparing the features of web hosts will help you eliminate hosting services that aren't essential for you. It's also one of the simplest things to perform because most companies describe the features they'll give on their web pages. Hostinger and HostGator, of course, do as well.
What is Hostinger?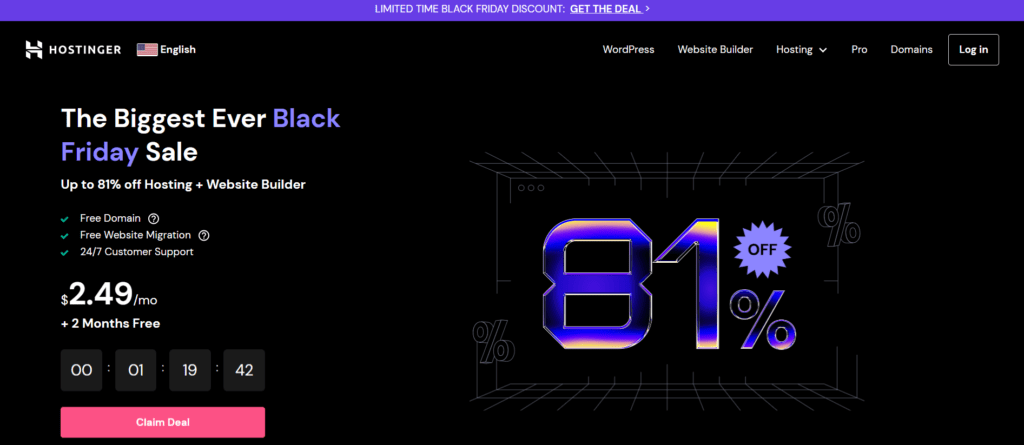 Hostinger is one of the world's biggest and fastest web hosting providers. The hosting provider has more than 29 million users from 178 countries as of June 2020. Since its team ensures that your website is always available with a 99.99 percent uptime guarantee, the company has experienced exponential development.
Hostinger plans are pretty affordable and offer excellent value even without the value-added features. Nonetheless, each of its three web hosting plans has an exciting feature in the pricing range. For instance, $2.49/mo Single Web Hosting includes the following features:
100 GB SSDDisk Space
Unlimited bandwidth.
2 Months Free with yearly plan
A free professional email account will help you separate personal and professional emails.
Free SSL is necessary for the privacy of your visitors and the search engine ranking of your site.
Managed WordPress features that help you manage your site using an intuitive UI.
Weekly backups to keep your website data safe. Daily backups are available on all other plans.
It offers hpanel to customize its features. Their hpanel is beginner-friendly so anyone can use it easily.
In general, Hostinger is a Top-rated hosting provider, and its feature set is ideal for novices – the plans include all you need, plus a few extras such as performance-enhancing tools.
Read Also: InterServer Review – Details, Pricing & Features
What is HostGator?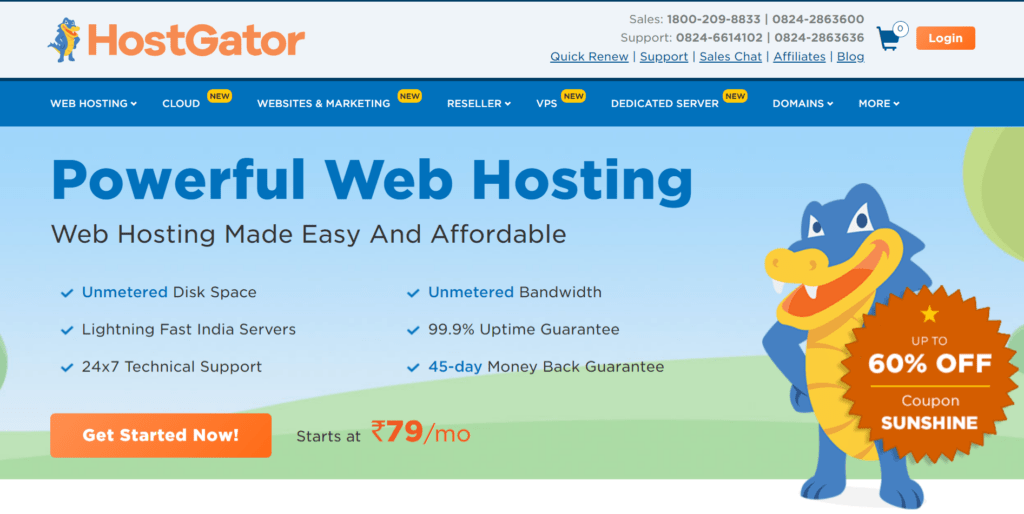 EIG owns the HostGator brand, which launched in 2002. Today, its services are used by over 20 million people. The company is based in Texas and provides a comprehensive range of hosting services for beginners and professionals.
Unmetered Disk storage.
Unlimited bandwidth.
Five business email accounts.
99.9% Uptime Guarantee
Free Let's Encrypt SSL certificate.
Unlimited Databases.
Lightning Fast India Servers
These benefits are available only with the HostGator India starting plan. The beginning plan from HostGator is a little more expensive, but it comes with more features. In our view, the HostGator India plan is ideal for small websites and affordable web hosting.
You might be looking for one-click WordPress installers and website builders. There, both HostGator and Hostinger will satisfy your needs.
Hostinger vs HostGator – Ease of use
HostGator vs Hostinger, as previously said, are web hosting powerhouses with millions of members. And, therefore, the majority of the users aren't computer competent. Because all web hosting businesses know this, they strive to make everything as uncomplicated and straightforward as possible. So, how successful have these two put everything in place that one might require?
Hostinger
Visit Hostinger's official website and select your required web hosting based on plan, feature, and budget. After selection, complete the payment process and set up your login account details for access to the dashboard.
When you log in, you will be greeted by a simple, visual, and easy to easy to use dashboard. From a single dashboard, you can see your domains, website features, hosting, email plans, servers, SSL, billing, and other account-related options.
Next, you'll need to open hPanel to manage your hosting account/server, which you may accomplish by clicking "Manage" from the hosting window.
From adding to customization and deleting, you can do everything with domains, email accounts, subdomains, files, and hosting features. You can install WordPress easily by just setting up databases & login details.
Everything is well-defined and presented in a graphical user interface. Of course, SSH access is available if you want to make modifications via the shell!
Overall, if you host your websites on Hostinger, you won't have any trouble managing them.
HostGator
The process of registering with HostGator is the same as with Hostinger. Likewise, the dashboard has many of the same features as Hostinger's dashboard. The primary distinction is in HostGator's control panel's user interface.
The ever-popular cPanel is used by HostGator. It offers all of the features you'll need to manage your website, including domain management, email management, file management, database management, and much more.
However, the user interface does not look great but there are plenty of other custom features offered by it. It's a minor point, and you'll only open the control panel once in a while, but just in case you were curious.
Both hosting providers have a similar grasp of the user experience. We don't like HostGator's decision to use cPanel because of its UI, but there's no denying that many users will prefer it. Therefore.
Site and Domain Migration Comparison
If your website is already up and running and you want to switch hosting providers, look for a web hosting company that offers site migration services. For a non-technical person who does not know how to transfer data, it is a requirement.
Hostinger offers a free hosting migration service with WordPress, non-WordPress sites, and domain migration. Meanwhile, HostGator provides completely free site and domain migration. They offer shifting of everything including all website files, scripts, databases, and one domain.
Website Builder Comparison
Hostinger's in-house and well-known website builder allows you to publish a website in minutes with a straightforward and beginner-friendly interface. Building a website with Zyro is as simple as picking an SEO-friendly template, dragging and dropping to edit, and selecting a publishing plan.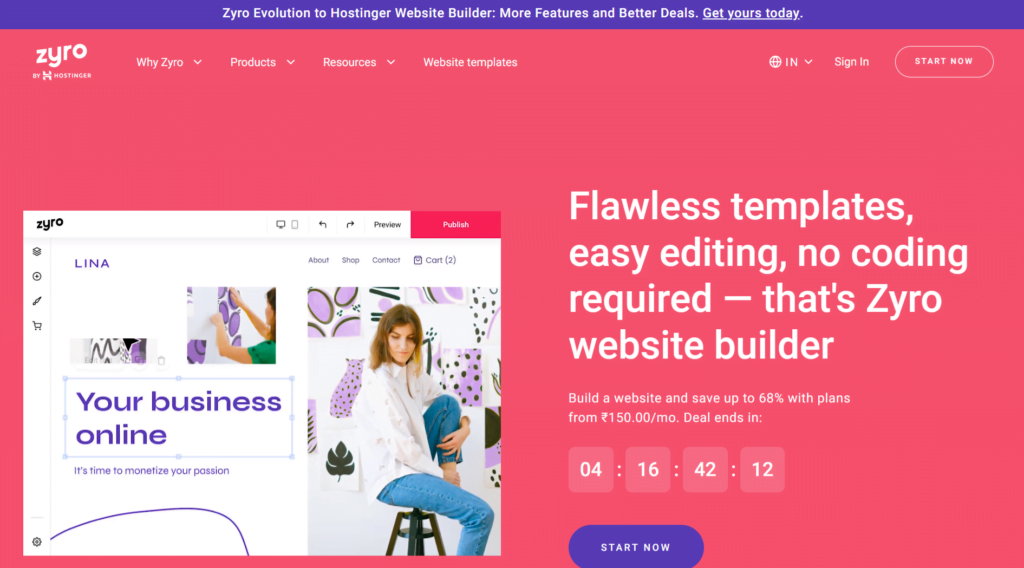 Hostinger also launched its "AI website builder" to create your full-fledged website by answering 3 simple questions. It will automatically generate SEO-friendly content, unique copy, and images. You can also use its drag-and-drop feature for further customization.
The "create a website in minutes" function is also available in HostGator's website builder. Unlike Hostinger, their website builder will need five (simple) steps to get started: answering a few questions, placing your logo, uploading photos, editing, and finally creating the site.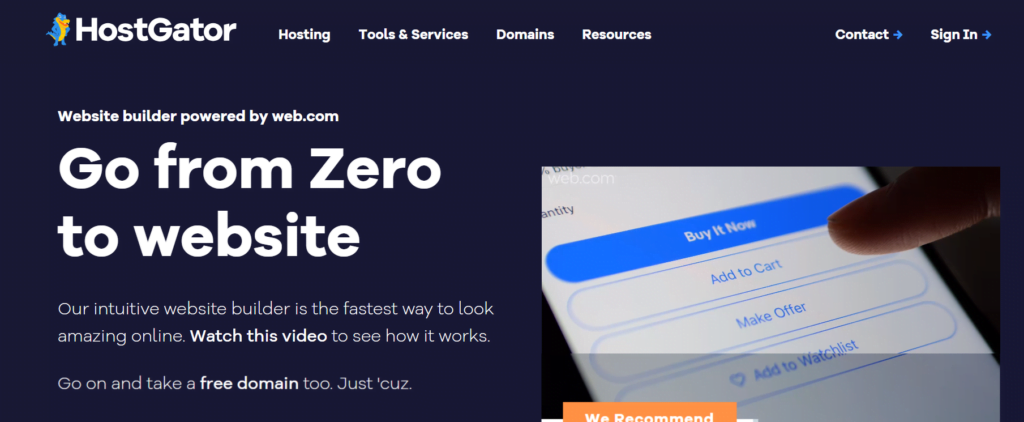 This website builder also offers a drag-and-drop option with a user-friendly interface for beginners.
Both HostGator and Hostinger's website builders allow you to create simple websites within in a minute.
Hostinger vs HostGator Performance
The difference in performance between HostGator vs Hostinger isn't significant. When you frequently add new information, images, and things to the website, it covers more space and you need to expand your resources to run your website.
Uptime
For this test, we looked at both providers for nearly the same amount of time — about two months. Here's what we discovered.
Hostinger did not experience a single outage over the two months of testing, resulting in a perfect 100 percent uptime. It is fantastic! In the long run, anticipating 100 percent uptime is unrealistic. However, you can assume an average 99.9% uptime guarantee.
In terms of capability, we got a 511ms average response time — the time it took the browser to receive HTTP headers and the first bit of data. So it is within the 600ms industry standard.
Two months before switching to HostGator, the host had three outages totaling 5 minutes of downtime. As a result, HostGators' uptime has increased to a fantastic 99.99 percent.
HostGator, like Hostinger, offers the industry-standard 99.9% uptime guarantee. Considering this, the results we obtained are even more impressive.
Continuing to server response times, we received an average of 525ms. Despite being only slightly slower than Hostinger, HostGator manages to go below the market average of 600ms. In short, both hosts fought hard and worked together in terms of uptime and responsive speed. Hostinger, on the other hand, had slightly significantly better results.
Response time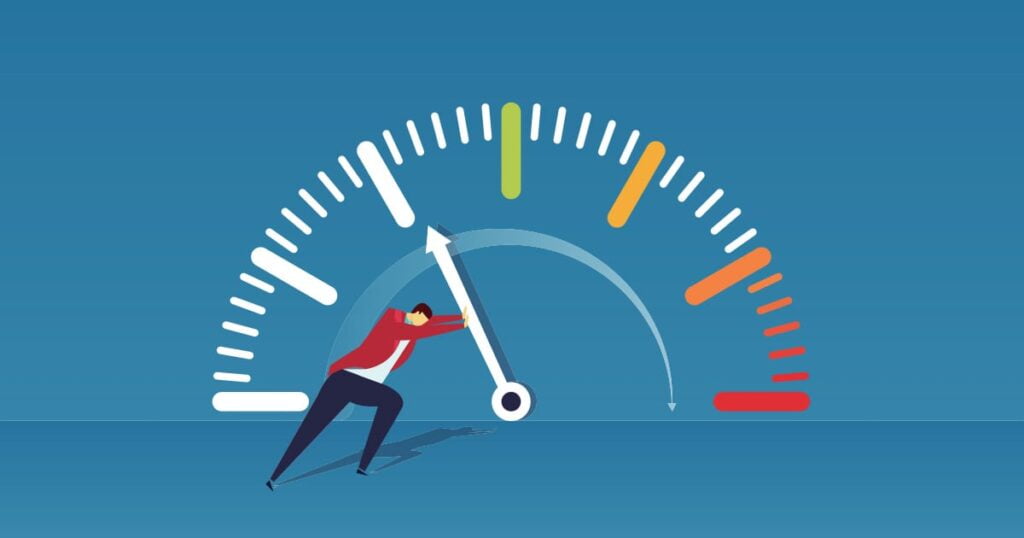 Both companies host many of our websites in the United States. As a result, the loading time occurs in the United States. It's worth noting that HostGator only has data centers in the United States. Still, Hostinger's shared hosting options let you choose from four different locations (the United States, Lithuania, the Netherlands, and Singapore).
The LCP of the hostinger is 849ms, while the Fully Loaded Time is 936ms. These figures are far below the market average, demonstrating exactly how quick Hostinger is. It is undoubtedly one of the fastest hosting companies on the market.
The LCP of the HostGator is 1.1s, but the Fully Loaded Time is 1.2s. Both values are much less than the expected 2.5 and 3 seconds, respectively.
Hostinger, on the other hand, is somewhat faster than HostGator, giving it the advantage in this round.
Overall, Hostinger vs HostGator is a comparable competitor in overall performance. However, this Hostinger vs HostGator comparison favors Hostinger, as the host was more dependable and speedier overall.
Website security
Hostinger and HostGator provide the essential security elements to keep your website safe and secure. In addition, the following features are available with both hosting providers:
Free SSL certificate;
DDoS protection;
Automatic backups;
Server-level security enhancements.
Hostinger also has a two-factor authentication system. HostGator, on the other hand, ignores this fundamental element.
Apart from that, it's worth noting that Hostinger's Basic and Premium plans include weekly backups. Only the Business plan comes with daily backups. HostGator, on the other hand, isn't as transparent. All of their plans have automatic backup features. They say that backups can be taken daily, weekly, and monthly, but the timetable is unclear, and if you want to resume one of the versions, you'll have to pay.
At the host level, there are some differences in how Hostinger and HostGator manage security:
You get 24/7 server monitoring with Hostinger, backed up by security plugins like hardware-related and PHP open-basedir. It is sufficient to protect your website from typical threats.
The customized firewall from HostGator offers the same level of protection, keeping harmful and unexpected traffic off your website.
Apart from these fundamental security features, HostGator also allows you to install add-ons:
Positive SSL upgrade ($39.99/year) – Provides a $10k guarantee and safeguards your domain and subdomain with a TrustLogo site seal. With HostGator's Business plan, this is included for free.
SiteLock Essentials ($5.99/mo): an automated monitoring application that scans your website for harmful attacks, spam, and cybercriminals.
CodeGuard ($2.75/mo): Automated server backups, monitoring, and restores are all included in this enterprise-level website backup application.
It's important to note that these are all third-party security add-ons that can be readily installed on your hosting. As a result, I will evaluate Hostinger vs HostGator based on their free security features.
In terms of security, Hostinger is significantly more attractive overall. It is a very secure hosting provider because of its defined backup procedures and the incorporation of two-factor authentication. Aside from that, both suppliers are identical.
Customer support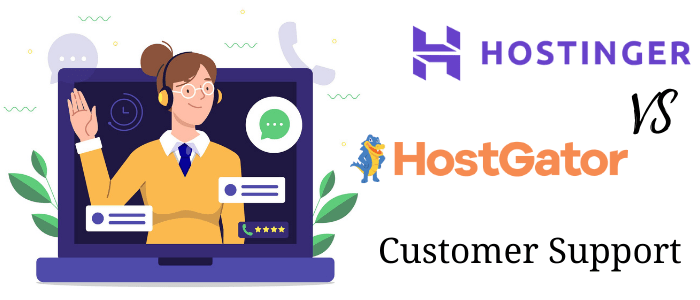 Hostinger and HostGator offer live chat assistance 24 hours a day, seven days a week, and have comprehensive knowledge bases. Hostinger also provides email support, although HostGator's agent may be reached by phone.
I now use the live chat feature whenever I test a provider's assistance because it is the quickest and most convenient. My results for each provider are as follows:
When it came to Hostinger, I had to wait up to 20 minutes to speak with a customer service representative. However, after we got through, we remedied our issue in a matter of minutes. The support staff was also quite pleasant and accommodating, always beneficial.
On the other hand, we talked to a HostGator support representative in a matter of seconds. The agent did take 9 minutes to resolve our issue, but it was not a usual occurrence. The agents were also helpful and pleasant, which usually gives a positive impression.
Both companies provide well-organized, helpful, and simple options to navigate in terms of knowledge bases. So if you have a problem, there's a good chance you'll be able to locate an article about it.
Overall, Hostinger and HostGator provide excellent customer service and have a massive knowledge base. However, we must note that Hostinger's lack of phone assistance and HostGator's lack of email support deduct some points.
Hostinger vs HostGator: Pricing comparison
Hostinger is the most economical of the two hosting services, with plans starting at just $1.39 per month. For instance, HostGator's cheapest shared hosting plan is $2.75 per month.
In terms of various forms of hosting, both providers offer expandable choices such as:
| | | |
| --- | --- | --- |
| | | |
| WordPress hosting: | $2.49/mo | $5.95/mo |
| VPS hosting: | $6.99/mo | $23.95/mo |
| Cloud hosting: | $8.99/mo | $4.95/mo |
Hostinger also offers e-commerce hosting for $8.99 per month, Minecraft hosting for $6.99 per month, and CyberPanel VPS hosting for $5.95 per month. On the other hand, HostGator offers dedicated hosting ($89.98/mo).
As you'll see, both hosting companies provide a wide range of services. But, shared hosting remains the most common choice, so that's what we'll be focusing on.
Both hosting companies share a few functions. For example, with all Hostinger and HostGator shared hosting plans, you'll get a free SSL certificate and at least one email address.
Both providers allow you to host one website with their entry-level plans. But, with HostGator's basic package, you get a free domain for a year, whereas with Hostinger, you only get a free domain with the more expensive plans.
Here's what the cheapest plan from each company looks like:
Hostinger (Single – $1.99/mo) – 50 GB SSD disk space, unlimited bandwidth, and access to weekly backups.
HostGator (Hatchling – $3.75/mo) – unlimited storage, email accounts, and unmetered bandwidth.
On the surface, it appears like HostGator is superior with a free domain name based on the feature list. However, it will cost you an additional $1.76 a month and is only accessible for a year. You can buy a domain separately from Hostinger for that price.
In addition, HostGator provides "unmetered" bandwidth, which is not the same as "unlimited." For personal and small company website hosting, they have set storage and bandwidth consumption restrictions.
Although the cheapest options are always appealing, Hostinger and HostGator both feature two additional shared hosting plans to entice you.
So, which of these options will best suit your wants and needs?
Hostinger offers three shared hosting plans ranging from $1.39 to $3.99 per month.
Hostinger's Premium plan, which costs $2.49 per month, is the most famous and excellent purpose. You can host 100 websites for an extra $0.50/month on top of the Basic pricing, and the storage is doubled (100GB). Furthermore, a free domain is included.
Finally, Hostinger provides a 30-day money-back guarantee. Therefore, you can request a complete refund of the services within this time frame. Keep in mind, though, that a domain name is not refundable.
HostGator, like Hostinger, offers three shared hosting plans. Those start at $3.75 per month and go up to $5.75 per month.
HostGator also offers a package that is considered the most cost-effective of the three. The company's general plan is the $3.75/month Baby plan. It's not difficult to see why. For $0.25 extra per month than Hatchling, you can host up to 2 websites. Baby's renewal rates, on the other hand, are significantly lower than those of the business plan.
To keep in mind, HostGator offers a 45-day money-back guarantee. However, remember that certain items are not refundable, such as a domain name.
In summary, both offer resource-rich plans at relatively low prices. But Hostinger is a more cost-effective solution than others.
Read more: Comparison between WP-Engine, Cloudways, and NameCheap
Conclusion
And with that, this Hostinger vs HostGator comparison comes to a close. In most areas, Hostinger and HostGator are relatively comparable. Hostinger, on the other hand, offers marginally more excellent performance at far lower costs. Moreover, it gives Hostinger a significant advantage over HostGator in terms of practicality.
Hostinger takes the victory with lower costs, a more intuitive control panel, friendly assistance, and somewhat superior performance metrics. As a result, it's one of the most excellent solutions for people on a low budget who want to develop an online presence but don't want to spend a lot of money.
FAQ Related to Hostinger vs HostGator Article
Hostinger vs HostGator – which provider is better?
If you're searching for a cheap yet trustworthy hosting service, Hostinger is the superior choice. It comes with an easy-to-use backend for managing your hosting, as well as fundamental security features, above-average website performance, and 100% uptime.
Do Hostinger and HostGator both use cPanel?
No, cPanel is only used by HostGator for website management. However, in terms of functionality, Hostinger uses its own native hPanel, comparable to cPanel.
Which host is better for WordPress hosting?
For WordPress hosting, Hostinger is a better option. It makes use of powerful LiteSpeed servers, extensive security features, and an easy-to-use management interface.
Hostinger vs HostGator – which host is safer?
Hostinger has a minor edge in terms of security, as all of its plans include SSL certificates, two-factor authentication, automatic backups, DDoS protection, and internal server security enhancements.
What's the money-back guarantee of HostGator?
If you are unhappy with HostGator hosting within 45 days of signing up, you can request a refund.
What's the money-back guarantee of Hostinger?
Hostinger has a 30-day money-back guarantee, so if you're not satisfied with Hostinger hosting within 30 days of signing up, you'll get a full refund.
Does Hostinger offer cloud hosting?
Yes, Hostinger offers cloud hosting services that deliver up to four times the speed of traditional hosting. In addition, their monthly cloud hosting options start at $8.99 and include a 30-day money-back guarantee.