InterServer is a comprehensive web hosting provider focusing on high-quality customer assistance delivered via different channels 24 hours a day, 365 days a year. In this InterServer review, I'll go over this web hosting option in great detail. I'll look into the plans and rates and the simplicity of use, performance, security, and customer service.
InterServer hosting offers several hosting plans, including standard, VPS, and email hosting plans, as well as colocation services for those who desire to own their necessary infrastructure. InterServer hosting plans have a comprehensive set of tools that make building and managing a website and online marketing easy.
Types of InterServer Hosting

Standard hosting options are the most affordable, followed by InterServer VPS, dedicated, and colocation plans like any other web hosting company. InterServer, on the other hand, offers several "levels" within each plan, allowing you to select and pay only for the capabilities you require.
InterServer hosting review provides the following types of web hosting as a full-service web hosting provider:
cPanel Hosting
You have complete control over your website with cPanel hosting. If you use a content management system (CMS) like WordPress to administer your site(s), you may believe you have complete control, but this is not the case. Some numerous settings and options can improve the functionality of your website.
Standard Web Hosting
Improve your business on the web or start a blog about the current trends. This all-in-one web hosting bundle is an excellent place to start. Consumers choose to stay with us for life because of our 24/7 managed support and transparent pricing.
Reseller Web Hosting
InterServer has five reseller web hosting plans to choose from. The main differences between the plans are the quantity of disc space granted and the max bandwidth you and your partners can utilize.
ASP.NET Web Hosting
There are numerous advantages to using Windows web hosting. First and foremost, if you wish to create a website utilizing the.net programming language, Windows web hosting is the obvious choice.
Email Hosting
Email hosting on interserver with email @ your domain name, you can give your company a professional appearance. Their premium filtration practically eliminates spam and viruses from your inbox and internal monitoring tracks who sends every message and sender behavior.
VPS Hosting
Interserver VPS offers one of the most cost-effective VPS options on the market, which you can rely on upon without hesitation. With our InterServer VPS review, you may tailor the resources to your specific requirements.
Read Also: Best VPS Hosting Providers 2022 | Compared & Reviewed
InterServer Features
We'll go over why you should use InterServer Hosting for your website in this part. InterServer hosting review provides a variety of web hosting features and services. We have compiled a set of InterServer's features for its clients. InterServer is a low-cost, comprehensive host for engaging new users.
So, here are the features of InterServer's web hosting services:
Accessible to Use Dashboard and cPanel
The client area of InterServer is clean and straightforward to use. From there, you may view a list of your domains, servers, hosting plans, and more. InterServer'sdashboard is cPanel, a famous hosting control panel that can access the client area. There's a reason why so many hosting companies utilize cPanel. It is simple to use and can manage to pick up by anyone due to its simplicity and search capability.
30 Days Money-Back Guarantee
InterServer hosting plans offer a 30-day money-back guarantee, which means that if you are unhappy with the features and services of their hosting, you may get 100% of your money back within 30 days of purchase. Interserver's money-back policy guarantees that you will receive 100 percent of your money back within 30 days. There will be inquiries and concerns that will prevent you from returning your money to them. Therefore, right now, go to Interserver and try out their site hosting.
Faster Performance
You didn't have to think about efficiency or performance with Interserver Hosting. It offers you increased speed and uptime. Their servers are thoroughly optimized for speed to provide you with the most exemplary possible service. We put it through a speed test, and the results were incredible.
Interserver uses its global network of cache data centers to deliver seamless Cloudflare CDN connectivity. When your visitors try to access your website, CDN builds a cache of your static material and distributes it to them when they attempt to access it through their nearest data center.
Free Email Accounts
InterServer provides completely free email accounts. Moreover, these accounts are infinite, allowing the user to spend as much money as they want. This benefits not only the company's image, but it also saves you money on a monthly. To get a customized email account with your domain, you won't need to use a third-party provider like Google Workspace.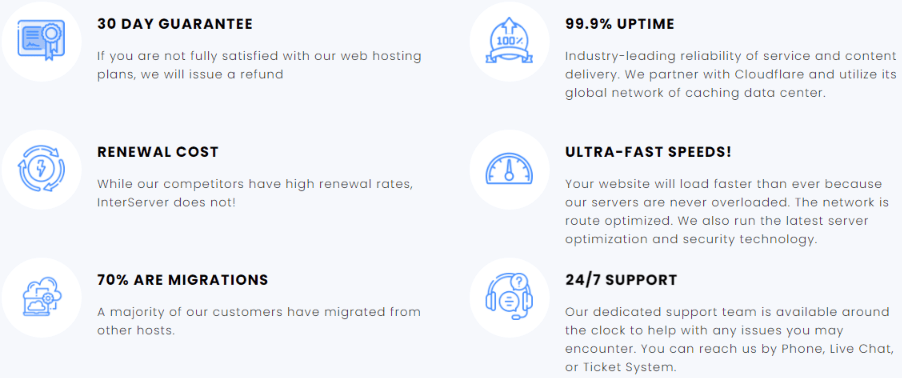 One-Click Install Apps
If you don't know how to install WordPress or other software, Interserver offers a one-click install capability. You can run over 461 different Cloud applications on your web hosting server. You can select a CMS platform that is most suitable and convenient for you, such as Interserver, which offers a variety of CMS platforms for designing and developing your website, including WordPress, Joomla, Drupal, Magento, Mambo, and others.
Free Migration
You don't have to be concerned about migrating your website from another web host because Interserver offers a free migration service. Their skilled team will move your website from your old hosting to Interserver Hosting for free, so you won't have to pay a cent to move your site to Interserver's server.
Unlimited Domains and Websites
A standard web hosting contract may include a limit on the number of separate websites you can build. You could have adequate disc space for another modest project, but you won't be able to use subdomains or access the databases needed to create different WordPress installations. Any other simple shared plan we looked at had the same problem.
InterServer, on the other hand, is a one-of-a-kind service. You can make as many databases as you like, and you can utilize the domain manager to create new domains for entirely different websites.
Speed and Uptime
InterServer ensures that you have a high level of uptime and speed. It provides a 99.99 percent uptime guarantee, which is incredible. Because their basic plan uses the same technology, you can get lightning-fast websites for a low price. It demonstrates that Interserver takes performance carefully, and you can get a decent price-performance ratio.
InterServer Free Security Tools
The Interserver security tool is a service offered by Interserver. It's a barrier that includes DDOS protection, automatic virus scanners, firewalls, and a malicious file screening tool to secure your shared web hosting account.
It provides an additional layer of security at no further expense to you. So it's a significant gain in our book, and it's clear that Interserver is serious about their infrastructure. They also take full advantage of server-side caching and Cloudflare integration without technical details.
SSL Security Certification
Each hosting package includes a Let's Encrypt SSL certificate, which assures the security of your data. If you want to operate an e-commerce store, secure your visitors' protection, and boost your Google ranks, you'll need SSL.
The certification does not come pre-installed, but the support agent we spoke with was more than happy to activate it for us. We next put InterServer's SSL technology to the Qualys SSL test, and my website achieved an excellent A rating.
24/7 Customer Support
We gave them two chances and asked some of the most challenging questions. You can contact their live help even if you are not a customer. Customer service is critical for any web hosting user and should not overlook.
As a result, Interserver provides you with a dedicated specialist customer support team available to you 24 hours a day, seven days a week. You can reach out to the customer service team by phone, live chat, or through the Ticket System.
InterServer's Pricing
Let's look at the InterServer hosting plans and pricing options for InterServer'svarious hosting services. We've already sent you the comparative list, including the InterServer review features. The standard monthly fee is $5, which is more than enough to manage moderate traffic. However, there are times when annual spikes occur, and you may want additional hardware to address them. In such circumstances, you have two options: the first is $9.95, and the second is $19.95.
The RAM is doubled to 4GB in the $9.95 plan, although the CPU has two cores. Every hour, you can now send 400 emails. To meet thousands of visitors in a day, 200 concurrent processes and 60 entry processes are adequate. If you pay $19.95 for the upgrade, you'll get 8 GB of RAM and four processing cores. This massive site hosting service can handle 800 emails per hour, 90 input processes, and 400 concurrent processes.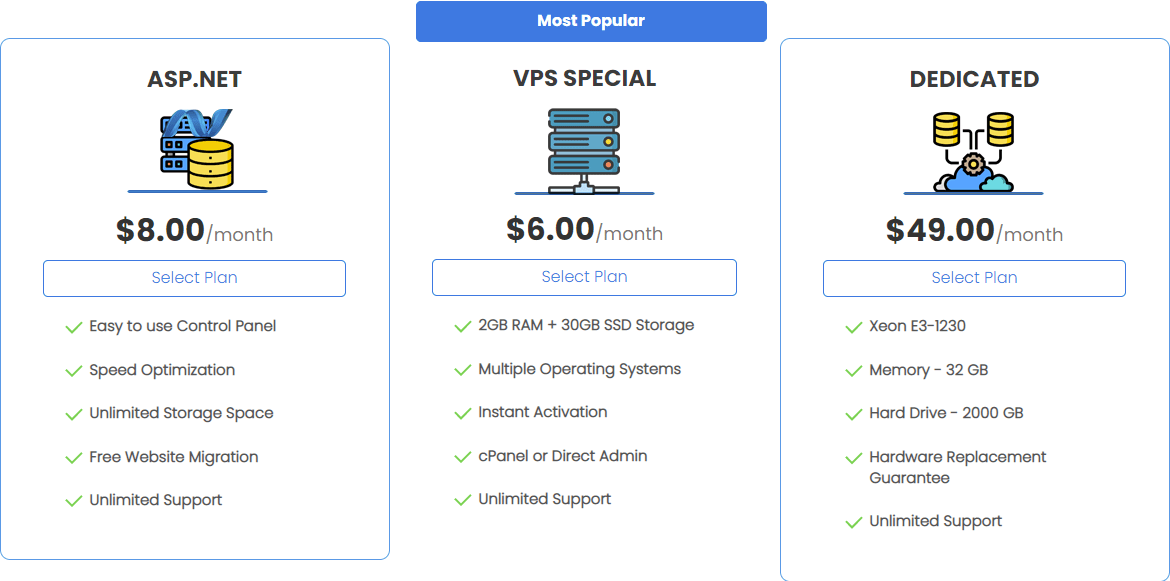 InterServer Review on Customer Services
InterServer review provides customer care and assistance 24 hours a day, seven days a week via chat, email, and support tickets. While the conversation may not always be able to fix difficulties immediately, you have the option of contacting specialists via email or a support ticket.
They would gladly answer any questions or complaints you may have about any assistance you desire. They can assist you with everything from installing an SSL certificate to speeding up your website.
InterServer is Ease to Use
On this criteria, we would also recommend InterServer. Unlike other hosting companies that offer hundreds of alternatives for each plan, InterServer only offers one Shared Hosting plan that includes all services. This makes it a fantastic experience because you can go for it without hesitation.
However, according to their procedure, we should point out that hosting registration can take up to 4 hours. You may easily connect your domain to your hosting plan after your hosting is authorized. It will be up and running in a matter of seconds.
Pros & Cons of InterServer
We've covered a lot of ground on InterServer Hosting so far, and now it's time to learn about the benefits and drawbacks of this hosting web service.
Everything has its benefits and drawbacks, and the Pros and Cons of InterServerHosting are listed here.
Pros• Inter-Insurance to recover hacked sites• Advanced Caching [Inhouse + CloudFlare]• Free Website Migration• Free SSL• Unlimited SSD Storage• No cap on email accounts. Create as much as you want• Low Renewal Rates• Flexible and Scalable VPS Plans• 99.99% Uptime Guarantee• VPS WordPress• One-Click Install Apps• Cost-Effective• 30 Days Money-Back Guarantee• 20 Years of Successful Business Record
Cons• It does not offer Free Domain• Only One Data Server Location
Conclusion
All things aside, this InterServer review left a positive impression. It is more than competent, and the evidence should speak for itself. Interserver is a dependable host with a low pricing and exact renewal price. In terms of security, it is secure. Firewall protection and breach recovery services are provided free of charge.
All small websites hosted on the Standard plan will support InterServer, a solid all-rounder. It includes hosting small products online, business websites, forums, portfolios, and anything else you may think. It also includes upgrading possibilities in case your site becomes famous.
Read Also: Shoptimized Theme Review
FAQ
What is InterServer Hosting?
InterServer is a full-service web hosting company that focuses on providing excellent customer care through various channels. InterServer delivers a variety of hosting options, including shared, InterServer VPS, and dedicated plans, as well as colocation services if you prefer to handle your infrastructure.
Is InterServer hosting good?
InterServer Hosting guarantees 99.9% uptime and 100 percent uptime reliability. The data centers live 24 hours a day, 365 days a year, to ensure that they function correctly
Is InterServer hosting secure?
InterServer hosting is highly secure. It has several security features. You can receive an SSL certificate and Cloudflare CDN. InterShield and Inter-Insurance are two of its security features.
Can I migrate my website for free with InterServer Hosting?
Yes! Not every organization that joins InterServer will build a whole new website. Some may require moving existing sites from other sites to InterServer hosting. InterServer hosting offers another complimentary service.
Do I get free email accounts with InterServer Hosting?
InterServer hosting provides completely free email accounts. Furthermore, these accounts are infinite, allowing users to spend as much money as they want. It benefits the company's image and saves you cash monthly.