Justhost Web Hosting Review – Pricing & Features
JustHost is a web hosting service established in the United States that hosts over one million websites. It has a reputation for being good value and offers a variety of payment options. In addition, it has a surprising amount of features on even its most basic plans.
It comes with essential integration tools like WordPress and SiteLock, and is suitable for start-ups. JustHost web hosting, on the other hand, how excellent is it? Is it the most suitable hosting platform for your needs? And how does it stack up against the competition? Continue reading to get a complete view of what's on offer.
The number of packages offered is limited. JustHost focuses on shared hosting plans featured on their website. VPS and Dedicated server options are also available, although they are hidden towards the bottom of the main page. It might imply that certain forms of hosting aren't a top focus for JustHost. On the other hand, our JustHost hosting review will go through all features.
What are JustHost's pricing plans?
JustHost offers some of the most cost-effective hosting packages, So let's take a closer look at JustHost's plans and prices..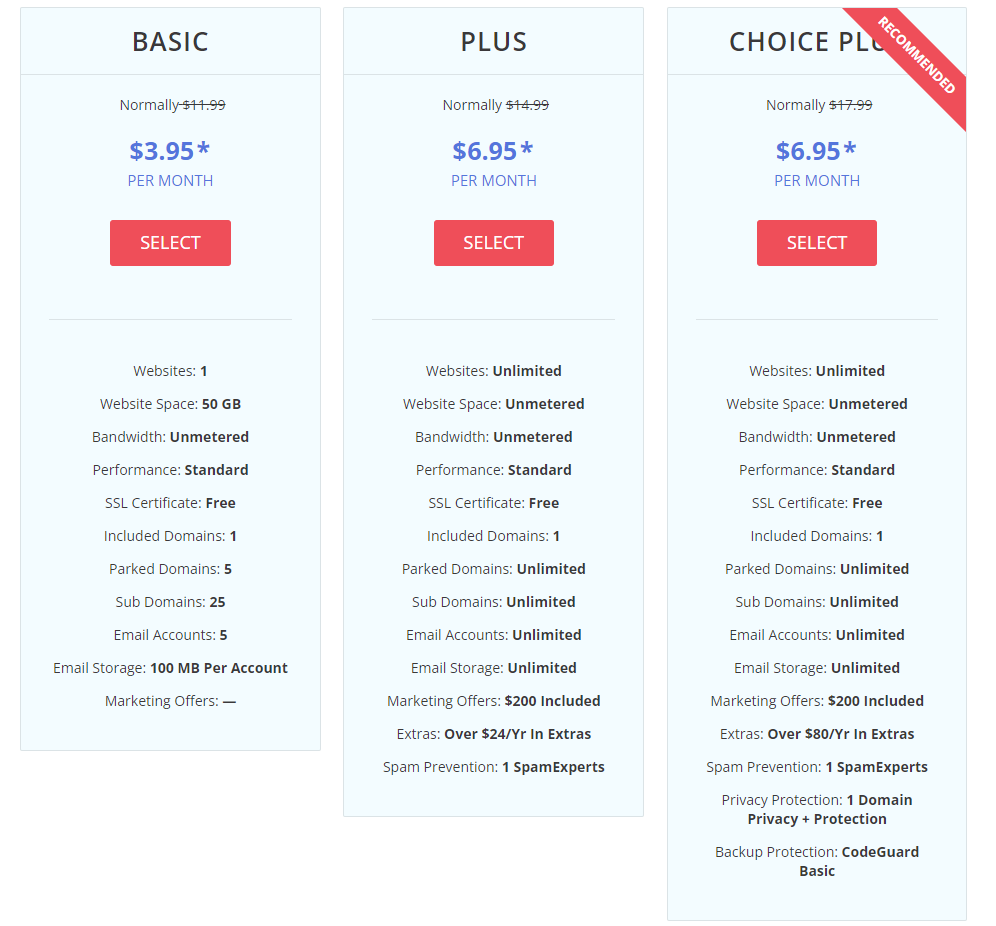 Web hosting options
JustHost's web hosting services start at $3.95 per month for the Basic plan. The more costly Plus and Choice Plus subscriptions are currently $6.95. It's essential to keep in mind that these are the prices if you sign up for three years with JustHost. If you sign up for a monthly subscription after that, it will cost you more.
Of course, if you want to pay in monthly installments so that you may cancel if the services don't suit you, the basic plan is $14.99 per month.
VPS hosting
JustHost's VPS hosting packages all come with a free domain name built on cloud technology, so new features may be added as they become available. Standard plans start at $19.99 a month, Enhanced plans at $29.99 a month, Premium plans at $44.99 a month, and Ultimate plans at $59.99 a month.
Again, these prices are only valid if you sign for three years of service. The basic plan will set you back $29.99 per month if you want to pay monthly, while the premium option will set you back $119.99 per month.

Dedicated Hosting
These dedicated web hosting services use the CentOS operating system. It also comes with a free domain name, much like the VPS and web hosting choices. The Standard plan costs $79.99 per month, while the Enhanced plan costs $99.99 per month and the Premium plan costs $119.99 per month.
But, of course, it is just for the duration of the three-year contract. After that, you may join up for the regular plan for $149.99 per month or the premium plan for $249.99 per month.

Look Also: InterServer Review – Details, Pricing & Features
What are JustHost's hosting features?
Regardless of the package you choose, JustHost provides several essential features. These hosting options may make building, maintaining, and optimizing your website easier.
JustHost cPanel and interface
All JustHost clients have access to the JustHost control panel, which features a user-friendly layout that simplifies managing your account. Its user interface is one of JustHost's key benefits over other, more complicated web hosting services.
The account management's accessible style is a prominent plus feature for novices as a hosting web service suitable for new websites.
Databases
Here are some of JustHost's most popular services:
Python
Perl 5
Ruby
Javascript, DHTML, Flash, and Shockwave support
CGI-BIN and CGI Library
MySQL: and PostgreSQL databases
Cloudflare CDN
Cloudflare CDN, a widely utilized content delivery network, is available to all users. Such global networks of servers accelerate content distribution for users in different places.
CDNs also save money on bandwidth through caching and other improvements. Furthermore, such networks can handle more significant traffic and are more resilient to hardware failure. Moreover, a CDN may enhance security by offering security certificate updates and DDoS mitigation.
CPU Protection
JustHost uses a system that monitors server resources like CPU and memory to ensure that each site gets its fair portion of those resources on its shared servers. It implies that sites hosted on the shared server are less likely to have performance issues.
Simple WordPress installation
While JustHost does not provide a managed WordPress hosting package, it does make installing WordPress on your site quite simple, so you may use it to host a WordPress website. It's also relatively simple to handle on your cPanel after it's done, with choices to activate WordPress core, themes, and plugins.
Weekly backups
Unfortunately, if you use a Basic hosting package, you'll have to manually backup your data, as many small businesses do. It implies that you must remember to perform it yourself, or else you will lose your data.
You'll need to join up for the Choice plus plan to obtain automatic backups for your site.
Easy-to-use website builder
All users of JustHost get access to Weebly's website builder for free.
Weebly is a simple drag-and-drop page builder with hundreds of designs that are excellent for anyone intimidated by the prospect of using WordPress or CMS. It's also a far less expensive choice for start-ups that aren't ready to invest in a developer or don't have the time to operate a business while learning to code.
Is it fast and reliable?
When choosing a web hosting provider, the speed and reliability of the server is undoubtedly the most crucial factor to consider, as they will affect site performance and, as a result, the user experience. JustHost, unfortunately, has some severe issues in this area. So let's look at it more closely.
Server response speeds
JustHost's average response time in a test conducted in 2020-2021 was 971ms. Keep in mind that Google advises aiming for a speed of 200 milliseconds, with anything above 500 milliseconds being unacceptable. JustHost sites are likely to have sluggish response times due to this.
JustHost has a low overall speed rating. In terms of time to the first byte, it consistently underperforms. It implies that your users might have to wait a long for your site to load.
Uptimes and downtimes
A web hosting service's uptime and downtime are essential, and JustHost's good uptime of 99.95 percent over the last 12 months implies it meets the industry standard for keeping its sites up and operating.
JustHost, on the other hand, does not provide compensation for any downtime. So if your site goes down, you won't get anything, even if you lose money as a result.
JustHost has offices in the United Kingdom, the United States, and Australia, but just one data center in Utah. After being acquired by Endurance International Group (EIG), it relocated its data center from Illinois to increase its infrastructure, dependability, and connectivity.
Look Also: Hostinger vs HostGator – Details, Pricing & Features
Justhost services and customer support
JustHost web hosting provides live chat, phone, and email assistance 24 hours a day, seven days a week, which appears excellent for customers new to running an online business or their website. JustHost's existing users, on the other hand, don't seem to agree since the company presently has a dismal TrustPilot rating of only 1.2 stars.
While this is off-putting, it's important to mention that we received prompt and helpful replies to our questions throughout testing.

Free domain name for new accounts
JustHost gives you a free domain name depending on your hosting plan, so that's one less thing to worry about. However, if you delete your account, you will be charged $15 to maintain your domain.
Phone support only for dedicated hosting customers
While all users on shared or VPS plans have access to chat and email, only those with dedicated web hosting plans have access to 24/7 phone support. While we had no problems throughout our testing, online consumer evaluations of JustHost's live chat and ticketing system are mostly inadequate.
Money-back guarantee
If you aren't satisfied with the first service, JustHost offers a 30-day money-back guarantee. So you may give it a try to see if you like it before committing to a three-year commitment for the best monthly pricing. But, of course, it doesn't apply to your free domain name, which will set you back $15 if you decide to keep it after 30 days.
JustHost Web Hosting Pros & Cons
This host offers several benefits, including some discounts. However, there are some significant drawbacks to be aware of. Here are JustHost's pros and cons.
Pros
30-Day money-back guarantee
Unmetered bandwidth (shared hosting)
Free domain name for a year
Free SSL certificate
Website Builder
Free SiteLock security tools
1-click WordPress installation
Instant server provisioning for VPS or dedicated server plans
Cons
Low loading speed
No uptime guarantee
High renewal prices
No free website migration
Look Also: Domain.com Review : Hosting Plans, Pricing, & More!
When to Use JustHost
From the above summary and other JustHost hosting reviews, we can assume that this company is ideal for hosting some modest web applications. In addition, its Website Builder comes with various templates that you may use to create a website in drag-and-drop mode.
Furthermore, the most popular content management system — WordPress — is simple to install and operate. Many popular scripts may be installed automatically using SimpleScripts. The knowledge base and support team are always available to assist you.
When Not to Use JustHost
This company does not appear to be a good fit for large, complicated projects. The loading speed is, at best, average. The lack of an uptime guarantee, typical among web hosting, is confusing. Why doesn't the provider give insurance to the customer if it is confident in the stability of its servers and systems?
Within 30 days after registration, you can request a refund for the hosting services. There's nothing special here, and there's no money-back guarantee at any moment.
If you already have a website, a transfer to JustHost will cost you money.
Conclusion of JustHost Web Hosting Review
While JustHost web hosting has certain advantages, such as vital uptime, valuable features, and the ability to use VPS or dedicated hosting, it falls short of server response time. And, despite the low pricing, you'll only be able to receive these if you sign up for at least three years.
On the other hand, the slow response time is a severe issue. The lower plans are also less appealing because they do not provide automated backups as an essential feature.
A few web hosting solutions offer remarkable speeds and top-notch customer care for a little extra money. And, when it comes to your company, the performance of your website should always be a top concern. We don't think it's worth compromising on.
FAQs JustHost Web Hosting
What is JustHost?
JustHost is a website hosting and management service that lets customers host and maintain their websites. It provides shared, VPS, and dedicated hosting options. Over one million websites have been hosted on JustHost so far.
What extras do I get with JustHost?
Customers receive a free SSL certificate, Cloudflare CDN, and a one-year free domain name. You may also use the free SiteLock tools to safeguard the security of your site.
Can I keep my domain even after I cancel my account?
Yes, but you'll have to pay $15 for it. Also, after your registration is complete, you won't be able to transfer your domain for 60 days.
Is a 30-day money-back guarantee equivalent to a complete refund?
No, only the hosting services are fully refundable. The warranty does not cover add-ons. Just Host will take a fee of $15.99 from your refund if your plan includes a free domain.
Is JustHost suitable for beginners?
Yes. JustHost's plans aren't the lowest on the market, but they are reasonably priced. In addition, they offer a drag-and-drop website builder with various layouts and a one-click WordPress setup.
Look Also: Nexcess Review 2022: Details, Pricing, & Features