One of the greatest, most reasonably priced, and trustworthy domain name registrars are Namecheap Review, among the biggest on the market. But Namecheap also provides web hosting services, and there is a huge selection of several hosting plans available at incredibly affordable costs.
Therefore, let's discuss some of the advantages of utilizing it and the pricing, pros, and cons in our detailed Namecheap review for 2022. Are you ready for our review of Namecheap hosting? Let's get started!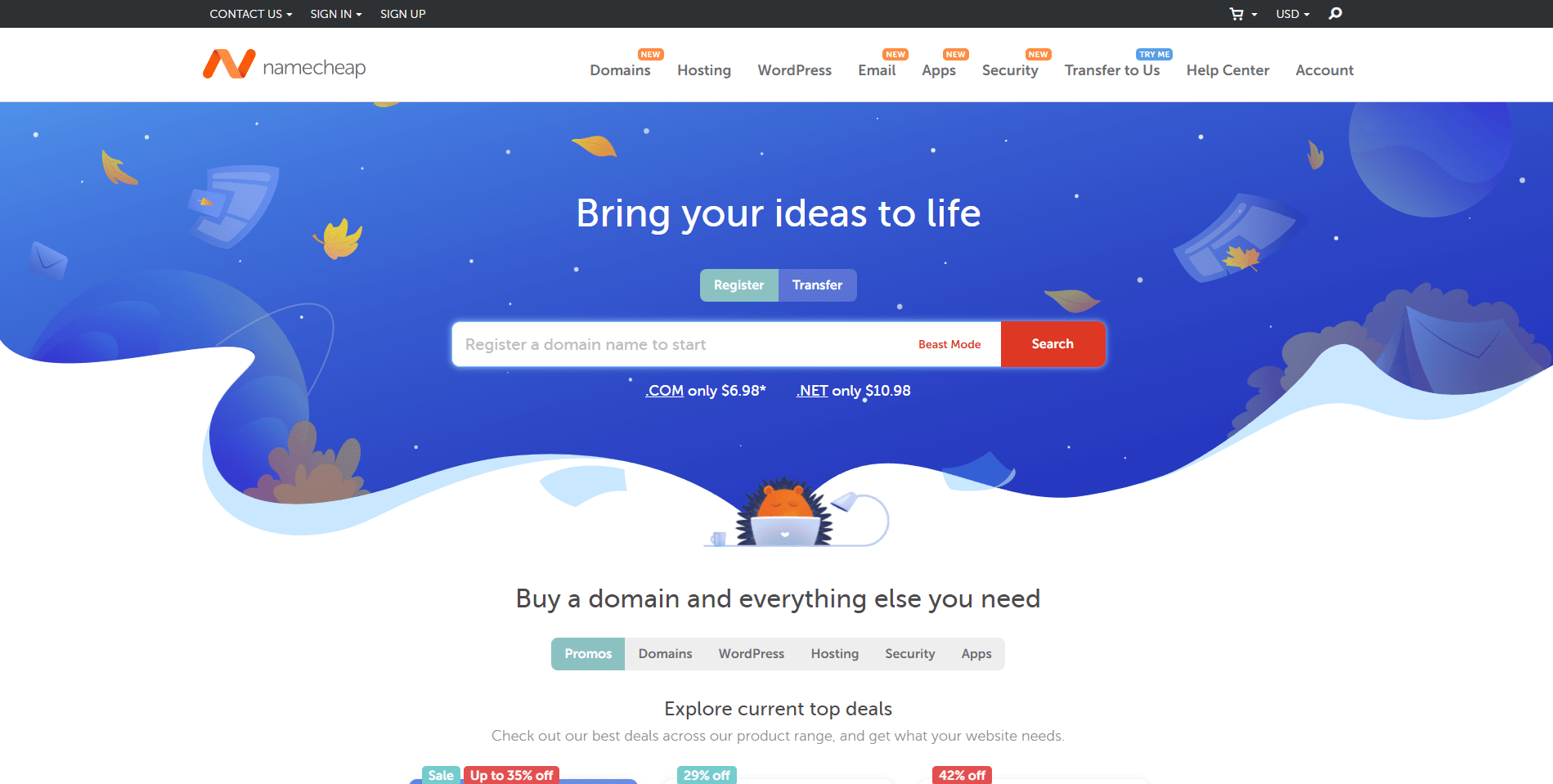 Free Domain and Migration
Namecheap offers it affordable and simple to transfer to their plans if you currently host your website with another provider but are unsatisfied with the results. They are so inexpensive that they don't even charge you. You read it correctly; Namecheap provides free website migration from other hosting providers.
WordPress installation
Namecheap utilizes the default Softaculous app installer to install all applications. All Softaculous installs are listed in the Software category at the bottom of your cPanel.
Professional Email Address
Using the Email Accounts module and the Email category would be best. Very simple procedure, although this email service is only useful for sending a few messages. You might be marked as spam since the reputation is shared by the whole shared hosting server on which your website is hosted.
Namecheap website builder
You get access to a drag-and-drop website builder from the provider regardless of the hosting type or package you choose to buy. But its templates aren't the most modern. The drag-and-drop editor is also somewhat limited.
The website builder is quite standard. It's simple to use, and you may change a few features, like the colors and fonts, to make your website unique. Blocks may be added, and other elements can be rearranged.
Domain Privacy Protection
All customers who purchase a domain name from Namecheap are eligible for free WHOIS Domain Privacy Protection. Your privacy is protected, and it stops spam, identity theft, and unwanted solicitation.
Free SSL Certificate
The basic version plan from Namecheap offers unmetered bandwidth. As your website gains popularity, you will appreciate this unique feature. You also receive a free SSL certificate for the first year in addition to that. As with most free SSL certificate options, the first year is cost-free; however, each further year requires payment. Namecheap does the same.
Firewall & DDoS protection
NameCheap's default traffic filtering option is ModSecurity. The premium edition of Supersonic CDN offers a powerful Web Application Firewall if you'd want greater security. Supersonic CDN offers free basic DDoS protection, but you must activate it yourself.
Automatic backups
Backups are provided twice a week under the Stellar plan. However, this is not a guarantee. Every day automatic backups are included with Stellar Plus and Stellar Business. With these services, you can access six daily, three weekly, and 11 monthly backups. Which one you select is entirely up to you.
Money-Back Guarantee
You weren't satisfied with Namecheap, were you? No issue. Namecheap will issue a refund if you change your mind within 30 days of the beginning of your services.
That means you have a whole month to test out your Namecheap subscription. After that period, if you're unsatisfied, you can change to a different plan choice or request a refund of your money.
Read Also: Domain.com Review: Hosting Plans, Pricing, & More!
Namecheap Pricing and Hosting Options
It's time for Namecheap hosting review. And there are a lot of hosting options. Namecheap provides something for everyone, whether you are starting on a website and looking for something simple for personal use or you are a business trying to create a high-traffic website you can rely on.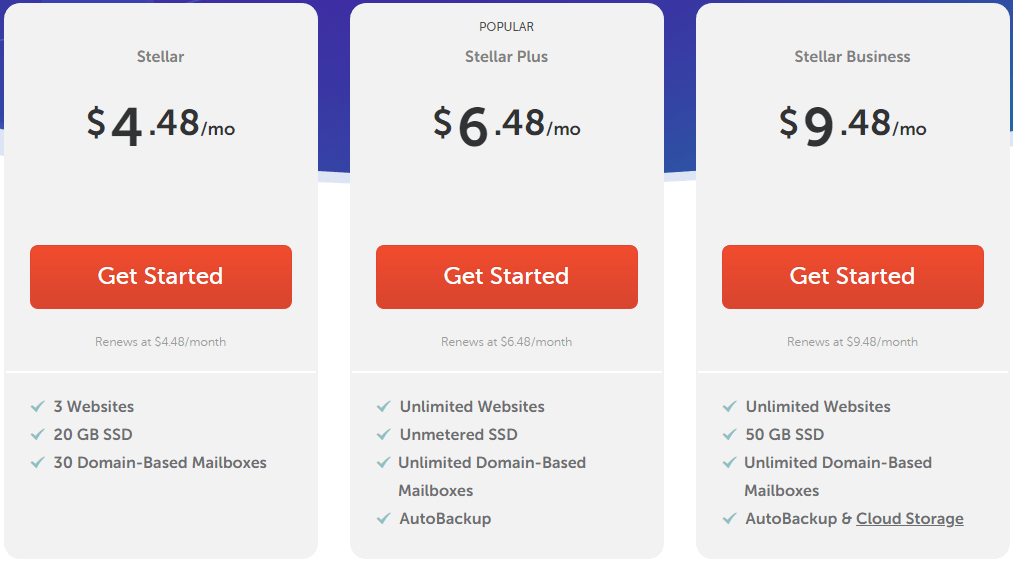 Regarding Namecheap's shared hosting options, we have positive feelings. As their name implies, they are inexpensive and provide much more than other inexpensive shared hosting plans.
Stellar – Even though this is Namecheap's most basic package, you still receive a lot. Three websites are included: a 20 GB SSD, a free domain name (for the first year), and a free CDN. This bundle costs $1.58 per month when paid yearly.
Stellar Plus – This service includes unlimited SSD storage, unlimited websites, automatic backup, a free domain name, unlimited CDN, and more. When invoiced annually, this will cost you $2.68 each month.
Stellar Business – This can be ideal for people wishing to launch a small website for their company. 50 GB SSD, unlimited websites, auto-backup, cloud storage, free domain registration, a free CDN, and more. The starting price for this when invoiced annually is $4.80 per month.
All shared hosting plans also include a free website builder, domain name, privacy protection, SSL certificate, SSL installation, cPanel, email service, and 24/7 support, in addition to what was said above.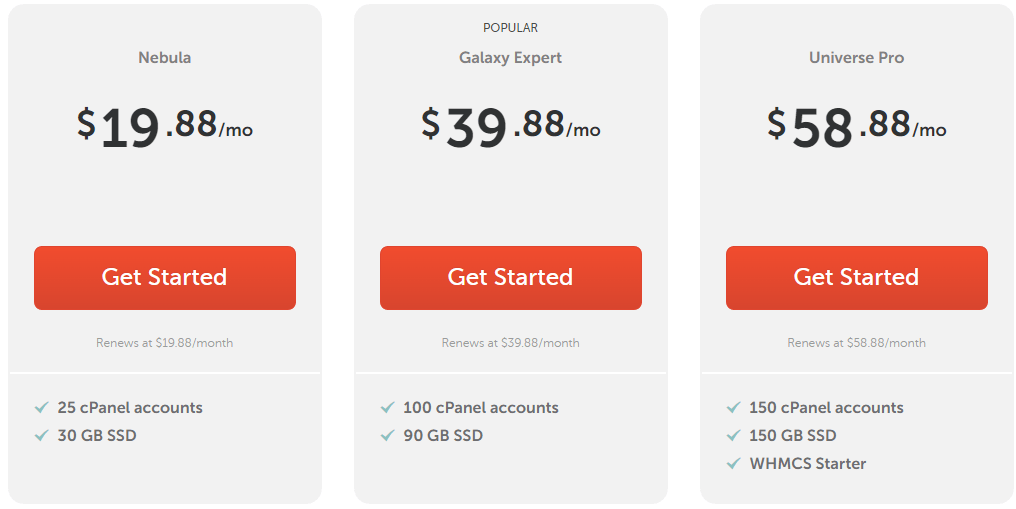 A fantastic option to get some passive money is through reseller hosting. When you buy a reseller plan from Namecheap, you may sell such plans to friends, clients, or other individuals you know.
Nebula – This is the least expensive reseller hosting plan, and it includes 25 cPanel accounts that you may resale and 30 GB of SSD storage. You will be charged $17.88 per month, payable annually, for this package.
Galaxy Expert – You will have 100 cPanel accounts to offer and 90 GB of SSD space on the next level of reseller hosting. It costs $33.88 per month when invoiced yearly.
Universe Pro – This method might work for you if you want to accomplish some major reselling. 150 cPanel accounts and 150 GB of SSD storage are included. You'll be charged $51.88 every month, every year.
The following is also included in each of the reseller plans:
Being able to control from cPanel
Unlimited bandwidth
Countless domains and subdomains
WMH control Tools for Account Management
Powerful reselling servers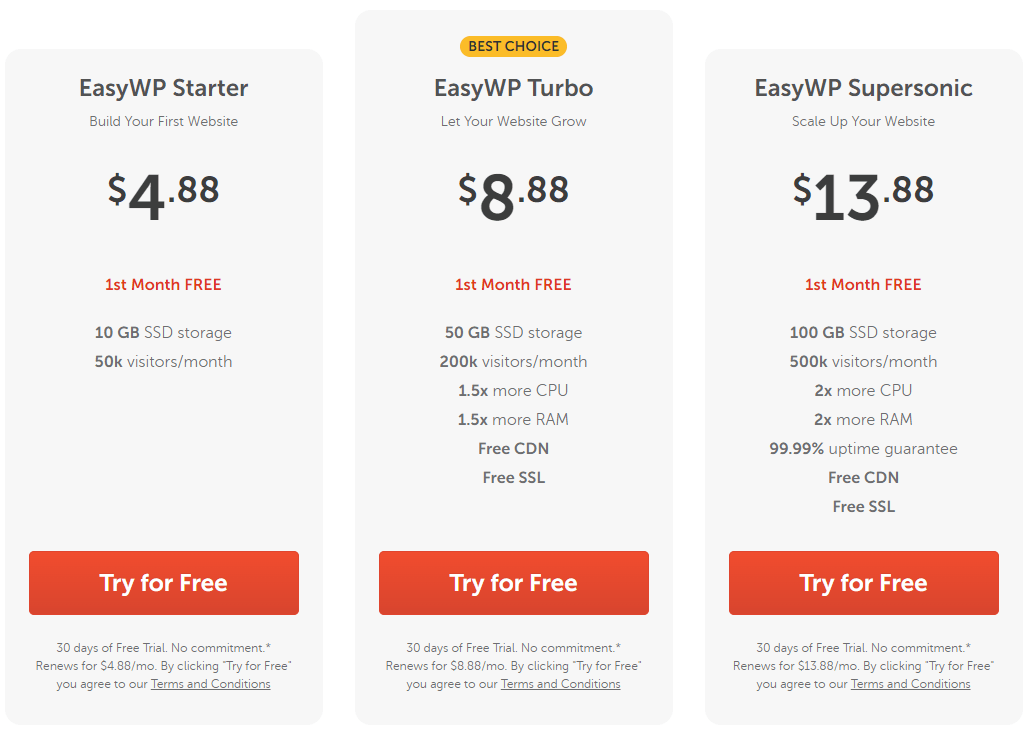 These hosting options are appropriate for you if you want to use WordPress.
EasyWP Starter – For your first WordPress website, this is excellent. For $22.88/month, payable yearly, you get 10 GB SSD and 50,000 monthly visitors.
EasyWP Turbo – Do you want your WordPress site to grow? Try this yearly billing option for $34.44/month to get a 50 GB SSD, 1.5 times more CPU, 1.5 times more RAM, free SSL, free CDN, and 200.000 monthly visits.
EasyWP Supersonic – This method can be ideal if you wish to extend your website to its greatest potential. For $49.88/month, payable annually, you receive a 100 GB SSD, two times the CPU, twice the RAM, a 99.99% uptime guarantee, free SSL, free CDN, and 500,000 monthly visits.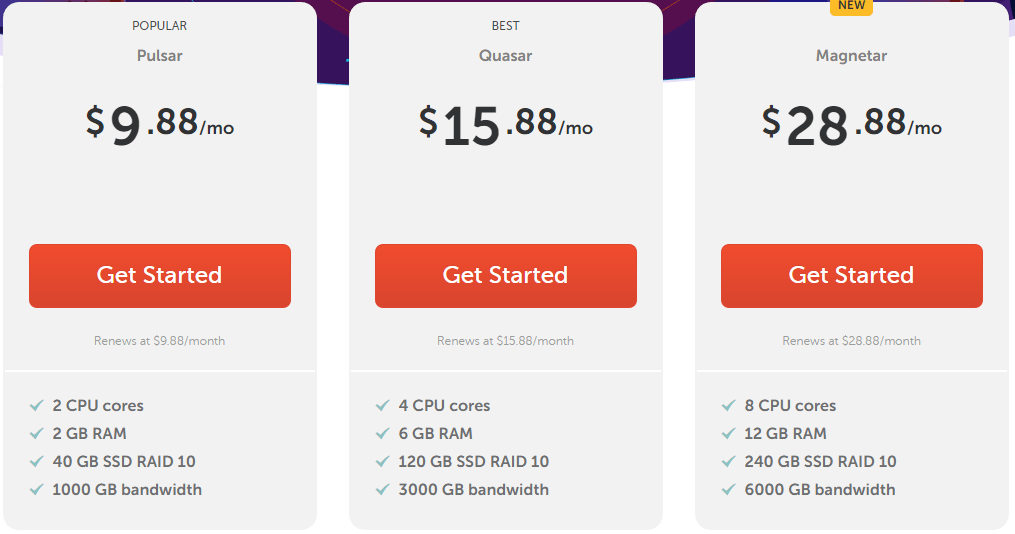 VPS hosting plans are an excellent choice for your website if you want greater freedom and control.
Pulsar – With this popular VPS hosting package, you receive two CPU cores, 2 GB RAM, 40 GGB SSD RAID 10, and 1000 GB bandwidth. It costs $7.88/month when invoiced yearly.
Quasar – With this plan, you receive four CPU cores, 6 GB RAM, 120 GB SSD RAID 10, and 3000 GB bandwidth for a great price. It costs $13.88 per month when invoiced yearly.
Magnetar – With this package, you receive 8 CPU cores, 12 GB RAM, 240 GB SSD RAID 10, and 6000 GB bandwidth for a great price. It costs $24.88 per month when invoiced yearly.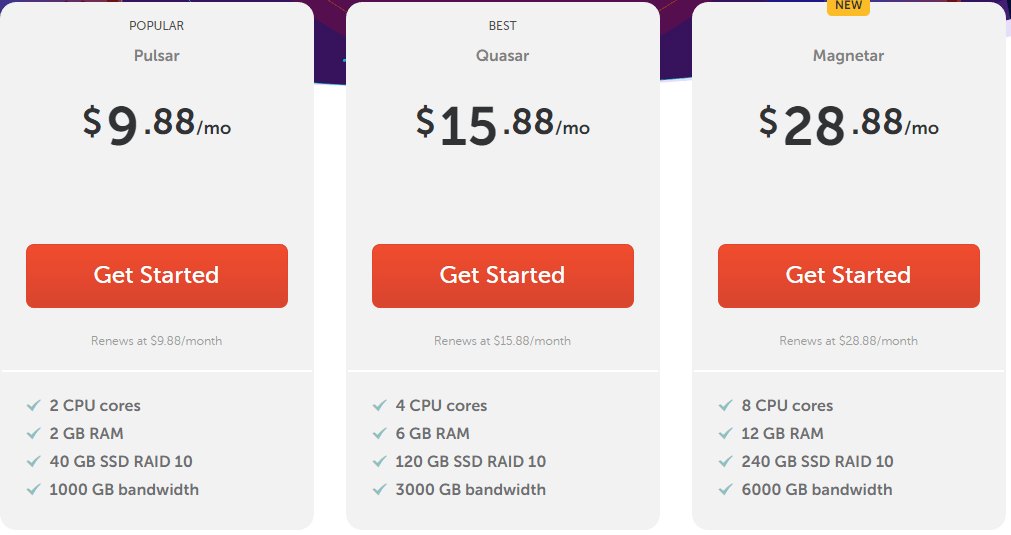 A dedicated hosting package is something you should consider if you require your servers so that you can have complete control over what you do.
Depending on your particular demands, the various plans under the dedicated server plan give some fantastic choices. When you reach this level of hosting, it's a good idea to get in touch with a Namecheap expert to see if you can learn more before making such a significant investment. As you can see, the plans range in price from more than $600 to more than $1,100 each month.
Your website and business might profit greatly from a dedicated server, which can be precisely what you need.
Namecheap Uptime & Performance
It is essential to have consistent uptime. Less downtime for your website equals a high uptime percentage. Additionally, you don't want to be inactive. You will lose more clients the longer your website is down.
We appreciate Namecheap's 100% service level promise to uptime because of this. If a 100% uptime is not reached, your money is refunded. That is customer service, indeed. Namecheap can provide this because of its track record of high uptime.
There have been a few slight drops in the past, but nothing major or that didn't bring it near the 100% threshold. Currently, the average uptime is 99.97%, which is nearly flawless.
Namecheap Load Time
Nobody likes to wait for a page to load. A website's visitors are almost certain to leave their search and visit another if it takes longer than 3–4 seconds to load.
Namecheap easily passes the test, whose average page speed is 458 ms. Furthermore, it appears that Namecheap speeds are getting quicker day by day. 
Namecheap Pros and Cons
So let's discuss the pros and cons of Namecheap hosting. Here are some key Namecheap benefits and drawbacks while running your WordPress websites on a budget.
Pros of Namecheap Hosting:
Affordable shared hosting packages (which cost less than a domain)
24/7 customer service availability
Excellent uptime of 100%
Free website migration
Supports 3rd party apps
FREE SSL certificates for one year
cPanel access and an intuitive user interface
Improved security measures to protect your website 
Cons of Namecheap Hosting:
Little disk space for all the plans.
After a year, the cost of renewing your hosting increases.
Namecheap Customer Support
The effectiveness of their support team's availability is one of the key factors to consider when choosing a shared hosting platform. Fortunately, Namecheap provides all of its hosting customers with 24/7 support help and offers a variety of options for you to get in touch with them, including the Knowledgebase, Submit Ticket, and Live Chat.
If you're not yet a customer of Namecheap, you can use their "Submit a Ticket" page to ask questions about the hosting or domain registration. You may contact their support service by signing into your cPanel account and providing your username and password.
Read Also: Best Dedicated Web Hosting Services for 2022
Conclusion
Namecheap is a fantastic option if you're just getting started and searching for a dependable and incredibly affordable shared hosting environment. Given Namecheap's ten years of experience in the domain and hosting industries, you can count on outstanding features and dependability.
So, how did you like our Namecheap review for 2022? Do you have any queries before launching a blog on their hosting servers? Post your comments with your opinions. 
FAQs 
What is Premium DNS in Namecheap?
At a significantly reduced cost of $5 per year, Namecheap's Premium DNS offers your website more protection, uptime guarantees, 24/7 customer service, higher speed, quicker response times, and other benefits. 
How long do Namecheap DNS changes take?
It typically takes between 24 and 48 hours to change a domain's nameservers on Namecheap, but depending on your region, it won't take more than 2 to 4 hours.
Which is the right hosting plan for my site?
It depends on your demands for the website, your budget, and other features. If you're a newbie and want to check out shared hosting, you may choose Namecheap's "Stellar," which is significantly less expensive. 
Where are Namecheap data centers located?
The United States and the United Kingdom are home to Namecheap data centers, so if you live close to one of those countries, you should choose one. The same is true for UK-based data centers. 
Can I get a refund from Namecheap?
Yes, you may contact Namecheap's customer support service to request a refund within 14 days of your purchase if you're unhappy with the company's hosting environment and wish to close your shared hosting account with them.
---