If you're looking for an honest Nestify review, we can assist you right now.
It might be a great hassle to host. You need to be concerned with uptime, performance, security, and scalability. Not to mention that you need some technical know-how to ensure everything is configured properly.
Nestify is ready to help. They provide agency hosting, managed WordPress hosting, WooCommerce hosting, VPS hosting, and assistance from our knowledgeable and helpful technical support staff. Additionally, they offer free WordPress migration services so that you can easily transfer hosts. All of their packages also come with a money-back guarantee. In this Nestify Review, we go through details about features and pricing.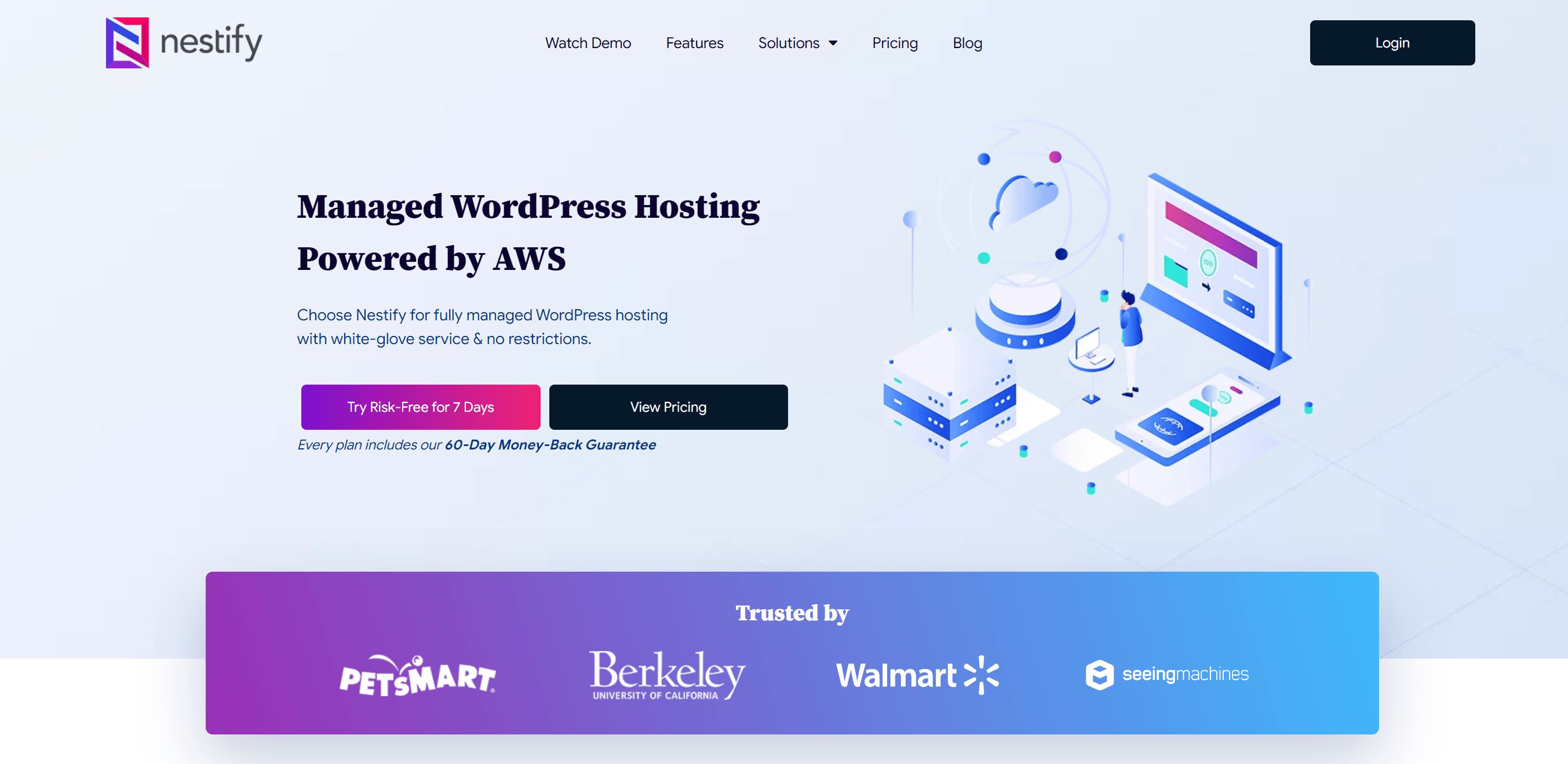 Read Also: Rocket.net Vs WP Engine Comparison
Instead of only providing a share of the server for hosting websites, Nestify offers a wide range of services. No other company delivers the functionality that Nestify does at such cheap costs; even shared hosting is more expensive. The key features that this web host offers are listed below.
Along with the advantages mentioned above, Nestify also provides a great and unique tool called "On Page Optimization," which enables you to modify the Adsense/Google Analytics, CSS, and Java scripts for improved speed. Along with offering access through SSH and WP-CLI, Nestify is also Git-compatible.

Optimized and Efficient Nestify Servers
People looking for a web host for their top-priority website can get in touch with Nestify since this web host offers servers optimized for significant performance. The experts at Nestify are very skilled and have put a lot of effort into ensuring stability and fast speeds.
Optimized web server
Because Nestify is a hosting service for companies and anybody wishing to host an essential website, its servers are highly optimized. The Nestify team is delighted to have designed its stack from the ground up for optimal speed and stability.
We had fast load speeds when testing our new WordPress website, which Nestify hosts. Both the Pingdom website speed test and the Sucuri loading speed test tools reported quick load speeds for the site. You require Nestify if you intend to use your website for business enterprises.
SSL Certificates LetsEncrypt
LetsEncrypt SSL certificates are enabled by default for all websites hosted with Nestify. Nestify also assists in fixing mixed content issues brought on by specific WordPress themes.
The network of distribution and storage of content
The hosting plans offered by Nestify make use CDNs and cache to guarantee that your content uploads as quickly as possible. You have various implementation options when using caching for quicker load times.
Your website can be appropriately cached by defining URLs that shouldn't ever be cached, enabling full-page caching, and choosing an optimization level.
You can pick a place close to your target market in North America, Central Europe, and Asia. While all website traffic is directed through the 86 Cloudflare CDN data centers that Railgun has configured, your content is typically sent from a location close to your visitors.
Complete Site Management
The technical staff at managed web hosting provider Nestify is always available to help clients optimize and upgrade their websites for the best results. The specialized team handling all website issues ensures the fastest response times and uptime.
Because Nestify offers a scalable solution, its staff can easily manage an unexpected increase in server demand if the content becomes well-liked and trendy.
Backup Facility
You won't have to worry about website content backup if you choose Nestify as your web hosting provider. The Nestify staff regularly assures the automated backup. However, you may also manage and see the backup plan using the available user interface. Although most backups are scheduled automatically, you may still make any necessary changes.
You may quickly restore your content with a single click if Nestify's backup system has preserved it for your website. These backups are stored at an offshore location using Microsoft Azure's "Geographical Redundancy Storage" for 30 days. It will enable you to restore your website to a prior state with any previously stored content.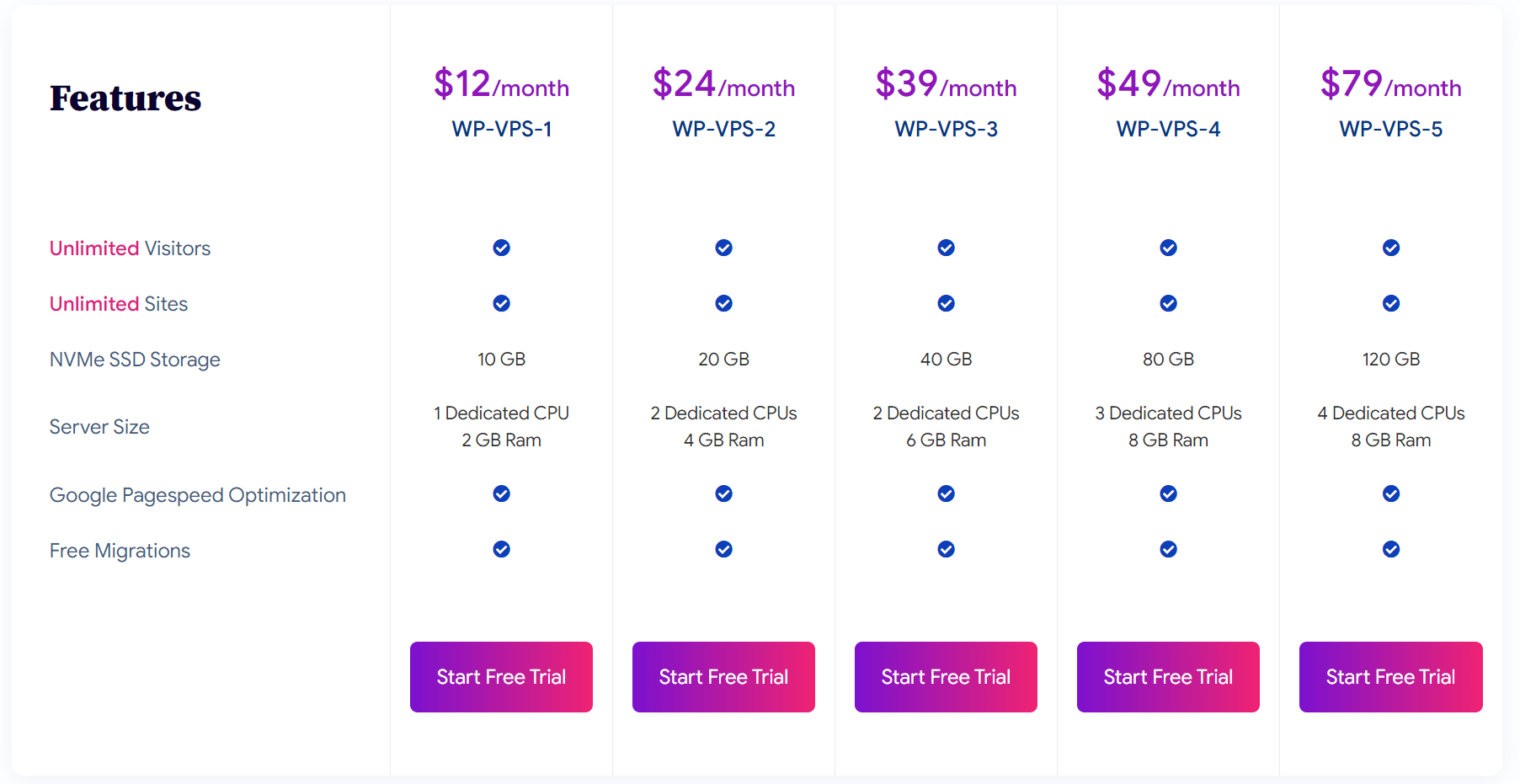 Among its several offerings, Nestify's price is its standout feature. Due to this, it stands out from the competitors.
No one can believe that the company's pricing can be so inexpensive that the range of their charges places them under the lowest tiers from Flywheel and WP engine when they see all the features they provide.
WP-VPS-1 – With the plan, you will get unlimited visitors and sites and 10GB of storage space, and free site migrations. This plan costs $ 12 a month.
WP-VPS-2 – With the plan, you will get unlimited visitors and sites and 20GB of storage space, and free site migrations. This plan costs $ 24 a month.
WP-VPS-3 – This plan is ideal for bloggers, marketers, or anyone who wishes to run a WordPress site with steady traffic more quickly. You will get 40 GB of storage. This plan costs $ 39 a month.
WP-VPS-4 – In this plan, you will get unlimited visitors and sites and 80GB of storage space, and free site migrations. This plan costs $ 49 a month.
WP-VPS-5 – If your business is your priority and your website receives a lot of traffic, Nestify's WP-VPS-5 plan is the best choice. With this package, you will get unlimited visitors and sites and 120GB of storage space, and free site migrations. This plan costs $ 79 a month.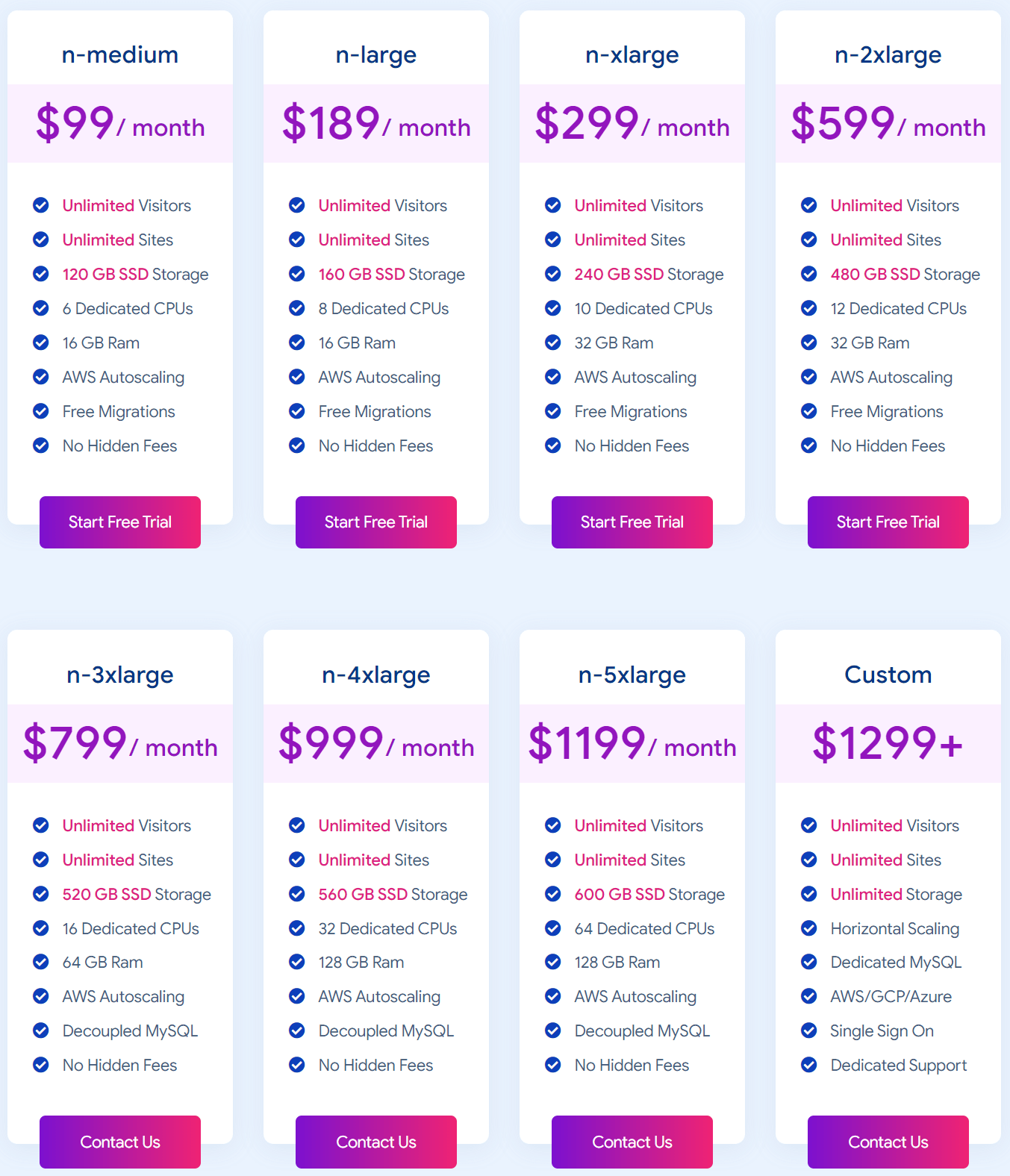 Nestify Support
The technical support team at Nestify has full access to WP professionals who are available 24hrs, seven days a week. Even if your website has issues, the professionals will resolve them immediately.
They assist you by email and are available twenty-four hours a day, seven days a week. You can select one of these to address your issues.
Free Site Migration Facility
Read Also: Top 7 Fastest Shopify Themes in 2022
Consider switching to a host that can address your outage difficulties if you are experiencing troubles with your current web hosts, such as poor upload times or outages. As they can assist you with migrating your site for free, we believe Nestify's site migration service would be appealing to you at this time.
They can move almost any website without causing any downtime. You know where to go in case you get into problems while still with your present host.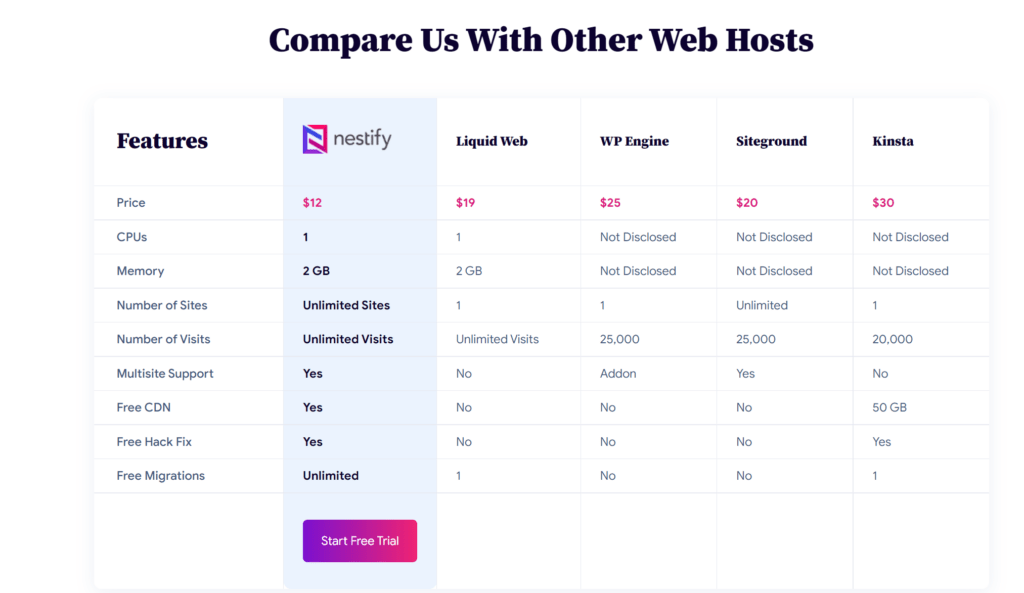 Conclusion
There are indeed several WordPress hosting available. However, Nestify stands out due to its emphasis on uptime and performance. Their staff has spent more than ten years building the infrastructure for Fortune 500 companies, so they know what it takes to create a fast, dependable website.
Nestify is the greatest host for your WordPress website. They not only have skilled engineers continually checking their servers for problems, but they also provide free migration services to make the transfer to us simple for you. Additionally, their hosting plans provide several features ideal for companies of all sizes. We hope you find this Nestify Review helpful and informative.
Read Also: WP Engine Review
FAQs
Which Nestify plan is best?
The appropriate Nestify package for you will depend on how you use your site and what your resource requirements are. The WP-VPS-1 or WP-VPS-2 package will be sufficient if starting with a low-traffic blog site.
How much does Nestify cost per month?
From 12 dollars per month, managed WordPress VPS hosting is available from Nestify. You can access 1 vCPU, 2GB of RAM, 10GB of SSD storage, and unlimited WordPress sites and visitors. You can scale up if you require additional resources, but the cost will be significantly higher.
Why is it better to have hosting optimized for WordPress?
Your WordPress-based site should function better with hosting designed for WordPress. You may get WordPress VPS hosting from Nestify with the best speed, and unlimited WordPress installs, thanks to the infrastructure strength of Amazon Web Services (AWS).
---