Nexcess is a managed hosting company. It was formerly a Liquid Web company, but today it functions as a subsidiary, providing services that its parent company Liquid Web, does not. Liquid Web specializes in virtual and physical servers. Nexcess hosting specializes in traditional shared hosting to maintain fast and straightforward infrastructure. In this Nexcess Review, we'll look at the hosting provider's details, price plans, features, and so on.
Nexcess Review 2022: Details
Nexcess, a Liquid Web company, has offered to host solutions for small companies, firms, non-profit organizations, designers, developers, and others for over 23 years. Currently, they maintain over 500 thousand websites. Nexcess' leading service is managed WordPress, Magento, and managed WooCommerce hosting. In addition, Drupal, Craft CMS, and the good old Expression Engine are all supported.
Overall, Nexcess is the best place to go for all of your blogging and online shop needs, whereas Liquid Web offers both VPS and Dedicated servers. In addition, all Nexcess web hosting services are reasonably priced but not as inexpensive as those provided by other Web hosting companies.
Nexcess Review 2022: Pricing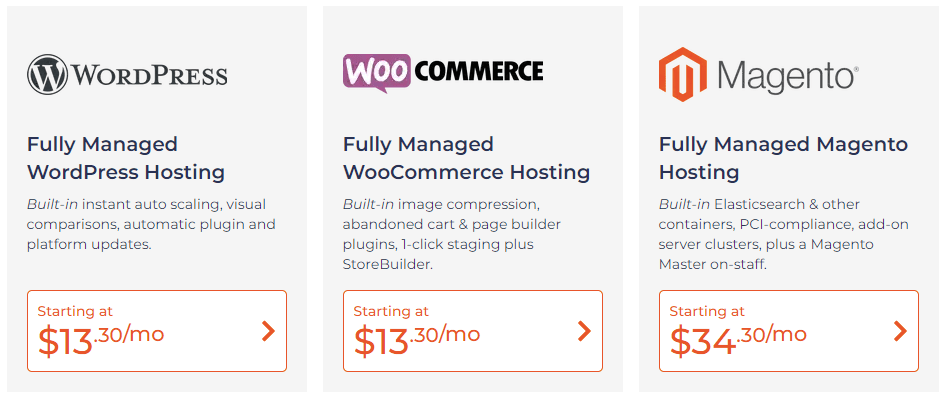 Each Nexcess hosting feature is discussed in the previous section of our Nexcess review. But, first, let's look at Nexcess prices because the price is another essential issue to consider when looking for a new web host.
Nexcess provides five hosting plans: Managed Magento Hosting, Managed WooCommerce Hosting, Managed WordPress Hosting, Flexible Cloud Hosting, and Enterprise Hosting, as you may already be familiar with. You'll need to set up $49 per month for the XS Managed Magento Hosting plan, which includes 50 GB of disc space, 1 TB of bandwidth, and the ability to establish up to 10 new domains. Nexcess appears to be attempting to provide a unique user experience that provides as much as possible.
For review in E-commerce hosting, Nexcess offers the Starter WooCommerce Hosting plan, which costs $9.50 per month. You may create one online store, utilize up to 30 GB of storage space, and receive 500 orders per hour if you purchase this package.
Let's not think about the Sparks beginning set for Managed WordPress Hosting. You could host one site on your hosting solution for $9.50 per month and get 15 GB of storage and 2 TB of bandwidth.
Furthermore, the XS Cloud Hosting plan is only $49 per month. However, the regular Enterprise Hosting package can cost you $1499.95 if you need great support.
Regardless of the package you choose, Nexcess offers a 30-day money-back guarantee. You'll also get a 14-day Nexcess free trial for Managed WordPress and Managed WooCommerce Hosting if you're looking for free hosting. So go ahead and try it since you have nothing to lose!
Money-Back Guarantee
Web hosting services come with a 30-day money-back guarantee. We're sure that you'll like their solutions, but if you don't, they'll return your money with no questions asked.
You may contact their support team at any moment, whether you have technical or non-technical concerns. They're available 24/7/365.
However, if you're not completely happy with their products or services, they provide a no-questions-asked, 100% money-back guarantee within the first 30 days after purchase.
Nexcess Review 2022: Features
Control Panel
Nexcess has a control panel, which is more responsive and straightforward to use. Working on this panel is enjoyable because it has unique features like visual comparison, stencils, etc. The
Home tab, which appears immediately after logging in, provides detailed bills, support tickets, and notifications. Under the Plans tab, you may access site-specific functionality like as
Auto-scaling, CDN, and SSL are all enabled.
Make staging areas.
Domain settings and access logs
Taking care of backups and restorations
Accessibility to email hosting, and so forth.
SSL, Help, Invoice, and DNS are the other panel choices that perform a specific function. In addition, you can set up 2-factor authentication, SSH keys, team member access, API tokens, and more under the user menu. There's also a comment and updates area where you can find out what's new with Nexcess.
Free Daily Backups
Many providers do not provide backups, except you pay for them. Others do backups weekly or, sometimes in cases, monthly basis. Unfortunately, none of those options are suitable if you're continuously adding fresh material to your site. Nexcess offers automated backups and free storage of the previous 30 days' copies. You can also build backups manually if necessary. Restoring is enjoyable and may be done with a single click. It is one of the most compelling reasons to choose Nexcess.
PCI Compliance
Nexcess is a PCI DSS Level 1 supplier (Payment Card Industry Data Security Standard). PCI DSS generally assures that consumers' personal card information is safe when provided to the website. The firm follows industry-standard methods for secure data transport, handling, and preservation.
Domain Name Registration
The Domain Name System (DNS) is an Internet phone book that converts a human-readable site name into an IP address. As a result, whenever visitors type a website URL into their browser, DNS interprets it and directs them to that specific site.
Nexcess has a global network of 15 DNS servers, with Nameserver IP addresses broadcast from several places, allowing for faster domain resolution. In addition, more than eight Nameservers are always up and running, reducing first-visit time load.
One-Click Staging
Do you want to check out some new WordPress features but don't want to risk breaking your current site? Then, you're only a few clicks away from establishing a "staging" website, where you may explore to your liking, bulk-add fresh content, and generally play about.
Then, if you like the modifications you've made, you can combine them all into your current site with a single click. Staging sites are also helpful for gathering input on new material, design decisions, and features without exposing them to the audience. You may even test the site's speed by enabling CDN on the staging site.

This premium add-on provides you with a comprehensive set of e-commerce capabilities. It was created with novices in mind and included a site construction tool and a paid theme to get you started. The Nexcess StoreBuilder will assist you in finding the ideal theme for your website and creating a unique homepage style.
Stencil Sites
Stencil webpages are a lot like unique templates for whole websites. But, except on Nexcess, you can manage them. Instead of having to install WordPress and all of those plugins every time manually, you may create a single site and store it as a "stencil site."
Then, establish a new website from your hosting panel and select your stencil. Approximately half of your task is completed for you. It is helpful to manage many personal tasks or create many sites for clients that do the same thing.
Auto-scaling
If your website has a large flow of viewers all at once, more bandwidth will be granted to your website for free for the next 24 hours. If the consistent traffic continues, and it isn't a DDoS attack, you'll likely need to change your plan to accommodate the additional site visitors.
Auto-scaling is pre-configured and available in all plans with WooCommerce, WordPress, and Magento Cloud solutions. In addition, the service is free for the first 24 hours of each month, after which it costs $.10 per minute in 30-minute intervals, with a $3 minimum price.
SSL Certificates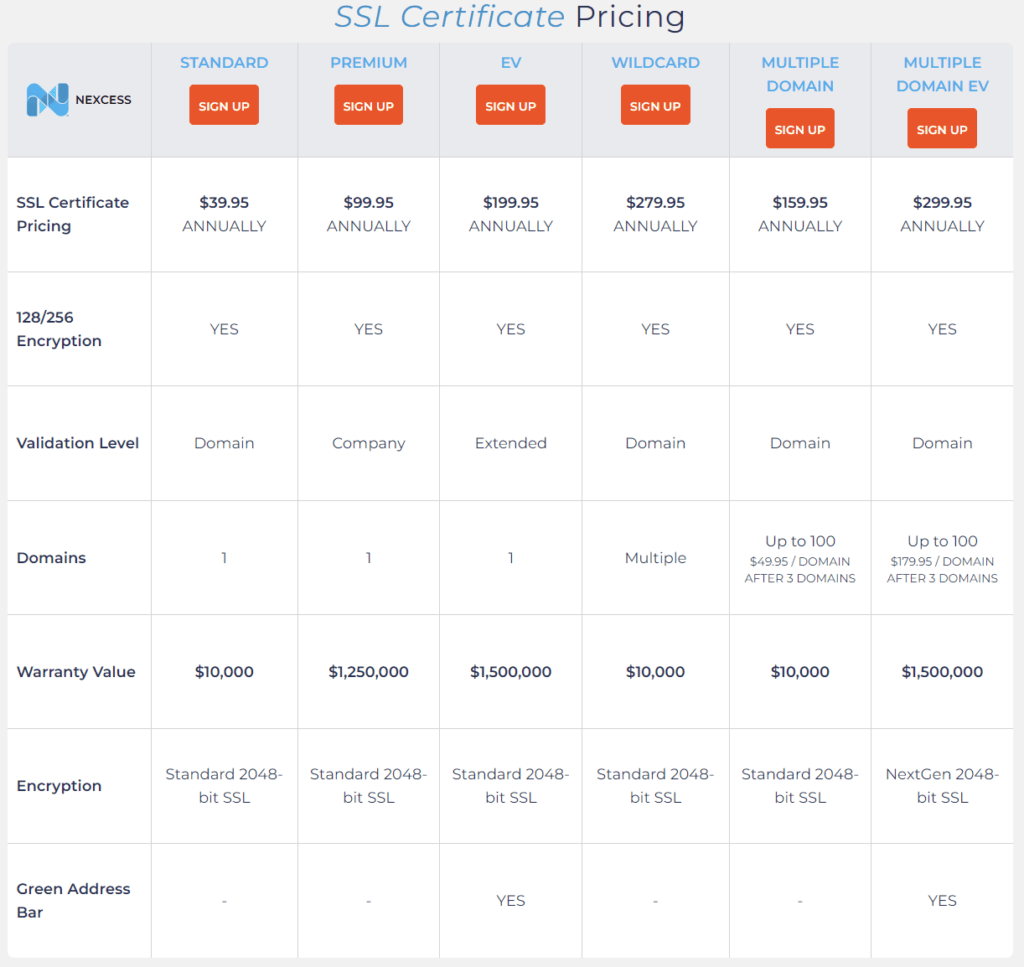 SSL certificates represent the reality that a website is secure and safe, ensuring personal and sensitive information privacy and security. Nexcess provides a variety of SSL certificates based on the amount of authentication. In addition, web browsers authenticate domains using SSL certificates, which improves site rankings.
Standard, Premium, EV, Wildcard, Multiple Domain, and Multiple Domain EV are offered certificate choices. Each certificate level has a different warranty value and uses standard 2048-bit encryption, except Multiple Domain EV, which uses next-gen 2048-bit SSL.
Powerful CDN
You don't have to pay for CDN with Nexcess. They've built their global CDN, which has 22 Edge sites worldwide. The monthly bandwidth of 250 GB is a key highlight. While rivals provide 50 GB bandwidth at a comparable price range, Nexcess is just massive, with $0.10 per GB overage costs after 250 GB.
Free Site Migrations
Do you have a WordPress site that is hosted somewhere else? Wouldn't it be better if it was on Nexcess instead? Don't feel like physically importing your site and double-checking every image and link to ensure everything is in working order? Nexcess provides free site migrations as a result of this. This function is becoming more common in the business, making life simpler.
Speed and Performance
Uptime
During our testing, all Nexcess sites were entirely up and running. Their uptime is consistent; there isn't a single 60-second outage. Pingdom is used to measure uptime and the demo site uptime for 60 seconds at a time. We've also set up a secondary monitoring tool, and Nexcess does give 100 percent uptime.
Support

Nexcess's outstanding customer service will make you fall in love with this web host.
Their managed WordPress hosting platform will not only assist you in running your WordPress site efficiently by doing routine activities such as plugin updates and backups, but they also value client assistance.
As a result, if you have a query, you will receive a lot of professional assistance. Express your dissatisfaction by whatever media, and it will be their responsibility to resolve the issue. Additionally, their experts may provide you with advice and ideas.
This type of assistance is priceless for rookies and developing web admins.
Live Chat
It is the quickest and most convenient way to contact their customer service staff. All you have to do is go to their website's chat feature, which is present on practically every page.
Choose a category (Sales, Help, or Billing), input your name and email address, and click Start Chat. An expert will respond right away.
Nexcess Data Centers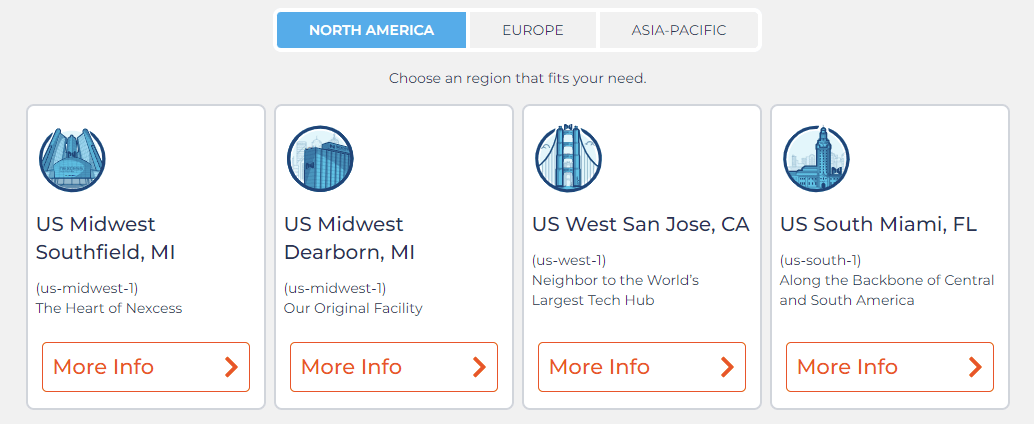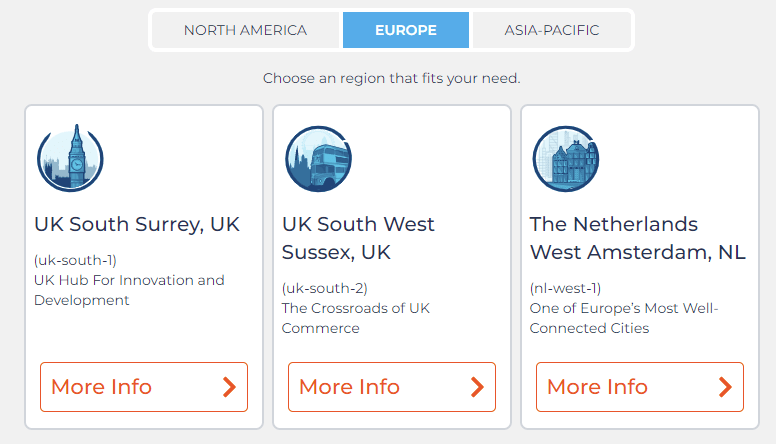 Conclusion
This Nexcess managed hosting review shows that this hosting business has spent time and effort to provide great managed hosting solutions to its clients. Nexcess is also the king of Magento hosting, with Live Chat available 24 hours a day, seven days a week. For many more seasoned customers of web hosting services, this would be a sufficient incentive to use Nexcess without hesitation.
Read Also: GreenGeeks Web Hosting Review
FAQs Related Nexcess Review
What is Nexcess Hosting?
Nexcess is a Web hosting company specializing in eCommerce systems such as WordPress and Magento. In addition, Nexcess offers cloud solutions, enterprise hosting services, and client assistance 24 hours a day, seven days a week, 365 days a year.
Is Nexcess good hosting?
Nexcess is now one of the most popular Web hosting companies. Nexcess will give you all of the tools you'll need to get online with your new business. In addition, bloggers, online shops, and other company owners may use various hosting options.
Does Nexcess provide a domain name?
Yes, Nexcess gives you the option of creating a distinctive and unique free domain name for your website. More significantly, once you're a user, you may make up to 10 addon domains with only one account.
Does Nexcess offer a free trial?
Yes, you may try Nexcess Managed WordPress Hosting for 14 days for free without using a credit card. So there's no cost, but there's a lot of gains.
Does Nexcess cost more when you renew?
Regardless of what happens, the price remains the same. Nexcess already costs a lot of money, so increasing renewal fees would be selfish.
Is Nexcess easy to use?
Yes, for the most part. It helps if you have some experience with web hosting, but we wouldn't say the system is hard to execute. All of the tools you need are available, and helpful information is available with an at approach.
How easy is it to migrate a website from an existing host to Nexcess?
It's a simple task. In reality, Nexcess hosting provides free website migrations. After acquiring their hosting package, you only need to contact their customer support service. Then, all of your website files will be migrated for free by their experienced expert team.