PowWeb Review is a complete web hosting service targeted toward personal individuals and small to medium-sized companies. It enables you to build a website, host it, and purchase a domain name. This platform also creates, runs, and maintains its servers, unlike many other hosting businesses operating solely as resellers.
PowWeb features direct connections with content management systems (CMS) like WordPress and Joomla to assist users in building websites. The business also provides other services like personalized emails and cloud backups. We did research and analysis to provide you with a comprehensive PowWeb review.
PowWeb Features & PowWeb Review
You may purchase domain names for your websites using PowWeb. Hundreds of domain name extensions are available on the platform, ranging from the traditional ones like.com and.net to the interesting ones like. agency and. academy.
In the PowWeb search box, you may enter any domain name you choose and, if available, quickly purchase it. Additionally, it's not the end of the world if the name is already registered. When certain domains become available, PowWeb allows you to pre-register, but you are in a competitive market with other users. As a result, you might have to pay more to have your registration request prioritized above others. Pre-registering a domain increases your chances of obtaining it, but it does not ensure it.
You may use a special control panel to access and manage your PowWeb products. The panel's main page offers quick access to several items. You can access your webmail, site backups, visitor statistics, DNS settings, and FTP dashboard. Additionally, this page shows notifications and provides you with a summary of your disc space and bandwidth use.
Every feature of your website may be easily configured using the PowWeb control panel.
Read Also: Comparison between WP-Engine, Cloudways, and NameCheap
PowWeb offers its users fast page loading times. Additionally, you may speed up your website with SiteLock's content delivery network (CDN). Customers from any location can reach the closest data center since the CDN distributes your website's content throughout international data centers.
To safeguard your website against malware, viruses, hackers, and spam, PowWeb offers several tools. It connects seamlessly with SiteLock, a website security software bundle. The malware on your website may be automatically detected and removed by SiteLock. To stop spam, you can also limit your websites' access to certain IP addresses. By installing firewalls, SiteLock provides DDoS protection for your websites.
Additionally, you may buy SSL certificates to safeguard your PowWeb websites. SSL certificates provide an encrypted link between your website's visitors and the host server. They also confirm the identity of your website.
The platform uses load balancing to guarantee that clients' websites are accessible round-the-clock. The process of load balancing involves splitting up network traffic across several servers. It ensures no server overloads can cause the network to go down. There is always another server to pick up the load if one goes down, so end users won't notice.
With the help of PowWeb's email services, you may create professional-looking addresses connected to your unique domain names. The business offers this service via Roundcube, Microsoft Exchange, or Google Workspace. Google Workspace uses the most popular Gmail web interface. The Outlook email client is used with Microsoft Exchange. Additionally, Roundcube is a very configurable open-source webmail client.
Microsoft Exchange and Google Workspace need a monthly membership, whereas Roundcube is free. Both Microsoft Exchange and Google Workspace are simple to set up. Roundcube, on the other hand, is challenging and is best suited for technical users.
PowWeb Hosting Plans and Pricing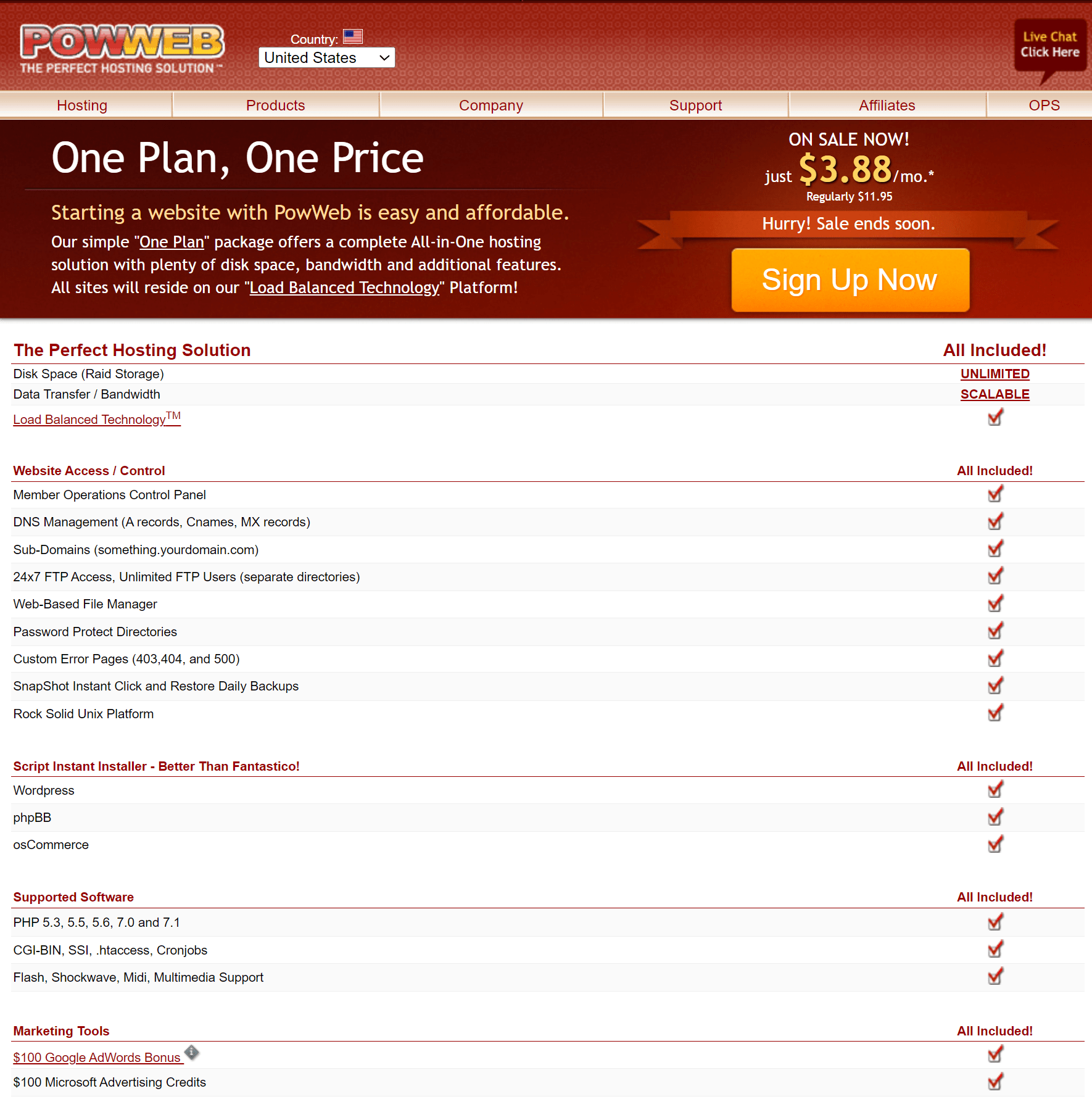 The initial term of PowWeb's hosting plan (One Plan) is reasonably priced. However, the rate at which it will renew regularly is steep—more than double the industry standard. The plan may be paid for using a credit card (Visa/MasterCard) or PayPal in USD, GBP, EUR, CAD (Canadian Dollar), or AUD (Australian Dollar). You may choose from three billing cycles: annual, quarterly, and triennial. Your selections may change depending on the nation you choose.
The price structure for this platform is different. Only one hosting plan is available from the provider, costing $11.95 a month. For first-time consumers, it offers substantial discounts, lowering the cost to $3.88 per month. You may pay yearly or for a maximum of three years at once.
For extra features like email, backups, and SiteLock, PowWeb charges a premium. Following each purchase, the organization offers a 30-day money-back guarantee.
Read Also: Best VPS Hosting Providers
Customer Support
PowWeb offers customer service via email, phone, and live chat. Get in touch with the company's support staff to assist you with any problems. Before contacting support directly, look at the platform's Knowledge Base since it has useful tutorials and user guides.
Conclusion
PowWeb is an appropriate web hosting platform for people and companies on a low budget. Although it provides exceptional value, clients with larger budgets and significant hosting demands are better served by other, more efficient hosting platforms. Additionally, PowWeb is more difficult to handle as your hosting needs increase. It is, therefore, ideal for consumers with limited bandwidth. We hope you like our PowWeb Review.
FAQs
Is PowWeb legit?
The PowWeb website hosting service is legit, so yes. It is dependable and secure for users with little bandwidth and storage space requirements.
Who owns PowWeb.com?
Newfold Digital, a web hosting conglomerate, owns PowWeb and many other hosting brands.
Where is PowWeb located?
PowWeb remains to have its primary office in Burlington, Massachusetts
How much storage space does Powweb offer?
The amount of storage space for a hosting account is officially unlimited by Powweb. On the contrary, their Terms of Service state that you should only retain the data required to keep your website running.
Is there a limit on the number or size of MySQL databases?
While there is no official limit on the size of a single MySQL database, you are limited to 75 total databases.
---