This post is for you if you're looking for eukhost Review and want to use this hosting service to optimize your website for search engines. We shall complete a detailed review of eUKhost and explain all crucial features.
To better determine eUKhost's ranking for hosting services, you'll learn about benefits, disadvantages, costs, and other information.
The hosting service eUKhost has been around for more than 18 years. Cyber Essentials Plus and ISO 27001 certifications for this hosting are present. Over 35 000 organizations are hosted globally by eUKhost.
Review of eUkhost Web Hosting
Different hosting plans and types are offered by eUKhost. A plan may accommodate almost every requirement and spending limit. Packages are available for shared (cPanel), WordPress, VPS, and reseller hosting. For your company, eUKhost also offers dedicated cloud servers.
Look Also: Flywheel Hosting Review in 2022
Shared hosting is referred to as hosting at eUKhost. This hosting idea involves sharing servers with other clients. The primary benefit is cost, as this is each hosting provider's most inexpensive plan.
Limited features are shared hosting's biggest drawback. And if some of your "neighbors" take longer to load, your performance may suffer. However, in most situations, hosting companies keep note of such incidents and create unique plans for such clients.
The three cPanel hosting plans offered by eUKhost are Basic, Intermediate, and Advanced. The monthly costs are £3.99, £5.99, and £7.99. The cheapest plan comes with a 10 GB SSD and ten MySQL databases, while the largest one offers 30 GB of storage and an unlimited number of MySQL databases. The other features are pretty comparable between the two plans.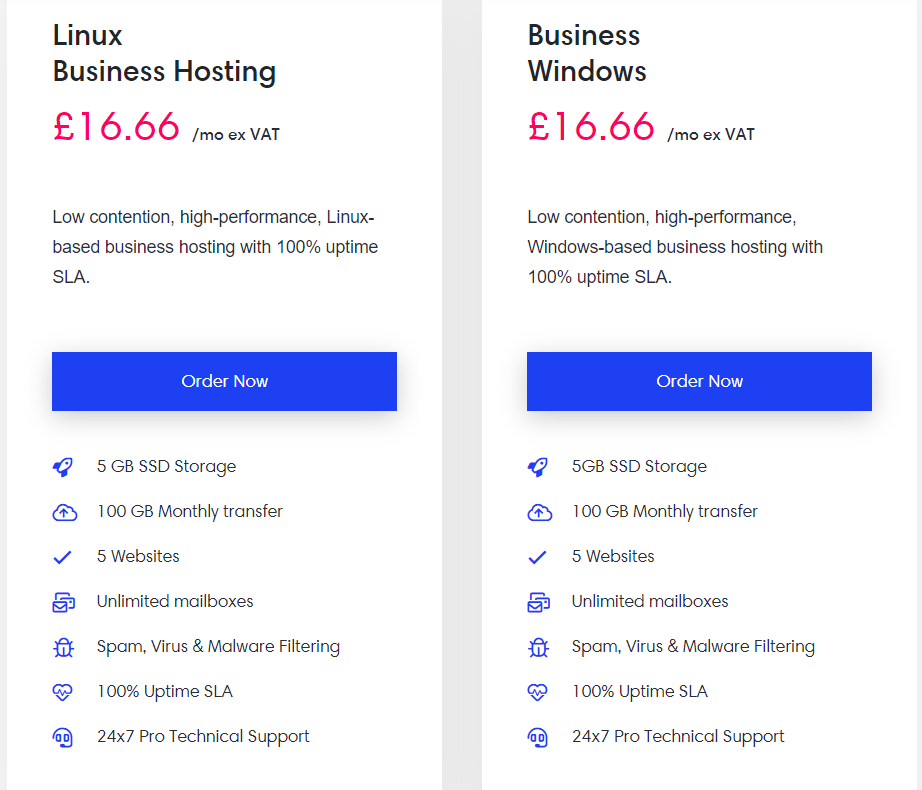 Both Linux and Windows business web hosting are available from eUKhost. These plans cost £16.66 and provide 100 GB of monthly bandwidth and 5 GB of SSD storage.
Furthermore, you won't start to receive genuinely helpful features unless you subscribe to one of their specialist plans. Some of them are standard features at other providers, including virus scanning.
A Virtual Private Server is a VPS. You may control the entire environment and have root access to your virtual server if you use such hosting.
The most significant benefit is that you have complete control over the environment. However, the drawback is that you have to manage everything by yourself. Nevertheless, Support is given 24/7.
Professionals and large businesses should consider VPS hosting. Starter, Standard, Professional, and Enterprise are the four VPS hosting plans offered by eUKhost.
Each month costs £9.09, £13.99, £18.89, and £23.79. You can get 2 to 6 virtual CPU cores, 2 to 8 GB of RAM, and 30 to 240 GB of SSD storage. Unmetered bandwidth, cPanel or Plesk, a free domain, and other services are also included.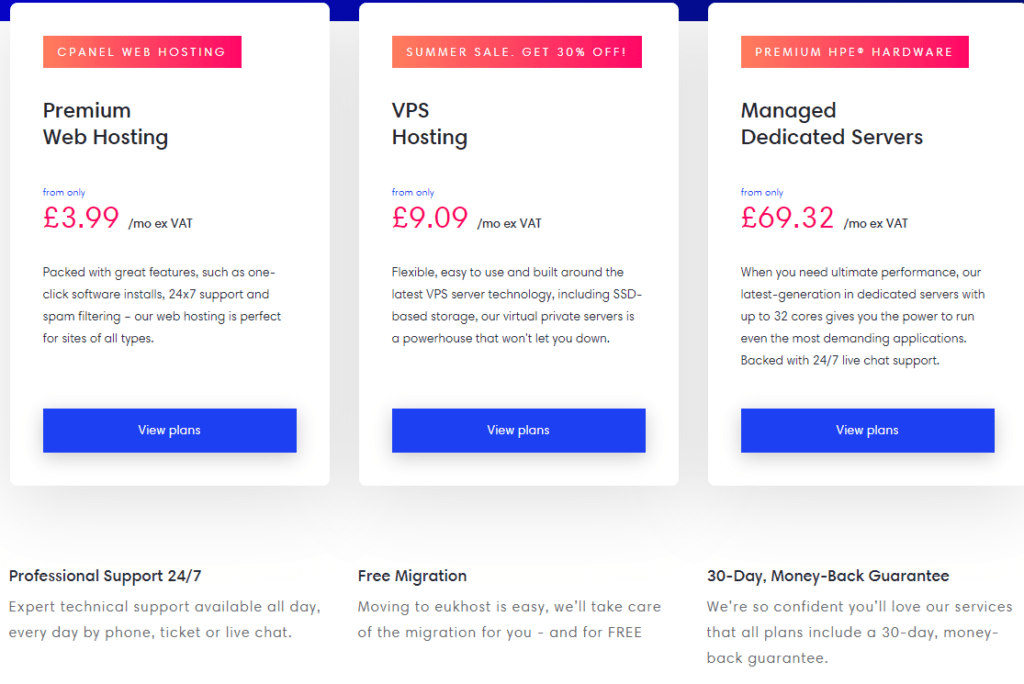 WordPress hosting is designed with WordPress in mind. It offers the Starter, Standard, and Pro Server levels. Different storage (5 GB, 20 GB, and 50 GB), as well as several websites (5, 20, and limitless) and mailboxes, are included in these plans (25, 200, and unlimited).
A free domain and unlimited data transfer are included with each package. The monthly costs for these WordPress hosting plans are £3.99, £8.99, and £26.99.
The Starter plan is appropriate for new businesses or individuals, the Standard is suitable for small and medium-sized businesses, and the Pro Server is suited for large companies with several websites.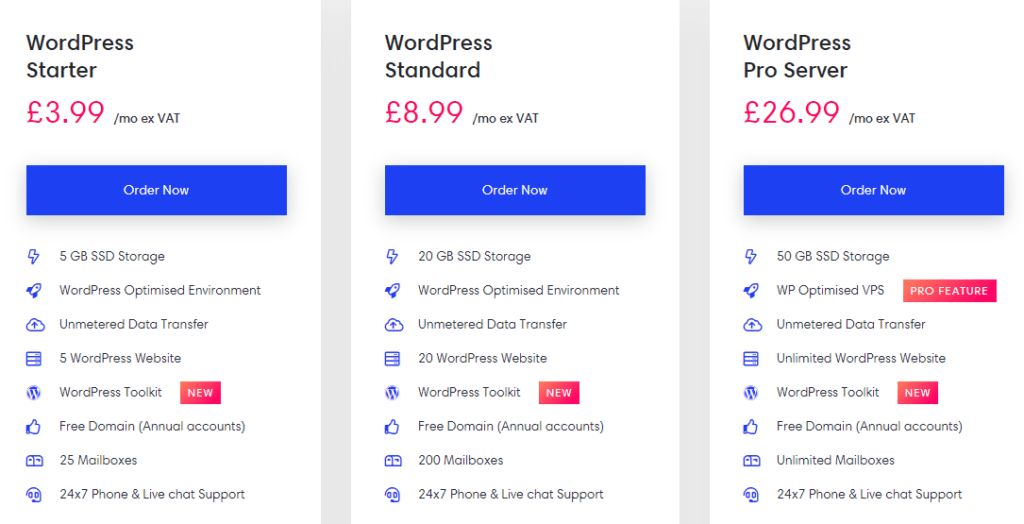 Look Also: iPage Web Hosting Review 2022
Reseller hosting means not using resources that you have purchased and instead selling them to other people. Developers or new hosting companies frequently use this feature.
Linux and Windows reseller hosting is offered by eUKhost. They each provide the Basic, Premium, and Supreme plans. For Linux, the price starts at £11.99, while for Windows, it starts at £12.99. Both operating systems have nearly identical conditions. However, windows are somewhat more costly.
You may get unlimited MySQL databases, 25, 50, or 100 cPanel accounts, 30, 60, or 100 GB of storage space, and much more.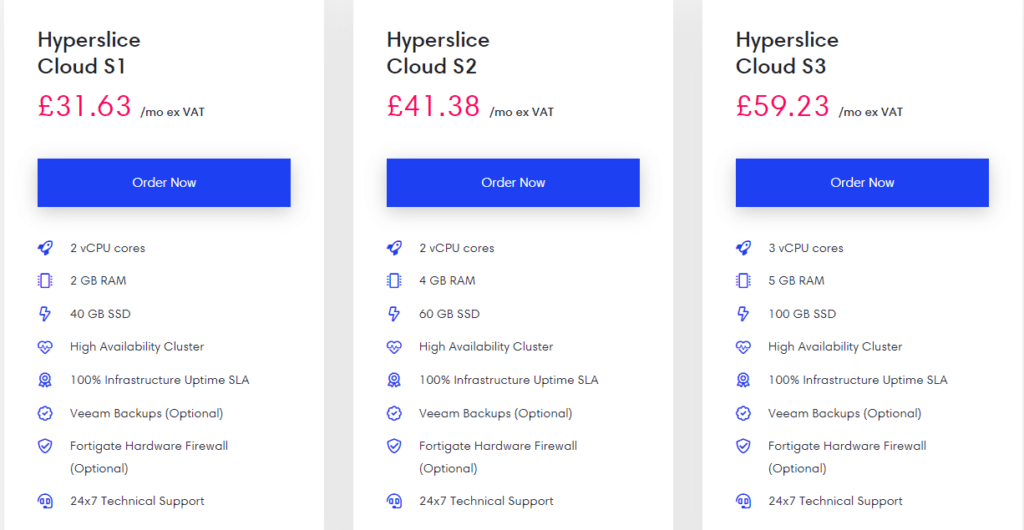 Another choice is cloud hosting, which has three tiers:
VMware hosting plan with scalable options for storage and RAM
Hyper-V hosting plan with equally scalable resources and better redundancy
eNight Cloud hosting is designed to avoid downtime.
The least expensive plan, Hyperslice Cloud S1, costs £31.63 per month and is best for Linux and Cluster OS. And Hyperslice Cloud S2 and Hyperslice Cloud S3 cost £41.38 and £59.23, respectively.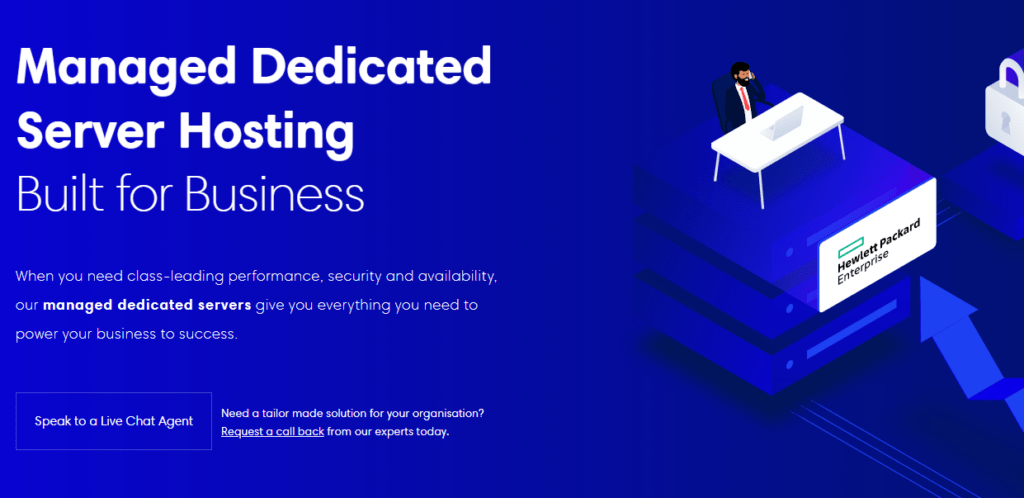 Finally, eUKhost's dedicated servers offer greater security and speed for websites with significant traffic because they were designed from the ground up for companies.
These are significantly more expensive, with monthly dedicated hosting prices starting at £69.32. Still, they provide high-performance servers with the most significant hardware and 4–10 CPU threads, depending on your payment schedule. There is an additional optional hardware firewall that may be bought.
eUKhost Features:
Although eUKhost is very transparent about the features included in your plans, let's take a quick look at them in our eUKhost review.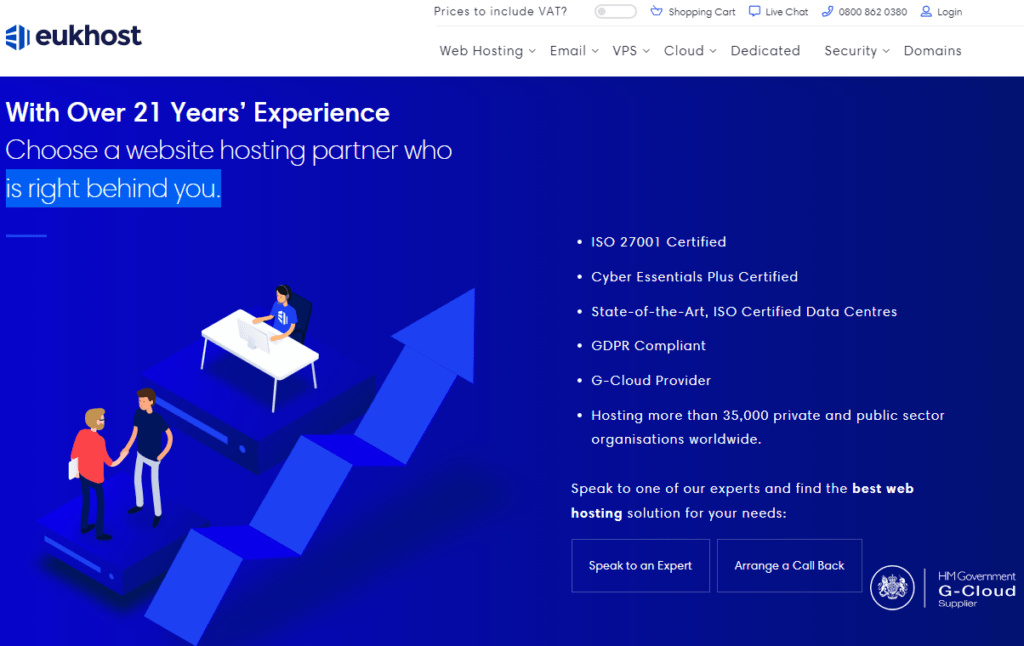 cPanel
We are clear that more manageable tasks keep us engaged and enable us to utilize a product's full potential. A similar approach is used in the control panel for eUKhost. They provide you with a cPanel on your dashboard to make your hosting experience easier and more fun. Because of its simple user interface, it is among the most popular control panels in the world.
Free Migrations
This hosting platform assists you in moving your websites over without costing you, and it does so by helping.
The control panel you are utilizing, though, makes a difference. Whether Plesk- or cPanel-based, you might need to contact customer service, which is accessible 24/7 and will help you out.
Free SSL Certificates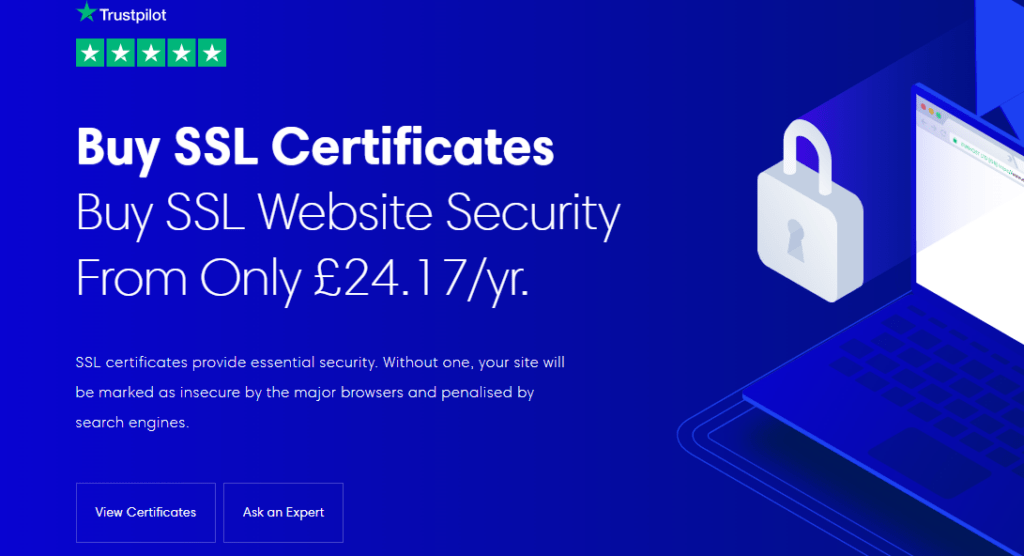 Because it contains sensitive information, your website has to be secure. As it connects to other websites on the internet, the risk of harm eventually rises. However, you may continue to safeguard your website. How?
Utilizing SSL certificates secures the connections your website makes over the internet and alerts browsers that your site is secure, allowing for improved user access.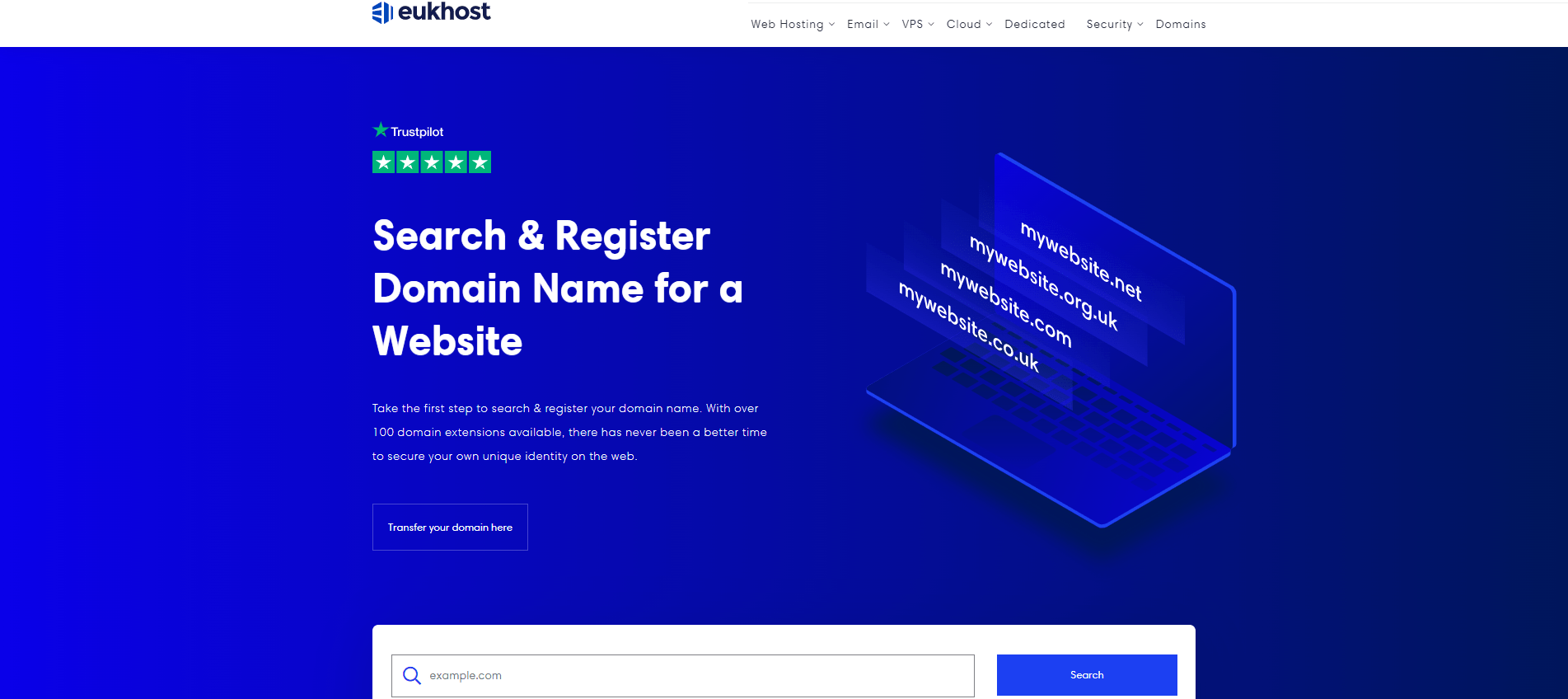 Do you wish to host several domain names and manage several websites? Most hosting service providers charge for each name hosted so you may empty your wallet in this situation.
With eUKhost, however, this is not the case. With no additional cost, it enables you to host an unlimited number of domains on your hosting package. Therefore, feel free to host more domains with eUKhost.
1-Click Application Installer
More apps installed would be fantastic for simplifying your hosting responsibilities. However, due to the difficult procedure of installing applications on your hostings, consumers often dislike it.
However, since eUKhost has made application installation one of the simplest chores on your hosting, you no longer need to worry about it. It enables one-click app installation so you can relax by sitting back.
Free Backups
You are familiar with how important data security is at this point. However, there may be unfortunate occasions when the security safeguards fail to shield your data from outside threats.
In such cases, your data can be destroyed, and you must start the process. However, since eUKhost has already taken care of it by giving you a free backup, you need not worry about any of these circumstances when using their services. Anytime you want, you can easily retrieve it.
eUKhost Speed and Uptime
The overall server response time may significantly impact client satisfaction and help you choose the best hosting company for your website.
As many international online company owners may need quick response times for their clients over the ocean or in other parts of the world, this is especially true for UK hosting companies.
More than 99.9% uptime is guaranteed with eUKhost. In other words, your website won't be accessible for fewer than 10 hours (or 8.5 hours) a year. Different plans provide varying uptimes. For instance, you will enjoy a minimum uptime SLA of 99.95% with cPanel hosting and even 100% with Business Hosting.
eUKhost Security
The security risks are given top priority by eUKhost. This hosting offers personal signing certificates, remote backups, pitchman website security, SSL certificates, server and network monitoring, and remote backups.
Almost all plans feature free backups, so you can be confident that your data is secure. You may have a secure connection to the website, automated malware detection and removal, and more with eUKhost. Hosting may also monitor the network's real-time condition, letting you know if anything goes wrong.
eUKhost Support

For any query, you may contact the support staff at any time. 24/7/365 EUKhost assistance is available. You can write to the live chat, contact assistance, send an email, or open a support request.
Even those not registered with the website can access all these features. So, before purchasing a plan, you may inquire about its details.
eUKhost Review: Expert Opinion
It's an excellent option for many purposes and enterprises. Its price and plans are somewhat different. Every package comes with crucial components, including a free domain, unlimited bandwidth, email accounts, and web pages.
Free migration, high uptime consistency, and decent speed are all offered by eUKhost. If something goes wrong, you have a 30-day money-back guarantee and the option to modify the plan if necessary.
Because they have servers in the UK, this provider will be especially suitable for you if most of your traffic originates from there. Additionally, support service is available 24/7/365 if you have any questions.
We have listed eUKhost's primary benefits and drawbacks in the list below. Let's review them more deeply.
Pros & Cons – eUKhost Review
Pros
Fast page loading speed with eUKhost, a page loads on average in 1.1 seconds.
The average uptime for eUKhost is 99.9%, which is a great measure.
Affordable hosting plans.
30-day money-back guarantee.
24/7/365 expert support.
Cons
Only 2 GB of SSD storage is provided by the cPanel basic plan, which is insufficient for most websites.
Compared to its competitors, eUKhost offers fewer services in its base plans.
Look Also: Hostwinds Review 2022 – Details, Pricing & Features
Conclusion – eUKhost Review
eUKhost does offer a few advantages despite its dedication to somewhat high prices. Although the shared hosting package theoretically allows for unlimited website expansion, the 2 GB storage bank limits this.
Unless you spend even more money, many options also lack security. In the end, their entry-level shared hosting plan highlights the issue: eUKhost does offer positive aspects, but you must purchase any of their plans six months in advance and pay extra for services that are standard in other providers' plans.
In summary, eUKhost may be excellent but isn't, and compared to other providers, it won't be worth the price for most customers. We hope you like our eUKhost Review 2022.
Look Also: Kinsta WordPress Hosting Review
FAQs – eUKhost Review
Is eUKhost good for Beginners?
Yes, there are many useful features for beginners, and the costs are reasonable. Additionally, it includes a simple dashboard layout that is helpful for beginners.
What operating system does cPanel hosting use?
On a server running Linux, cPanel hosting is available. Unfortunately, cPanel was created only for usage on Linux servers and is incompatible with Windows-based systems.
Does eUKhost provide SSL Certificates?
Yes. On Windows shared hosting and cPanel shared hosting packages at eUKhost, they provide Free Let's Encrypt SSL certificates that you may install on any of your websites. Websites must have SSL certificates as an essential requirement.
Does eUKhost come with a Free Domain?
You may acquire a free domain name for any shared hosting plans if you join up for one or two years. You may also buy an unlimited number of domain names with every plan.
Does eUKhost provide website backups?
Yes. You may have peace of mind with eUKhost's cPanel hosting services since you know your data is completely protected. They offer a free website backup service with their Linux shared hosting plans.
---