Because of Shopify's ease of use and unique dropshipping optimization, more companies are switching to using it. However, many online shops have issues with utilizing the right themes that are ineffective at generating sales or are not optimized for conversions. The Shoptimized theme, regarded as the most popular and appropriate for Shopify sites, is frequently used by drop shippers and Shopify e-commerce companies.
Is it the best theme for drop shipping? We'll look closely at the theme in this Shoptimized Theme Review.
What is a Shoptimized Theme?
The community that carries the Shoptimized brand is known as Shoptimized. Entrepreneurs in the e-commerce industry came to share tips on how to increase sales and set themselves apart from their many competitors in the same industry.
Bradley Long, a conversion rate expert, conceived and developed ShoptimizedTM. He wanted to use his expertise in e-commerce to create a platform where store owners worldwide could learn how to grow their companies successfully.
As a best converting Shopify Theme specialist, Bradley has collaborated with several of the most advanced companies in the world and made a substantial contribution to their success. He helped them achieve double-digit or even triple-digit growth within a year.
Bradley made the amazing decision to start this course in 2015 to assist online retailers in the growth of their stores.
The training program was so effective that he developed eCom Conversions, a unique split-testing training program designed just for Shopify companies. The first campaign with this goal ever launched was this training.
Then, to share his twelve years of experience as a consultant and store owner with the public, he created the Shoptimized Theme. Customers that visit Shoptimized Theme will learn what influences and deters conversions for their businesses.
Shoptimized Theme is an easy-to-use and best Shopify Theme for any online store.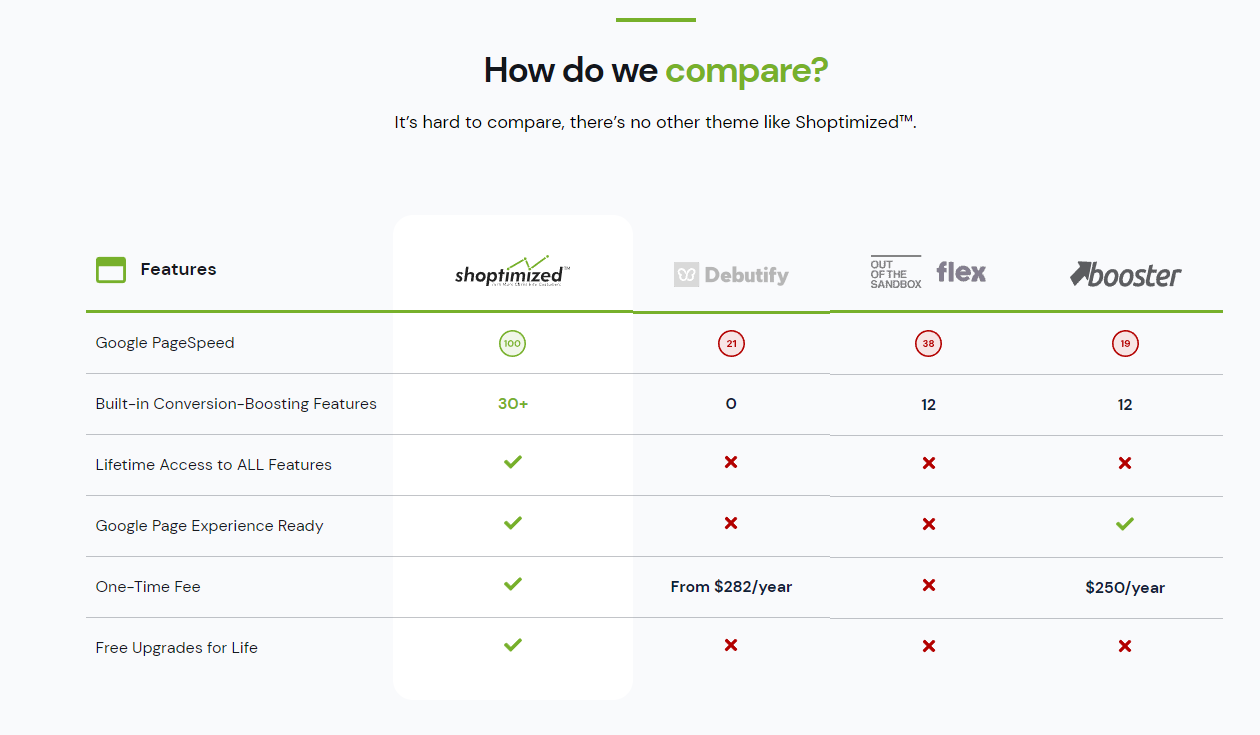 Read Also: Top 7 Fastest Themes
Features of Shoptimized Theme
This theme's advertising, homepage, search, and product information are unique and optimized for high-end, potent mobile devices. The options for developing your website are numerous.
You may utilize the drag-and-drop features in this to create aesthetically stunning and audience-engaging websites. The more professional your website appears to visitors, its design must be better.
Here are a few features that make Shoptimized a unique website: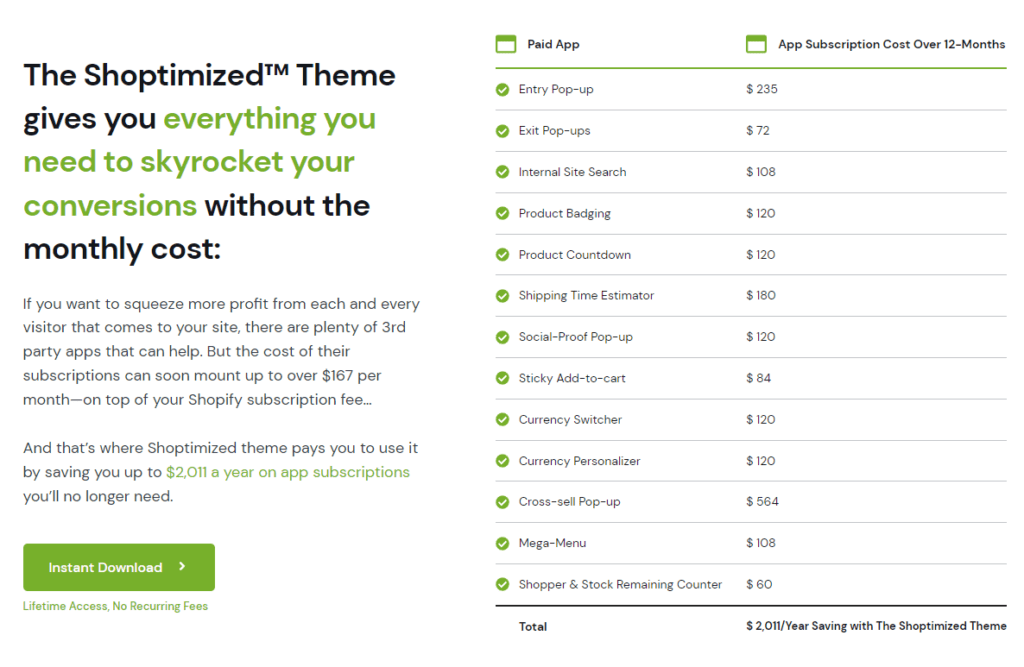 1. Top Menu Navigation
The Shopify theme's top menu navigation is the first feature we want to explore. What they give is as follows:
On the top left-hand side:
The social media icons where a Facebook like and share button may be seen. A geo IP message, "Spend A to obtain free delivery service to A nation," is displayed after the buttons. A letter in this message will validate based on the IP address and the user's present location.
Since IP sends this personalized message, we believe this option is helpful. It adds a great touch of personalization. As a result, your clients will visit your website more frequently since they will feel heard. Then you may add a currency converter that users can modify.
On the top right-hand side
Customers from other countries may now adjust using this currency converter. Your Shopify store caters to a wider range of international groups as well as local clients.
With a variety of currencies and payment options available thanks to this technology, foreign customers will be more likely to purchase because they may now pay in a manner that suits them.
2. Homepage Features
Next, let's explore how the Shoptimized theme's homepage features might help you:
There is a slideshow on the site where you may display the things you provide. It's a large banner that users may customize to display whatever they choose. The featured products, their pricing and reviews, and content tiles make up the product collections. HTML blocks and collections are both acceptable here.
You may add any tags, such as a free shipping icon, a quick buy button, the current sale price, a pre-order option, in stock, and more, for each product, in addition to the current price and availability.
When sliding down the page, you may opt to have the header fixed or unfixed at the top. The top layer will be automatically hidden, and the header's content will be reduced to a thin line containing the company logo, search bar, phone number, or other contact information. Users also have complete freedom to personalize everything they wish.
Creating your main content area with testimonials
You will have the option to change your primary content section while viewing the information below the fold. If you sell directly to consumers, you may add pictures of people wearing your products or utilizing your services.
3. Footer Features
The footer area, which is at the bottom of the page, is where you may showcase content and photos related to your shop. Additionally, the Shoptimized Shopify design offers consumers a lot of excellent options.
The text and the graphics may be completely changed to fit your brand. Online retailers frequently employ call-to-action boxes with text like satisfaction guarantees, secure checkout buttons, symbols or graphics for money-back guarantees, business specialties, or trust badges.
4. Product Page Features
The product page is the most important area where your consumers will focus on making the majority of their purchases. To increase sales and conversions, you must thus pay close attention to your product page.
Let's explore to see how this theme may help you:
The hero picture – The size and impressiveness of this one stand out among the others. Customers should hover their mouse over the image to zoom in. The zooming tool is ideal for smaller items or those with delicate details, like jewelry or handcrafted accessories. Here are the factors your clients consider before deciding whether or not to purchase your products.
Social sharing icons – Below the thumbnails is a sharing button that lets your customers quickly recommend or get advice from their friends about your items.
Including many secondary images – You can add additional pictures to the hero image, and you may switch between them by clicking on them.
Nice and bold title – Due to the comparable price and functionality, it appears more impressive and professional.
Customize your store – As a result, you are free to include product reviews, special selling points for your shop, or a tool that enables visitors to customize their purchases. Install Shoptimized to complete those things rather than spending money on several applications.
Countdown timer – To display a countdown timer, add a tag to the items and specify how many hours you want the timer to countdown.
The default Shopify checkout page is similar to the shopping cart. Whether using the Shopify default checkout page or a custom checkout page, you can put a fake cart expiry countdown timer whenever you want on the page.
Fake live visitor counter – To increase conversions, you might display a false live visitor counter in addition to the quantity countdown timer. The visitor counter, like the countdown timer, is intended to encourage customers to spend money on your goods by letting them know that other people are looking through your shop. That indicates that the store they see is reliable and worthwhile for their time and money.
Main product details – The information, provided in a tab style, offers all the details customers need to know about your company. The primary section showcasing your company's information and profiles is below the folds. Your clients may change the info they view by clicking the tab, which keeps the product page organized and orderly.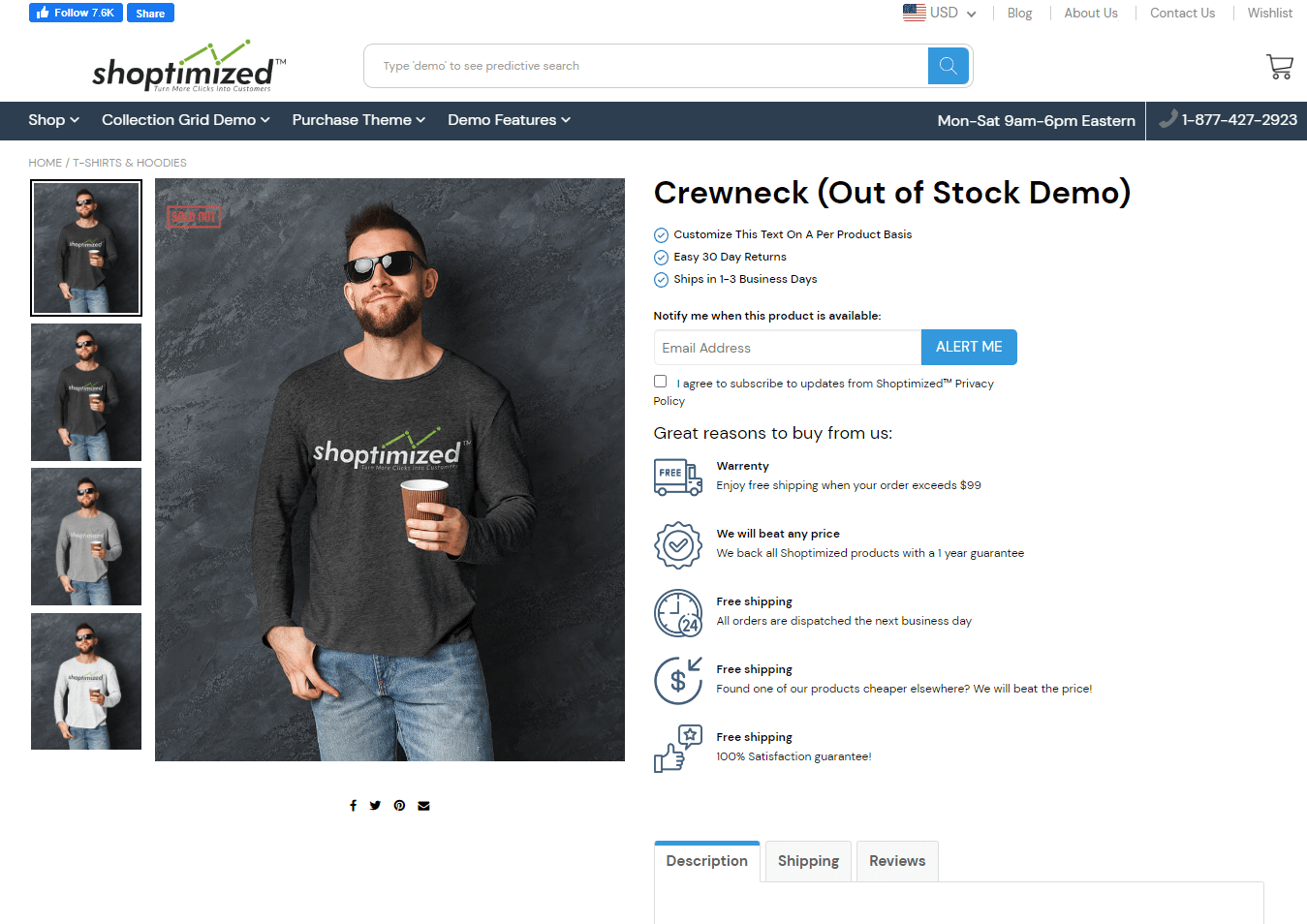 5. Cart Page Features
There are other cart pages available when using the Shoptimized Shopify theme, but we'll only cover the one that users most well-liked. The sidebar on the cart page is there, to the right. As we have noted, the features seem great on the desktop. However, the mobile version lacks the opacity necessary for good quality.
Despite this drawback, the Shoptimized theme cart page features are still amazing because they have the title, a small image, a description box, the total price, a View my cart button, and the standard checkout buttons. In addition to those features, the "You're A away from unlocking free shipping" button gives you the ability to urge a larger add-to-cart quantity. Here are some options for your Cart page:
The cart modal will automatically open as customers add a product to their shopping cart. You must choose the View My Cart option to access the cart page.
Customers can change the number of items in their cart, inspect it, or go to secure checkout.
The consumer is informed that they are eligible for free delivery through the shipment notification.
Customers must click the Secure Checkout button to see the usual Shopify checkout page. The checkout page is by no means industry-standard. It still has tabs for multi-step checkout and a logo, though.
Shoptimized Pricing
Three pricing tiers are available for the Shoptimized Shopify Theme: one, three, and store license.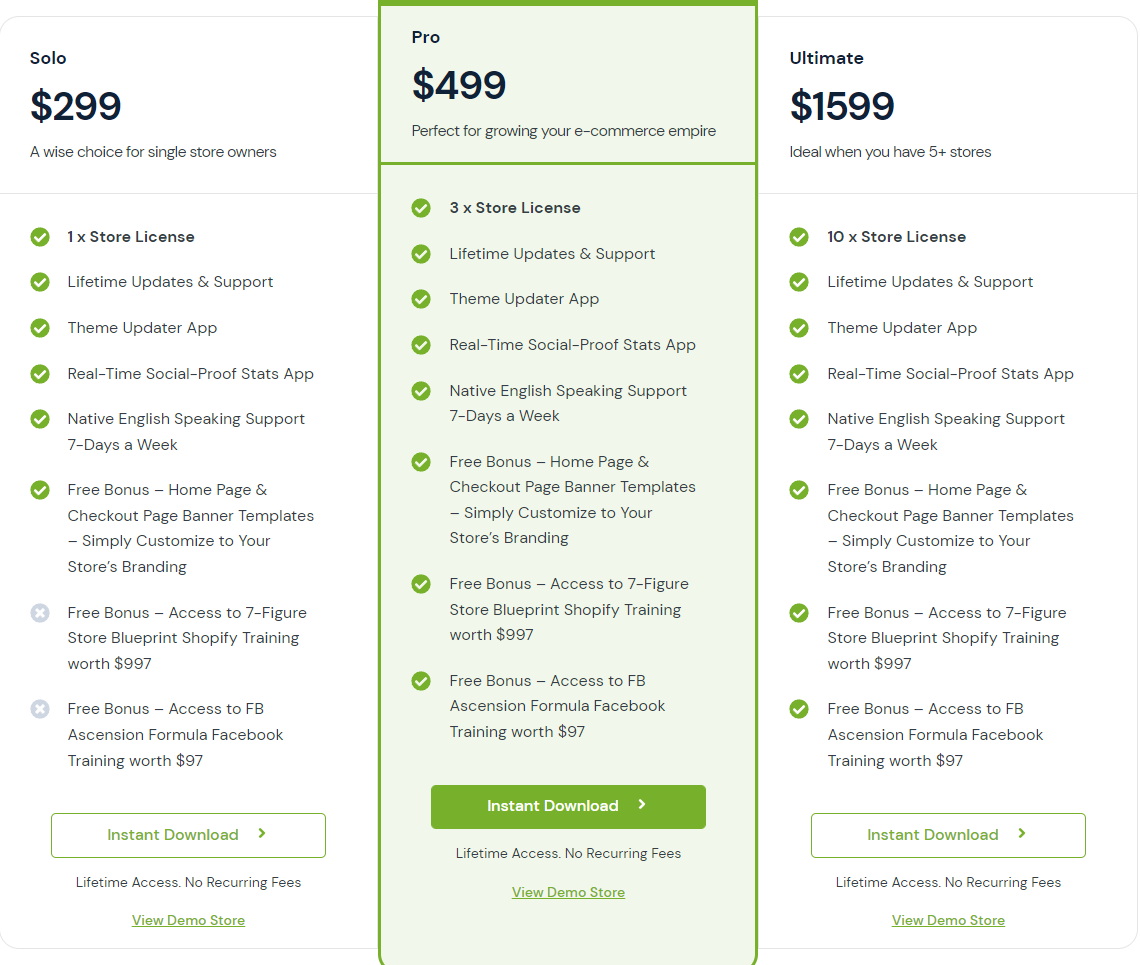 A single site license for the Shoptimized theme is available for $167. For $394, you may also select the package with the three-site license. This choice is great for online stores working hard to increase their sales and company growth. You may save up to $65.66 per shop license by selecting this package. The circumstances are similar when you choose the $597 plan with the ten-shop license.
 You can see that the cost of using the Shoptimized Shopify theme is almost at the top of the market for Best Shopify eCommerce Themes. But it's worth paying since you'll get many helpful features and functionality for desktop and mobile.
Read Also: InterServer Review – Details, Pricing & Features
Shoptimized Customer support & Update
The Shoptimized Theme has seen several changes since it was first created. The Shoptimized Theme is updated often so that your store will always be compatible with Shopify's platform. Users receive several update files, and each time they do, the cost of the new theme is far more than when the theme was first created.
Additionally, the Shoptimized theme includes a variety of options for customer service and updates, including:
You will receive free updates for a full year if you select the price option for a single site license.
For $99, they offer you a one-time setup service and customization package if you are an entrepreneur with limited time.
They provide a help page exclusively accessible within the member's area.
Additionally, they offer a done-for-you package or shop setup for $597, which also covers the theme license.
shoptimized Demo store page speed score:-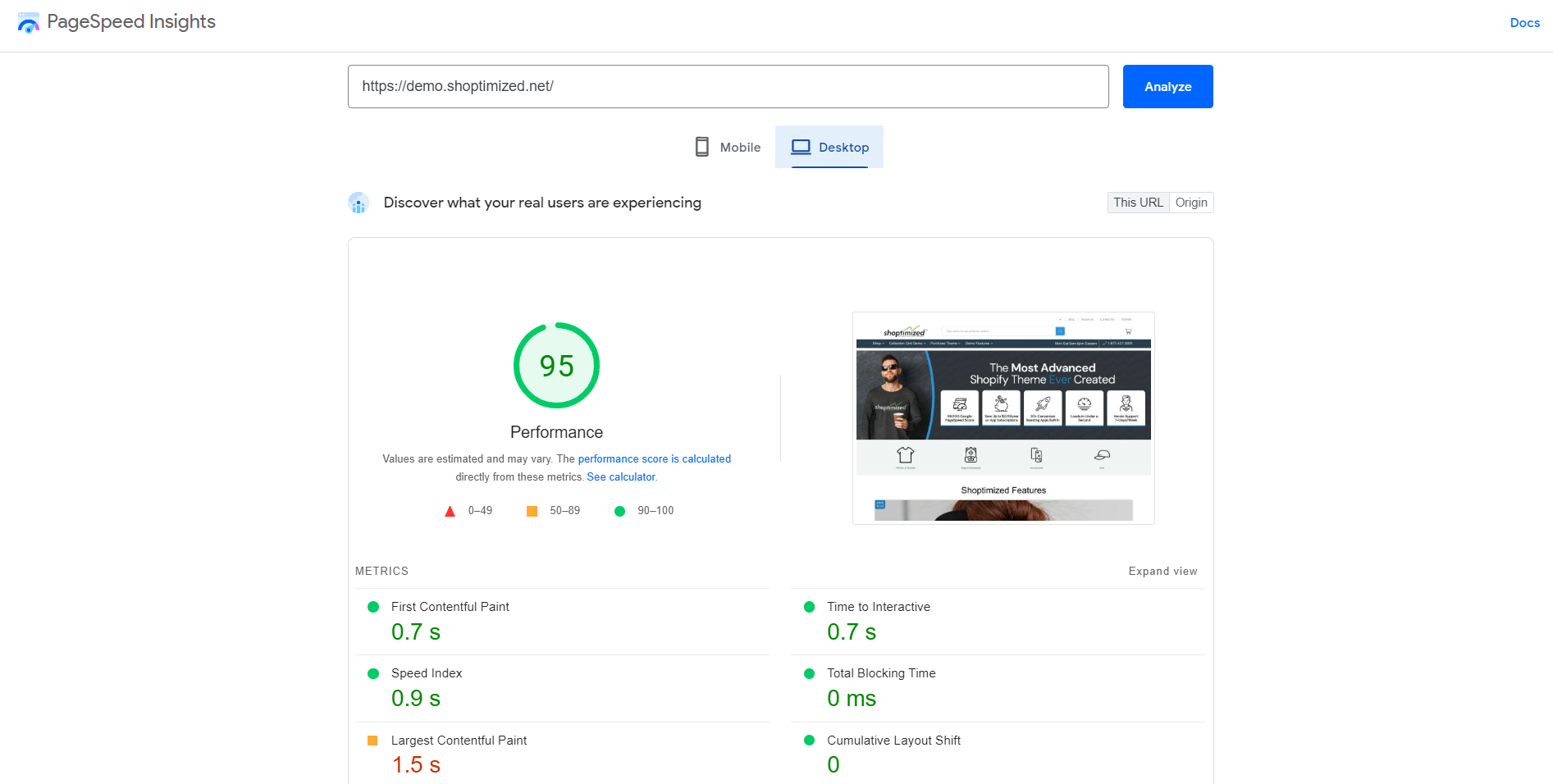 Conclusion
In conclusion, Shoptimized Theme is a fantastic theme with various useful options for Shopify business owners. The Shoptimized theme offers customers many adjustments and more than 20 different plugins in addition to working well on mobile, tablet, and desktop.
 It is strongly advised that you choose a free or premium theme rather than additional plugins and applications to avoid paying recurring monthly payments. If you think this Shoptimized Theme review post is useful, please share it with your friends and check out more on our website.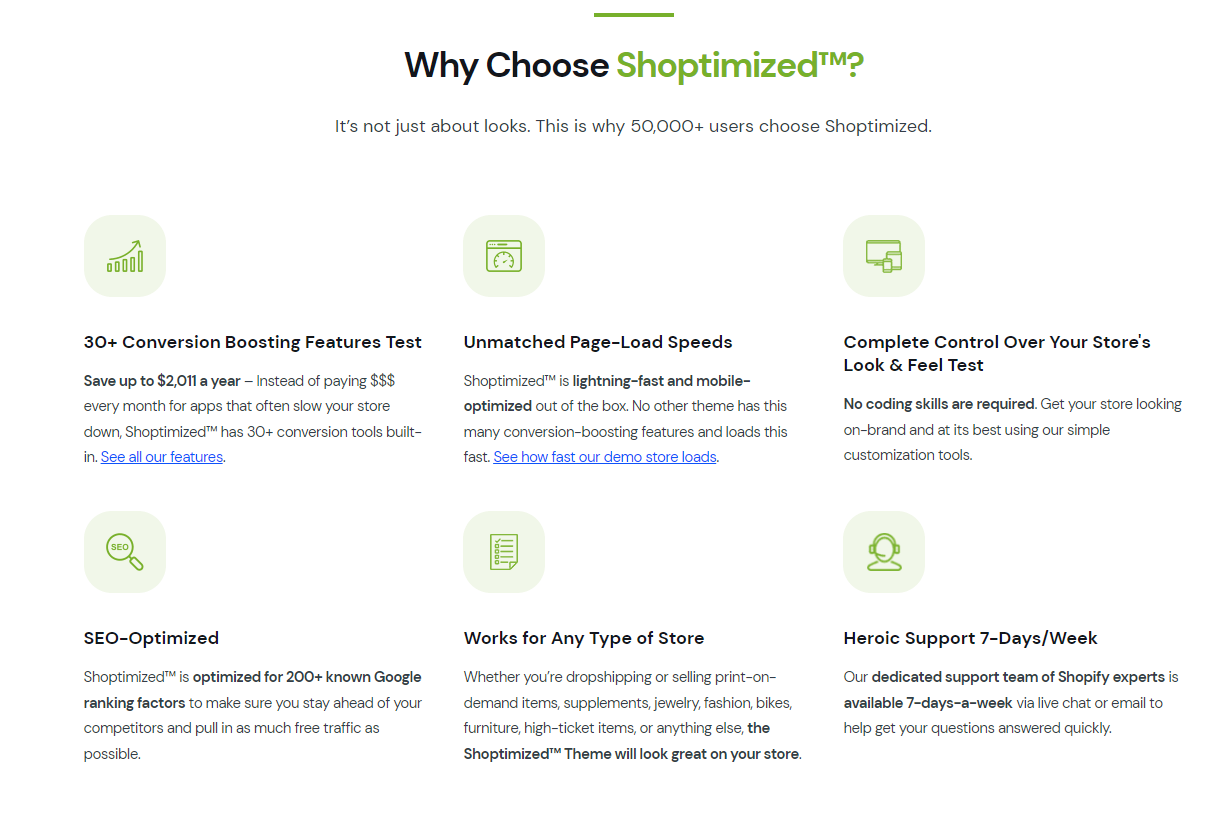 FAQs
How long does it take to set up a Shoptimized Theme?
They expect to complete the setup within five business days once they have received all the required data and details about your store.
What is a Shoptimized theme?
The Shoptimized theme lets you add a tag to whichever products you want to display a countdown timer for. Choose the number of days or hours that the timer will count down.
Can I customize the Shoptimized Theme?
Yes! The fact that Shoptimized is completely customizable is one of the main reasons people choose it over other themes.
How do I update my Shoptimized theme?
– Check your theme if it is the latest version or not.
– It'll display in the theme updater area.
– If it shows "New version available.
– Just press update, and you're done.
What is the shoptimized refund policy?
Shoptimized offers a 40-day, no-questions-asked money-back guarantee. Therefore, let them know if you're unhappy with the theme for any reason, and they'll offer you a complete refund.