It might not be easy to choose the ideal WooCommerce theme. Limiting your choices to what is truly important might be challenging when there are many alternatives, and each offers hundreds of theme options. Here are some things we appreciate about CommerceGurus' Shoptimizer WooCommerce WordPress theme. It provides fantastic speed, converting features, and experience. Today in this Shoptimizer Theme Review, we will discuss theme details and features.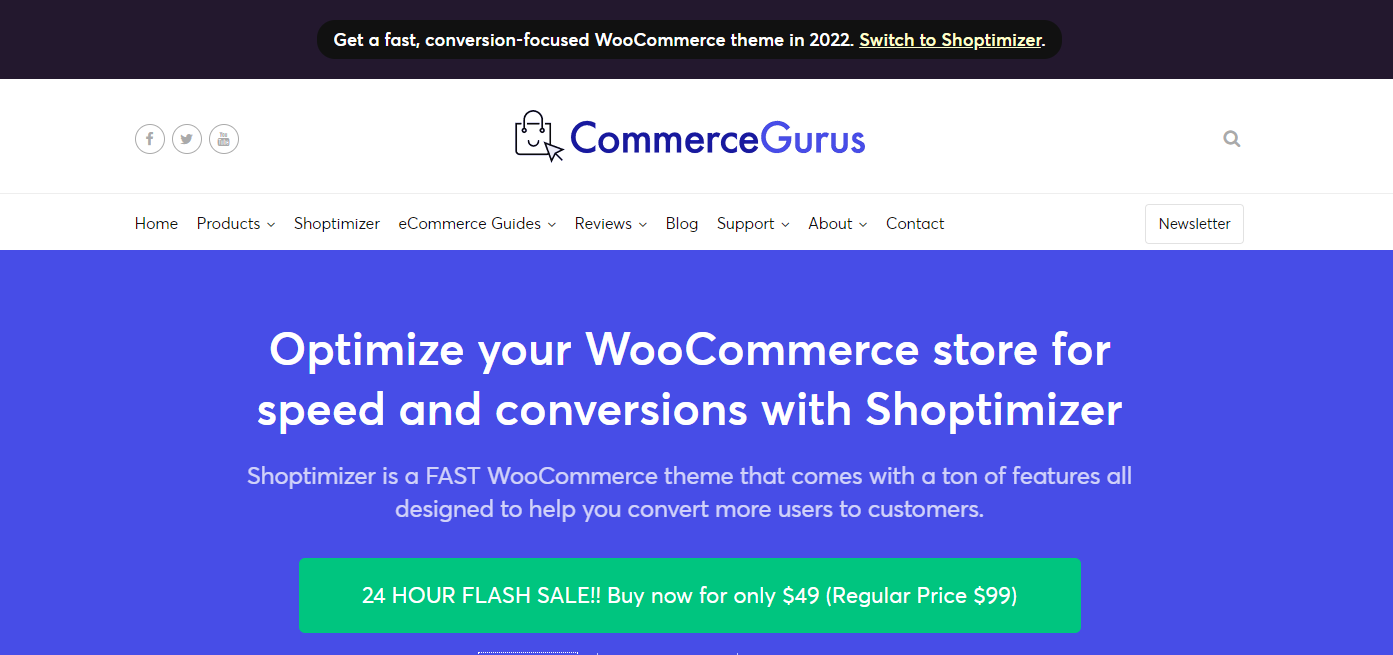 Shoptimizer Theme Speed
In e-commerce, the fastest Woocommerce theme is the main priority, and even a millisecond delay results in lost orders. According to Akamai research, a 1-second delay can reduce conversion rates by as much as 7 percent. A sluggish site might affect your visitors because Google now considers mobile page speed as a ranking factor in their mobile search results.
The Shoptimizer WordPress theme uses minified CSS for incredibly quick page loading. Essential CSS is also included, enabling the page's important information to render almost immediately.
Read Also: Best WooCommerce Themes
Shoptimizer Features:-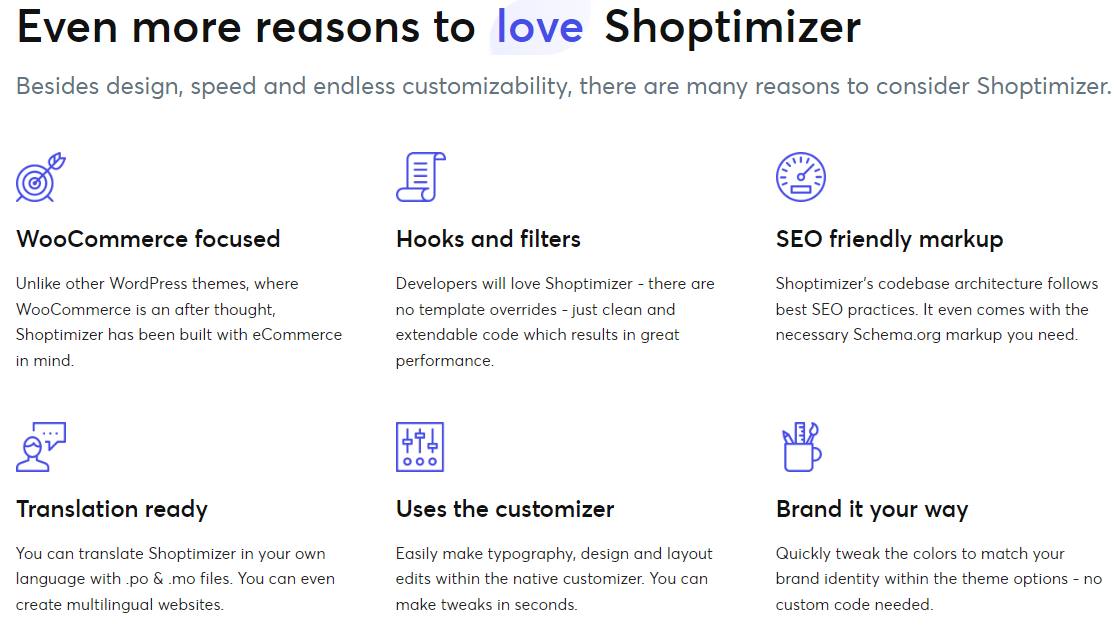 Although speed is important, a theme that genuinely makes it easier to turn people into customers sets it apart as something remarkable. CommerceGurus Shoptimizer has extensively used the Baymard Institute's eCommerce research in key areas of each page. Regarding conversions, Baymard analyses the world's largest e-commerce sites and invests countless hours researching best practices.
Let's examine the single product page for Shoptimizer to demonstrate the theme's conversion features.
Single Product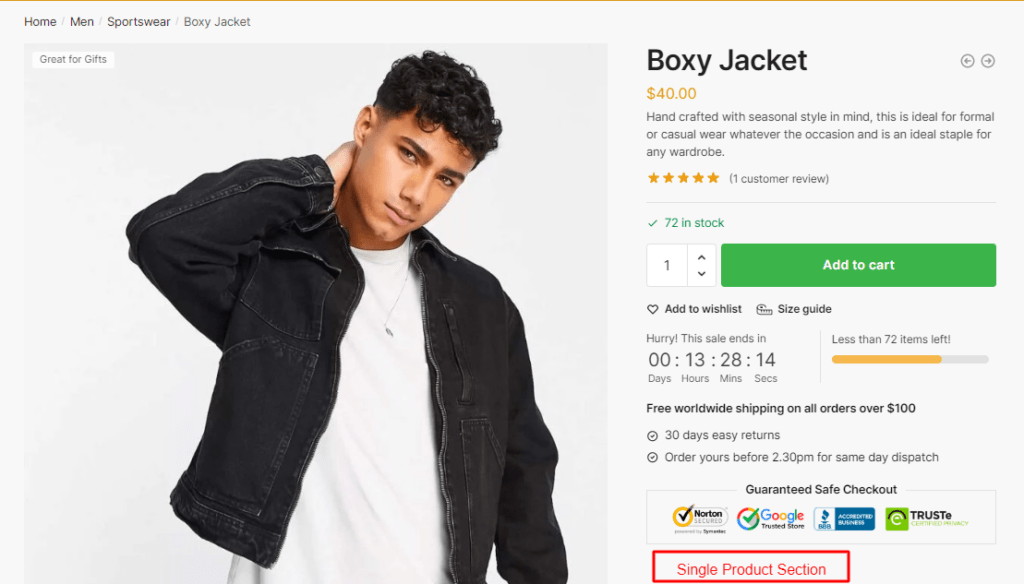 Header banner – This prominent place can be used to promote discount coupons or deals.
Large primary image – Product pictures play an essential role. Shoptimizer gives wooCommerce photos a lot of attention.
A strong call to action – This important purchasing cue should be prominently on a product page.
Countdown timer – This FOMO (fear of missing out) function may help consumers who aren't sure to buy.
Stock Quantity – Another feature of FOMO that encourages buyers to purchase is stock quantity.
Shipping cost display – You may make this detail stand out below the primary call to action with the Shoptimizer WordPress theme.
Trust symbols – Users need to have a positive image of a website's security before making a purchase, especially for new users.
Call back – Some businesses that sell expensive products would need to provide clients with more assurance. With the Shoptimizer WooCommerce theme, you can include a form asking for a callback and collecting contact information from potential leads.
As you can see, this essential page was carefully considered, and many quality standards for product pages have been used.
Slide-out Cart
The slide-out cart in Woocommerce Shoptimizer is a fantastic feature that constantly makes it simple to evaluate what is in the cart. The bottom buttons are fixed, with the Checkout button standing out to draw users' attention to that important call to action.
Cart Page
The cart page is well designed and has many helpful features that set it apart from the standard WooCommerce interface.
Progress bar – You won't have to go through several screens, and you'll always be aware of where you are in the purchasing process.
A strong call to action – Again, the Proceed to Checkout button is bright enough to attract visitors to the following action.
Trust symbols – These indicate to customers the significance of security.
Users are satisfied by selecting carefully when recent reviews are displayed in this area.
Checkout
The checkout process on Shoptimizer is also slightly different from how things are typically done. The header, navigation, and footer are no longer there, so the user's attention is solely on the order procedure. There is a "distraction-free" layout option that, well, prevents all distractions.
Trustworthy icons and an area for customer reviews are located beneath the call to action button to help in motivating the user to do the activity.
Better Category Page Content for Improved SEO
Under the products in Shoptimizer, there is an additional space for category descriptions.
The category pages have always been one of WooCommerce's most used areas. By their nature, they frequently only display a loop of items, but if you look at the biggest players in the market, they frequently also add keyword-rich content. Below the goods, Shoptimizer offers a separate category content area where you can create unique content for each category. When it comes to the SEO of these sites, this is helpful.
Read Also: Comparison between WP-Engine, Cloudways, and NameCheap
Suggested Search Results
The header's search results element is attractive and noticeable. After entering a few characters, the results appear immediately, allowing a visitor to bypass the results page phase and go straight to the product image.
Mega Menu With Products
A sophisticated mega menu is available, which is perfect for businesses that must present many categories. Additionally, you may promote products inside a category you want the visitor to explore first and insert specific product shortcodes.
Uses the Elementor Page Builder
For its primary displays, Shoptimizer utilizes the well-liked Elementor page builder.
It isn't a conversion tool, but integration with the wildly popular Elementor page builder makes creating pages with a distinctive appearance simple. Additionally, the one-click demo data install lets you utilize the demo homepage alone and all the other primary pages.
WooCommerce focused: Shoptimizer has been designed with eCommerce in mind, unlike other WordPress themes where WooCommerce is a secondary consideration.
Hooks and filters: There are no template overrides in Shoptimizer; instead, the code is clear, flexible, and produces excellent speed.
SEO-friendly markup: The codebase architecture of Shoptimizer adheres to excellent SEO techniques. Even the essential Schema.org markup is included.
Translation ready: Using. PO &.mo files, you may translate Shoptimizer into your native language. Even multilingual websites are possible.
Uses the customizer: Edit typography, designs, and layouts with ease with the built-in customizer. You may adjust in a matter of seconds.
Brand it your way: There is no need for special coding; quickly modify the theme parameters to match the colors to your brand identification.  
Read Also: ScalaHosting Review 2022
Conclusion – Shoptimizer Theme Review
Shoptimizer is a fantastic option if you search for a quick, conversion-optimized WooCommerce theme. It is regularly updated with new features and has a lightning-fast support response time because experts created it in e-commerce. It is now on sale for $49 as part of a special promotion. To see the Shoptimizer theme in action, see the theme demo. We hope you like our Shoptimizer Theme Review. For the latest updates, subscribe to our site's newsletter for daily updates.
FAQs – Shoptimizer Theme Review
Does Shoptimizer offer a money-back guarantee?
Always being kind and reasonable is what we strive for. There are no exceptions to our 10-day, no-questions-asked return policy. Send us a message if you're unsatisfied with the theme you purchased, and we'll take care of the situation.
Can I use my theme on multiple sites?
You can use the theme on as many sites as you like under the GPLv2 (or later) license, but remember that your purchase (license) only entitles you to support one site. You will need a different license for each site if you want to use support on more than one.
Can I cancel my subscription?
Yes. You may disable automatic renewals using the option in the Subscriptions section of My Account.
 Is my site secure with the Shoptimizer theme?
We are dedicated to creating and maintaining our themes in the most secure manner possible. You can rely on us to address any problems as quickly as possible.
Do I need Elementor Pro to use this theme?
You don't, however. Shoptimizer makes use of Elementor's free edition. Since many third-party WooCommerce plugins might break when using the Pro edition of Elementor, we strongly advise against it.