Our Webnode review will assist you in determining an essential question: Should I purchase a website builder from Webnode?
Webnode provides a range of capabilities for creating websites for businesses, individuals, and online stores. The drag-and-drop website editor is by far the most noticeable feature.
With this tool, you can make a website in minutes without knowing any specific coding unless you wish to.
Webnode Website Builder Review
Users may easily construct beautiful websites using the drag-and-drop builder.
The website builder is simple to access after signing up. Selecting a template is the first step. Numerous pre-built Webnode templates are available for various website genres, including music, weddings, restaurants, online shops, etc. 
You may change a template immediately after choosing it in your browser. All of your modifications will be immediately visible. Press the publish button once you feel comfortable using the website.
Any changes made while editing on a desktop will instantly adapt to all screen sizes, including mobile.
Webnode Features

As long as they fit in the storage space you have been given and can generate as many backups as you like. Likewise, you may always restore the files you require.
Keep regular backups of your website for a variety of reasons. Data on your website can be corrupted or lost. Similar issues might arise from improperly set up settings for your website, but a straightforward backup would allow you to return it to the way it was.
Every user's website is automatically hosted as a subdomain part of the Webnode.com domain. Having your own makes you appear more professional, though.
On Webnode, you may purchase a brand-new domain name and connect it to any website you make. You can transfer an existing domain if you already have one.
The Webnode tool has various beautiful features, one of which is that specific premium plans provide a free domain.
Additionally, privacy protection is ensured for every domain name you register with Webnode. It hides your contact information from the public WHOIS database to shield you from spam.
A personalized email connected to your domain name is another method to stand out and appear professional. And this tool gives it to you.
Because the Webnode email client is responsive, you may access your inbox from any internet-connected device. Additionally, you may sign in straight from the main Webnode interface.
However, several limitations prevent it from being used for delivering mass messages. One GB is hardly an optimal amount of mailbox storage space. The largest attachment size that may be emailed or received is 20 MB. A maximum of 40 people can be emailed at once, and five emails can be sent each minute.
A member registration form is simple to add to your website. It enables site users to register for an account with an email address. Any password-protected page on your website will be completely accessible to users when registering an account.
This function aids in creating a positive online community around your website. People tend to engage more on websites where individuals have dedicated accounts and a hivemind of users to connect with.
The website builder on Webnode has a feature that enables users to develop engaging blogs. You may pick from dozens of templates created by experts. Your blog may be a different website or a component inside another.
A Webnode blog may be used for a wide range of activities. Videos and images can be added. You can also pick widgets (such as a calendar, forum, etc.) or unique HTML codes to add additional functionality.
Read Also: Best VPS Hosting Providers 2022 | Compared & Reviewed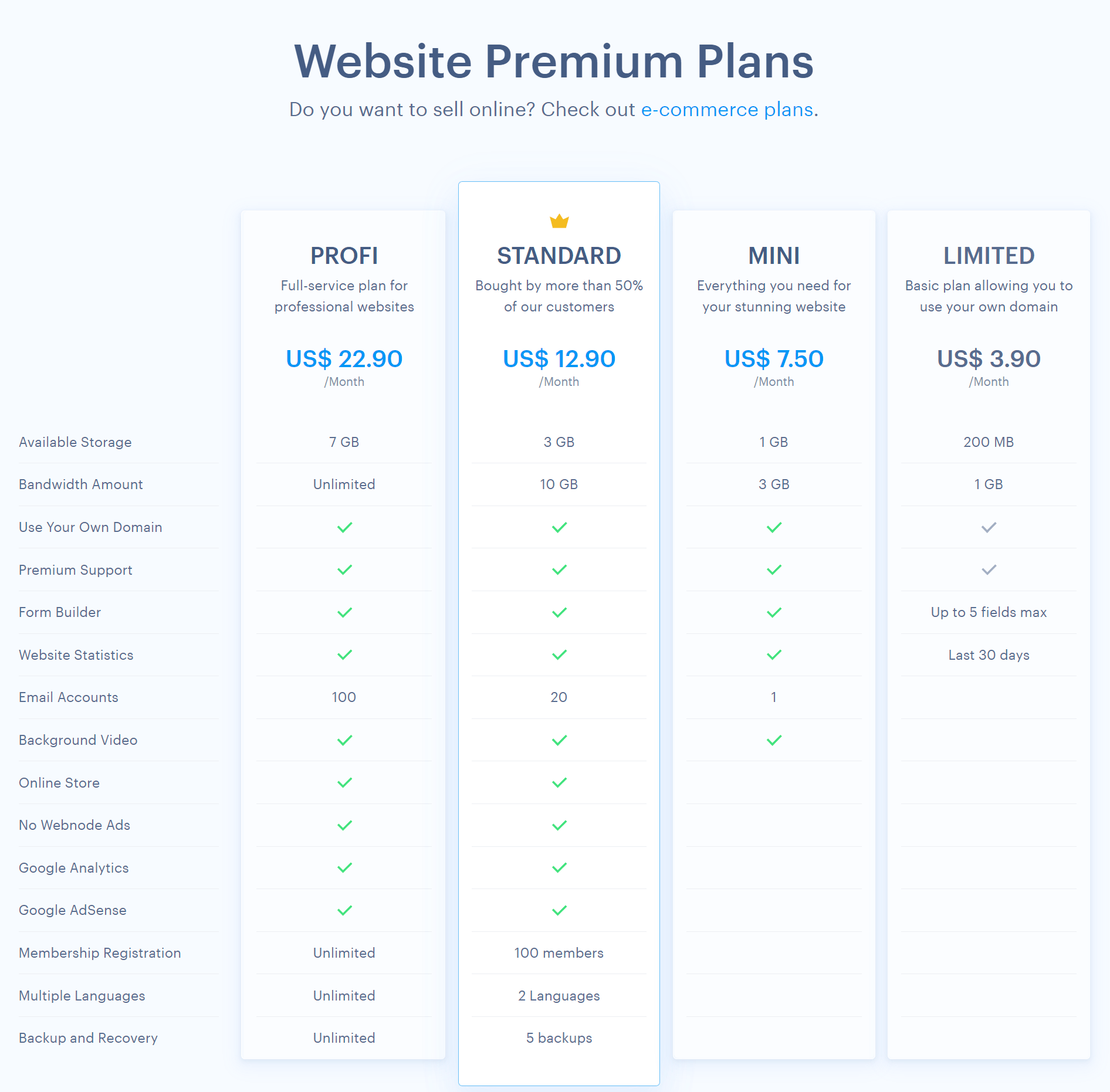 The free version has several limitations but may be used to develop a good website. You cannot, for instance, use a custom domain name.
So you'd best choose one of the Limited, Mini, Standard, or Profi premium plans. They can provide the following:
Limited: This plan starts at $3.90 per month. This plan enables you to use a custom domain name. It also provides 200 MB of storage and 1 GB of bandwidth.
Mini: This plan starts at $7.50 per month. The Mini plan includes one email account, one GB of storage, and three GB of bandwidth. On your website, however, the Webnode branding will remain.
Standard: This plan starts at $12.90 per month. This package offers 20 email addresses, 3 GB of storage, and 10 GB of bandwidth with Zero branding.
Profi: This plan starts at $22.90 per month. The Profi package includes unlimited bandwidth, backups, and 7 GB of storage. 100 email accounts may also be created on it.
Webnode Customer Support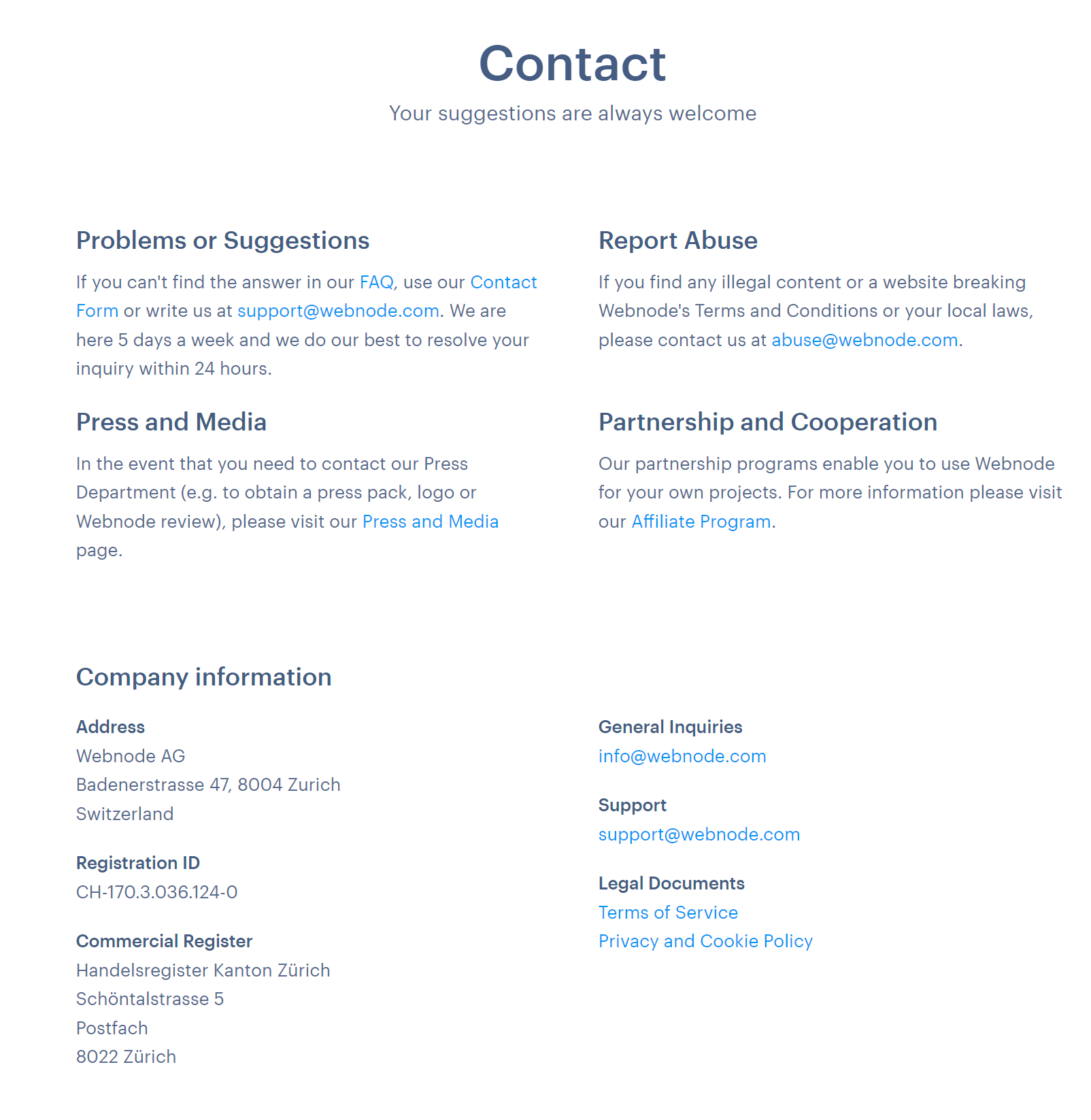 There is a form on the website that you may use to email the customer service team.
The lack of live chat and phone assistance on Webnode is frequently cited as a disadvantage in user reviews of Webnode. We think having an email option is beneficial, but live chat and phone lines are superior in an emergency. 
Conclusion
Webnode performs admirably sufficiently. You may utilize this website builder if you don't need sophisticated features. Furthermore, it includes a free version that you may use to create a simple website.
Its multilingual interface was fantastic. It's impressive that the platform supports more than 20 different languages. Webnode is also incredibly user-friendly and reasonably priced. We hope you like our Webnode Review.
FAQs – Webnode Review
Is Webnode easy to use?
Yes, Webnode offers an intuitive user interface that is simple to use. You may also obtain in-depth tutorials by visiting the Knowledge base.
Does Webnode offer free trials?
Yes, you may create your website without paying anything and upgrade if you like. It is a helpful method to try out the site builder and get some site-building experience.
Does Webnode have a money-back guarantee?
Yes, they provide a 15-day money-back guarantee with their premium programs. Like most website builders, Webnode's Terms and Conditions provide specific guidelines for refund requests. 
Can I create an online store with Webnode?
Yes, Webnode has two e-commerce packages with monthly prices beginning at $12. Email accounts, form builders, membership features, premium support, and other features are all included in these plans. 
Who developed Webnode?
Westcom, a technology company based in the Czech Republic, developed Webnode.