Search engine optimization is essential for every online company's success. Every website owner should know what is SEO, how it works, and how much traffic it can create for any website. Search engines understand that if they continuously provide you with high-quality, relevant results for your search queries, they'll earn your confidence and eventually become the only search engine you'll ever need. After all, if you want to learn more about SEO and its importance, stay with this article.
What is Search Engine Optimization?
The word SEO or search engine optimization refers to making a website more search engine friendly. It's a set of recommendations for improving the ranking of your website in organic search results. It's the procedure to follow to improve your website's ranking in search engines and draw customers.
The fundamental goals of SEO are simple. The first is to help you discover what people want on the internet so you can supply high-quality material to fulfill their wants. The second objective is to help you create a website that search engines can find, evaluate, and identify. Likewise, excellent SEO methods are superb to improve a website's performance and make it more user-friendly, quicker, and simpler to browse.
Essential Search Engine Optimization procedures are around:
Determining what people are looking for about your goods & services
Creating content that will delight users
We use multiple SEO tactics to provide the proper signals to search engine crawlers and algorithms.
SEO is a complete system because the entire process comprises many rules, steps, and controls.
The Essential Features of Search Engine Optimization Marketing
Keywords
Keywords are words and phrases that customers use to locate online material, and companies may use them to interact with customers seeking their goods & services. The days of keywords being the only SEO approach that worked are long gone, but that doesn't mean they aren't still important. Keywords are words that customers use to locate an online business, and companies use them to interact with customers looking for products & services.
It's essential to look for keywords with higher search engine rates and low competition, as well as short-tail, long-tail, and local keywords to include in your article. It would help if you had secondary and tertiary keywords in addition to your prime keyword since they will still be helpful to your business. Finally, optimize all of your titles, URLs, and other on-page SEO components with keywords.
Content
Because content is the tool you use to engage and interact with people, it's an essential part of SEO. If you managed a plant, for example, and wanted to increase your exposure, you might produce a series of blogs about gardening, plant selection, growth guidance, and other topics.
Off-Page Search Engine Optimization
Off-page SEO refers to optimization techniques that take place outside of your website rather than on it. Backlinking is the most prevalent off-page SEO strategy because high-quality backlinks from other websites tell search engines that your site is essential and high-quality, which helps you create a reputation. Backlink building may take various forms. The current best strategies include guest blogging, creating widely shared infographics, and combining influencer marketing into your content.
Local Search Engine Optimization
Local SEO is becoming vital as more people use mobile devices to search. Mobile devices now account for 60% of all searches, with half of those queries having a local purpose. Directory listings, create location-specific pages for your site, and create pages for your business on Google My Business. Local directories and Google Maps are local SEO recommended practices and employ local keywords.
Search Engine Marketing
Paid marketing activities such as native advertisements, Google AdWords, social media ads, pay-per-click, Google shopping ads, display ads, and more are Search Engine Marketing (SEM). Although search engine marketing (SEM) isn't necessarily a big part of a complete SEO plan, it has its place because it may help you reach new and highly targeted audiences.
Why is Search Engine Optimization important?

SEO or Search engine optimization techniques are much more essential than ever in today's highly competitive market. Thousands of individuals use search engines every day to find answers to their questions or solutions to their problems. Whether you have a website, blog, or online store, SEO can help you get free targeted traffic from search engines.
More than 70% of searches on Google prefer to click on one of the top five offerings on the first page of results (SERPS). To reap the benefits of this and attract visitors to your website or customers to your online store, your website must be among the top results.
SEO is about more than just search engines; it improves a website's readability and customer experience.
Customers trust search engines and owning a website that shows in the top results for the phrases the user is looking for adds confidence to the website.
The social advertising on your website will benefit from SEO. Visitors who find your website through a Google or Bing search are more likely to share it on social networking networks like Facebook, Twitter, etc.
The seamless operation of a large website necessitates the use of SEO. SEO may help websites with several authors in both direct and indirect ways. Their immediate advantage is more organic traffic, and their indirect value has a consistent structure to follow before posting content on the site.
SEO might help you get a leg up on the competition. If two websites sell the same product, the optimized one for search engines will likely attract more visitors and generate more sales.
Understanding the Importance of Search Engine Optimization for Companies Today
Visibility and Rankings
One of the essential criteria of SEO is increased visibility, or making it easier for clients to discover you when they search for anything you have to offer. It's necessary to improve your organic page ranking since the higher you rank on a search engine result page (SERP), the more likely prospects will discover you and click through to your site. Your rating is directly related to your exposure. The more successful your SEO efforts are, the higher your position and visibility will be, which is necessary given that a fourth of online visitors never get past the first SERP. Always use fast server hosting to get better page speed.
Web Traffic
One of the most important goals of SEO is to increase web traffic, which may be accomplished through improving visibility and rankings. The top location in a Google search results page receives about 32% of clicks, and moving up one spot in search results may increase CTR by 30.8 percent.
The Featured Snippet is frequently shown above the top-ranking URL. Information from a blog's landing page often answers a query visitors are searching for and may significantly increase your organic click-through rate. Consequently, if you want more people to see your website using a search engine, you should use SEO tactics that will enable you to rank within the top five results, preferably number one.
Authority
Page Authority (PA) is becoming increasingly essential to search engines to online users. Authority means that your website is dependable, high-quality, relevant, and valuable. While changing your PA rating using tools like Moz is difficult, many SEO experts believe it has something to do with your link profile – obtaining external links from reputable and well-visited sites. Scores range from 1 to 100. Your site's authority increases as your score rises.
Improving the Visitor Experience
Another reason SEO is crucial is that all of the time and work you put into developing great content and improving your on-page SEO enhances the usability of your website. It results in a smooth and pleasant consumer experience. For example, when you make your site responsive, it will be accessible to all mobile users and those who visit from laptops or desktop computers. Increasing the speed at which your website loads will lower your bounce rate and attract people to remain longer on your site.
What are the types of search engine optimization?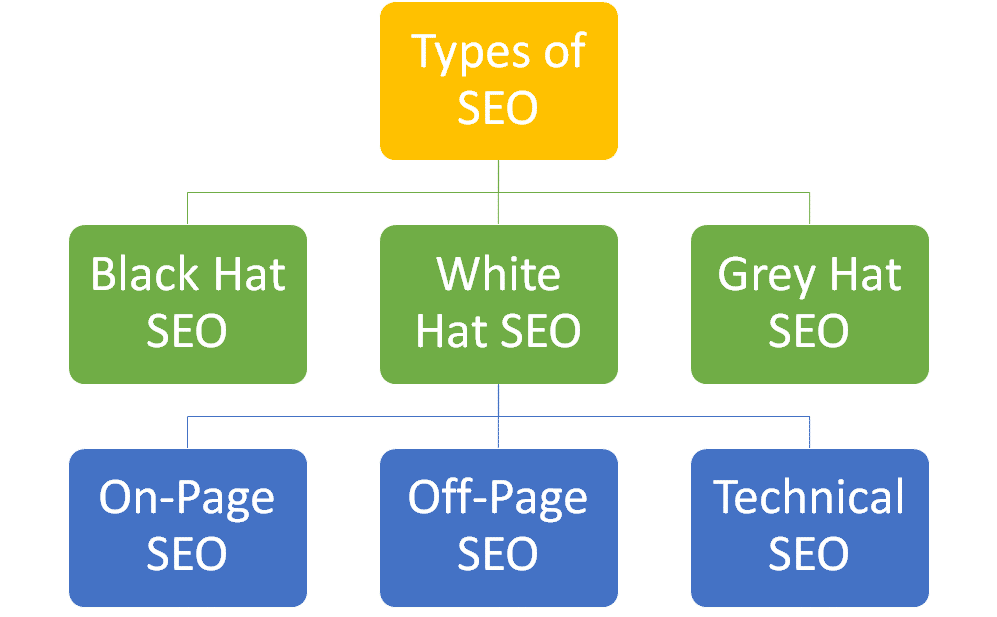 Search Engine Optimization (SEO) is a method of improving your website to appear towards the top of Google, Bing, and other search engines' results pages. When you perform a Google search, the order in which the returned results are presented is specified by complicated algorithms.
Before choosing which web page will be displayed first, second, or third, these algorithms take a variety of rules into account. You will get an advantage over non-optimized sites by optimizing your website for search engines, increasing your possibilities of ranking higher.
Here are Three Types of SEO:
Technical SEO
The first phase in the SEO process is technical SEO. As the name indicates, technical SEO has nothing to do with the content of a website or the tactics used to promote it. It has to do with your settings to make search engine crawlers do their work more efficiently. Typically, after you've nailed down your technical SEO, you won't have to deal with it again.
On the other hand, crawling and indexing issues might negatively influence your rankings. You can guarantee that search engines can crawl and index your website without any problems using technical SEO.
On-site SEO
The second stage is on-page SEO. On-Page SEO is primarily concerned with a page's content and other elements. Unlike technical and off-page SEO, on-site SEO focuses on providing enough signals for search engine crawlers to grasp the meaning and context of your material. Remember that search engines can't read like people, so they rely on indicators to figure out what a website is about.
This step will cover site layout, SEO keywords, title enhancements, headers, internal links, picture SEO, structured data markup, and other tactics that can analyze search engine keys. On-page SEO will increase the readability and trustworthiness of a website or blog if done correctly.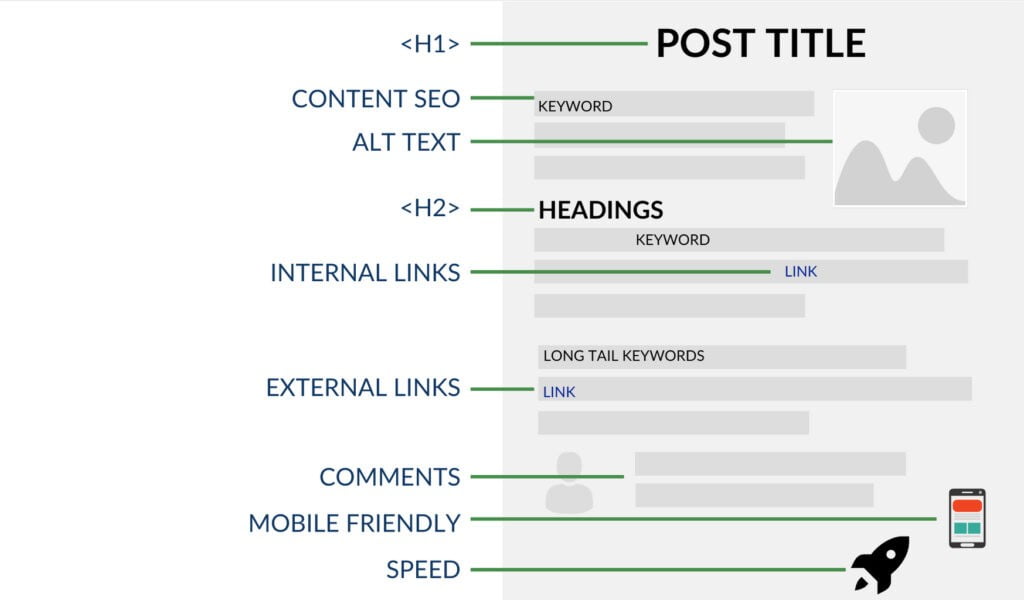 Off-site SEO
Aside from making changes to your website, employing off-site SEO methods is another way to improve your website's SERP ranking position. Off-site although link building is a common term for SEO, I like to refer to it as website promotion because marketing a website entails many more techniques and approaches than merely developing links.
On-page and off-page SEO attempt to make your site more user-friendly and reputable to search engines. When search engine crawlers realize how welcoming your website is to visitors, your chances of ranking well for various queries grow.
What is Backlink in SEO (Off-Page SEO)
When a user types a keyword search into a search engine, the algorithms sift through their database to find the best sites to fulfill the user's needs. The initial pages of search results are where you'll find the most potential opportunities.
The amount of inbound links is one of the elements used to rank a webpage in the search results (backlinks). Backlinks are a symbol of trust, and the source of the links may significantly impact your ranking position. If the links come from well-known and trustworthy websites, it will boost your ranking.
Your ranking will decrease if the links are paid, whether via article directories, link farms, or as a result of an exchange. Obtaining links in this method violates Google's guidelines and will probably result in a penalty.
How does Search Engine Optimization Works?
Practice SEO is the most excellent method to learn how it works. Apart from understanding the various ideas and theories, the only way to see if you've learned is to implement the different SEO tactics on a website and track your rankings. Spiders from search engines collect a wealth of information about your website and the pages that make it up. It enables them to quickly decide when a searcher should be sent a page from your site. Page speed, title tags, social signals, internal linking, backlinks, and other factors are gathered.
The on-page factors are precisely that: things that are on the page. Title tags, content, site performance, page URLs, picture alt tags, internal linking, and more are all part of this. On the other hand, off-page variables are nearly totally dependent on external links to your site.
How Long Does Search Engine Optimization Take To Work?
Only Google understands the inner workings of its algorithm. They provide updates, and a few lists of the most important ranking elements are available. The fact is that SEO takes as long it takes – weeks or even months, depending on your plan. It could drive you off the top of the SERPs if someone else does something just a little bit better.
Consistency is critical in any SEO campaign. Even if you aren't seeing any results after month four, stick to your marketing strategy. With patience and persistence, you will see the search engine traffic results you seek. The bottom line is that if you concentrate on a small number of generic keywords, you're unlikely to be discovered by the bulk of people searching for you.
Why do search engines care about Search Engine Optimization?
The search engine results page is the page that appears when you input a search query (aka SERP). The SERP displays "organic results" as well as "pay-per-click" advertisements (or PPC). Organic results are impacted by SEO, whereas PPC advertising is paid advertisements. You can't buy a spot in the organic results on Google or any other search engine.
The adverts on the page, on the other hand, are how they generate money. As a result, the better the results they provide, the more probable you and others will return to that search engine. The greater the number of individuals who use the search engine, the more adverts they can display and generate more money.
Conclusion
Optimizing your website for search engines is by no means a difficult task. You can find it challenging if you're not highly technical. Still, you can always get help from a web strategist. After all, the digital growth of your business these days depends on SEO, content, and many other technical factors. So, it is crucial to keep an eye on the latest trends of SEO and its importance. Kindly go through the full article to learn more.
FAQs
Why use SEO?
The method of ranking a website on search engines to boost its exposure when consumers search for relevant keywords and queries is known as SEO.
What is an SEO example?
SEO assists in the improvement of a website's performance while still following the search engine's rules and regulations.
Does My Business Need SEO?
Yes, you should invest in SEO for your company. Search engine optimization allows you to improve traffic without paying for each click.
How Long Does It Take To Rank on Google?
The days of building a website, tweaking title tags, and ranking in a few weeks are long gone. You can't expect a website to rank for competitive search queries when it goes live. Google ranks relevant sites that have built up authority over time. Thus, it takes time to operate naturally.
How can I do SEO for my website?
Select the appropriate URL. For each page, provide a title and a description. Make use of anchor text. All of your photographs should have alternate text. With the appropriate headers, you can give your site structure.