WP Engine Hosting is one of the best-managed WordPress hosting providers available for web developers who wish to take a hands-off style to website development. The plans offered by WP Engine aren't exactly inexpensive. So, before buying hosting from WP engine, you need to know "Is this worth of money?"
WP Engine is the best WordPress hosting provider for managed hosting, with exceptional reliability, a high-performance hosting infrastructure, real-time threat protection, and professional hosting options. It will be a complete WP Engine hosting review, with an in-depth look at their products.
Why We Use the WP Engine
WPEngine is a managed WordPress hosting service: Thus, it is ideal for individuals who do not have technical knowledge of servers. If you have a smaller website with a few hundred monthly visitors, then WP engine's hosting is a considerable hosting solution at an affordable price.
Also, if you are concerned about the technical side of web hosting services but do not have to get your team involved. WPEngine could be the companion of your dreams if site speed, privacy, backup, cloud platform adaptability, migration, and optimization keep you awake at night.
This managed WordPress hosting company for professional WordPress developers allows you to create new websites or adjust to existing ones. WP Engine's integrative framework will enable developers to build, publish, and take over a site.
WP Engine Hosting provides managed hosting for WordPress websites. WP Engine is an excellent choice if you want to take a hands-off method of website hosting and server maintenance for a moderate to high-traffic website.
Features Included With WP Engine Hosting Plan

1. Automatically Managed Updates
Automatic updates have been available in WordPress for a long time. Managed WordPress hosting, on the other hand, can go a step further by automatically implementing security fixes as soon as they are released. Some organizations will even warn you ahead of such adjustments if necessary, ensuring that you always have enough time to get ready.
2. Automatic and Manual Backups
Because of WordPress's success, specialized hosting can make the backup process more efficient, effective, and dependable. Furthermore, having your host maintain regular backups makes things simpler to recover your site if something goes wrong. Since your host is in the perfect situation to comprehend the fixed infrastructure of WordPress, you can have them produce frequent backups that you can use.
3. Automated Word Press Installation
The automated WordPress installation feature enables you to have a new WordPress website up and running in minutes. A complete WordPress installation will be produced for you when you need a new site. All you have to do is fill out a brief form with some administrative and website information.
4. Better Caching
Your host must still run WordPress before sending the cached page, even if you use a WordPress caching plugin. However, with server-level caches, your host can bypass the WordPress application and provide the cached page instead.
5. Increased Security
Managed WordPress Hosting providers regularly monitor server security and keep a better eye on things. They respond more swiftly and effectively than their competitors regarding WordPress-related security vulnerabilities.
6. Improved WordPress Support
Your experience with support will vary depending on the company. Still, I believe it is fair to assume that a typical managed WordPress host's support knows a great deal more than an ordinary non-specialist owner's help.

Read Also: ScalaHosting Review 2023: Features, Pricing & Details
Types of WP Engine Hosting
WP Engine Hosting comes in various types, just like any other hosting. Let's take a look at the four most frequent choices.
1. WP Engine WordPress Hosting for Business
Use the quickest WordPress hosting for businesses to power your website. With lightning-fast load speeds, world-class security, and a superior website experience for customers, your site can handle enough visitors.
Some of the best WP Engine WordPress Hosting for Business features are below:
With the WP Engine, WordPress Hosting for Business is a well-optimized platform that significantly improves site speed. It's good for your business and excellent for your visitors.
Automatic WordPress updates, managed upgrades, daily backups, and constant website monitoring are available. All of this contributes to the security of your website, allowing you to concentrate on your business.
Consistently deliver exceptional results
Boost WordPress website efficiency with scalability and redundancy solutions that include built-in surge capacity.
2. WP Engine Premier: The Enterprise Word Press Platform
The Premier solution from WP Engine uses a combination of open-source with enterprise-grade security, SOC-2 compliance, enterprise infrastructure with built-in surge capacity, and high availability.
It also contains solutions for creative flexibility and developer adaptability, performance analytics, and a world-class customer success team to optimize ongoing operations.
Some of the best WP Engine Premier features are below:
Managed Web Application Firewall, DDoS protection, automatic machine-learning plugin management, and event logs are just a few of the capabilities that help to defend your business.
A dedicated environment developed with built-in surge capacity in a multi-zone architecture with three-tier architecture. It provides durability and failure protection to keep your business website up and running.
Award-winning 24-hour support, WordPress updates, personal onboarding, an excellent client success team for executive business evaluations, and tips for debugging issues at the code level with application performance analysis are all available to protect your company.
3. WP Engine WooCommerce Hosting
WP Engine has long been regarded as one of the leading managed WordPress hosting companies. However, they've just offered a generic managed WordPress package for most of their existence.
WP Engine introduced new dedicated eCommerce hosting plans that included everything in the ordinary WP Engine plans and various WooCommerce-specific features to enhance optimizations.
Some of the best WP Engine WooCommerce Hosting features are below:
Dedicated E-commerce Store Optimizer Plugin
If you use WP Engine's WooCommerce installers to set up your site, they'll install an eCommerce Store Optimization plugin for you to customize your online store. It offers features like performance improvements, attractive page layouts, and an easy setup experience.
Dedicated Woo commerce Blocks And Layouts
WP Engine includes the Genesis Blocks Pro plugin, which creates extra blocks and layouts for the WordPress Editor for free to help you make your store.
Bundled Smart Automatic Plugin Updates
The Smart Plugin Manager feature of WP Engine corrects this by incorporating visual inspection into the update cycle. After the initial upgrade, it will test 20 different pages to see how your site looks. It will roll your site back to the backup before the update if anything appears changed.
WPEngine's Hosting Plans and Prices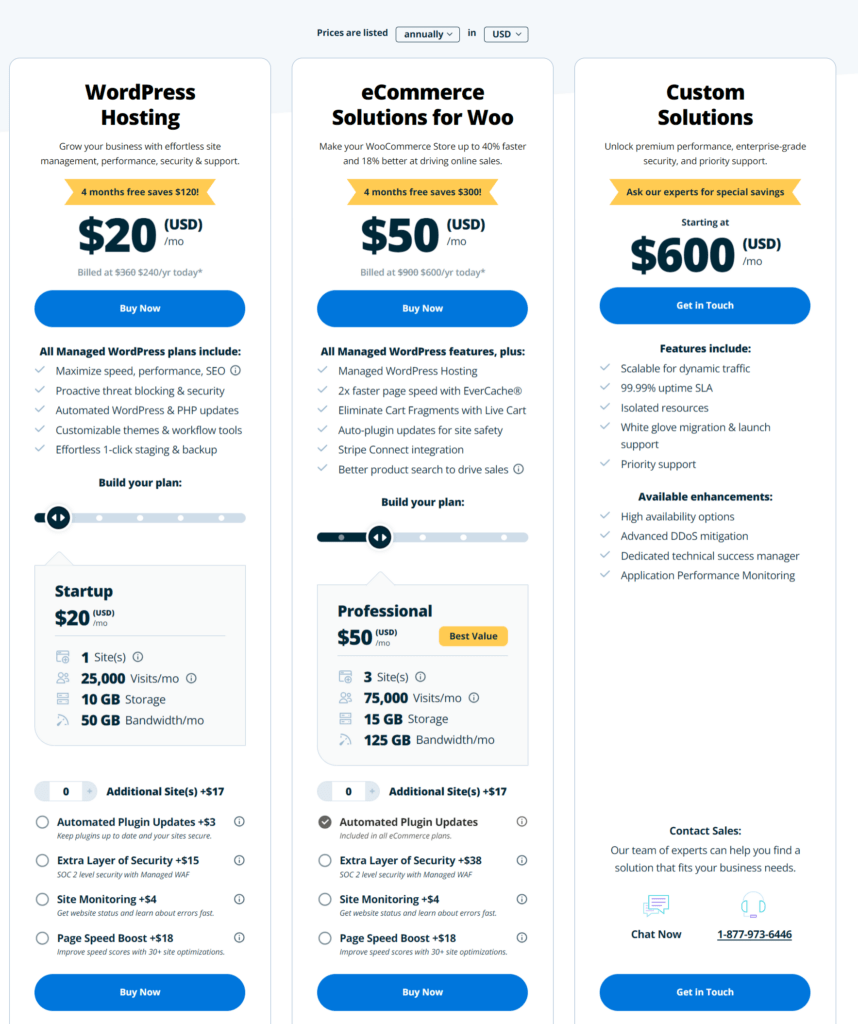 Startup Plan: WP engine hosting costs $20 per month, paid yearly, and the most significant stumbling block is the 25,000-visitor limit. WP Engine has the benefit of purchasing a hosting package for up to X number of visits; you can rest assured that their servers will manage it flawlessly.
Professional Plan: You can host three websites with up to 75,000 visitors each. Although storage is limited to 15GB, it should be sufficient for most websites. You'll have to pay $50 monthly, which a reasonable amount is considering what you get.
Growth Plan: It's a significant step up from the Starter plan, with it all roughly increased by four. So it's $44 more costly, but you get four times as many monthly active users (100,000). The bandwidth has been increased from 50GB to 200 GB.
Scale Plan: Another significant rise, this time to $234 per month for only 400,000 monthly visits. You get the same benefits as the Growth Plan in terms of capability, so it's really about more monitoring monthly visits than anything and 50GB of local storage and 500GB bandwidth can be very useful.
Custom Plans: You can also choose from various customized corporate plans to accommodate more visitors. Prices vary widely, but I'll tell you about our own experiences. The cheapest Custom plan is $6,000 per year and is suitable for up to 1 million visitors. It would have worked better to remain on the Scale plan and pay the extra visiting rates because it is too far away.
WPEngine Performance
Whether you're getting a few thousand people per day on your eCommerce store or millions of visits per day to your content, your website should load quickly to engage and impress your consumers. WP Engine cloud-hosting services provide high reliability, performance, adaptability, and safety for your websites.
Partnering with the finest cloud providers: WP Engine works with Amazon Web Services and Google Cloud Platform to produce high-quality experiences built on the same business infrastructure used to operate their businesses. Thanks to WP engine cloud hosting, your site will be always online and loading quickly for your visitors in the whole world.
High-availability solutions: Your WordPress website must have the capability to handle online traffic for the work. WP Engine delivers data center availability near the visitor's location to load your site when it should. In the odd event that something goes wrong with your site, you can restore your previous backups to get it any time..
Lightning-fast load times: You can't negotiate site speed to compete effectively in a global business, particularly throughout a traffic spike. Customers can rely on them for speed because of their unique caching technology, fully managed worldwide CDN, and flexible design.
Enterprise-grade security: WP Engine provides users with managed WordPress patches and updates, threat detection and filtering, and traffic encryption with free SSL certificates. So you may produce and publish without worry. Our specialized server management team ensures proper monitoring and server security all the time.
Pros and Cons of WPEngine's WordPress Hosting
Prons of WP-Engine Hosting
Speed & Performance: Many factors affect website speed, but the general rule is that the more complicated your site is, the more complex the speed solutions become. A slow website does not need the purchase of a larger, more powerful server. It does imply that you must improve your speed assessment. It might be as easy as upgrading to a more capable server.

It's here that managed WordPress hosting comes in handy. WP Engine hosting takes care of (almost) all performance issues. They have specialized servers with extensive caching and a "stack" that is even more complex than a conventional web host. They also have trained to offer solutions like server installation and pinpoint the exact bottleneck to have your site running.
Security: WP Engine implements all security resources like firewall, SSL, DDoS protection, and others with regular monitoring. They keep regular backups of the site and are ready for restoration if something goes wrong. Because you have an "install" on their server, they handle many security problems worldwide.

In addition to having its group, WP Engine collaborates extensively with prominent security organizations on code reviews. They also ensure that if your account is hacked, they will fix it for free.
Customer Support: Since its beginning, customer service has been a crucial component of WP Engine's appeal. After all, they're marketing a service (managed hosting) rather than a product. Understandably, they would prioritize support.

WP engine experts are available for you to offer support on the phone. They can rapidly assist us in flipping the switch and resolving several issues, such as publishing a non-HTTP sitemap, fixing unsafe images, and cashing updates.
Value-added costs: WP Engine is not inexpensive. Their Starter plan is $20 per month and provides a single installation and a monthly limit of 25,000 visits.

WP Engine's pricing is a worth-of-money option when you break it down by combined value and factor. And if you lose any visitors as a result of a poor plugin update, it could easily be WP Engine's entire monthly fee.
Cons of WP-Engine Engine
Initial and Ongoing Difficulty: WP Engine does things differently to accomplish performance, reliability, and scalability. And the distinction can be pretty perplexing – especially if you only have a smattering of expertise with hosting setups. Their backend setup has improved. It's cleaner, but it's still a tradition. It's not at all like a standard cPanel hosting backend. They also don't give DNS name servers, unlike most other hosting businesses.
Limited Flexibility: His disadvantage is also due to WP Engine's unusual design. All installations on their platform should be similar for their design to work as efficiently as possible. WP Engine goes a step further by offering tiered overage charges to prevent a seasonal spike in traffic and internal storage usage.
If you run a seasonality business or wish to increase the number of visitors to your site, you will need to figure in additional hosting costs.
Furthermore, WP Engine does not support automated email marketing campaigns. This was something that my customer was asked to undertake, and they ended up needing to migrate to a new email provider in the middle of a campaign.
Features and Usage: You usually pay for functionality with a WP Engine subscription, and you won't have to worry about support, safety, or performance. When you compare WP Engine's price to the features you get, it's clear that you're not receiving much.
And, as previously said, it doesn't even include most of the features that are required. Your servers are unable to send or receive emails. The amount of local media storage you have is limited.
Conclusion
WP Engine Hosting is an excellent option if you want trouble-free web hosting services for your WordPress site, and WP Engine is ideal for newbies, bloggers, and companies who want to avoid wasting so much time on technical details and choose a managed WordPress hosting service that works. WP Engine's powerful features will save professionals and freelancers time developing WordPress sites for clients. As their traffic grows, rising companies will have plenty of opportunities to increase the production of their hosting.
Read Also: Comparison between WP-Engine, Cloudways, and NameCheap
FAQ
What is managed WordPress hosting?
Managed WordPress hosting is similar to having a valet for your WordPress site. WordPress is a robust website builder and content management system. Upgrades, safety, backups, cache, and other features are all taken care of by managed hosting firms. This frees up time for you to concentrate on expanding your company. The cost of managed WordPress hosting is considerably higher than shared hosting.
Is WP Engine a shared hosting company?
WP Engine is not a shared hosting provider and does not provide services comparable to shared hosting plans. WP Engine is a managed WordPress hosting business that specializes in WordPress hosting.
How did WP Engine compare to Other Hosting companies?
WPEngine offers a slight edge over competitors like Kinsta, Flywheel and other managed WordPress hosting options. Mainly because of better technologies, customer experience, and customer support.
WP Engine costs more than Bluehost, HostGator, GoDaddy, DreamHost, even SiteGround, and shared hosting services.
Does WP Engine support WordPress multisite?
WordPress Multisite is a premium add-on on WP Engine's Growth and Scale subscription. For the startup plan, WordPress Multisite is not supported. It is included in the 'custom' plans of agency and corporate clients.
Is WP Engine a good investment?
Yes, WP Engine is a good investment. WP Engine is the most acceptable expandable upgrading option, particularly if your organization has exceeded the constraints of shared hosting providers and shared VPS plans. It enables you to handle upgrades and security while expanding your websites as your company grows.
Is it possible to cancel WP Engine hosting and receive a refund?
From your account user interface, you can discontinue your WP Engine hosting subscription at any moment. Consumers who have pre-paid yearly costs are given a full refund for the first 60 days of hosting.
What WP Engine hosting plan should I choose?
You can join our Starter plan if you only have one website to host. You could choose Growth or Scale plans if you have a more extensive website or handle many installations.